Authentic Florida's 2018 Summer Reading List
If you are a kindred spirit of ours (i.e., book junkies), you know how difficult it is to narrow a list down to seven picks. The reality is our bookshelves are stocked (as well as our Audible and Kindle Libraries) with fantastic Florida focused books written by incredible Authentic Floridians … remember, you don't have to be a native to feel passionate about the Sunshine State. If you LOVE Florida (the good, the bad, and the ugly) and celebrate the treasures of life in our unique state … whether you are as a resident or visitor, you are an Authentic Floridian. 
This year we decided to go the non-fiction route. We selected books that will enable you to deepen your knowledge and love of Florida as well as a guide on how to create a Florida Native Yard to a celebration of the mojito. We also know how it's sometimes hard to get motivated to eat well and exercise, especially in the summer when it's hot and humid outside, so we included a book written by one of the most authentic people we know, Bethanne Weiss. Beth is extremely knowledgeable when it comes to to the body, mind, spirit connection and has a unique, hilarious way of encouraging us all to move our ASSets.
Take your pick of any of these seven books or check out all of them … Just seek out a hammock or lounge chair, find some shade, and enjoy your summer relaxing with a good book.
Beyond the Sunshine: A Timeline of Florida's Past
Rick Baker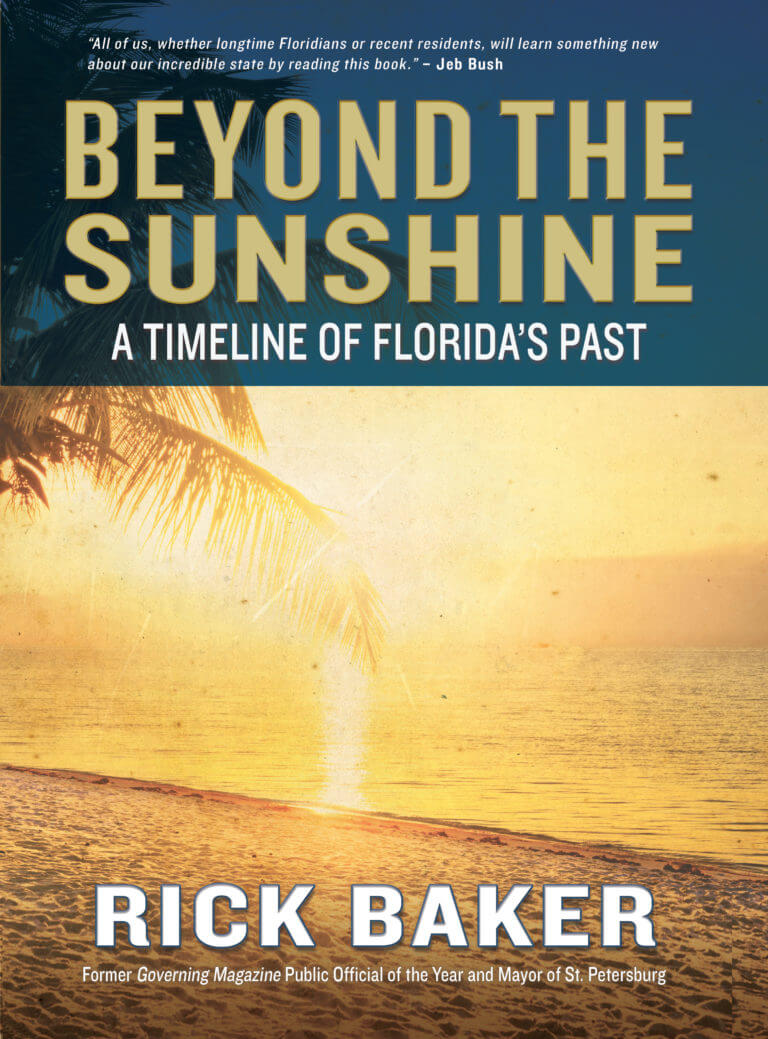 From the time the first humans reached the Florida peninsula more than 12,000 years ago through today's complex and diverse state, this timeline narrative sets Florida's fascinating history against the backdrop of world events. Learn how early native peoples, European exploration, wars, and transformative economic, social, cultural, and technological changes have shaped and continue to shape the "Sunshine State. From the time the first humans reached the Florida peninsula more than 12,000 years ago through today's complex and diverse state, this timeline narrative sets Florida's fascinating history against the backdrop of world events. Learn how early native peoples, European exploration, wars, and transformative economic, social, cultural, and technological changes have shaped and continue to shape the "Sunshine State."
Rick Baker is a businessman and lawyer who, from 2001 to 2010, served as mayor of St. Petersburg, Florida's fourth largest city. He led an unprecedented renaissance in the city and was named America's 2008 mayor/public official of the year by Governing magazine. Baker is an adjunct fellow of the Manhattan Institute's Center for State and Local Leadership based in New York City. He has been married to his wife, Joyce, for thirty-one years and they have raised two college-aged children, Julann and Jacob.
Son of Real Florida: Stories from My Life
Jeff Klinkenberg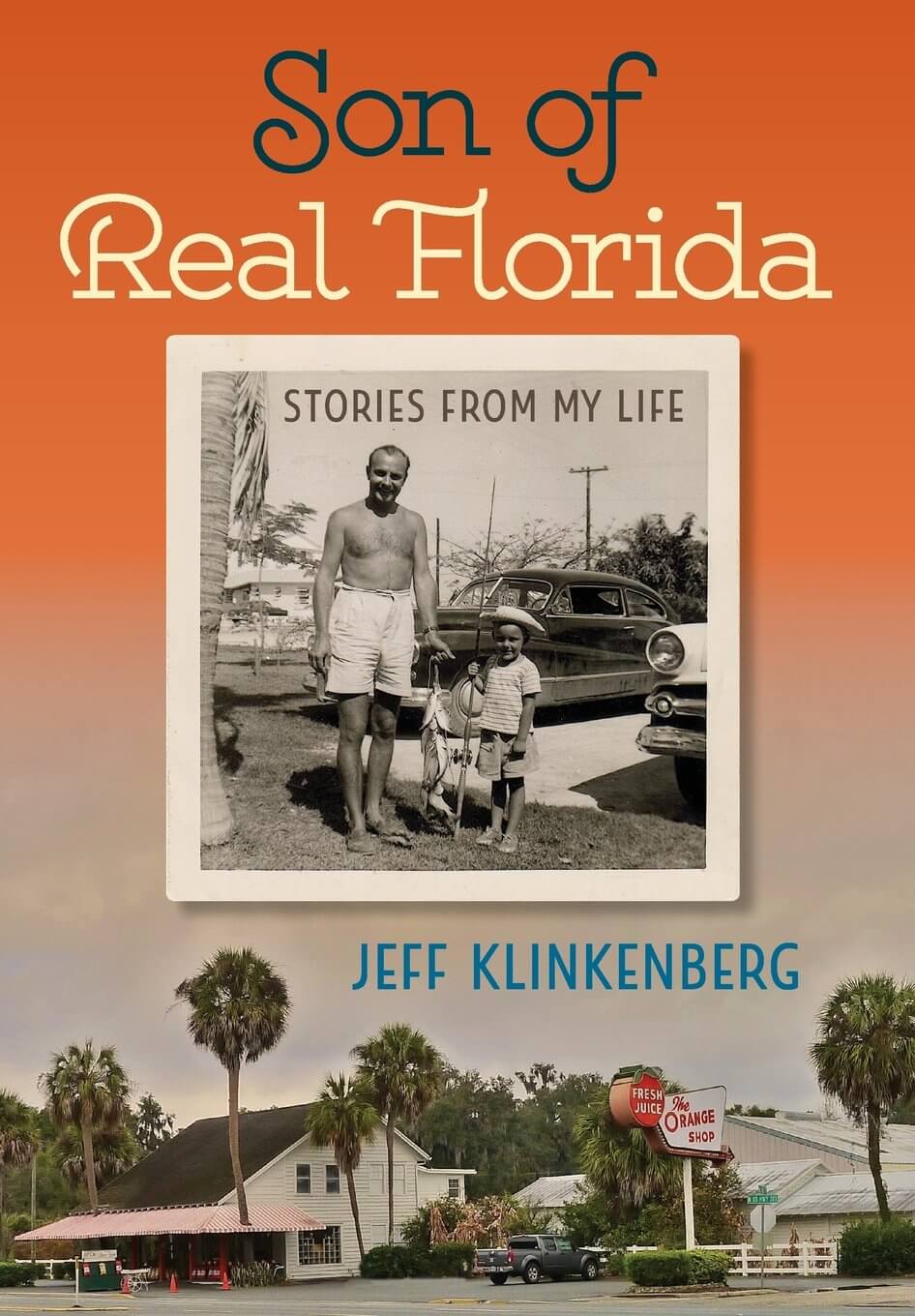 As stories about "Florida Man" inspire wild headlines in the news, Florida's most beloved chronicler is here to show that the state is more than the stereotypes. Award-winning journalist Jeff Klinkenberg has explored what makes Florida unique for nearly half a century, and Son of Real Florida is a compelling retrospective of essays on the state he knows so well.
Klinkenberg recounts what it was like to grow up in pre-air conditioning Florida and how he became a newspaper reporter in mid-century Miami. He introduces us to the stout-hearted folks who have learned to live and even prosper among the insects, sharp-toothed critters, and serious heat. We meet beekeeper Harold P. Curtis and his prized orange blossom honey; frog whisperer Avalon Theisen; Sheepshead George of St. Petersburg; and Miss Martha, the oyster-shucking queen of Apalachicola.
Klinkenberg also takes us to some of the most interesting, little-known places in the state. We travel to Solomon's Castle of reclaimed materials, the neighborhood of "Rattlesnake, Florida," and the smallest post office in the United States. Along the way, he stops to impart true Florida wisdom, from how to eat a Key lime pie to which writers and artists every Floridian should know.
In this heartfelt tribute, Klinkenberg portrays Florida's people, places, food, and culture with a deep understanding that does not relegate them to cliché. He writes with warmth and authenticity of a state he still sees as wondrous in its own ways. Though some may think the real Florida is a thing of the past, he says, "Do not tell me Florida is no longer a paradise."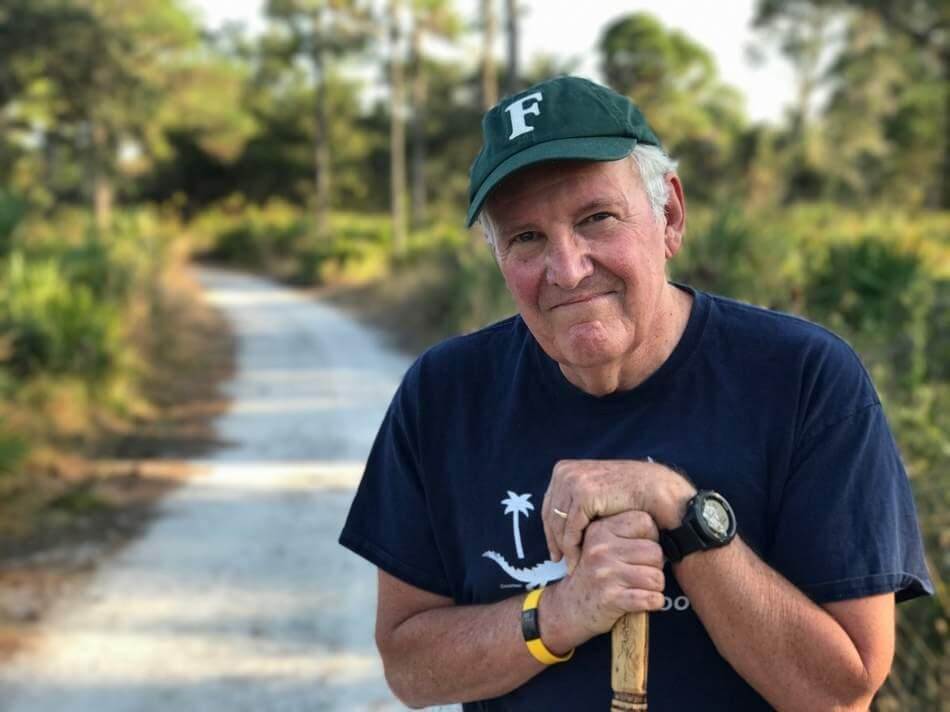 Jeff Klinkenberg wrote for the Tampa Bay Times from 1977 to 2014. He is the winner of the Florida Humanities Council 2018 Florida Lifetime Achievement Award for Writing; a two-time winner of the Paul Hansell Distinguished Journalism Award, the highest honor given by the Florida Society of Newspaper Editors; and a recipient of a 2018 Florida Folk Heritage Award. He is the author of Alligators in B-Flat: Improbable Tales from the Files of Real Florida; Pilgrim in the Land of Alligators: More Stories about Real Florida; and Seasons of Real Florida.
In Season: Stories of Discovery, Loss, Home, and Places In Between
Edited by Jim Ross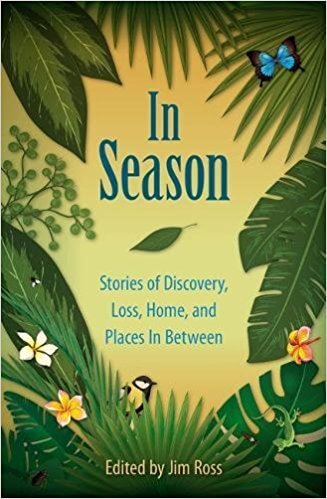 First-time travelers to Florida often imagine the state as just a vacationland or a swamp—a place to visit and to leave behind. But the writers in this collection discover the truth that everyone who's lived in the state knows. When you venture into Florida you won't find what you expect . . . and what you do find will stay with you forever.
The authors of these essays come to Florida for different reasons. Love, fortune, family, rest, natural beauty, or a fresh start. They encounter a place so diverse that it defies easy categorization. Lauren Groff describes her experience settling in Florida after growing up in the Northeast and finds an affinity with the strong-willed writer Marjorie Kinnan Rawlings, who grew to resent the cities of her past and embraced the wild lands that inspired The Yearling. Cuban-born Susannah Rodríguez Drissi travels to Miami and learns what the city means for Cuban Americans—and what it doesn't mean to them. Deesha Philyaw returns to Jacksonville to care for her cancer-stricken mother, only to discover that their relationship is even more complicated than she'd always suspected. Rick Bragg recalls the beauty of the Gulf of Mexico, a beauty endangered and very nearly destroyed by the Deepwater Horizon oil spill.
In these stories, Florida is more than a setting—it's a character of its own. It stirs up hurricanes and rainstorms, enchants with natural springs and cypress forests, and endures in the face of pollution. For all of these writers, Florida is a force that brings about moments of personal insight and growth, a place where hard lessons are learned and true joy is experienced. Their essays illustrate that the places we inhabit put a stamp on us, even if we only call them home for a season.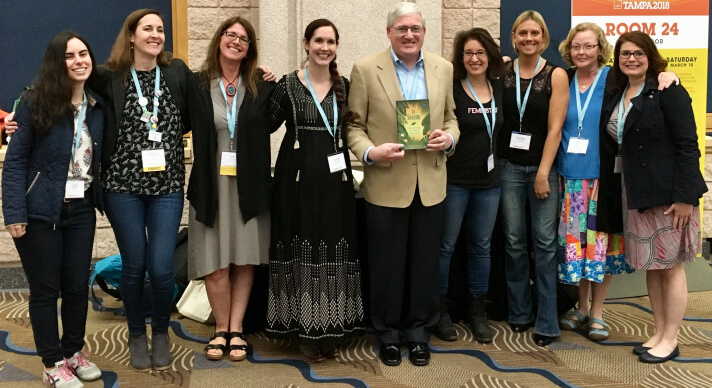 Contributors to In Season: Stories of Discovery, Loss, Home, and Places In Between are pictured alongside the book's editor, Jim Ross. Photo credit: University Press of Florida 
 
Jim Ross is managing editor of the Ocala Star-Banner and adjunct instructor in the Department of Journalism at the University of Florida.
A Step-by-Step Guide to a Florida Native Yard
Ginny Stibolt and Marjorie Shropshire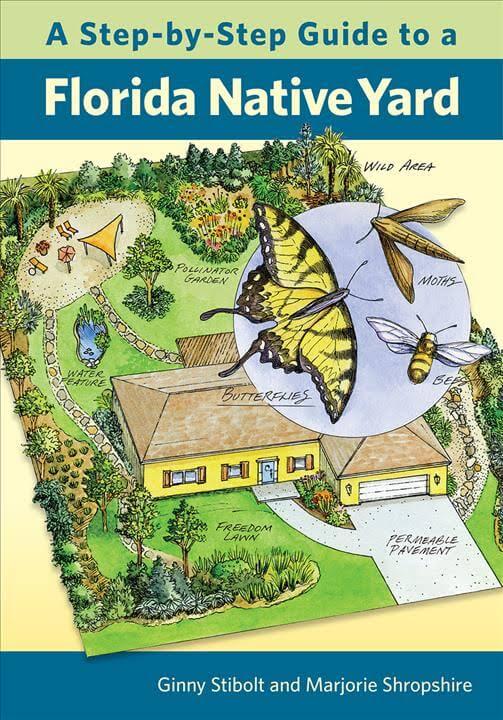 More and more Florida residents are deciding to replace highly fertilized, over-watered, pesticide-dependent lawns with native plants. They want to reduce their carbon footprints; save time, water, and money; and attract birds and butterflies. But where to begin? This illustrated guide will help you create new outdoor spaces that are both sustainable and beautiful.
Taking the common 1/3-acre lot as an example, Ginny Stibolt and Marjorie Shropshire provide a sample layout for a basic native plant landscape. They use a grid system that allows gardeners to work on their yards in small sections instead of trying to revamp the entire landscape at once. The grid system can also be reduced or expanded for yards of varying size. By breaking down the process into individual steps, creating a Florida garden is achievable for beginners and experts alike.
The first step is assessing your property and choosing which plants to keep and which to remove. Then, design your landscape to soak up more stormwater through the use of rain barrels, rain gardens, or ponds. The next steps involve planting trees, understory plants, and installing butterfly gardens. There are additional instructions for building wild areas into your landscape to provide habitat for birds and pollinators; creating a flexible outdoor "room" perfect for your family's needs today and into the future; and using plants to cool the air, provide screening for privacy, buffer incoming winds, and reduce noise.
By following these methods, anyone can convert all or part of their yard into a more natural area without using pesticides or artificial fertilizers, which will save money, reduce pollution, and help support wildlife. Complete with detailed diagrams, a timeline for growth and maintenance, and lists of suggested plants for each step, this guide will help readers set up an environmentally friendly habitat and give them the time and peace of mind to enjoy it.
Ginny Stibolt, a freelance writer, botanist, and experienced gardener, is the author of The Art of Maintaining a Florida Native Landscape and Sustainable Gardening for Florida, and coauthor of Organic Methods for Vegetable Gardening in Florida. Marjorie Shropshire, a visual artist whose work is deeply concerned with the conservation of Florida's natural areas, is the editor of Palmetto, the magazine of the Florida Native Plant Society.
The Mojito
Heather McPherson
CELEBRATE THE MOJITO! This book features everything you need to know to make a favorite Caribbean cocktail that has won a place in bars and eateries across the globe.
The basic elements are simple—rum, lime, mint, sugar, and club soda. Food writer Heather McPherson shows how to add and swap ingredients to create flavor-packed variations for every occasion, including a spicy mango mojito with jalapeños, an exotic basil lychee mojito, a sweet and savory peach and rosemary mojito, and even a hot mojito tea.
And it's more than just a drink. Readers will enjoy recipes for sensational dinners and desserts too, including mojito grilled shrimp salad, mojito strip steak with pico de gallo, cheesecake, cookies, and sugar-kissed meringues.
Transforming an irresistible drink in delightful ways, McPherson invites readers to juice a lime, muddle some mint, and have fun with these creative recipes at home.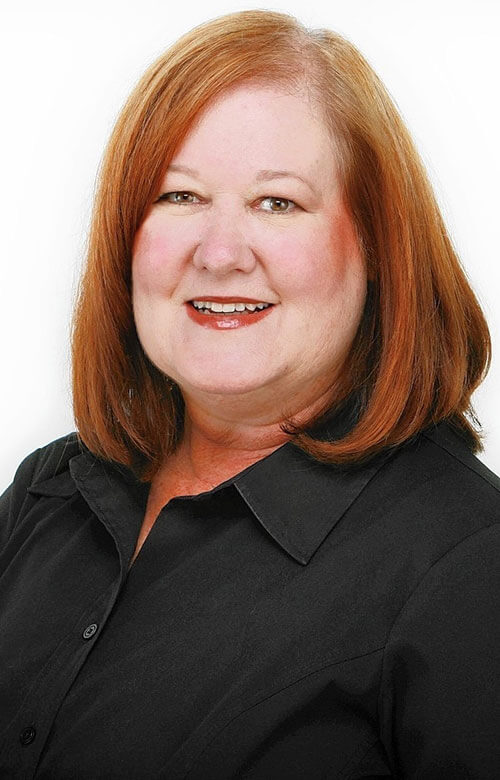 Heather McPherson is a writer for EdibleOrlando and a food blogger at Heather's Florida Kitchen. She is the former food editor for the Orlando Sentinel, a past president of the Association of Food Journalists, and has edited and authored various cookbooks, including Field to Feast: Recipes Celebrating Florida Farmers, Chefs, and Artisans and Good Catch: Recipes and Stories Celebrating the Best of Florida's Waters.
Oh, Florida! How America's Weirdest State Influences the Rest of the Country
Craig Pittman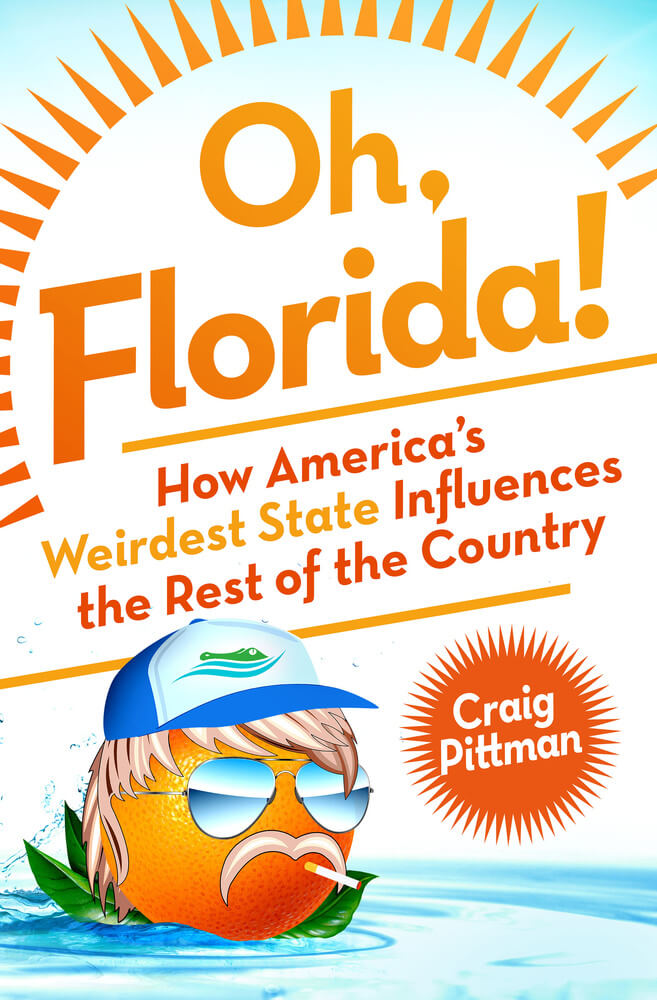 To some people, Florida is a paradise; to others, a punch line. As Oh, Florida! shows, it's both of these and, more important, it's a Petri dish, producing trends that end up influencing the rest of the country. Without Florida there would be no NASCAR, no Bettie Page pinups, no Glenn Beck radio rants, no USA Today, no "Stand Your Ground," …You get the idea.
To outsiders, Florida seems baffling. It's a state where the voters went for Barack Obama twice, yet elected a Tea Party candidate as governor. Florida is touted as a carefree paradise, yet it's also known for its perils―alligators, sinkholes, pythons, hurricanes, and sharks, to name a few. It attracts 90 million visitors a year, some drawn by its impressive natural beauty, others bewitched by its manmade fantasies.
Oh, Florida! explores those contradictions and shows how they fit together to make this the most interesting state. It is the first book to explore the reasons why Florida is so wild and weird―and why that's okay. But there is far more to Florida than its sideshow freakiness. Oh, Florida! explains how Florida secretly, subtly influences all the other states in the Union, both for good and for ill.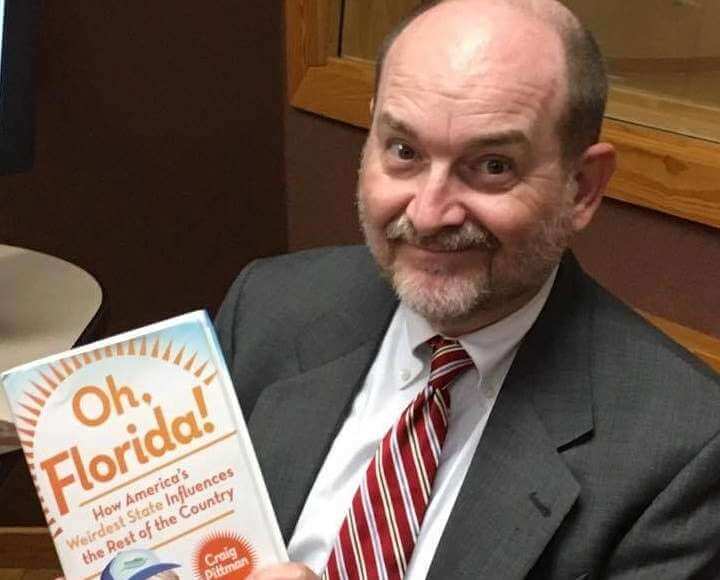 Craig Pittman is a native Floridian. Born in Pensacola, he graduated from Troy State University in Alabama, where his muckraking work for the student paper prompted an agitated dean to label him "the most destructive force on campus." Since then he has covered a variety of newspaper beats and quite a few natural disasters, including hurricanes, wildfires and the Florida Legislature. Since 1998 he has reported on environmental issues for Florida's largest newspaper, the Tampa Bay Times (formerly the St. Petersburg Times), where his coverage has won both state and national awards. A series he co-wrote with Matthew Waite became their book, "Paving Paradise: Florida's Vanishing Wetlands and the Failure of No Net Loss" (2009). Since then Pittman has written "Manatee Insanity: Inside the War Over Florida's Most Famous Endangered Species" (2010), which the Florida Humanities Council declared an "essential read" for all Floridians, and "The Scent of Scandal: Greed, Betrayal, and the World's Most Beautiful Orchids," which the Atlanta Journal-Constitution declared "irresistible." His latest book, "Oh, Florida!" won the gold medal for Florida non-fiction from the Florida Book Awards. The New York Times called it "compulsively readable." Pittman lives in St. Petersburg, Fla., with his wife and children. For more, see http://www.oh-florida.com/home.html
Move Your Assets From the Chair, Not the Bank!
Bethanne L. Weiss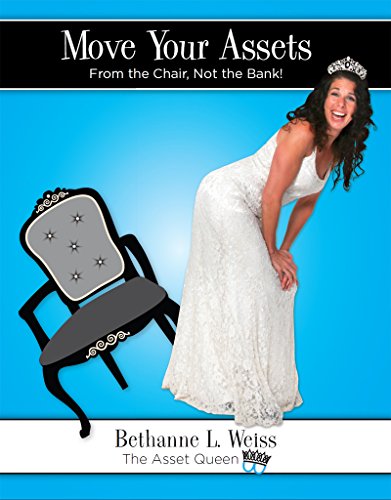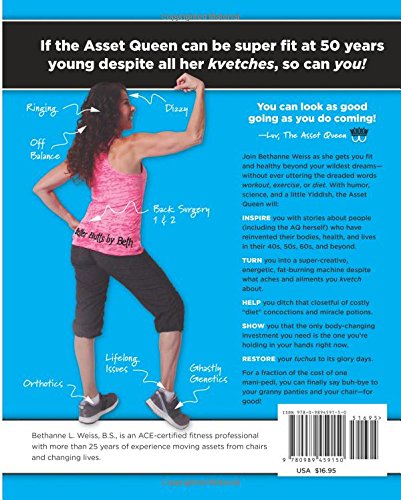 "Have you repeatedly indulged in the latest and greatest pill, potion, or lotion?" Bethanne asks. "You know, the one that promised to remove the umpteen kilos of junk from your trunk? Or maybe you've been sucked in by the Zippity Zappity Crappity Diet book and then re-gifted it to your sista-in-law last Hanukkah or Christmas. Yet admit it: You're kvetching more than ever about your jiggles, oohs and ahhs. Then it's time to walk with me and let's discuss."
Join Bethanne Weiss as she gets you fit and healthy beyond your wildest dreams—without uttering the dreaded words workout, exercise, or diet. With humor, science, and a little Yiddish, the Asset Queen will:
Inspire you with stories about people (including the AQ herself) who have reinvented their bodies, health, and lives in their 40s, 50s, 60s, and beyond.
Turn you into a super-creative, energetic, fat-burning machine despite what aches and ailments you kvetch about.
Help you ditch that closetful of costly "diet" concoctions and miracle potions.
Show you that the only body-changing investment you need is this book!
Restore your tuchus to its glory days.
For a fraction of the cost of one mani-pedi, you can finally say buh-bye to your granny panties and your chair—for good!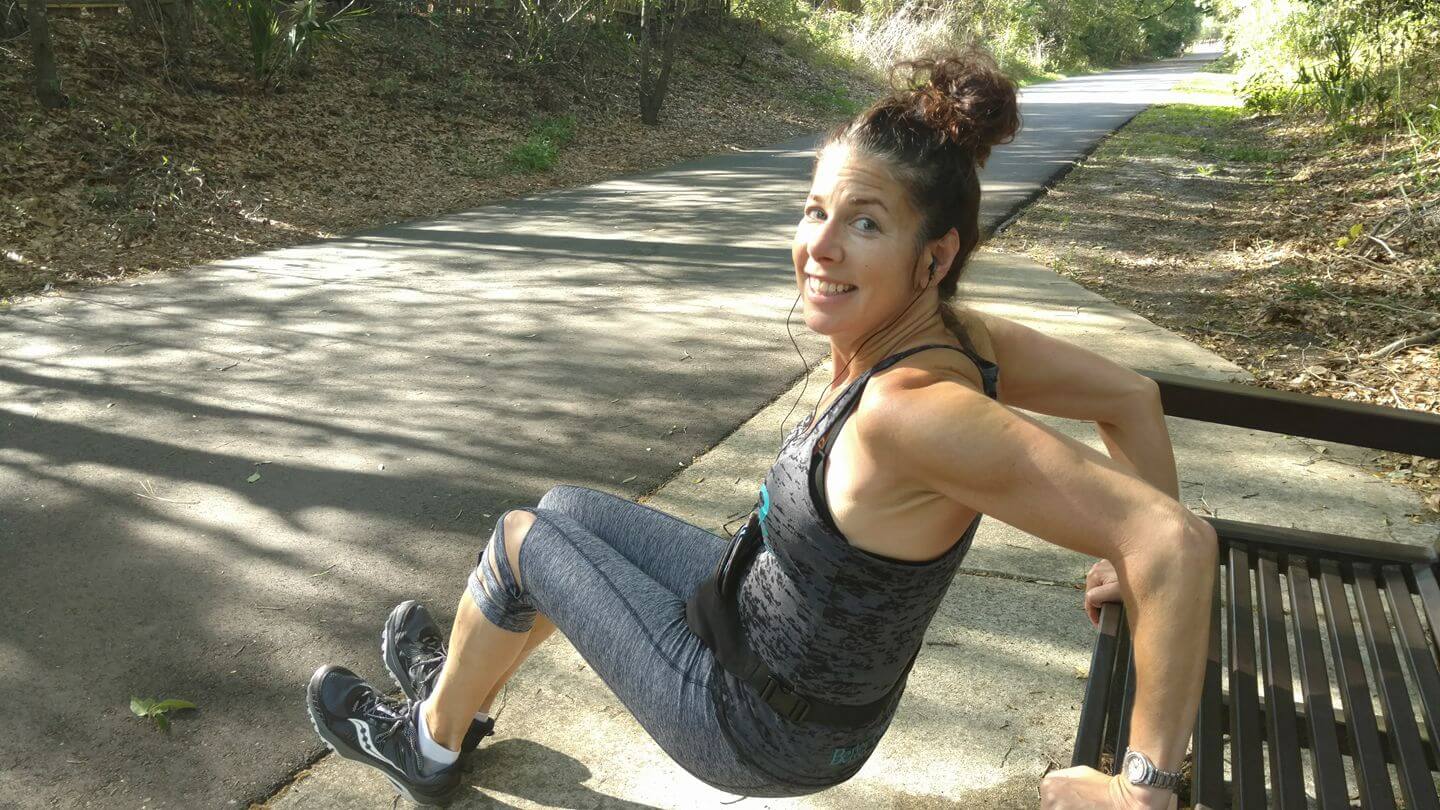 Bethanne Weiss B.S., aka The Asset Queen (AQ), is an author, motivational speaker, and Orlando-based ACE-certified fitness and nutrition professional with 30+ years of moving assets from chairs and changing lives. Bethanne's humor and energy—she's been called a cross between Fran Dresher, a tame drill sergeant, and an entertaining circus clown—have put the "fun" back in fitness in small groups, large events, conferences, cruises, corporate settings, and even in her unique writing style in "Move Your Assets: From the Chair, Not the Bank!".
Despite Bethanne's lifelong struggle with chronic pain and dizziness, she has continued to spread the "asset-moving love" to countless others. The AQ managed health clubs, mentored fitness professionals, and has been interviewed by the Denver Post, SmartMoney.com, MSN.com Smart Spending, Better Homes and Gardens, Family Circle, and many other media outlets. Since 2009, she has written a humorous information-packed fitness blog.
In 2012, Bethanne was thrust into the unexpected and overwhelming role of caring for both of her aging parents who were in their 80s when they experienced a sudden and significant decline. Her unbelievable ability to make lemonade out of lemons took her on an amazing journey which led her to become the "rockstar of the caregiving world." Her new mantra "we have to be in shape to help ourselves and to help the one we love" has won her lots of media attention including the now viral video Confessions of a Caregiver, which aired on Growing Bolder® and Surviving & Thriving® on WESH-TV. And she had a big part in WFTV 9's Emmy Award-winning series, Blindsided: The Reality of Caring for Aging Parents.
If you would like more book ideas, be sure to check these past Authentic Florida articles: A Land Remembered, Eight Books from the Summer of 2017, Authentic Florida Classics, Authentic Florida Books for Summer Chilling, The Barefoot Mailman and Six Classic Books for Summer Reading.
To receive Authentic Florida's free weekly ENEWs, sign up on the home page Authentic Florida or email melanie@authenticflorida.com.
---
Comments are closed.