Located in Southwest Florida (between Sarasota and Fort Myers in Charlotte County), Punta Gorda is a charming small town situated on the banks of Charlotte Harbor, one of the US's largest natural harbors. The beautifully restored historic downtown area is loaded with lovely vistas, quaint homes, unlimited restaurants, and lots of other great things to do. It is a slice of paradise for fisherman, boaters, sun-worshippers, and shoppers alike.
Easily reached by I-75, Punta Gorda features streets lined with huge royal palms and old Florida-era tin-roofed homes with wide verandas, brick lanes, and pristine landscaping.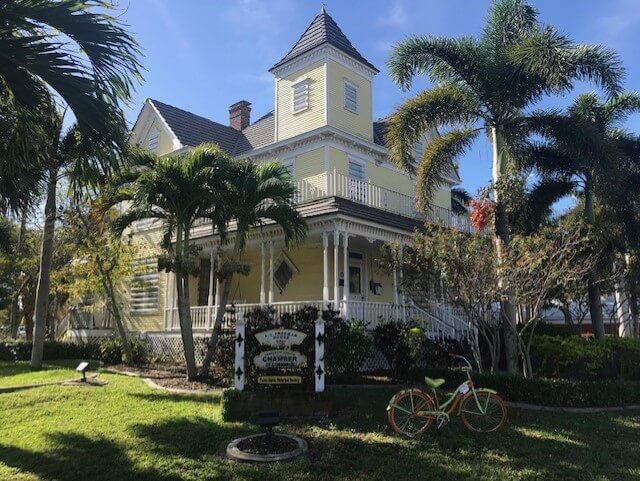 A.C. Freeman House Museum
The A.C. Freeman House Museum in Punta Gorda is an authentically restored and furnished late Victorian-era home. It's currently owned by the City of Punta Gorda. It houses a museum operated by the Punta Gorda Historical Society, and offices for the Charlotte County Chamber of Commerce. The home has a spacious wrap-around porch featuring Queen Anne trim, a veranda, and a third story tower.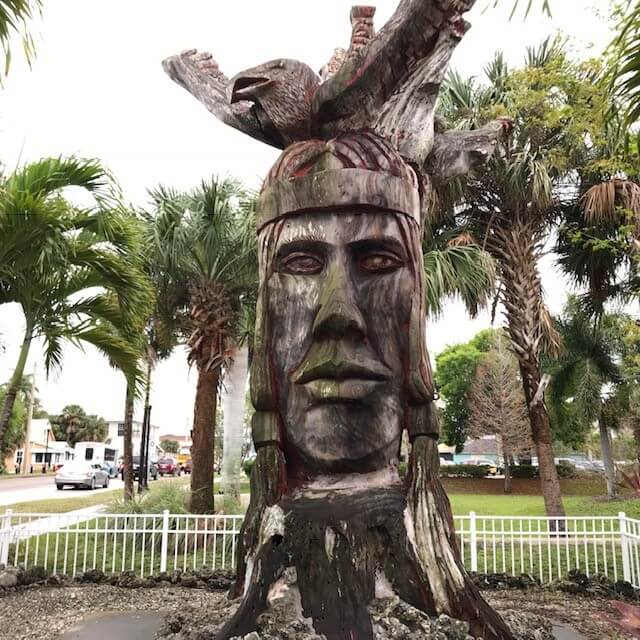 Located in downtown Punta Gorda, the 20' Whispering Giant "Calostimucu" is an effigy to the first people inhabiting the area. The name of the statue is a combination of the two Native American tribes that lived in this area of Florida. The two-sided statue is on Retta Esplanade. Sculptor: Peter "Wolf" Toth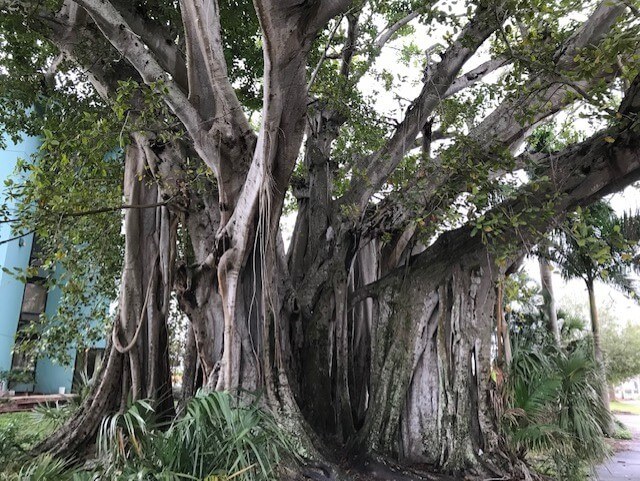 This Downtown banyan tree is over 100 years old and about 40' around. It is a very historic landmark in Punta Gorda and the background for endless selfies.

Photo from PG Waterfront Hotel and Suites
There are certain rooms at the PG Waterfront Hotel and Suites that can see the banyan tree. The down-to-earth waterfront hotel is a 3-minute walk from Gilchrist Park and 1 mile from Fishermen's Village.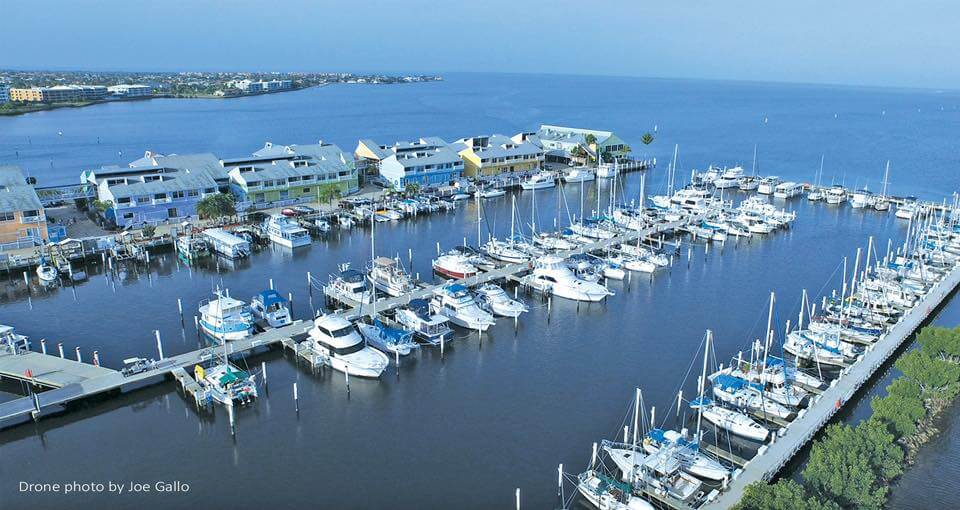 Drone photo by Joe Gallo
Near the historic district of Punta Gorda, you will find Fishermen's Village. This unique waterfront destination includes gift, clothing, and specialty shops, seven restaurants, a military heritage museum, a 98-slip marina, and also fully furnished luxury villas.
For more info on Punta Gorda, visit: https://www.charlotteharbortravel.com/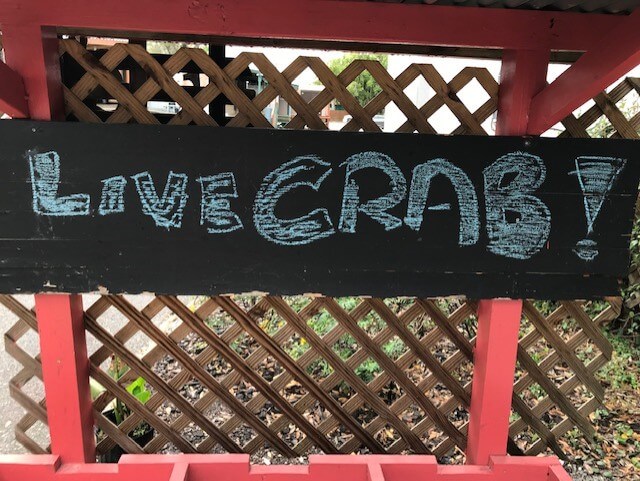 Peace River Seafood is a classic, Authentic Florida old fish house in Punta Gorda.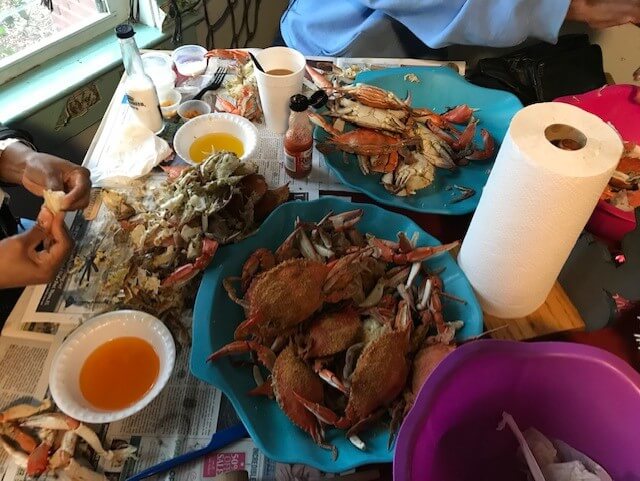 Did you know many of the crabs eaten in Maryland crab houses come right out of this area in Florida? This little restaurant on Route 17 serves them the same way they do in Maryland–and lots of them. Ask about their specials. They also have many fresh fish selections … and they're all delicious.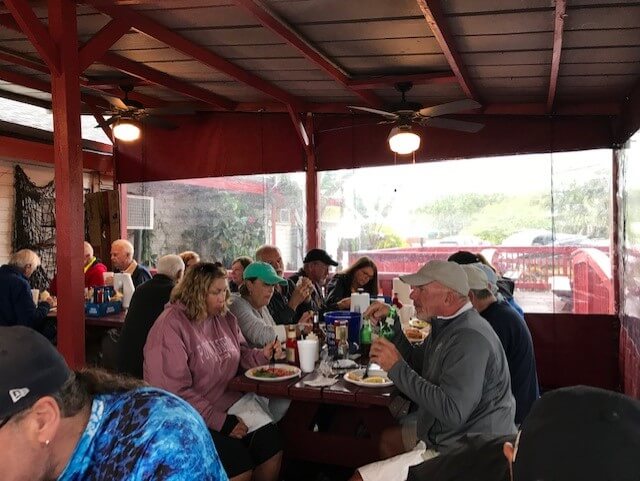 Known for its crabs, shrimp, and oysters, Peace River Seafood is located in a renovated home with a down-home atmosphere.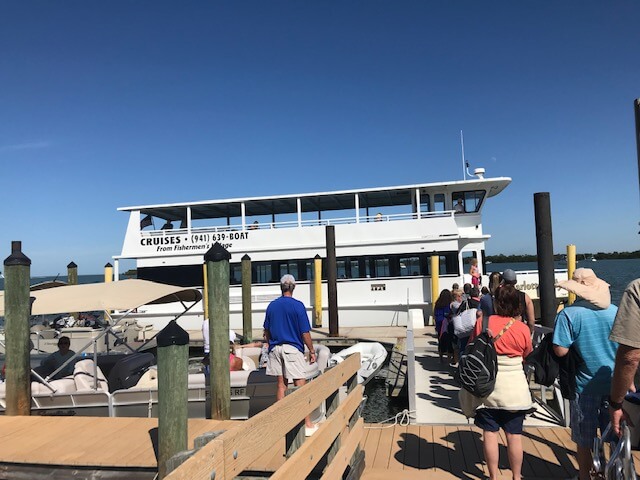 When in Punta Gorda, make sure you board a boat to tour the Charlotte Harbor area. We recommend King Fisher Fleet that departs from Fisherman's Wharf. You may also choose from a wide range of scenic adventures including Cayo Costa State Park, the legendary Cabbage Key, Boca Grande, Peace River Nature Cruise, or even enjoy a Sunset Tour. More info at https://kingfisherfleet.com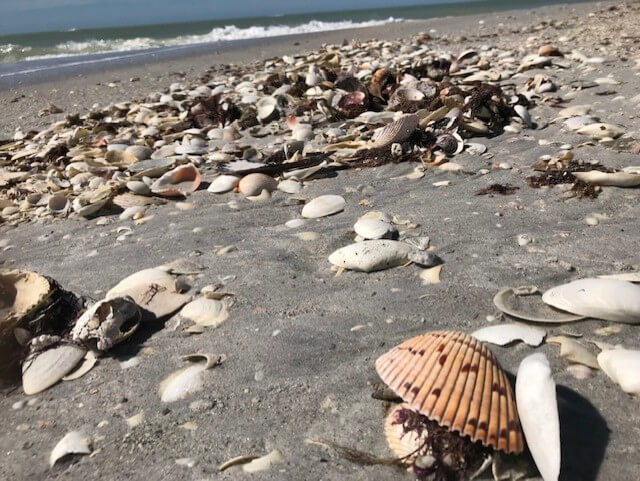 While in the Punta Gorda area, make sure you carve out time to visit this authentic island and experience what Florida's barrier islands once were before development. You are sure to pick up loads of shells while walking the 9-miles of untouched beaches. You might even spot manatees, porpoises, and also sea turtles offshore.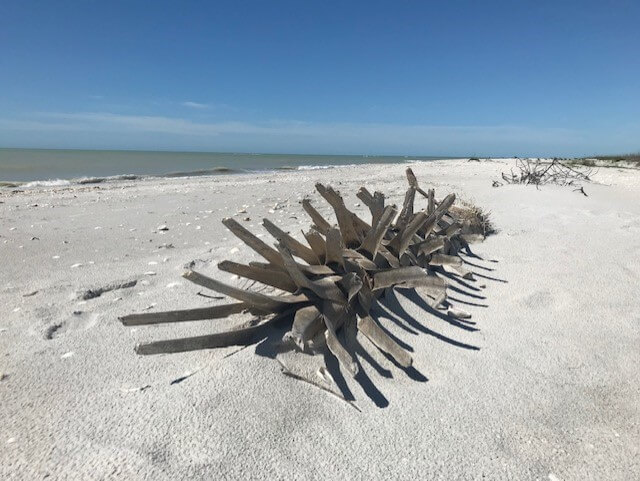 Accessible only by boat or kayak, this former fishing ground of the Calusa Indians features miles of undeveloped shoreline for swimming, snorkeling, shelling, fishing, and also bird-watching along with several walking and bicycling trails through the island's interior.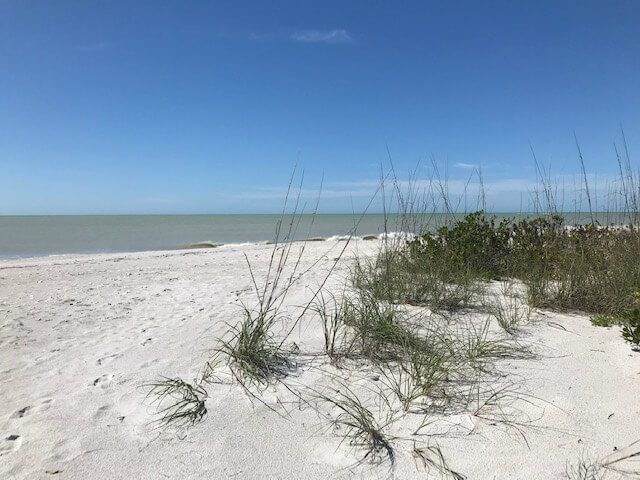 This is coastal Authentic Florida at its finest! Campsites and cabins are also available for overnight stays and a ferry service runs to the island from several mainland locations.
Admission is $2 per person. Please use the honor box to pay fees. Correct change is also required. NOTE: Construction on a new campground restroom located near the tram drop off point at the beach is scheduled through April. Some noise can be expected in this area during normal work hours throughout the construction period.
The Peace River National Art Festival will take place on March 16 & 17 in Laishley Park, located on the Peace River in Downtown Punta Gorda (100 Nesbit St.). Explore more than 70 booths of fine arts and exquisite crafts complemented by music, food, wine, and beer.
Nearly 100 nationally recognized juried artists represent various mediums including art glass, fiber arts, jewelry, leather goods, metalwork, oil paintings, photography, pottery, stone sculptures, and also watercolor.
Live music, art demonstrations, and an array of food and beverages complement the art show for an immersive cultural experience.
NOTE: The annual Peace River National Arts Festival began in 2005, shortly after Hurricane Charley devastated Punta Gorda and Charlotte County. What began as a fundraiser to repair the Visual Arts Center facility has continued supporting the arts in Punta Gorda over the past decade as their signature event. Entry is $3/person or additionally, $5/couple at the gate. Plenty of $5 Parking (for all nearby events) and shuttle to the festival will also be located at City Marketplace, on the corner of Marion Ave at 115 Tamiami Trail.
Photos, unless otherwise noted, were taken by Robin Draper (February 2019).

AuthenticFlorida.com was named Best Travel Blog two-times at the Florida Sunshine Awards.
To receive Authentic Florida's free weekly ENEWs, sign up on our Authentic Florida home page.
To inquire about partnerships/advertising, please contact info@authenticflorida.com 
Proud Member of: 

---
Comments are closed.