Article originally published at Visit Sarasota
Florida is known for its sunshine, beaches and endless vacation amenities. And it's also known for its amusement parks. People come from all over the world to visit Florida's major theme parks.
But well before the arrival of the mega-parks, there were many small, charming, homespun attractions featuring a wide variety of themes such as water ski shows, reptile farms, circus shows and western towns. Visitors loved Florida's authentic roadside attractions. Over time, the parks could not compete with the newer, bigger, updated attractions and most faded away – but not all.
Luckily, some of the once-popular parks have been acquired by the state such as Weeki Wachee Springs home to the famous mermaids, and Silver Springs where glass bottom boat rides cruise over Florida's famous springs. Both have become state parks because of their scenic and natural environments.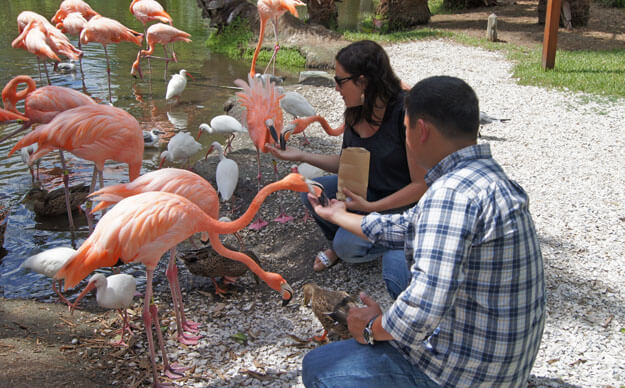 Feeding the flamingos at Jungle Gardens
A few of the originals have survived. Sarasota's Jungle Gardens is one of them. About an hour south of Tampa, this old-timey tourist attraction has withstood the test of time and continues to deliver pure charm with simple, delightful relaxation for the entire family.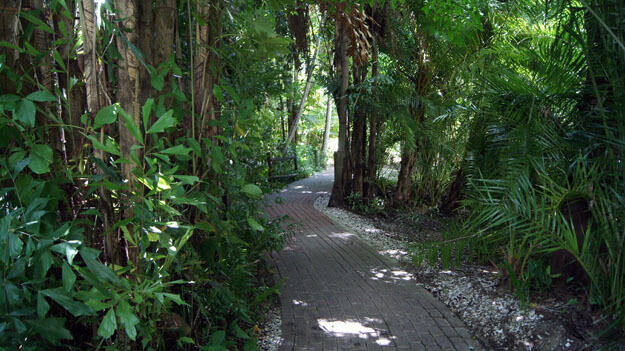 Jungle Gardens is a botanical garden
The site, a 10-acre virgin sub-tropical forest, was transformed into a botanical garden with a jungle of plants, winding pathways with water features, and populated with colorful birds and exotic animals. Opening in 1939, the park charged 10 cents for children and 35 cents for adults. The park has been running continuously for 75 years.

Tropical birds and sounds welcome you
As you walk into the park from the Welcome Center, you'll instantly hear the sounds of birds singing, chirping, squawking, and screeching, but you are also likely to hear the sounds of happy children.

Stroll along the pathways 
You can stroll through green, lush gardens, see wildlife, reptile and bird shows, and even get the chance to hold animals, and feed flamingos.

Play areas for children
There are also areas for children to run and climb, and a special area with play sets, a fort and lookout tower.

Shady fountain area for lunch
If you visit during lunch, you can sit near the large shaded fountain in the pond and watch bright orange koi swimming lazily by. The Flamingo Café serves lunch, including healthy alternatives such as salad and wraps.
Walking along the pathway through the park, you'll pass through a butterfly garden planted with local Florida-friendly flowers and plants, and you will probably notice the flitting and fluttering of several butterfly species. Continuing down the path you will enjoy the shade of local foliage, palms and even pass beneath stone archways.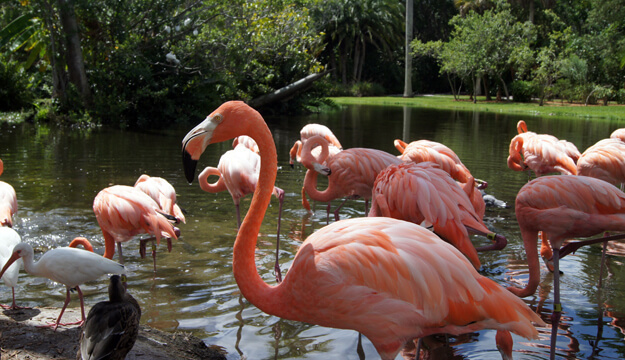 Jungle Garden flamingos
A highlight is the Flamingo Pond where a flock of 30 bright, pink American Flamingos stand along the water's edge and slowly walk through the shallows. Flamingos were once abundant in Florida, and there are still wild flocks spotted in some places around the state during the winter, but Sarasota Jungle Gardens is one of the best places to see flamingos up close, walk among them, and even feed them. Bird feed is available for sale and makes an ideal photo opportunity with the kids.

Feeding the flamingos
Three animal shows are offered daily: Wildlife Wonder, Reptile Encounter and the famous Jungle Bird Show. Between the shows, there is plenty to explore.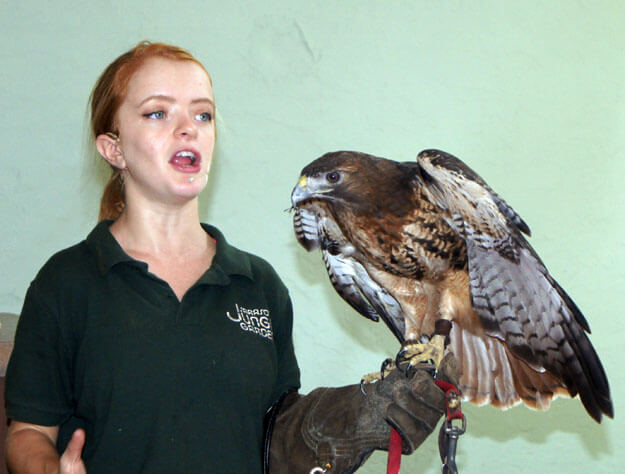 Cheyenne, the Red Tailed Hawk
Wildlife Wonder features birds of prey. You'll meet Cheyenne the Red Tailed Hawk and Francis the Great Horned Owl. Well-versed zoo curators share information about the animals, helping us to understand their world and what makes the bird of prey unique. Many of these birds were injured, brought to the park and rehabilitated at Jungle Gardens.

Baby alligator, the Reptile Show
The Reptile Show features an introduction to the world of reptiles. Kids and adults learn the difference between alligators and crocodiles and can see both at the park. Guests are even invited to hold a baby alligator (with a securely taped snout). Touching its cool reptile skin not only connects an individual with what is often a scary animal, but he or she learns about their world and habitat. Butterscotch the Burmese Python, (a safe snake) wraps around the trainer as she points out its unique characteristics. Trainers share tips on exotic pet care and the responsibilities of caring for these reptiles. Many of the park's reptiles were adopted after owners could not care for them any longer.
The Bird Show features a stunning display of birds such as the blue-green and red Macaws, green parrots, and white cockatoos. The performance features a decades-old show of bird tricks that will delight the kids and release the inner child in all of us.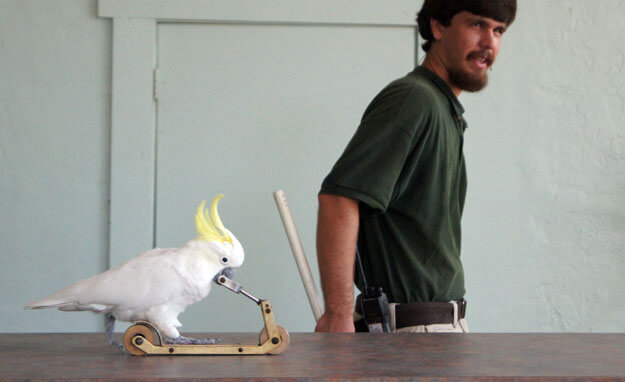 The legendary Frosty
Here you'll meet Frosty, Andy, Amber and Pip. Amber is the roller skater, Pip is the daredevil cliffhanger that hangs by his beak, and Andy is the star athlete who slam-dunks a miniature basketball.
Frosty is very special. He is a 78-year-old guest star that arrived to Jungle Gardens in 1972, after achieving super stardom on the popular Ed Sullivan TV variety show.  Frosty rides a unicycle while Pip hangs below. After the show kids can hold the birds and pose for photographs.
Jungle Gardens is a park that is ideal for small children, especially for a half-day. But it is also a place that will appeal to every generation. The park is low key and friendly providing a serene respite from a hectic schedule, but with enough to see and do to thoroughly enjoy an authentic Florida day.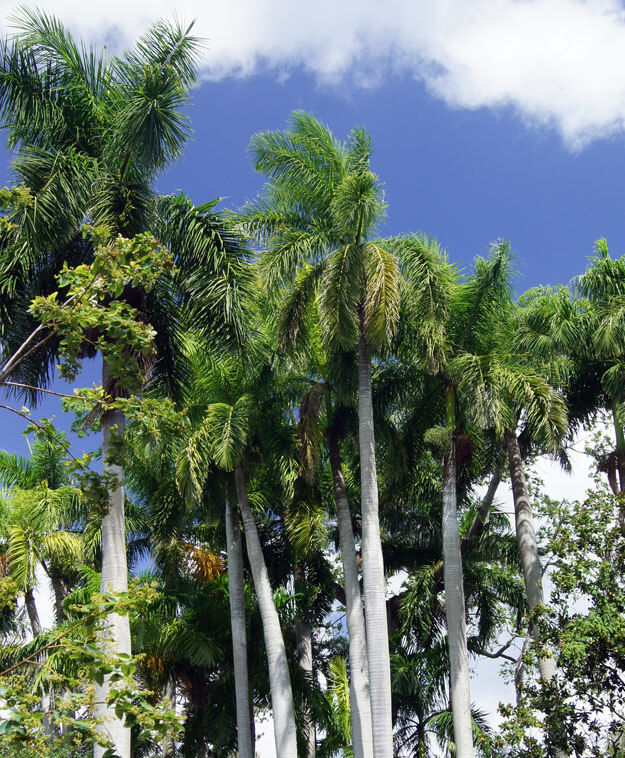 While in Sarasota, visit some of the other amenities that make it one of Florida's most popular destinations. It's also a cultural mecca for those who love the arts including opera, orchestra, ballet and theatre. Once the winter home for the Ringling Brothers Barnum and Bailey Circus, many circus stars made Sarasota their home. The John & Mable Ringling Museum and adjacent circus museum are both popular stops for visitors. And two seasonal circuses – Sarasota Sailor Circus and Circus Sarasota keep the circus heritage alive. Also, a local favorite, especially for children, is the Mote Marine Laboratory & Aquarium, which is a great way to learn about and enjoy "close encounters" with our Florida marine life.
To receive Authentic Florida's free ENEWs, featuring travel and living updates, delivered weekly, sign up on the home page Authentic Florida.
---
If You Go
For more things to do in Sarasota and for accommodations go to: