Seven Things Springs Breakers May Have Missed in Ft. Lauderdale
Ft. Lauderdale has been known as Florida's most famous destination for spring breakers but they may have missed these seven authentic things to do while there. 
In the 1960's Ft. Lauderdale defined Spring Break and ever since it has been the idealized "Mecca" for students to unwind, let go, and thaw out from the snow and cold for the very same reasons families visit.
But while frolicking Spring Break style, they may have missed out on many of the best things to do.
There are many hidden jewels in and around Fort Lauderdale, an area that stretches from its world class beaches all the way west to the border of the Everglades – one of Florida's most unique wonderlands and a true national treasure.
So, here are seven things to do in the Fort Lauderdale area that may have missed the Spring Break itinerary. From a gracious century-old plantation to the mysterious Everglades, it's a list we think you will enjoy.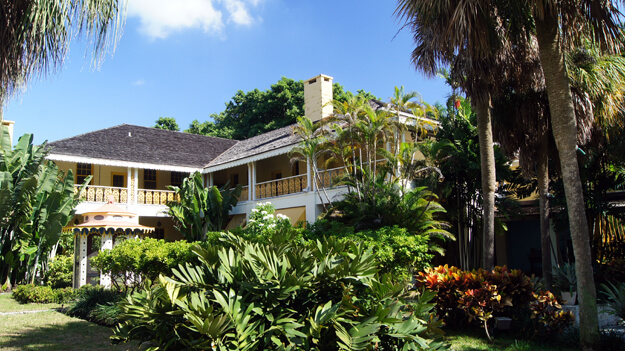 Bonnet House Museum & Gardens
The historical Bonnet House Museum and Gardens sits on 35 acres of coastal wilderness sandwiched between miles of hotel-lined beaches and the Intracoastal Waterway. It is one of the very few remaining pieces of wild and wooded coast on the island of Fort Lauderdale. The charming estate was meticulously designed by Chicago artist Fredrick Clay Bartlett and construction began in 1920. The name is derived from a yellow water lily that grows in ponds on the property.

Bonnet House Gardens
The Bonnet Home is a true slice of "old Florida" with its tropical feel, bright yellow and blue colors, an open courtyard, coral stone pathways, latticed ceiling breezeways, relaxed outdoor dining areas, whimsical art and collectables, and inlaid shell doorways. Fruit and citrus trees, once enjoyed by the family at mealtime, grow adjacent to the home. Landscaping blends with natural foliage creating a peaceful oasis. A large sand dune protects the home from the Atlantic Ocean and a freshwater slough that attracts birds and wildlife lies adjacent to the house. Fish and frogs swim amongst the lily pads. Not far away is a small shell museum with a bamboo bar, an orchid house and nearby wetlands.

Bonnet House Courtyard
It's serenity you won't forget.

Florida Everglades airboat ride
The Everglades: Beauty Whispering through the Sawgrass
Spring breakers are sure to have missed this one, because it involves a trip away from the beach. A portion of the Everglades lies within Broward County, and you will want to consider a visit to the Big Cypress Seminole Indian Reservation to experience the many mysteries it holds. Here you will gain insight into the Everglades, its ecosystem and the Seminole tribe.
It is said that some places shout stunning beauty. By contrast, the Everglades seems to "whisper" subtle mysterious beauty. Called the "River of Grass" by Everglades environmentalist and author, Marjory Stoneman Douglas, the name describes the unique ecosystem well.
Water flows from the Kissimmee River into Lake Okeechobee then spreads out over a mostly sawgrass prairie in an open freshwater river six inches to four feet deep. This "river of grass" once covered nearly the entire southern peninsula of the state. Many areas have been preserved to keep water slowly seeping southward toward Florida Bay.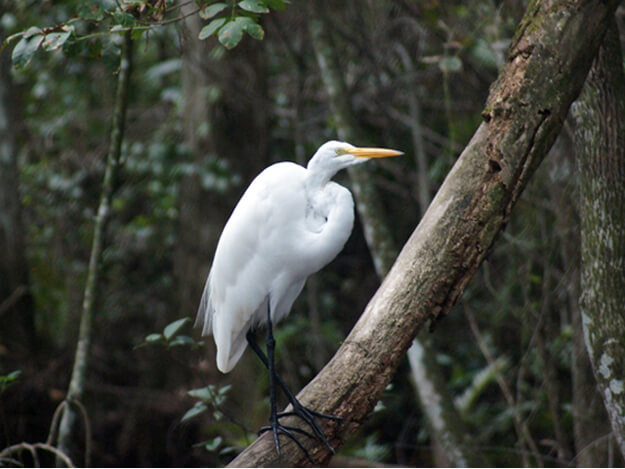 Everglades Wildlife
To get to the Big Cypress Reservation, either drive on your own or take a tour. From Fort Lauderdale take Alligator Alley (I-75W). As the urban metropolis fades away, your view will be replaced by flat vistas of sawgrass, dotted with cabbage palms and cypress trees under expansive blue skies occasionally brushed with puffy white cotton clouds. Ibis, egrets, herons, storks and alligators are often spotted along the roadside canals.

Seminole Reservation Ah Tah Thi Ki Museum
Start at the Ah Tah Thi Ki Museum, translated from the Seminole language this means "a Place to Learn." Colorful exhibits tell tales of endurance through three Seminole Wars as the tribe was pushed ever deeper into the Everglades. You'll learn how they carved out a life among alligators, bobcats and bears. You'll also learn about their indomitable spirit as warriors, storytellers and artists through exhibits of native rituals, oral histories and daily life.

Billie Swamp Safari Airboat Ride
Not far from the museum is Billie Swamp Safari. Treat yourself to an airboat ride. The flat-bottomed watercraft powered by a huge propeller skims over very shallow water. The engine is loud (ear plugs provided), but the trip is exhilarating, and will give you a glimpse of the delicate ecosystem of the Everglades. You will likely see alligators, and birds and other wildlife along the shore, but they will pay little attention to you.
 
Billie Safari's Swamp Buggy Ride
Make sure you check out Billie Safari's Swamp Buggy Ride too. It's a rustic adventure that puts you at tree level in an elevated open-air buggy. The ride will take you through wooded, swampy areas and provide a glimpse of the terrain Seminoles traversed while living in this wilderness.
A trip to the Reservation has a large dose of "tourist charm" but it is also a real opportunity for an immersive Everglades experience.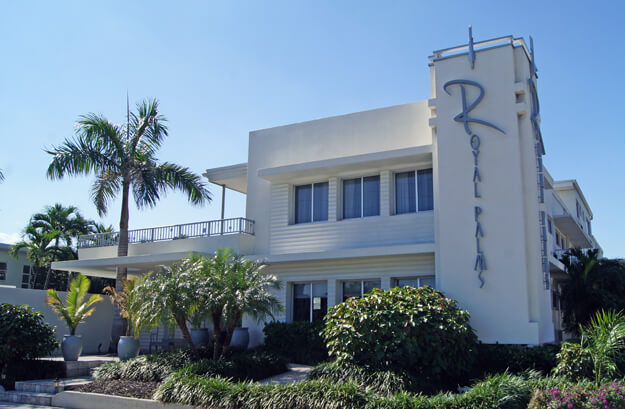 North Beach Village neighborhood's mid century architecture
North Beach 
Back at the beach, and not far from the Bonnet House, try an eclectic walking tour of Fort Lauderdale's North Beach neighborhood. South of Sunrise Boulevard and north of Las Olas Boulevard, this neighborhood along A1A has one of the largest collections of mid-century modern architecture in Fort Lauderdale. This 1950-60's collection of small motels and apartment buildings will transport you into Florida's past where you can admire the architecture and imagine life in that period. The simplistic and minimalistic designs use whimsical angles, geometric architecture and curved stairways to create artistic attractive "retro" accommodations. Consider staying here.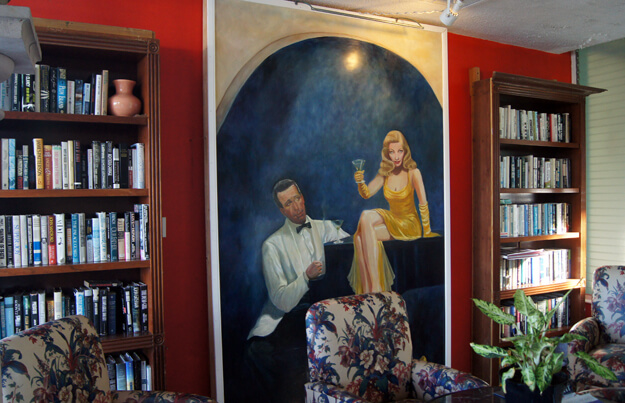 North Beach Village's Manhattan Tower 
One mid-modern hotel on the Intracoastal Waterway is the Manhattan Tower, once owned by General Motors as an executive retreat. It's a comfortable, relaxed apartment hotel and accessible by water taxi.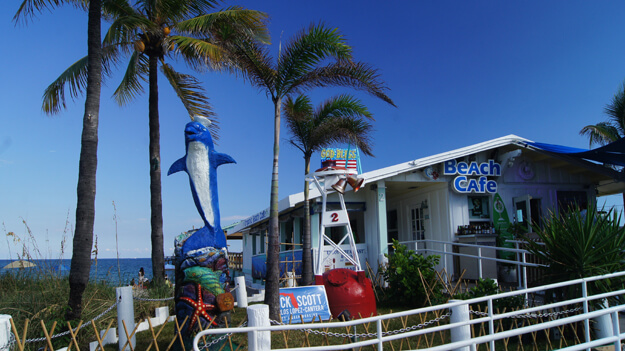 Lauderdale-by-the-Sea Pier & Beach Cafe
If you head north up A1A from Fort Lauderdale, you'll find the small, charming coastal community of Lauderdale-by-the-Sea. You will discover, that these two "Lauderdales" are worlds apart. In Lauderdale-by-the-Sea you won't see towering condominium complexes; instead, you'll experience a small walking village with public plazas, quaint outdoor restaurants, shops, beaches and a fishing pier with charming mid-century motels and hotels nearby. This unique neighborhood also highlights mid-century architecture. Park your car and enjoy this quaint seaside community. And if you are around in late August, enjoy Bugfest, a celebration of the summer lobster season, where you can swim to the nearby reef and catch dinner.

Lauderdale-by-the-Sea Windjammer Resort
For oceanfront relaxation just steps from putting your toes in the sand, try the Windjammer Resort (and check the beach cam). For accommodation ideas try Superior Small Lodging, specializing in authentic properties.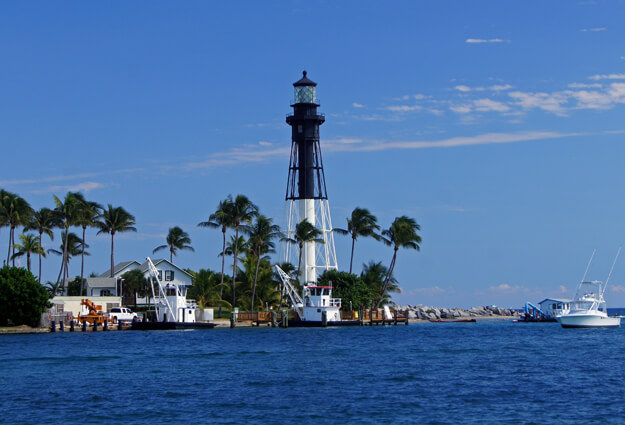 Hillsboro Lighthouse
Travel further north on A1A to Pompano Beach to catch a view of the vintage 1907 Hillsboro Lighthouse at the Hillsboro Inlet. This light was once part of a network of lighthouses that guided boats "through the Florida Straits into the Gulf of Mexico." It's situated in a private, gated community so is not accessible unless you take a guided boat tour, offered monthly. However, it's worth the drive to get a nice view of this historical lighthouse. Known as the "Big Diamond" with the "brightest light on the east coast," the towering black and white iron triangle frame surrounded by palm trees set against blue-green Atlantic waters makes a perfect "photo op." For the best view go to the Hillsboro Inlet Park at North Ocean Blvd./Bay Drive, south of the Hillsboro Inlet Bridge, or if you prefer a beach walk, park at the North Ocean Drive Beach access at NE 16th Street. For monthly tours check the Hillsboro Lighthouse.

Cap's Place for authentic Florida dining [photo courtesy Visit Ft. Lauderdale]
Cap's Place (Island Restaurant)
Not far from the Hillsboro Lighthouse is a classic restaurant and bar that was once a 1920's hideaway for smugglers, gangsters and fisherman. Cap's Place, accessible via water shuttle or by private boat, is an historical landmark that was once a rum-running restaurant and gambling casino frequented by mobsters, U.S. Presidents and movie stars. Built of sturdy pine and pecky cypress, this restaurant is "old Florida" at its best. Guests drive to a dock where parking is available and a boat will taxi you to the restaurant. Enjoy a slice of unforgettable authentic Florida history.

Flamingo Gardens
Long ago, wild flamingoes inhabited Florida. While there are very few sightings of flamingos in the wild these days, you can still enjoy stunning pink flocks of these long-legged birds at Flamingo Gardens. This 60-acre attraction near the Everglades boasts one of the last remaining natural jungle growths in South Florida, complete with 3,000 species of tropical and rare plants and trees. Once called Flamingo Groves, where Floyd and Jane Wray planted 2,000 acres of citrus, it transitioned from citrus grove to tourist attraction over the years. Nowadays, this botanical garden is home to more than 70 native birds and Florida wildlife – alligators, bobcats, eagles, bears and panthers, many being rehabilitated. You can also tour the Wray family homestead, depicting a typical 1930's South Florida country home.
Hopefully this list will get you out and exploring beyond Fort Lauderdale's beaches and festive Spring Break fun to take a closer look at the wealth of gems the area offers.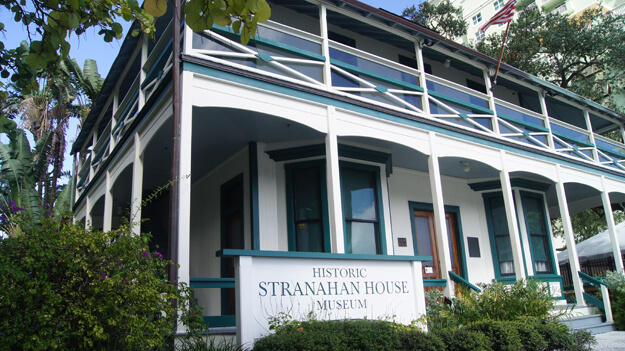 Historic Stranahan House
And while you're in the area check out:
The Stranahan House, built by 1901 by "Father of Fort Lauderdale" Frank Stranahan, that served as a trading post, post office, communal gathering place, restaurant and home.
Jungle Queen's Famous Riverboat Cruise. This old-fashioned sternwheeler river boat takes visitors on a 90-minute cruise through the waterways of Fort Lauderdale, considered a must-do.
Sidewalk lunch at the 1936 Riverside Hotel on Las Olas Boulevard.
To receive Authentic Florida's free ENEWs, featuring travel and living updates, delivered weekly, sign up on the home page Authentic Florida, voted Blog of the Year and Best Travel Blog at the Orlando Sunshine Awards. 
---