We enjoy finding islands that are uninhabited, undeveloped and natural.  These days, it's not easy to find a real barrier island that is unpopulated.  Prepare yourself for Shell Key.  It's truly the "real deal" with a world-class beach, fantastic birding, and of course, shells galore.
Shell Key is also popular with boaters, kayakers, naturalists, snorkelers, fishermen, campers and astronomers (who enjoy the dark nights on the island without lights).
Location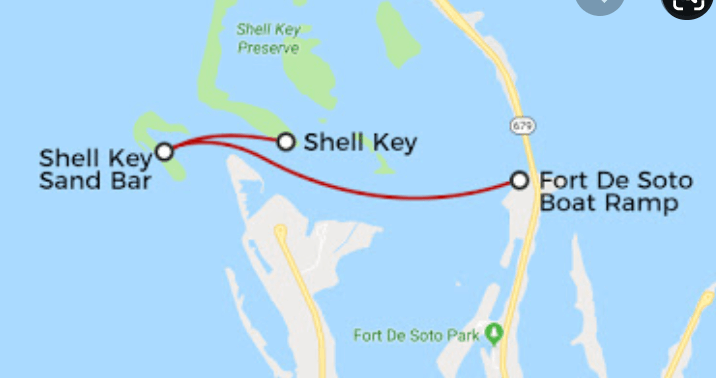 As part of the Shell Key Preserve, Shell Island (or Key) can only be reached by boat. Located in Pinellas County, between Fort Desoto Park and Pass-A-Grille Beach, you can load your kayak or boat off State Road 679 by taking the Pinellas Byway South through Terra Verde.  We loaded our kayaks in the water directly off the Pinellas Byway.   If you have a kayak or are part of a group kayak tour, that is the way to go.  If you have a boat, there is a very large boat ramp off the road that will take you through the Bunces Pass and out to the Gulf of Mexico.  Also, many of the charter boats that make the trip to nearby Egmont Key also have trips to Shell Key.  Most popular is the Shell Key Shuttle which leaves from the Merry Pier, located on the bayside of Pass-A-Grille at 801 Pass-a-Grille Way.
WOW Factor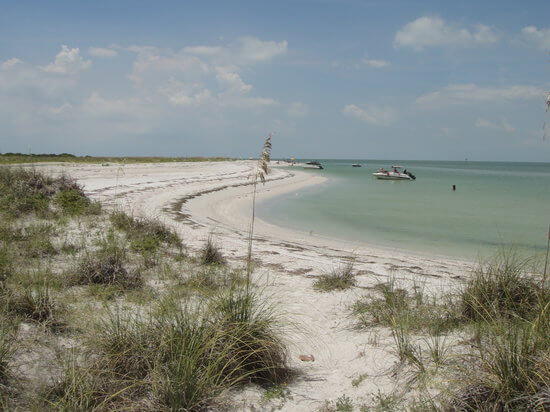 Birds are everywhere – so bring your binoculars.  Sandbars crop up and create fantastic birding opportunities.  Birders delight in this natural habitat, and shorebirds are abundant depending on the tides.
The backside of Shell Key is accessible by kayak.  We landed on the backside and walked to the gulf side.
There is nothing more enjoyable than looking for shells more so than on Shell Key.  We found shells we have not seen for decades.  It was euphoric.  It felt like we were mining for treasures and in the first five minutes, we had struck gold with sand dollars, sunray venus shells, and many others.
We took our lunch and sat on the beach while enjoying the idyllic scenery of the Gulf of Mexico and watched a manatee swim by.  There are boaters present but most everyone gives you space enough to enjoy this unique and delightful experience.
On the way back to our launch site, we went through an area where mullet were practically jumping in our boat.  It was wild.  Later, we went through a mangrove tunnel that was fun and capped off the trip.
Facts
2.5 miles long with 1800 acres
Protected 110-acre "bird preservation area and sanctuary" for nesting, migrating, and wintering birds
Certain (and significant) areas of the island are posted off-limits as a critical nesting area for various endangered or threatened shorebirds
Note
No facilities on the island
Bring your own food and carry out what you bring
If you can, go during the week
Be sure to never take a shell that has a live animal inside
Visit www.shellkey.org to learn more
For shuttle service: www.shellkeyshuttle.com
Looking for even more shelling fun? Check out: Let's Shellebrate Summer in Southwest Florida!

AuthenticFlorida.com was named Best Travel Blog two-times at the Florida Sunshine Awards.
To receive Authentic Florida's free weekly ENEWs, sign up on our Authentic Florida home page.
To inquire about partnerships/advertising, please contact info@authenticflorida.com 
Proud Member of: 

---
2 responses to "Shell Key: Wait, Wait, We Found Another One!"