If you're looking for something to do this weekend, the Friends of A1A are once again hosting the Super Scenic Garage Sale for the 12th year in a row, and this year is better than ever! This 72-mile (and then some) super sale will take place on Saturday, November 21st, from 8 am to 2 pm.
Along with Florida Scenic Highways, this event spans from the A1A Ocean Islands Trail (Nassau and Duval), A1A Scenic & Historic Coastal Byway (St. Johns and Flagler), Ormond Scenic Loop and Trail (Volusia), and also the Halifax Heritage Byway (Candidate, Volusia). This means that shoppers can also experience five different Florida counties along the entire garage sale!
Participating Businesses & Restaurants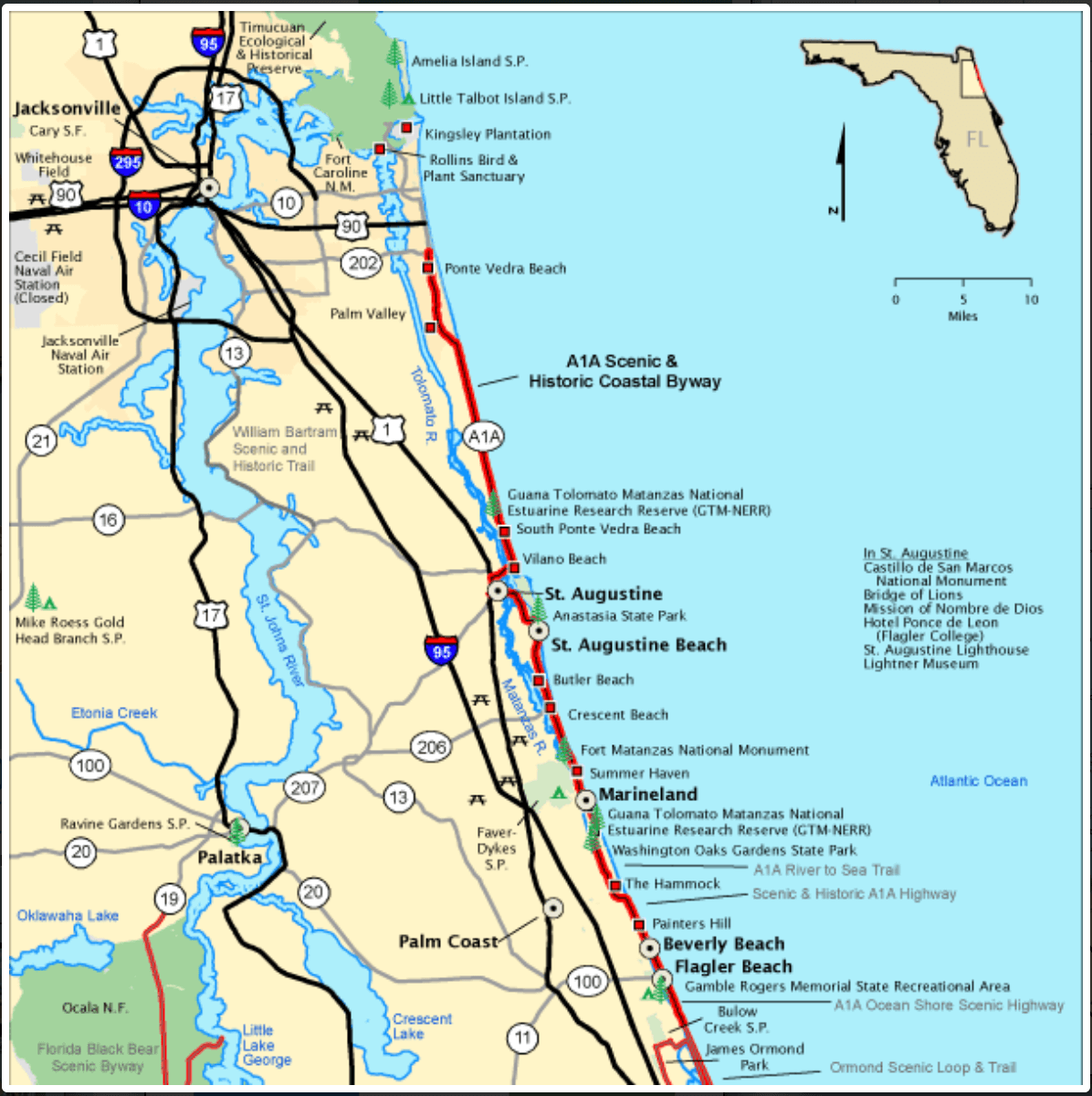 Additionally, the event will once again feature the Ultimate A1A Pop Up! Biz Experience! This allows participating restaurants along the A1A coastal corridor to offer specials and promotions not only on the day of the event but November 20th-22nd! You can spend the entire weekend dining your way up the coast of Florida!
Attendees are also encouraged to download the FREE self-guided audio tour from TravelStorys. Look for the tour called the A1A Scenic Byway. It's chock full of insight and also interesting information: https://www.travelstorys.com/
Some of the *Community Sites & Great Places to Stop and Also Shop Along the Super Scenic Garage Sale:
Tides End Subdivision – Ponte Vedra
South Ponte Vedra Civic Association also with WINGIN' IT CATERING AND FOOD TRUCK
North Shores Improvement Association Community Center
Vilano Oaks Subdivision – South Ponte Vedra
*Vilano Beach Publix on Poplar Road (Vivian Browning Ave.) – Vilano Beach – Site Captain Sallie O'Hara
*Pier Park at the Bocce Courtyard – St. Augustine Beach – Site Captain Bob Samuels
Island Ice Cream Cafe – Crescent Beach – Site Captain Pat Guido – A1A Pop Up! Restaurant Extravaganza
Genung's Fish Camp – Adam Morley and also Lauren Trice
*Coastal Policy Center – Marineland -Site Captain Danielle Anderson
*First Baptist Church – The Hammock – Site Captain Ruth Anne Tuttle
Golden Lion Cafe – Flagler Beach – A1A Pop Up! Restaurant Extravaganza
A Scent To Remember and also Flagler Tea Company – A1A Pop Up! Restaurant Extravaganza
Schnebly Recreation Center – Daytona Beach – Site Captain Chris Dawn
*Lillian Place Heritage Center – Daytona Beach – Site Captain Nancy Long
*Ponce Inlet Community Center – Site Captain Peter Finch
Be sure to also check out the homes and subdivisions registered along the way!
Additionally, check out last year's Super Scenic Garage Sale event here!
Featured image source: https://scenica1a.org/
Looking for other great places to visit in this region of Florida? Also check out:

AuthenticFlorida.com was named Best Travel Blog at the 2018 Sunshine Awards. 
To receive Authentic Florida's free weekly ENEWs, sign up on our Authentic Florida home page.
To inquire about partnerships/advertising, please contact melanie@authenticflorida.com
---
Comments are closed.