So we have turned the calendar to 2015. What will the New Year bring? And how can we make the most of the year ahead?
Some of us may think about ways to improve our health, perhaps increase our exercise routine.  Or we may consider ways to budget and save money. We may set goals to create a more balanced life for ourselves, to appreciate the simple pleasures, to learn and grow spiritually and intellectually.  We may want to travel, to discover new places, or revisit memories.
Have you ever thought of doing all of these things while discovering more of our home state? It may surprise you to find just how much you can do right here.
When we take time to discover the vast, and sometimes hidden amenities that Florida offers, we may find that these amazing new opportunities for growth will also meet personal goals to exercise more, spend less and have more fun. Here are six authentic Florida destinations to get your 2015 off to a fresh, new start:
Get Into the Woods: Ocala National Forest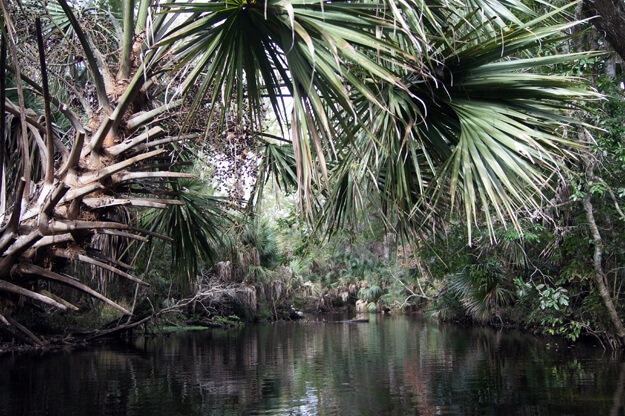 Juniper Creek, Ocala National Forest

Looking for natural Florida's quiet pine forests, sandy scrubs, thick palmettos and towering oak hammocks? Central Florida's Ocala National Forest is the place for you. The second largest National Forest in the U.S., north of Orlando, is home to miles and miles of wilderness, and four major springs, referred to as the "jewels of the Ocala National Forest." These bubbly, aqua clear springs of Juniper, Alexander, Silver Glen and Salt Springs offer unique and lovely retreats. The surrounding Forest, known as "The Big Scrub" by virtue of its dense Florida scrub vegetation, provides year around recreation for hiking, biking and equestrian sports. The diverse forest ecosystems offer unique habitats for a wide variety of plants and animals and are also home to the largest concentration of black bears in the U.S. If you have just one day in the Forest, consider paddling Juniper Creek. The run is an unforgettable, scenic kayak trip down one of Florida's most breathtaking waterways.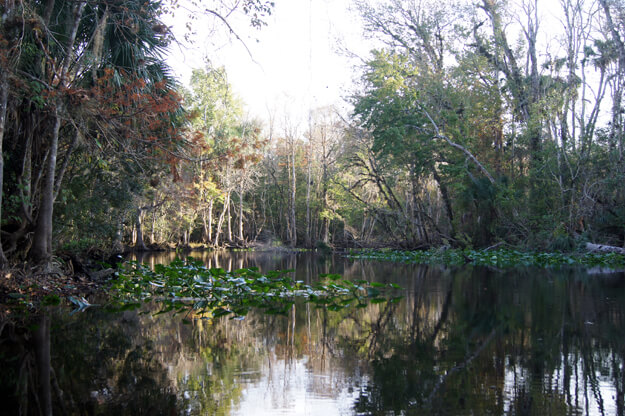 Ocklawaha River, Ocala National Park
Get Out of Town: Cedar Key

Cedar Key wall art, Brown's Old Fish House
Cedar Key, located fifty miles southwest of Gainesville, would be considered remote by even modern day standards. Most visitors don't "happen" upon Cedar Key and once you're there, you'll discover why, as the island is filled with "old Florida" charm and a feeling that time stands still, or at least has slowed down considerably. Cedar Key's rustic uniqueness is unmistakable. Actually more than one island, the Cedar Keys sit at the end of a causeway and across bridges three miles out into the Gulf of Mexico and are part of a chain of barrier islands and a national wildlife refuge. A thriving new business of clam aquaculture has successfully emerged in recent years, and Cedar Key has become the leading supplier of farm-raised clams in Florida. Try Tony's Seafood Restaurant, home to a renowned clam chowder, featuring Cedar Key clams.

Cedar Key clamming is a thriving aquaculture industry
Get Younger: St. Augustine's Fountain of Youth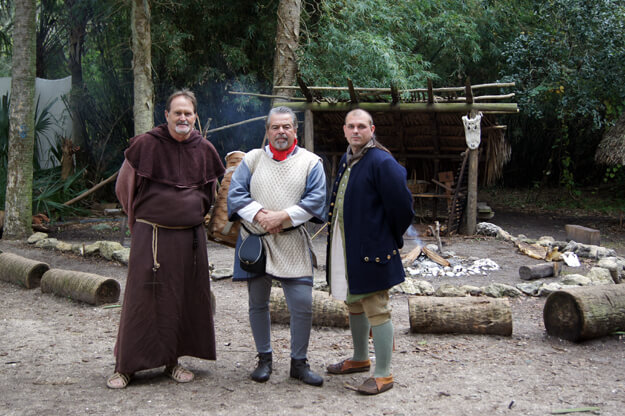 Fountain of Youth costumed re-enactors
Only one American city can hold claim to the title of "oldest city", and that is St. Augustine. Situated on Florida's northeast coast, St. Augustine's rich history is well chronicled by the landmarks that bear witness to its cultural past. One such landmark, tucked away within a quiet neighborhood not far from the famous Old Town, is Ponce de Leon's Fountain of Youth Archaeological Park. While the Fountain of Youth refers to a place of legend, the park provides a glimpse into the real history of St. Augustine's earliest settlement. The 15-acre waterfront property is thought to be the original location where Ponce de Leon landed in 1513. The property includes the original "spring" or "fountain of youth", and a mix of reconstructed period settings that bring St. Augustine's past to life. Visit with a Franciscan priest, Timucuan interpreter and weapons soldier – all costumed re-enactors, sharing their stories of the time.
Reconstructed 1587 First Mission, Church of Nombre Dios
Get Down Under: Florida's Caverns
The Wedding Cake, Florida Caverns
Located northwest of Tallahassee near Marianna, the Florida Caverns State Park is a one-of-a-kind adventure for a "down under" experience. But wait, Florida has caves? Surprise! It's true. Millions of years ago the state was covered with water and over time, the rise and fall of the ocean created carved out caves, sinkholes, springs and sinking streams from Florida's limestone foundation. At the park, a ranger guides groups down an easy flight of steps into the caves while sharing information about the geology of caves and speleological facts about mineral deposits known as stalagmites, stalactites, draperies and columns. These dry caves were made passable through the dedicated work of the 1930's Civilian Conservation Corps who helped create a unique legacy for our state.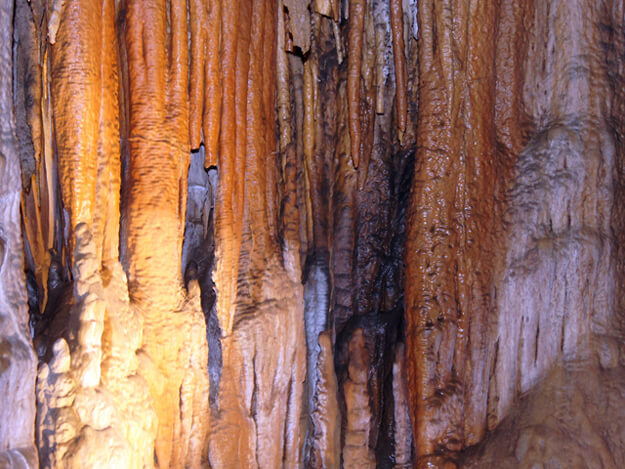 Park rangers provide tours of the Florida caverns
 Get Wild: Everglades National Park

Anhinga Trail, Everglades National Park
Everglades National Park is ideal for anyone interested in finding the "real" Everglades. A visit to this park will help you appreciate the complex mosaic of varied ecosystems, stunning wildlife and scenic beauty. If you have just one day, head to the Royal Palm Hammock just southwest of Homestead. Three trails are accessible from the main area but the popular Anhinga Trail is a must. An easy boardwalk will lead to a freshwater marsh teeming with wildlife. There you will see nesting anhingas, cormorants, green herons, moorhens, wood storks, herons, turtles and alligators of all sizes. If you have more time, drive on down the road to Flamingo, the southernmost community on the Florida peninsula. Founded in the late 1800's by gator poachers, plume hunters (when flamingos were plentiful) and moonshiners, Flamingo not only has an "end of the road" feel, but literally is the end of the road. Oh, and you won't want to miss the crocodiles near the marina.

American crocodiles, Flamingo, Everglades National Park
Get Birding: The Corkscrew Swamp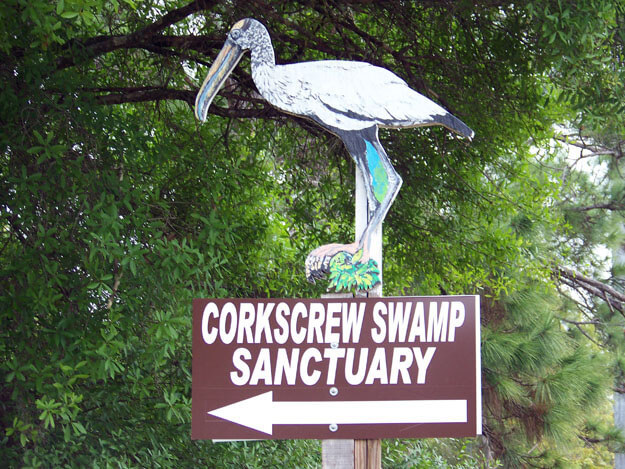 Audubon Corkscrew Swamp Sanctuary, northeast of Naples
Named after a nearby crooked river, the Corkscrew Swamp Sanctuary is located in southwest Florida, northeast of Naples. Originally established to protect one of the last remaining stands of bald cypress in North America, it also serves as a critical sanctuary and nesting area for threatened birds and wildlife. The history dates back to the late 1800s, when it was fashionable for women to wear hats with large feather plumes. To satisfy the insatiable consumer demand, game hunters ventured deep into Florida's frontier killing thousands of beautiful prized birds while decimating huge nesting colonies. Luckily, public outcry and later, the National Audubon Society, stepped in providing the needed support and protection for the sanctuary. Walking along the two-mile boardwalk, there are numerous Florida habitats within the sanctuary: pine flatwoods, wet prairie, pond cypress, lettuce lakes, and the bald cypress forest. There are many bird species and wildlife for viewing and the experience of being immersed in natural Florida is almost spiritual.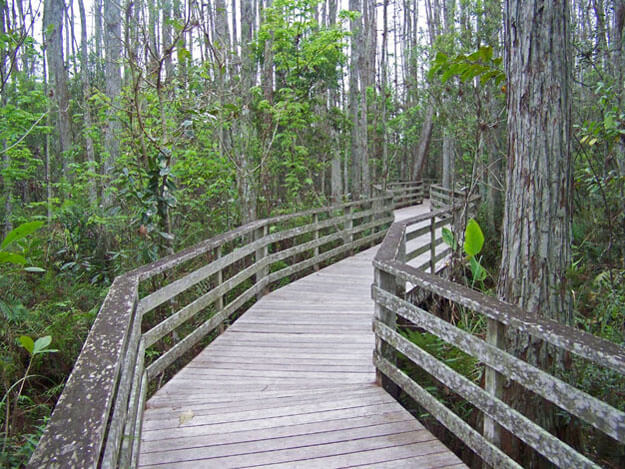 The Corksrew Swamp boardwalk winds through numerous Florida habitats
---