Here are Authentic Florida's Summer Reading List or what I affectionately call, the "Hammock Reads".  You may be familiar with them or they may be new to you – but they are enduring and memorable classics every Authentic Florida reader may want to consider reading. (And yes, A Land Remembered, while not on this list is always on our list!)
To give us a glimpse of these timeless classics, Authentic Florida is pleased to have two veteran guest book reviewers share their perspectives. Authentic Florida's Joyce Sparrow is back, who has been reviewing favorites for several years. And with Joyce, her veteran colleague and mentor, Ken Kister returns to share his thoughtful views.
The Authentic Florida Summer Picks:
The Tropic of Cracker, by Al Burt
South Moon Under, by Marjorie Kinnan Rawlings
Tourist Season, by Carl Hiaasen
Condominium, by John D. MacDonald
Their Eyes Were Watching God, by Zora Neale Hurston
The Lion's Paw, by Robb White
Book Reviews
The Tropic of Cracker by Al Burt, Reviewed by Ken Kister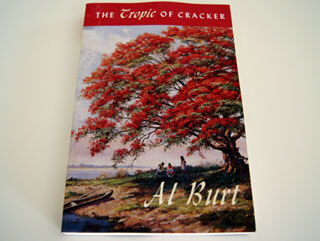 Many Floridians, both natives and semi-natives, know Al Burt [1927-2008] as a dedicated journalist who worked for years as a columnist and reporter for the Miami Herald. It's not an exaggeration to say that Burt burned with a passion to communicate everything worth knowing about Florida and its diverse people, from their histories and cultures to their politics, vocations, eccentricities, and, yes, especially their souls. Thank goodness the best of his columns are easily accessible today in such collections as Becalmed in the Mullet Latitudes (1983), Al Burt's Florida (1997), and The Tropic of Cracker (1999).
The latter book posts the overarching question of just who were, or are, the Florida Crackers? If you, dear reader, can't extemporize long enough to offer a reasonably brief but cogent answer, you are well advised to consult The Tropic of Cracker. And even if you have an informed sense of the tough, clannish -often ornery Florida Crackers who began putting their unique stamp on the state's history as far back as the early 1800s, you'll find Burt's collection of articles about these pioneer people informative and fascinating. As Ray Arsenault and Gary Mormino, two prominent Florida history professors who edited this book, point out in their foreword, "Burt uses a series of vivid biographical profiles to explore the full range of `crackerdom,' from the good old boys and `pork chopper' politicians of the Panhandle to the native Conchs of Key West….Cracker Florida, which surely has suffered more than its share of condescension and misunderstanding, has finally found its laureate"—though some will argue Marjorie Kinnan Rawlings deserves a share of that accolade (see the review of her novel South Moon Under, which follows).
South Moon Under by Marjorie Kinnan Rawlings, Reviewed by Ken Kister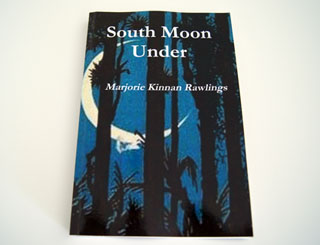 Published in 1933, South Moon Under was Marjorie Kinnan Rawlings' first novel. A Yankee born in Washington D.C. and holder of a Phi Bata Kappa key from the University of Wisconsin, Rawlings (1896-1953) is arguably Florida's best known author nationally, due in large part to the phenomenal success of The Yearling, an epic novel that won the Pulitzer Prize in 1939 and later became a beloved motion picture. She first came to Florida in 1928 while on vacation—it was, as they say, love at first sight. In a flash, Rawlings acquired a 72-acre citrus grove along with a farmhouse in the rural community of Cross Creek, located in north-central Florida's Big Scrub country not far from Gainesville. Inspired by both the natural beauty of the area and its taciturn backwoods inhabitants, poor whites known as Crackers, she found her literary mėtier. In 1931, her first published short story, "Cracker Chidlings," appeared in Scribner's magazine. Two years and more stories later, South Moon Under made its debut to a chorus of favorable reviews, though some critics questioned the author's decision to mimic Cracker lingo, e.g., "ʻI seed your boat," he said. "This speckled bastard [a bird] were settin' on a limb. I knowed you liked ʻem." The novel deals with the hardscrabble life of a typical Cracker family, the reader privy to both good and bad times, including a murder. Rawlings also embeds an enormous amount of esoteric information in the novel about such matters as making corn liquor, dancing to Cracker music, hunting rattlesnakes, and speculating about how the moon affects the behavior of wild things (from which comes the book's title). South Moon Under established Rawlings as an up-and-coming Florida writer, and though not much read today, the novel remains an important milestone in the author's development.
Tourist Season by Carl Hiaasen, Reviewed by Ken Kister
On its most elemental level, Hiaasen's satirical novel can be read for macabre laughs. An eccentric Miami newspaper columnist, Skip Wiley, heads a loosely knit bunch of crazies calling themselves Las Noches de Diciembre (The Nights of December) whose aim it is to save the "real" Florida from rapacious developers, bankers, corporations, politicians, et al. Wiley's plan is simple—and simpleminded: Murder a few tourists in such bizarre ways that maximum hysteria and nonstop press coverage will discourage outlanders from wanting to move to the Sunshine State. You know, employ the fear factor, the premise being that when the fear becomes strong enough, the rapacious developers, et al. will melt away for lack of profits. A deeper reading of the novel tells us that Hiaasen's commitment to protecting Florida's environment is no laughing matter. In fact, he once revealed as much in an interview with Publishers Weekly (June 19, 2006), noting that Tourist Season is, of all his novels, his "sentimental" favorite. Why? "Because it was the first [1986] and because it was downright subversive at the time. Not many writers can get away with feeding a blue-haired old retiree to a crocodile and expect you to root for the crocodile."
From Joyce Sparrow:
Saying that the Authentic Florida summer reading list includes three novels about hurricanes is a true statement, but an understatement. Condominium by John D. MacDonald and Their Eyes Were Watching God by Zora Neale Hurston and The Lion's Paw by Robb White use hurricanes as a plot device, which is typical in many Florida novels, but to say any of these novels is just about a hurricane misrepresents Florida literature.
Condominium by John D. MacDonald, Reviewed by Joyce Sparrow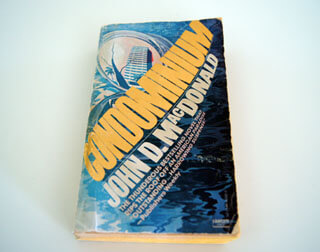 Condominium, published in 1977, captures the dreams on many who retire in Florida and purchase a condominium on the beach. The group of condo owners at the Golden Sands find themselves disappointed with their purchases because of the little problems with new construction: rain coming in under the sliding glass doors, missing refrigerator shelves, and yelping air conditioner compressors. Howard Elbright, one of the condominium owners sums up his situation:  "You are a retired chemist, he told himself. You are a very happy retired chemist, because you live in your fifty-eight-thousand-dollar condominium right here in Golden Sands on Fiddler Key with your loving wife. Your kids are grown and doing well enough. You have use of an easement to the beach and an easement to the bayshore. You are in reasonably good health. . . Repeat: You are very happy, Howard. This is the Great American Dream. Enjoy." Such is the tone of the novel: men and woman who retire in Florida to enjoy the American Dream, only to realize moving to Florida does not eliminate life's annoying trials. And, what better place to see personalities than as a member of a condo association. Tension builds as Hurricane Ella approaches Fiddler Key. Residents wonder if their poorly constructed condominiums can withstand the rising waters and wind. Some residents opt to stay and enjoy their hurricane parties while others flee to safety. Even though the book was published 37 years ago, present day readers will connect with the characters and situations in MacDonald's classic Florida novel.
Their Eyes Were Watching God by Zora Neale Hurston, Reviewed by Joyce Sparrow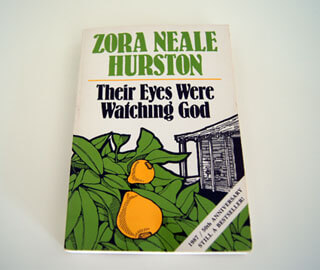 Tea Cake Woods and Janie Crawford in Zora Neale Hurston's Their Eyes Were Watching God "wait on the mercy of the Lord" as they struggle to survive the hurricane that pounds through the Lake Okeechobee area. This novel, published in 1937, begins with desires and dreams: "Ships at a distance have every man's wish on board. For some they come with the tide. For others they sail forever on the horizon, never out of sight, never landing until the Watcher turns his eyes away in resignation, his dreams mocked to death by Time." Hurston uses the hurricane to represent the culmination of Janie's three failed relationships and as the event that propels her to return to Eatonville where she was raised by her grandmother. Janie's recounts her story from the first bloom of her young adulthood to her final relationship with Tea Cake. The novel is a statement on the bonds between men and woman and her disappointments with men and marriage. Hurston's language describes what sixteen-year-old, beautiful Janie sees as she compares herself to a pear tree:  "Oh to be a pear tree—any tree in bloom! With kissing bees singing of the beginning world . . . She had glossy leavers and bursting buds and she wanted to struggle with life but it seemed to elude her. Where were the singing bees for her?" By focusing on Janie's voice, readers will marvel at Hurston's wisdom that shines through the characters. Janie is "looking, waiting . . . waiting for the world to be made" only to drag her disappointed self back to where she was raised.
The Lion's Paw by Robb White, Reviewed by Joyce Sparrow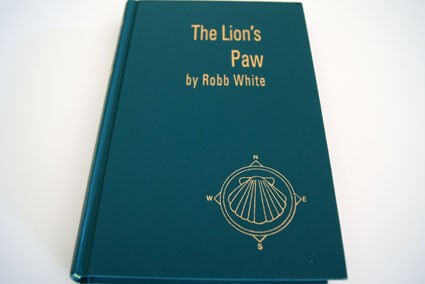 The Lion's Paw by Robb White, published in 1946, is the story of 15-year-old Ben, 12-year-old Penny, and 9-year-old Nick, who sail from Florida's east coast to Captiva in search of the Lion's Paw, an unusual scallop shell. Ben's mother died when he was born and his father is missing and declared dead by the by the U.S. Navy in the Pacific during World War II. Penny and Nick have escaped from an orphanage. The three meet when Penny and Nick seek refuge on the 30-foot sailing yacht owned by Ben's father and now in the process of being purchased. The kids engineer a plan to elude the adults. Gators, a hurricane, and meddlesome fishermen, all that create challenges along their journey through the St. Lucie Canal, Lake Okeechobee, the Caloosahatchee Canal and river, to Fort Myers and the Gulf of Mexico. Much like the characters in the MacDonald and Hurston novels, the young characters in The Lion's Paw choose to escape and begin a quest for freedom. It is a perfect adventure book for summer reading.
More about Joyce and Ken:
Joyce Sparrow writes "Florida Reads" the book review column for the Florida Library Association's publication, Florida Libraries. She also publishes book reviews in Library Journal. Contact Joyce at ReadFlorida@gmail.com.
Ken Kister, is a veteran book reviewer who has lived in Florida since 1973. His career as a book reviewer has spanned 40 years with various publications including the Library Journal as a full-time editor with Kirkus Reviews. Ken's book, Florida on the Boil: Recommended Novels and Short Story Collections set in the Sunshine State was released in 2007.
---
Comments are closed.