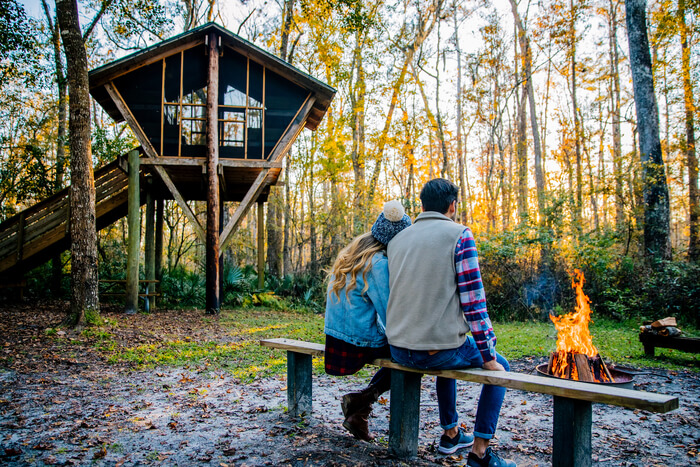 Located in the northeast part of Florida, Clay County offers an authentic slice of Florida life for everyone from two to 102-years-old. Whether you love the natural beauty of the St. Johns River, undeveloped woodlands, hiking, and camping, welcoming small towns with unique shopping, or military history that extends from the Seminole Wars in the 1700s through the war in Iraq, Clay County Florida is for you.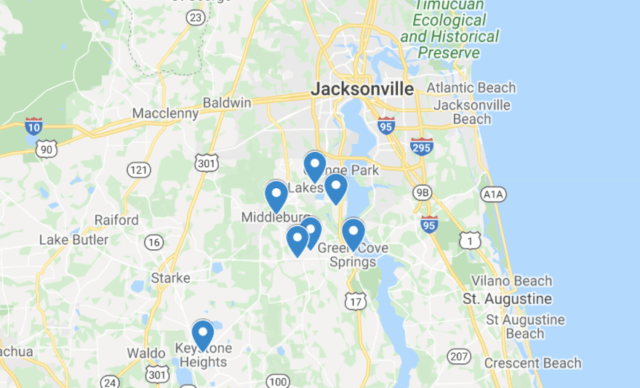 Sizeable towns in Clay County include Green Cove Springs, Keystone Heights, Orange Park, Penney Farms, Fleming Island, Lakeside, and Middleburg. 
If You Crave an Outdoor Experience, Follow The Great Florida Birding and Wildlife Trail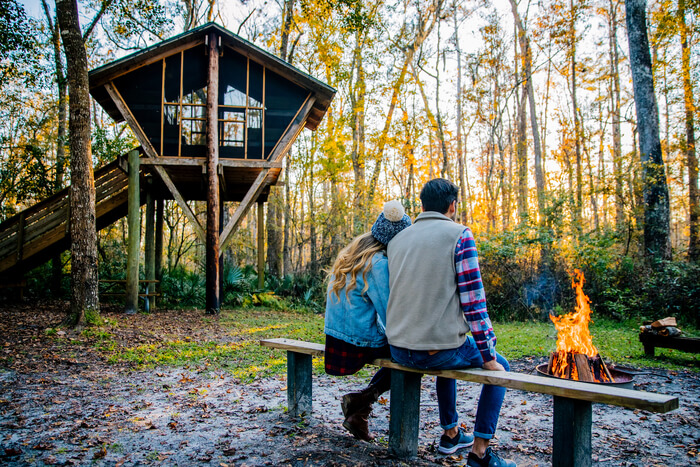 Camp Chowenwaw Park is a historic campground where you can view orange-crowned warblers, yellow-bellied sapsuckers, eastern wood-pewee, and also summer tanagers depending on the season. The park is located at the mouth of Black Creek and has 100 acres of wetlands and 50 acres of uplands where yellow-crowned heron, osprey, and also barred owl can be found. Camping facilities include tent sites, two lodges, nine treehouse cabins, and also seven cabins. Each campsite has a bathhouse with full restroom accommodations and a community house with electricity, including a stove and also a refrigerator. Walking trails access all cabins and tent sites. Visitors are responsible for bringing their linens, cookware, and dishes. To reserve a camp space, visit campchoenwaw.claycountygov.com (904) 529-8058. All cabins and campsites are located at 1517 Ball Rd, Green Cove Springs, FL 32043.
Jennings State Forest, located in northwest Clay County, near the town of Middleburg, is a part of The Great Florida Birding and Wildlife Trail, where there is hunting, fishing, wildlife viewing, primitive camping, and also hiking.  Horseback riding, bicycling, and canoeing, from four canoe launch sites, are also permitted. Animals that make their home here include the green tree frog, gray fox, hawks, white-tailed deer, turkey, eastern cottontail, northern bobwhite, pine warbler, and also other songbirds. Along the Black Creek are raccoon, otter, alligator, and wading birds. To reserve a camping site, visit https://floridastateforests.reserveamerica.com/
Mike Roess Gold Head Branch State Park is officially listed in the National Register of Historic Places is one of Florida's first State Parks located six miles outside of Keystone Heights on Highway 21. Gold Head has three campground loops and 73 campsites that can accommodate tents, trailers, and also motorized campers. Each site includes a picnic table, fire ring/grill, and also has potable water. Gold Head Park offers sandy hills, pine forests, hiking trails, and also an abundance of wildlife. To reserve a camping site, visit https://floridastateforests.reserveamerica.com/
Learn even more about Mike Roess Gold Head Branch State Park here!
From Cozy to Top Hat, You'll Find the 'Just-Right' Bed for the Night or Week
River Park Inn
If you prefer a more civilized stay while visiting Clay County, the historic River Park Inn will make you feel at home. This B & B hotel alternative located in Green Cove Springs offers true Clay County hospitality.  All the rooms have private ensuite bathrooms, plush linens, and also comfy robes to relax in. There are guest refrigerators either in the rooms or common areas. Breakfast and free refreshments are always available. The River Park Inn is located at 103 S. Magnolia Ave, Green Cove Springs, FL 32043.
Club Continental
The beautiful Club Continental, situated on the west bank of the St. John's River, has the reputation of having all the conveniences of a large city resort while retaining its small-town atmosphere.  Located in Orange Park, guests can enjoy the resort, shop, and dine in town or take a drive through Clay County to experience the pleasures of neighboring small towns. Club Continental 2143 Astor St. Orange Park, FL.
Full-service national-brand hotels are located throughout Clay County in Middleburg, Orange Park, and Fleming Island.
Fun Things To See and Do
When you visit the Clay County government seat of Green Springs Cove, your options are unlimited. During the months of May to September, you can cool off in the City Pool directly fed by the Green Cove Spring that maintains a constant temperature of 77 degrees (F). The park has pavilions, playgrounds, and also lush landscaping that leads you to the banks of the St. John's River.
Don't miss Clay County's Historic Triangle, where past and present meet. Bound by Ferris Street, Gratio Place, and Walnut Street, the Historic Courthouse, "Old" Jailhouse, Historical Society Museum, and also Historical Archives are available for tours and information on Clay County. 
The "Old" Jailhouse has been featured on several paranormal research television shows, including The Atlantic Paranormal Society "TAPS" syndicated television program. Ghostly sounds and apparitions have been reported and recorded there. The "Old" Jailhouse provided living space for the jailers and their families, which now houses the Clay County Archives. If you are looking for family ties, genealogy research is a highlight of the County Archives in Clay County. Group tours are available by appointment.  Call the Archives Specialist (904) 371-0027 for more details. The Historic Triangle is located at 915 Walnut Street, Green Cove Springs, FL 32043.
Find a Unique Gift, Tasty Treat, or Great Meal
Whitey's Fish Camp
A Fleming Island favorite, Whitey's Fish Camp unquestionably has an Old Florida vibe. Whitey's was recently named the Best Place in Jacksonville to Dock & Dine by JaxBest! Check out their nightly dining specials and also live music on the weekends. Plus, there is plenty of room to practice social distancing. The restaurant is located at 2032 County Road 220, Fleming Island, FL 32003.
The Pink Seahorse Boutique
The Pink Seahorse Boutique in Green Cove Springs fills its store with the most popular southern-inspired styles, original statement shirts, and sizes from small to 3X. 320 Ferris St, Green Cove Springs, Florida 32043.
YUM – A Southern Market
Located in Middleburg, Yum is the premier bakery serving Clay County and beyond since 2015. YUM specializes in baked goods, rustic home décor, gourmet foods, vintage candies, bath and body products, jewelry, candles, and much more. You can find YUM at 420 College Dr, Suite 110, Middleburg, FL 32068.
Just a Pinch Caf

é
Just a Pinch Café, in Fleming Island, blends Hawaiian fare and Southern cuisine into delicious meals, and they treat all their customers like friends. The café is open from 9:00 am to 3:00 pm Wednesday through Saturday, and from 8:00 am to 3:00 pm on Sundays.  Visit Just a Pinch Café at 1615 County Rd 220, Suite 180, Fleming Island, FL 32003.
Pinglehead Brewing Company
Pinglehead Brewing Company has been making beer in Orange Park since early 2011.  Built inside Brewer's Pizza, Pinglehead Brewing is Clay County's only true brewpub. The flagship brew, Pinglehead Red Ale, is a favorite with brewpub customers, friends, neighbors, and visitors. Brewer's Pizza is a place where you can relax while they prepare and serve the best specialty pizza and beer in Clay County and north Florida. Located at 14B Blanding Blvd, Orange Park, FL 32073.
G's Slow Smoked BBQ
As you make your way from South Orange Park to Middleburg, you don't want to miss this slow-smoked quality barbeque, winner of the Reserve Grand Champions, Jacksonville Backyard BBQ Championship 2009. Family-friendly with a kids menu and house-made sauces, G's Slow Smoked BBQ owner and staff will treat you like a beloved local. Find G's Slow Smoked BBQ at 1282 Blanding Blvd, Orange Park, FL 32065.
No Trip is Complete Without a Good Cup of Joe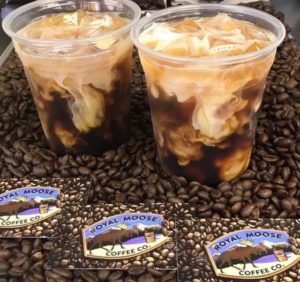 Clay County is home to eight independent Coffee Shops offering some of the finest craft coffees in northern Florida. 
Spring Park Coffee
You will usually find the locals at Spring Park Coffee in Green Cove Springs. Besides the handcrafted coffee, specialty lattes, and house-made pastry Spring Park Coffee offers a free coffee every day to anyone with the 'Name of the Day' written on their chalkboard outside. 328 Ferris St, Green Cove Springs, FL 32043.
Crazy Beans Coffee
Crazy Beans Coffee is a locally owned Coffee Shop offering ethically-sourced coffee from around the world.  In the morning, settle in for a cup of specialty coffee and an artesian pastry or also a hearty breakfast sandwich.  Gourmet sandwiches and local treats are available for a more leisurely afternoon lunch or snack. Crazy Beans Coffee is located at 1545 County Rd 220, Fleming Island, FL 32003. 
The Urban Bean Coffeehouse Cafe
The Urban Bean Coffeehouse Cafe is family owned and operated coffeehouse café in the heart of Orange Park. Enjoy specialty and hand-brewed coffees, organic teas, and a menu that features all-day breakfast items, salads, and also signature deli sandwiches.  You can find The Urban Bean Coffeehouse Café at 2023 Park Ave, Orange Park, FL 32073.
Royal Moose Coffee Company
Royal Moose Coffee Company greets you with a moose statue when you arrive outside their building.  From traditional cappuccinos to chai lattes, Moose Mocha, or just a cup of coffee, you can add breakfast with cinnamon rolls, muffins, and also croissant sandwiches all day. Middleburg and the Royal Moose Coffee Company welcome you to their friendly community.  2441 Blanding Blvd, Middleburg, FL 32068.
FirePower Coffee Roasters
Also not to be missed on your trip around Clay County is FirePower Coffee Roasters in Keystone Heights. A real family business, the Beck family welcomes you with a selection of brewed coffees from around the world. You are encouraged to sample specialty and organic teas from Two Leaves with various package sizes to enjoy at home. 322 SE Highway 100, Ste. D, Keystone Heights, FL 32656.
A Salute to Military History 
During WW II, Clay County Florida's military population grew so large that it was designated as the home to more military bases and training centers than any other location in the United States  Among the military bases located in Clay County was Lee Field, a WW II Naval Air Station, now decommissioned, to train Navy and Marine flight personnel. 
Military Museum of North Florida
Located on the old Lee Field site is The Military Museum of North Florida.  While visiting the Military Museum of North Florida, pick up a copy of "Clay County's Military Trail" map.  Travel across the county, locating military sites from the Second Seminole Wars (1835-1841) to the present. Some locations no longer have facilities in place.  The Military Museum is located at 1 Bunker Avenue, Green Cove Springs, FL 32043. The Museum is open Thursdays through Saturdays from 10:00 am to 3:00 pm and Sundays from 12:00 pm to 4:00 pm. 
Home to the largest Infantry Training Base during World War II, Camp Blanding was opened in 1939 on the shores of Kingsley Lake. The site provided housing for over 90,000 troops that trained there.
Additionally, Lee Field, located in Green Cove Springs, served as a flight training center. Today, the Camp Blanding Joint Training Center is the primary military reservation and training base for the Florida National Guard, both the Florida Army National Guard and certain non-flying activities of the Florida Air National Guard.
This museum and park are free, open to the public, and very kid-friendly with hands-on exhibits. Contained in one of Camp Blanding's restored World War II buildings, the museum traces the history of both Camp Blanding and the Florida National Guard. The Museum's Library and Archives are available to visitors, although serious research sessions require an appointment. 
Outdoor exhibits and displays include equipment and Army, Navy, and Air Force aircraft from World War II, the Korean War, the Vietnam War, the Cold War, and also Operation Desert Storm. This also includes captured Soviet-manufactured Iraqi equipment from the latter conflict. 
The Camp Blanding Museum and Memorial Park is open Noon to 4:00 pm every day, except Christmas and New Year. The Museum is located at Camp Blanding, Building 3040 Tallahassee St, Starke, FL 32091 (904) 533-3196.

AuthenticFlorida.com was named Best Travel Blog two-times at the Florida Sunshine Awards.
To receive Authentic Florida's free weekly ENEWs, sign up on our Authentic Florida home page.
To inquire about partnerships/advertising, please contact info@authenticflorida.com 
Proud Member of: 

---
Comments are closed.