So, You Want to be A Travel Writer? It's Easier Than You Think…
I find that many Authentic Florida readers have a yearning to be a travel writer or at least have thought of it. And even if you haven't – here's some insight into my personal journey into travel writing – or just following a dream.

Cayo Costa Island Adventure with Captain Brian on the Water
Becoming a travel writer sounds kind of fun, right?
But how do you start?
Keep reading. It's easier than you think.
I may even convince you that it's your next step, your next dream job, or even your next adventure.
But first it's important to know the reason why you want to be a travel writer.
Is it to escape a dull, dreary job?
To find a way to make a living that will replace your current income?
To do something different? Fun? Exciting?
To see the world?
Those are all good reasons. They certainly qualify for wanting to become a travel writer or following any dream.

Picking Oranges at Hill Top Groves, Weirsdale, Florida
But it helps if you have this one major asset…
Passion.
It is the one essential ingredient that will sustain you as you create your dream, and reward you as you live it. Any dream will have challenges and obstacles. They are a natural part of any bold new step. These could include fear, insecurity, a sharp learning curve; plus frustration, doubt, impatience, and many others.
Why? Because when you follow your dream you are often overcoming practicality and reason.
Your dream may be travel writing, or it could be anything that you are passionate about.
Following your dream means doing "whatever it takes" regardless of risk, regardless of the obstacles, because you are driven by passion to do what you love.
And because it makes you happy.

Ormond Loop, Volusia County
For me, telling a story of my lifelong love for Florida became my passion. It drove me to create a website about Florida that reflected my passion of the state. I knew intuitively that there was a Florida out there that was still authentic. And my need was to find it, and to share it with others.
This "knowingness" that this was right for me, and the creative inspiration for it, came from my very core. It fed something within me that needed expression – through travel, meeting people, experiencing special places, then telling the story through writing and photography.
I was convinced that I could find the Florida that I remembered as a young girl and grew up experiencing. And I was willing to make it a mission. I wanted to find the real, authentic Florida that provided glimpses of my youth – and that each excursion would give me immense pleasure for the pure joy of being in the moment.

Aerial adventure course, Treehoppers, Pasco County
Okay that sounds all fine and good but what about the part about overcoming obstacles you ask?
Before I started, here were my obstacles:
I got a D- in college freshman English and could not write.
I was not a photographer.
I had never run a business.
I didn't know how to start.
I had a current job that produced income and could not abandon that income stream.
I always thought it was beyond me to "follow my passion."
I had a family.
My car was old.
I was not technically inclined whatsoever.
Basically, I didn't have a clue.

Clyde Butcher Big Cypress Swamp Walk, courtesy Alicia Gruart
So, how did it begin?
One evening, I watched a movie called Julie and Julia, a true story about a young woman who worked in a boring 9-5 job, and she needed some inspiration in her life. She made a decision that each evening, after work she would blog about creating a recipe from Julia Child's Mastering the Art of French Cooking.
After that movie I said to myself, "I can do that."
And Authentic Florida was born.

Marjorie Kinnan Rawlings home, Cross Creek
But, raising this new baby would take some planning and preparation. 
I worked on the website for 6 months to accumulate archives of travel stories, complete the design for the website and to test out the concept.
I also did not quit my day job, at least not at first.
Making money as a travel writer is not easy. It takes some serious planning and a lot of trial and error to find a way to create income.
But you can do it. However, in addition to the passion driving you, you must have one other key component in your arsenal.
A niche.
A niche focuses your idea into a singular area that becomes and reflects your expertise – maybe it is a certain area of traveling (hiking, biking, paddle boarding, scuba), or places to stay, areas to eat or a composite of all. Or maybe it's about a specific geographic area, or about being a single traveler, married traveler, or traveling with friends. Or maybe it's about eating your way around the world. Or maybe it's about history, museums or wildlife.
The options are endless.

Taking off in a helicopter, Port Canaveral, Florida's Space Coast
Now, do your homework.
If you don't already, start following writers and bloggers that fit your chosen niche. Write to them, talk to them – open up a conversation – and above all learn from them. Meet other bloggers, join groups, attend webinars and conferences (Florida Blog Con, Florida Outdoor Writers Association). Learn as much as you can before you plunge.

Speaking at the Florida Blog Con
Next, figure out how you will make money. Yes, I know, the $64,000 question. I get asked this question every day and there's not an easy answer, but the best answer I have is this.
To be successful you must become an influencer. You must become someone who is a key resource in readers' lives. You must become the go-to person that folks tap into to do their travel planning.
Make your passion evident in all you do. It will lead to creating income.

Fresh Florida produce at the farmers' market
It's a fact – influencers attract interested parties. To make sure financial players are aligned with your product make sure your values are clear in your brand. That way you will maintain integrity of your mission.
And how do you do that? It is not an overnight phenomenon.
It is a one-day-at-a-time every day process.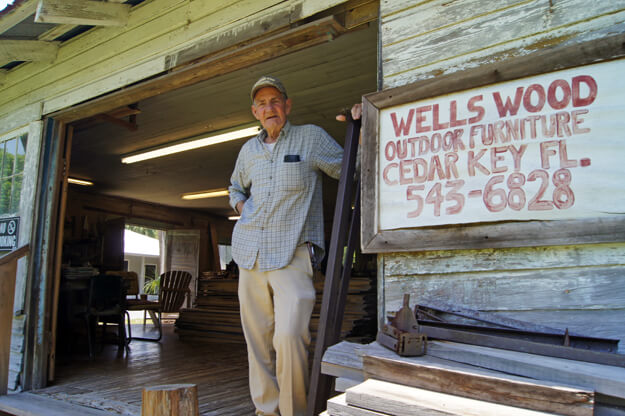 Woodworker, Herman Wells, Cedar Key
Communicate your values to your readers. My values are simple because I believe in living a simple life. I travel to places that are off the beaten path, I cook using fresh Florida foods, I try to garden, grow food and support local farmers. I support local artists and writers. I believe in exercising outdoors while exploring the vast and wonderful Florida.

Authentic Florida Blueberry Dutch Pancake
My values are entrenched in my story, travels and writing. And I institutionalize the values on the website, in the e-news and blog, in correspondence and proposals, through presentations and speaking engagements. I am always reinforcing my core values and that creates readers, followers, advertisers and partners who hold these same values.
My stories also try to reflect what is important to you the reader, because I listen to your comments and hear your needs, wants and desires.
I try to pay attention to what matters to you. What do you care about? What motivates you to explore Florida? What makes you happy when you see a post?
I'm serious about one day at a time. You'll get there. Have patience. Be good to yourself first and foremost.

Florida Outdoor Writers Association 2017 Award of Excellence recipient, with Tom Van Horn
You can find your happy place and live the dream.  
I did it and so can you.
It is a privilege for me to do this job every day. It is not a job, it is a joy, and with the joy comes blessings – from within and outside.
It's possible.
Believe in yourself. Let the universe guide you.
You deserve it.

Selby Botanical Gardens, Sarasota
 To receive Authentic Florida's free ENEWs, featuring travel and living updates, delivered weekly, sign up on the home page Authentic Florida, voted Blog of the Year and Best Travel Blog at the Orlando Sunshine Awards.
---