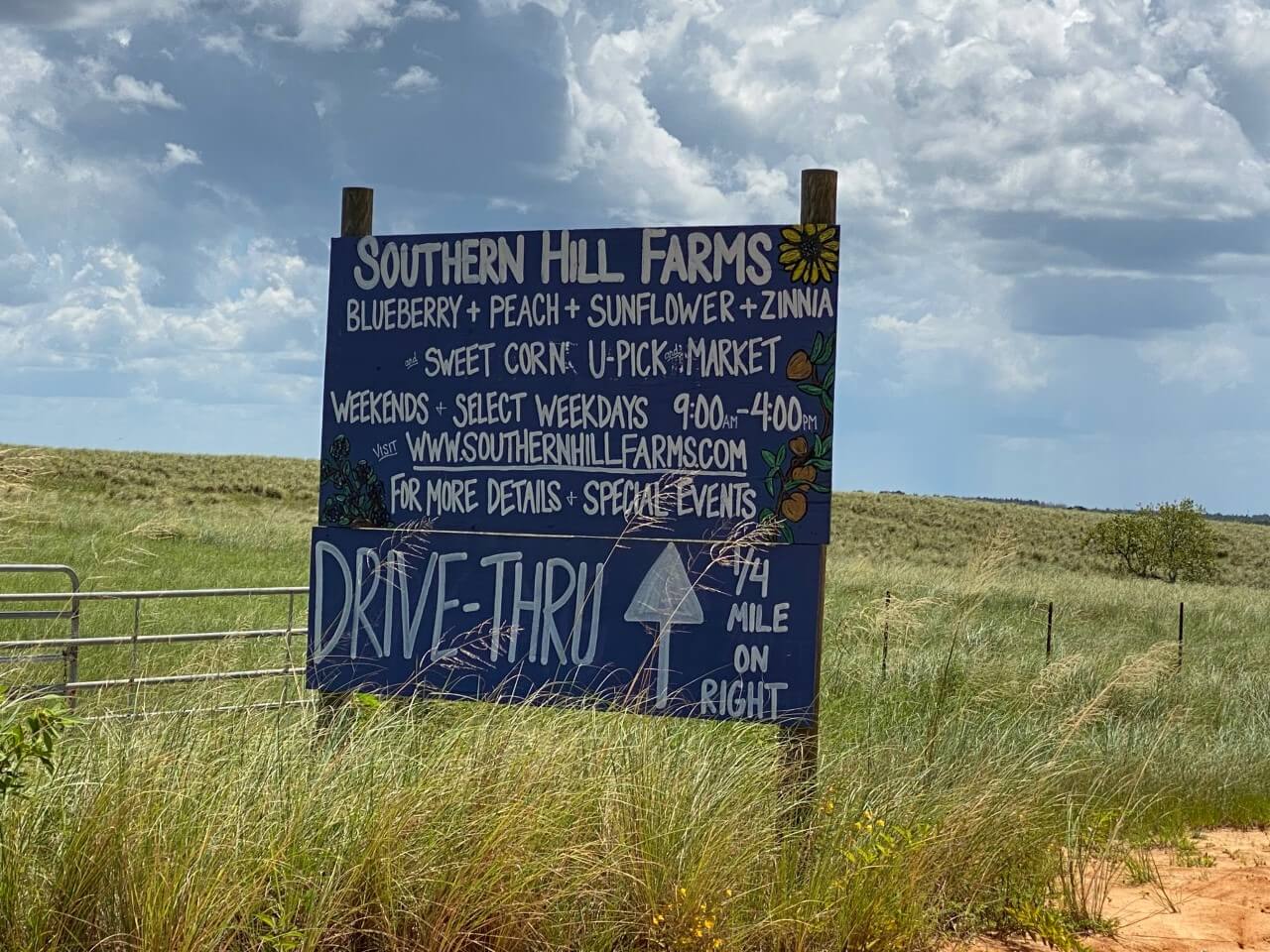 One of our favorite places to visit in the Central Florida area is Southern Hill Farms in Clermont! Open during the fall and spring seasons, this farm has plenty of authentic things to do for a day filled with fresh air and fun! Read on to learn more about their Fall Festival Season, U-Pick Spring Season, and what to buy at the farm market!
History of Southern Hill Farms
The Southern Hill Farms tradition began with the family's "Pop Pop" who lived on the Eastern Shore of Virginia. He began growing tomatoes, potatoes, strawberries, and corn right at the turn of the century. His youngest son, Billy (AKA Big Bill) decided to make the move from Virginia to the Central Florida area. He grew an incredibly successful farm with his wife Bobbie (AKA The Queen of Ag), but unfortunately, the Lake Apopka Restoration Act forced the farm to close.
Billy's daughter Lisa, and her husband David (AKA Papa and LiLi) then began to farm ornamental trees at the start of the twenty-first century. They along with their oldest son also began planting blueberries to use all of the available farmland that they had. They sold commercially up until 2014 when they decided to open their doors to the community! That was when the Southern Hill Farms the people of Lake County love was born! David and Lisa now work with all three of their children, son in law, daughter in law, and many others who they consider family to make Southern Hill Farms an amazing destination for everyone!
Hours & Ticket Information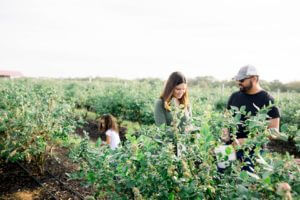 Southern Hill Farms is only open to the public during the Fall and Spring season! During the season they are open Thursday and Friday from 9 am to 4 pm and Saturday and Sunday from 11 am to 7 pm. Tickets are only sold online in advance, so make sure to check out the Southern Hill Farms website to purchase!
Tickets for Thursday and Friday are $7.99 per person, and Saturday and Sunday are $11.99 per person.
Amenities at the Farm
There are so many fun and exciting things to do at Southern Hill Farms! Even if you just want to relax, the farm has rocking chairs, picnic tables, and a rooftop deck to just sit and unwind.
If relaxing isn't your thing – you won't be bored! Grab the whole family to play yard games like Jenga, bean bag toss, Connect Four, footballs, soccer balls, and more!
Make sure not to miss out on the double-decker tour for an incredible view of the farm! This tour takes place on an unused cotton harvester with an added top deck with bench seating. Tickets are $5 for adults, $3 for children ages 3-17, and free for children under the age of 2! Rides take off every hour on the half-hour from 9:30 am to 3:30 pm!
No matter what season you visit Southern Hill Farms, you'll be sure to have an amazing time! Check out the Fall Festival Season or the U-Pick Spring Season for a wide variety of events, food, and activities!
Fall Festival Season at Southern Hill Farms
Make sure to stop by Southern Hill Farms for their fall festival beginning September 26th through November 8th! Keep in mind that this season, due to COVID-19, tickets must be purchased online and face masks are required while in lines, participating in activities, and when social distancing cannot be maintained for everyone 3 years and older.
Not only can you visit the pumpkin patch for a variety of pumpkins, but you can also take home Indian corn, gourds, sweet corn, sunflower ($2/stem), and zinnia ($1/stem)! Found the perfect pumpkin but don't want to carry it around the farm? No worries! There is a "Pumpkin Holding Area" where you can set your purchased pumpkins while you stay and play!
The Southern Hill Eatery is open and serving lunch from 10:30 am to 3:30 pm, and the Beer Shed is open and serving local craft beer, wine, frozen drinks, and mimosas from 9 am to 4 pm! Don't forget to stop by the Southern Hill Sweets bakery for a wide array of fall treats! This includes apple cider donuts, blueberry lemonade, frozen and hot apple cider, blueberry cobbler, pumpkin muffins, and more! Stop by the fire pit to purchase a S'mores kit with roasting sticks to make delicious S'mores by the fire!
If that's not enough, you can take a complimentary farm wagon ride or watch your team's football game on flat-screen TV's under the food truck barn! In addition, kids can play touch-a-tractor, ride the cyclone swing, play inflatable sports games, or even jump on jump pillows!
Spring U-Pick Season at Southern Hill Farms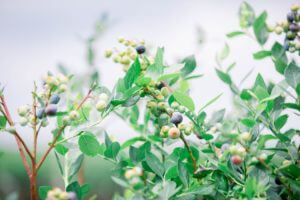 If you're visiting Southern Hill Farms during the spring, odds are you're wanting to pick your own produce! You can pick your own blueberries, peaches, sunflowers, and zinnias! Southern Hill is known for their blueberries, and they grow eight varieties on their grounds!
Check out a tour of the farm on a covered wagon! This ride takes you on a fifteen-minute journey throughout the ornamental trees, blueberry, and peach fields. Tickets for this experience are $2, and children under the age of two can ride free and must sit on a parent or guardian's lap. The rides head out every half hour from 9:30 am to 3:30 pm!
Looking for a bite to eat? Southern Hill Farms has its own Southern Hill Eatery along with local food trucks! Lunch is available from 10:30 am to 3:30 pm on Saturdays and Sundays during the Spring season! Make sure to check out their event calendar online for a list of what food trucks will be there the day you visit!
If you love dancing you've come to the right place! Southern Hill Farms also has live entertainment every Saturday and Sunday during the spring from 10:45 am to 2:45 pm! Check out the live musicians that will be there on the farm's event calendar!
Make sure to bring along the kids! They'll be entertained for hours with Southern Hill Farm's playground barn! The barn has swings, chalk, LEGOs, a checkerboard, sand for digging, and plenty of stuff to climb!
If you're stopping by a local farm, odds are you'll want to take home some handcrafted food and items! Look no further than the Southern Hill Market located on the farm! They have everything from hand-poured candles, local raw honey, canned goods like blueberry jam and salsa, and handcrafted items like lip balm and lotion! You can even grab a hat or shirt to rep Southern Hill Farms out and about!
Would you rather order your items online and pick them up from the comfort of your own car? Check out their online store to order everything from fresh produce, sweet treats, alcohol, candles, jams, salsas, honey, spa and soap products, fall decor, apparel, ornamental trees, stationary, and even more! Keep in mind the pick-up times are only on Wednesdays from 9 am to 4 pm.
Southern Hill Eatery, Bakery, and The Beer Shed
The farm also includes their own Southern Hill Eatery – a farm to table food truck using ingredients from the fields! Delicious options include blueberry and gouda grilled cheese, bacon cheeseburgers with blueberry mustard, and fresh spring blueberry salads! Are your kids picky eaters? The eatery also includes kid favorites like hamburgers, cheeseburgers, hot dogs, french fries, and meatball subs!
The bakery at Southern Hill Farms is unique! This is because it's actually a vintage 1979 Airstream trailer-turned-bakery! No matter the season, the bakery serves up delicious and seasonal treats! Some of our favorites include blueberry or peach cobbler topped with a scoop of cold vanilla ice cream! Other favorites are blueberry muffins, donuts, biscuits, iced coffee, soft pretzels, handmade popsicles, and Italian ice!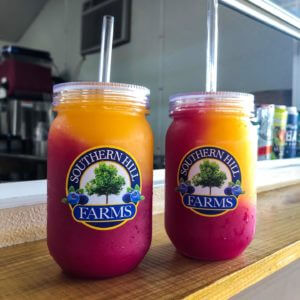 Looking for an adult beverage? Look no further than The Beer Shed! They serve local craft beer, red and white wine, light beer, and crisp hard seltzer! Our favorites are the blueberry or peach mimosa and the Frozen Blueberry Smash! The Beer Shed is only for farm attendees over the age of 21!
While in the Clermont area, be sure to stop by Florida's Citrus Tower. Read more here!
Looking for even more fun and authentic things to do in the Sunshine State? Check out our favorite things to do on Florida's Adventure Coast here!
Note: This information was accurate when it was published, but is subject to change without notice. Please be sure to confirm all details directly with the companies/organizations mentioned before planning your trip.

AuthenticFlorida.com was named Best Travel Blog two-times at the Florida Sunshine Awards.
To receive Authentic Florida's free weekly ENEWs, sign up on our Authentic Florida home page.
To inquire about partnerships/advertising, please contact info@authenticflorida.com 
Proud Member of: 

---
Comments are closed.