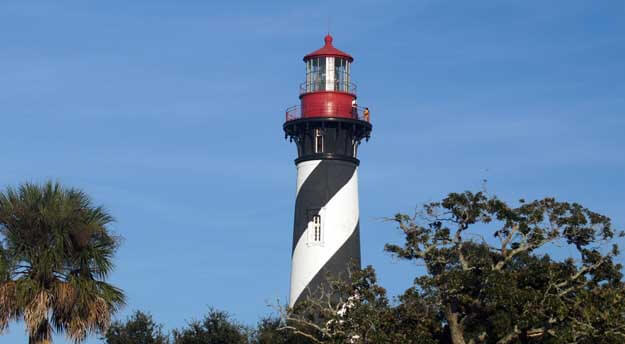 There is something very intriguing about lighthouses. With their towering shapes, rich history, and unique stories of dedicated light keepers trudging up steep, winding steps to keep the light burning to protect/warn ships, lighthouses are aesthetically pleasing and serve a great purpose. Read on to check out our list of Florida lighthouses!
Due to COVID-19 restrictions, please make sure you check their website and call ahead before heading out on an adventure. It's also a great time to add any of these adventures to your future Florida bucket list. 
Florida's Historic Lighthouses
Click on a lighthouse name below for information on that lighthouse:
Alligator Reef

Florida Keys
Website
More Info
 Amelia Island

Fernandina Beach
Website
More Info 
American Shoal

Florida Keys
Website
More Info
Anclote Key

Tarpon Springs
Website
More Info 
Port Boca Grande

Boca Grande
Website
More Info 
Cape Canaveral

Cape Canaveral
Website
More Info 
Cape Florida

Key Biscayne
Website
More Info 
Cape St. George

St. George Island
Website
More Info


 Cape San Blas

Port St. Joe
Website
More Info


Carysfort Reef

Key Largo
Website
More Info


Cedar Keys

Seahorse Key
Website
More Info


Crooked River

Carabelle
Website
More Info


Egmont Key

St. Petersburg
Website
More Info
Fowey Rocks


Key Biscayne

Garden Key

Ft. Jefferson
Dry Tortugas
Website
More Info
Gasparilla Island

Gasparilla Island
Website
More Info


Hillsboro Inlet

Hillsboro Beach
Website
More Info


Jupiter Inlet

Jupiter
Website
More Info 
Key West

Key West
Website
More Info


 Loggerhead Key

Loggerhead Key
Website
More Info


Mayport

Mayport
Website
More Info


 Pensacola

Pensacola
Website
More Info
 Ponce de Leon Inlet

Ponce de Leon Inlet
Website
More Info
 St. Augustine

St. Augustine
Website
More Info


St. Johns River

Jacksonville
Website
More Info


St. Marks

St. Marks
Website
More Info
 Sand Key

Key West
Website
More Info


Sanibel Island 

Sanibel
Website
More Info
Sombrero Key

Marathon
Website
More Info
For tourist info on lighthouses in Florida, visit Lighthouse Friends!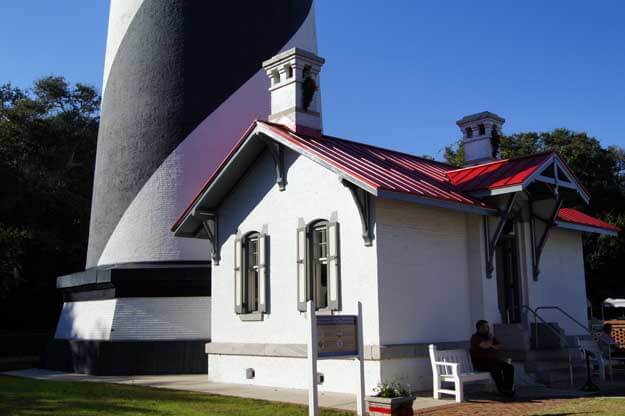 The St. Augustine Lighthouse, with its huge lens atop a tower of spiraling black and white stripes, enhances our continuing love affair with these maritime treasures.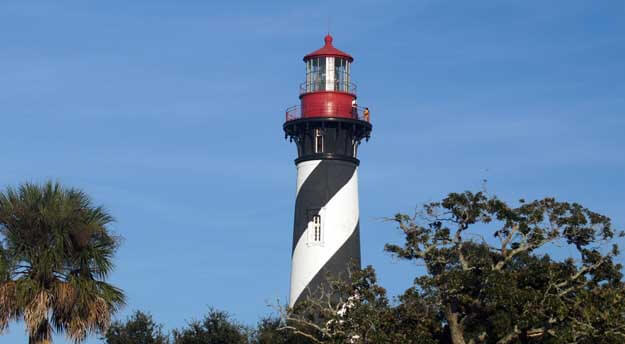 When the first Spanish settlers arrived in St. Augustine, a wooden sentry watchtower was built on the Matanzas Inlet to serve as a lookout for hostile ships. This lookout became the first tower on U.S. soil to aid navigators, which became a predecessor for lighthouses we know today. Centuries later, during the 1700s a new coquina tower was built at the same location, later becoming the first official St. Augustine Lighthouse. After more than a century of service, it collapsed into the sea. Construction began on a new tower in 1871, which is the current St. Augustine lighthouse still standing after 145 years (October 15, 2020, will mark the 145th anniversary since it was first lit).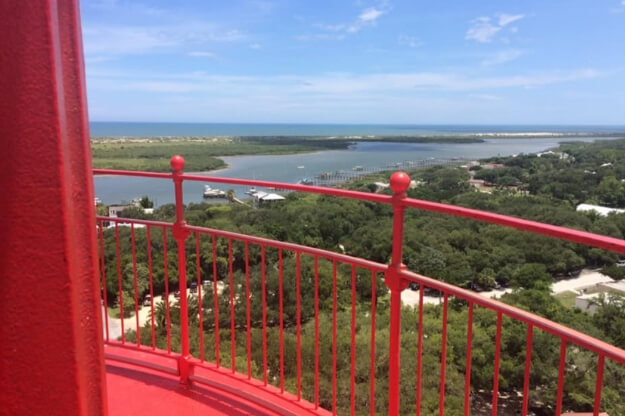 A journey up the St. Augustine Lighthouse is well worth the 219 steps that take you to the top of the tower 165 feet high. The payoff is the surrounding vista and ocean view of the Atlantic. It's hard to fathom a lighthouse keeper carrying heavy buckets of kerosene up hundreds of steps to keep the light burning each day.
General Admission Day Passes:
Adults: $12.95
Seniors (60+): $10.95
Children (Age 12 or under and 44″ or taller): $10.95
Make sure to use code LH15 for 15% off your General Admission Tickets ONLY. Available for online orders ONLY.
Included with your General Admission Day Pass:
Daily Demos – Explore lightkeeper duties and daily life, sailing, wooden boatbuilding, and underwater archaeology during your visit. See the Daily Demo Schedule to customize your visit.
Maritime Hammock Scavenger Hunt – Grab a scavenger hunt card pack at the entrance to the Maritime Hammock trails and add a fun experience to your walk in the natural area of the historic site. Search for animals that live in this coastal habitat and learn about medicinal and historic uses of plants. These activities are sponsored in part by the State of Florida, Department of State, Division of Cultural Affairs, and the Florida Council on Arts and Culture.
Tours
Lighthouse Keeper's Tour – Learn about Florida lighthouse history on a behind the scenes tour with our lighthouse keeper. The one-hour tours are $19.95 for adults, $17.95 for seniors and children under 12.
Dark of the Moon Ghost Tour – All Ghosts No Gimmicks! During the one-and-a-half to two-hour tour, with only a glow stick as lighting, guides share the history and ghost stories of the people who have lived, worked, and visited the Lighthouse. Dark of the Moon is the only tour that gets you on the Lighthouse grounds at night.
Sunset Moonrise – Enjoy a Sunset and full Moonrise from the most unique perspective of all … Atop the St. Augustine Lighthouse! This special event includes a champagne toast (provided by San Sebastian Winery) and light hors d'oeuvres (provided by The Reef). I.D. is required.
Check out our other St. Augustine articles:

AuthenticFlorida.com was named Best Travel Blog two-times at the Florida Sunshine Awards.
To receive Authentic Florida's free weekly ENEWs, sign up on our Authentic Florida home page.
To inquire about partnerships/advertising, please contact info@authenticflorida.com 
Proud Member of: 

---