Step Back in Time at One of Seven Remaining Authentic Drive-In Movie Theaters in Florida
One of the best ways to tie the past with the present is to visit a drive-in movie theatre. In their heyday (the 1950s), drive-in's were all the rage. Whether it was a romantic date or family outing, a trip to the drive-in was (and still is),  a fun, affordable experience. Read on to check out our favorite drive-in movie theaters in Florida!
As with so many things in life, technology has raised the bar when it comes to the movie-going experience and the number of drive-in movie theaters in existence in the USA today has gone from thousands to a couple hundred … sadly, leaving only seven remaining in the Sunshine State. Although they are hard to come by, there's something very comforting that happens when you find one. It brings back a lot of memories. And, let's face it, where else can you catch a double feature (mostly first-run films) for $5.00 to $7.00 per person?
Help Keep Drive-In Theaters Alive
In many ways, it's the emotional connection with yesteryear that keeps these gems alive. If you travel to one of these drive-in movie theaters in Florida, please keep in mind that it's the concession purchases that preserve these historic landmarks. So, please don't smuggle in your own treats. Simply venture out of your vehicle to the concession stand to select your movie-going grub (popcorn, hot dogs, nachos, candy, soda, etc.). It's truly part of the whole drive-in experience to make a trip to the snack bar. Also, even if they accept credit cards, cash is always the preferred method of payment for tickets and snacks.
Being mindful of the financial obligations of true mom and pop establishments, paying with cash will hopefully ensure that they stay around for the next generation to enjoy!
A couple more things to note … it's never a bad idea to keep some bug spray in your car. Depending on the time of the year, you will be happy you have it with you. Bring chairs with you. If the weather is nice, you can crank up your radio and sit outside to watch the film. Also, do not leave your headlights, parking lights, or put your foot on the brake. These things will become a distraction to those around you.
This year, the Silver Moon Drive-In Theatre will be celebrating its 70th anniversary. When it first opened, it was promoted as "Florida's newest most modern outdoor theatre." The theatre added a second screen in 1985 and has been showing double features seven days a week ever since. Silver Moon is the last drive-in movie theatre in Polk County and is located about an hour west of Orlando, making it the closest drive-in to Central Florida's main theme parks/attractions.
Even after 70 years, Silver Moon remains a popular destination, so patrons are encouraged to show up early to ensure they get a spot.
The sound from the movies comes through your FM car radio, but they also have in-car speakers available in some rows (which is very retro).
Back in the day, vendors would circulate among the cars, selling candy, soft drinks, popcorn, sandwiches, and cigarettes. Although that service is no longer available, a trip to the concession stand should be part of your drive-in adventure.
On a side note, we recommend ordering the chilly dilly pickle, one of the most sought-after snack bar treats.
Tickets are $5.00 (ages 10+) and $2 (ages 3-9). There is also a Swap Shop on Saturdays and Sundays starting at 5 am.
Joy-Lan Drive-In
16414 U.S. Highway 301, Dade City (Pasco County)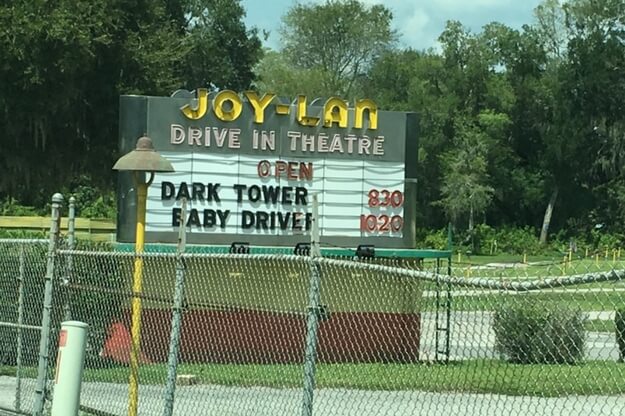 Owned by the same people who own Silver Moon in Lakeland, Joy-Lan opened its doors on Halloween in 1950 and is the only remaining drive-in movie theatre in Pasco County. This theater is open every Wednesday thru Sunday (closed on Monday and Tuesday) and shows first-run films.
Unfortunately, Joy-Lan has had a few challenges over the years. In 2000, the snack bar caught fire, but was remodeled and has remained in good standing ever since. Three years later, a storm swept in and destroyed some of the screens. This happened just a few weeks before they were converting from 35mm to a digital format. They fixed the screen and proceeded with the digital installation. All has been well ever since at Joy-Lan. Tickets are $5.00 (ages 10+) and $2 (ages 3-9).
Joy-Lan is also home to a popular Swap Shop on Sundays starting at 5 am and offers great breakfast options. If you haven't been to Dade City before, you can really make a whole day out of it. Stop by the Pioneer Museum, stroll the antique shops of downtown, and have lunch at one of the many authentic and delicious restaurants near the Historic Pasco County Courthouse. If you need more suggestions of things to do, swing by the Dade City Chamber of Commerce. Melody is very nice and a wealth of information.
This Ruskin Family Drive-in, which opened in 1952, truly sticks to its original traditions. It thrives on its family-friendly atmosphere and values … and doesn't care if anyone thinks they are uncool.
"No drugs, no alcohol, and no rowdiness permitted in this theater", announces the owner, Ted.
This theatre is quintessentially reminiscent of a bygone era. It's always wise to arrive early. Kids often will gather and play touch football or tag before the movie starts near the front of the screen.
They always show first-run double features. They never show X-rated or NC-17 rated films. No motorcycles or RVs are ever allowed in the drive-in. They will allow you to bring your dogs with you as long as you keep them on a leash, they do not bark around people, and you clean up after them.
They truly are traditionalists at Ruskin … even at the snack bar. In fact, the owners are so set on traditions that they have been using the same Wisconsin cheese supplier for their pizzas for over 50 years.
They also offer affordable burgers, hot dogs, popcorn, and other movie treats. We've heard that Karen makes a killer chili and pulled pork sandwich, so if you see they are offering either item, grab them!
The Ruskin Family Drive-In Theatre is open every night. The prices are $6.00 for everyone (9+) and $1.00 for children (5 – 8). They only accept cash. They also charge $5.00 per vehicle if you bring any outside food with you.
Note: They have " take out" available, which means you can stop by just for food to take home without purchasing a movie ticket – This is yet another one of their over 50-year traditions.
Fun-Lan Drive-in Theatre
2302 E. Hillsborough Avenue, Tampa (Hillsborough County)
Hillsborough County is fortunate to have not one, but two separate drive-in movie theatres to choose from. Fun Lan is especially unique because it has three movie screens (although, in our opinion,  screen 3 could use some repair work).
The owners of Fun Lan Drive-In Theater also own the Lake Worth drive-in. It is good to note that the time we visited, they only showed one movie, so don't go in with expectations of getting a double feature.
The women who run the snack bar were very nice. The fries and wings are good. If the weather is nice, bring your own chairs and enjoy watching the movie outside of your vehicle.
Fun Lan is open every night. Gates open at 6 pm. The ticket prices are $7.00 for adults and $2.00 for children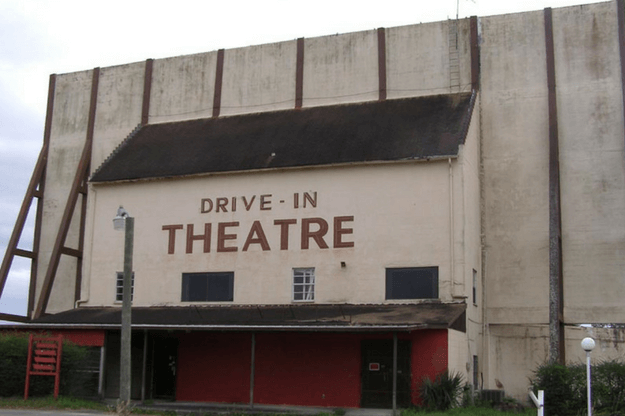 Twice in its history, Ocala Drive-In's screens have gone dark and its window speakers silenced. But each time – once in 2003, and then again in 2011 – the theatre has been resurrected by caring owners who have spruced it up, improved the technology and found a market for the beloved drive-in tradition.
This drive-in movie theater in Florida shows two first-run films on two screens. Ocala patrons tune in to a local FM radio station for clear movie sound.
Also, big hats off to any movie theatre that offers Cajun Boiled Peanuts on the menu. You also gotta love any business that is authentic enough to spell out exactly how much money they make off every movie ticket sold. As we mentioned before, movie theatres (especially independently owned ones) make their money off concession purchases and right on their website, the Ocala Drive-In spells it all out: "As much as 80% of the ticket sales goes to the film company, which means we make approx. $1.20 on Adults and .60 on kids. This does not cover the operating expenses of the drive-in.  Without the sales of the concession, we would have to be like the other theatres and charge a much, much higher price and only give you one movie." So, there you have it … straight from the horse's mouth, which is appropriate since it is in Ocala ("Horse Country").
The Ocala Drive-In is open every night and shows two films for the price of one. Gates open at 6 pm. The ticket prices are $6.00 for adults (13+) and $3.00 for children (6-12).
Florida Swap Shop & Drive-In Theater (formerly the Thunderbird)
3291 W. Sunrise Blvd., Fort Lauderdale (Broward County)
The Swap Shop in Ft. Lauderdale prides itself on being the world's largest drive-in movie theater. It is housed on the same property as an 18,000 square foot air-conditioned building that features over 2000 vendors, arcade games, a free Ferrari Museum, and a large food court. There are also amusement rides and a farmer's market. Without a question, this is the most active and busiest drive-in movie theatre in the entire state.
The drive-in shows first-run films and has late shows on Friday and Saturday evenings. The theater is open daily and movies start at 7 pm. During the day, the drive-in is used as a parking lot.
Last on our list of drive-in movie theaters in Florida is the Lake Worth Drive-In. Founded in 1963, the Lake Worth Drive-in is the only drive-in movie theater located in Palm Beach County. It's open 7 nights a week. They play first-run movies and have a Snack Bar. Everything is made to order, so be prepared to be patient. Bring cash because they do not take credit cards.
The sound works from the car radio. They are open 365 days a year including all holidays.

AuthenticFlorida.com was named Best Travel Blog two-times at the Florida Sunshine Awards.
To receive Authentic Florida's free weekly ENEWs, sign up on our Authentic Florida home page.
To inquire about partnerships/advertising, please contact info@authenticflorida.com 
Proud Member of: 

---
Comments are closed.