The 11th Annual Super Scenic 150-Mile Garage Sale is all set for tomorrow (Saturday, November 16, 2019) along State Road A1A. Overall, it will be the biggest one ever, stretching through five counties. Hosted by Friends of A1A Scenic & Historic Coastal Byway, this year's sale will extend from Ponce Inlet in Volusia County all the way up to Fernandina Beach in Nassau County and will also include a great variety of residential and commercial vendors.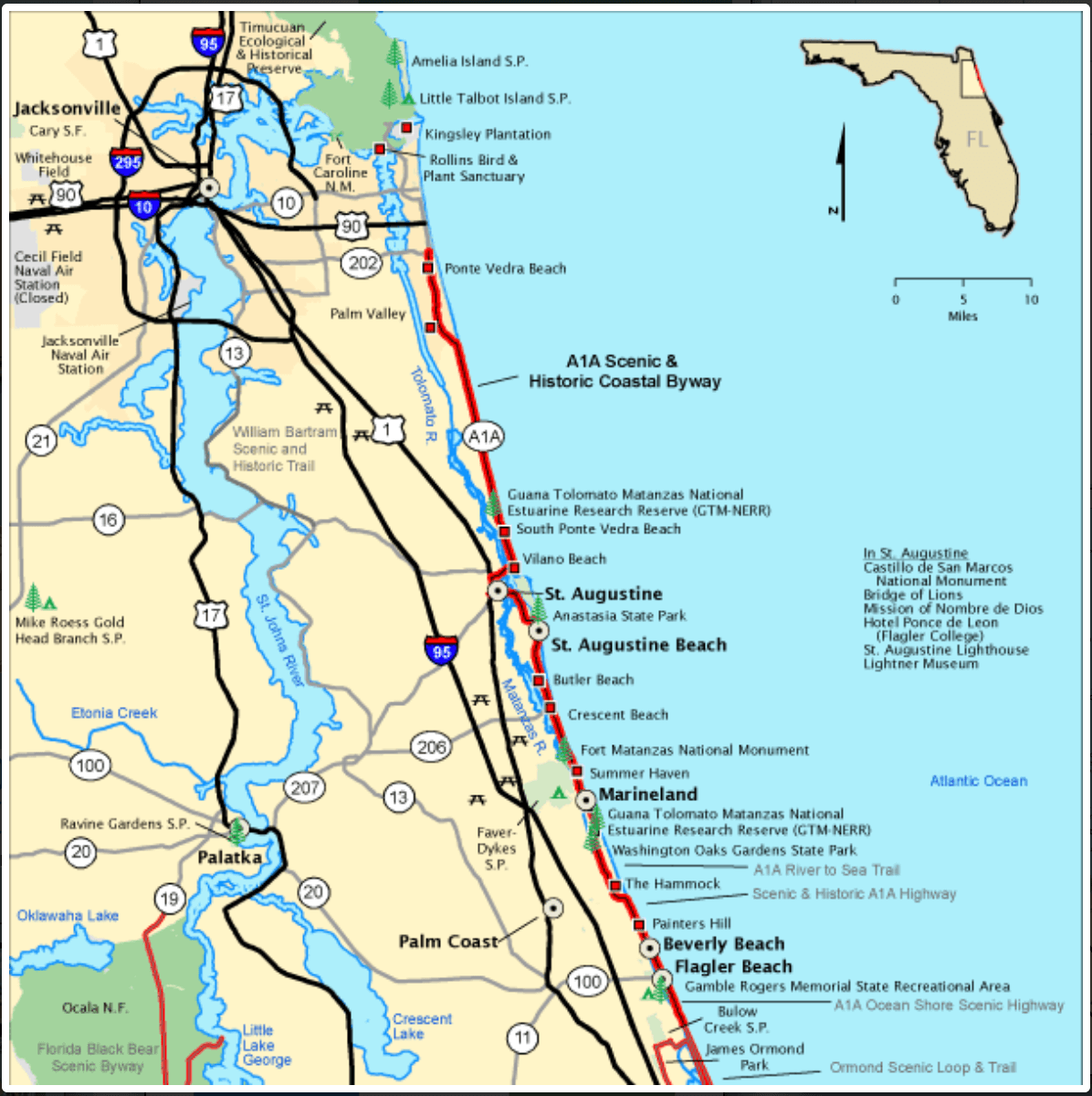 Not that anyone needs an excuse to explore this stunning part of the Sunshine State, but tomorrow is truly a shopaholic's dream. A 150-mile garage sale – yes, please! Just be sure to bundle up since it's expected to be chilly outside.
Attendees are encouraged to download the FREE self-guided audio tour from TravelStorys. Look for the tour called the A1A Scenic Byway. It's chock full of insight and interesting information: https://www.travelstorys.com/
This section of A1A also just happens to be one of our favorite Authentic Florida scenic road-trips. We post about it a lot on our social media pages. In fact, we drove this route last week from Flagler Beach to Vilano Beach and back down. It's always so breathtaking and serene! We're working on a new story about our adventures last weekend at Washington Oaks Gardens State Park, so stay tuned …
The event will take place between 8 am to 2 pm. A final map is now also available here!
This year's event also coexists with the Ultimate A1A Pop Up! Biz Experience where participating restaurants along the A1A coastal corridor offer specials, promotions, and deals between November 15th-17th! Additionally, now you can shop and dine your way along the east coast of Florida!
Some of the *Community Sites & Great Places to Stop and Shop Also Include
Atlantic Beach Arts Market – 1805 Mayport Road, Atlantic Beach

*Ponte Vedra Concert Hall – Ponte Vedra – Site Captain Diane Morell 

Tides End Subdivision – Ponte Vedra

South Ponte Vedra Civic Association

Vilano Oaks Subdivision – South Ponte Vedra

*Vilano Beach Publix on Poplar Road – Vilano Beach – Site Captain Sallie O'Hara

*Watson Realty – St. Augustine Beach – Site Captain Bob Samuels 

Island Ice Cream Cafe – Crescent Beach – Site Captain Bill McClure – A1A Pop Up! Restaurant Extravaganza

*Coastal Policy Center – Marineland -Site Captain Danielle Anderson

*First Baptist Church – The Hammock – Site Captain Ruth Anne Tuttle

Watson Realty – The Hammock

Integrity Insurance Group – The Hammock

Uncaged on Ocean Shore – Flagler Beach/Hammock- A1A Pop Up! Restaurant Extravaganza & Saturday Market Sale – Site Captains Tammy Kelly & Carolyn Mathis

Golden Lion Cafe – Flagler Beach – A1A Pop Up! Restaurant Extravaganza

Blue Heron Beachfront Bistro- Flagler Beach – A1A Pop Up! Restaurant Extravaganza

Frankie Alice Beachside Boutique – Flagler Beach

*Veteran's Park – Flagler Beach – Site Captains Gail Wadsworth & Linda Provencher

A Scent To Remember & Flagler Tea Company – A1A Pop Up! Restaurant Extravaganza

*Vincent de Paul Thrift Store – Ormond Beach – Site Captain Sue Masselle 

Steve's Famous Diner – Daytona Beach – A1A Pop Up! Restaurant Extravaganza

*Lillian Place Heritage Center – Daytona Beach – Site Captain Nancy Long 
* Be sure to check out the homes and subdivisions also registered along the way! 
Additionally, the end of the year is rapidly approaching and folks are beginning to think about their charitable donations. Did you know the Friends of A1A is a 501c3 and your contributions are also tax-deductible? The "Let's Become Friends" campaign also allows you to support the organization's projects and programs that directly benefit the community throughout the year! Visit www.scenica1a.org to join! #letsbefriends

AuthenticFlorida.com was named Best Travel Blog at the 2018 Sunshine Awards. 
To receive Authentic Florida's free weekly ENEWs, sign up on our Authentic Florida home page.
To inquire about partnerships/advertising, please contact melanie@authenticflorida.com 
---