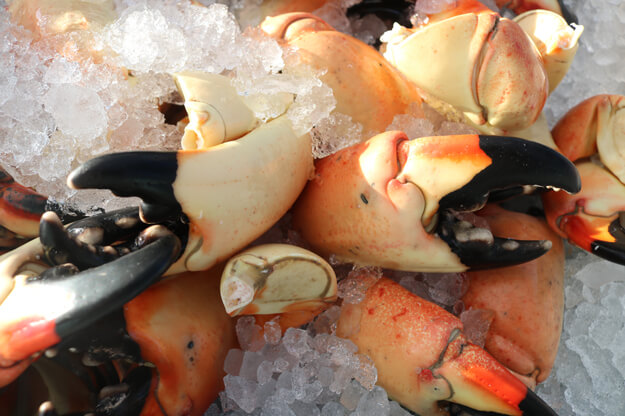 The 2017 Florida Stone Crab Season Opens 
Fall is in the air, and while most people across the country begin celebrating harvest, placing pumpkins on porches and admiring the fall foliage, Floridians celebrate the season in a completely different way.
It's called Stone Crab Season.
Florida's Stone Crab season kicks off October 15th to a fanfare of seafood fanaticism by all who treasure this special delicacy.
So, what is stone crab?
Stone crab is considered to be one of the most scrumptious crustaceans found anywhere. Unlike the blue crab or king crab, the stone crab has a round body with rounded claws. It crawls on the sea bottom but does not swim. Its white fleshy meat is similar to the Florida lobster – but with a distinctively rich taste making it one of the most popular dishes in the state.
Harvested from October 15 through May 15, the opening season is reason to celebrate as we call friends who have stone crab traps, or line up at local seafood restaurants for opening day, or place advance orders at our favorite seafood market.
Found in the waters and bays of the Gulf of Mexico, stone crabs are caught in crab traps. Commercial fishermen set traps clustered in areas where the crabs congregate. They generally check the traps every few days, delivering fresh stone crab directly to local markets and restaurants. Many fishermen cook the crabs on the boats, ensuring it is freshly delivered to the local restaurants.
Native Floridian and longtime fisherman Sam Arthur shares, "It's amazing how many of my friends, who I have not seen for ages, always descend when they know I am throwing a stone crab party." And when my crabbing friends call me to tell me they are hauling in a fresh catch, then it's time to share the bounty. Stone crab should be shared and never frozen, and ready to enjoy."
Arthur further shares, "and for the holidays, we traditionally serve stone crabs as a celebration of our Florida heritage. It's who we are. At our very core, Floridians love good seafood, especially the tasty stone crab."

Stone Crabs come in four different sizes (pictures, are jumbo sized)
Stone crab is traditionally consumed cold rather than hot. One pound per person is usually sufficient. Claws come in a variety of sizes: medium (6-8 per pound); large (4-5 per pound); jumbo (3-4 per pound) and colossal (2 per pound). The hard crab shell is cracked and the tender white meat is removed.
With the delicious taste comes a hefty price tag, often priced according to harvest conditions and varying in different locales and restaurants. When buying from the market medium sized claws will run approximately $28 per pound, large claws will be $32, jumbo claws run $38 and colossal are $42 per pound.
But most Floridians report stone crabs are worth every cent.
But there is another fact that makes stone crab popular.
Stone crabs are sustainable. Typically, when crabbers pull the crabs from underwater traps they remove one claw, quickly returning the crab to its habitat to regenerate its claw. Taking just one claw allows the crab to protect and feed itself while regenerating. Within one year, the stone crab has grown a new claw.
When you buy stone crab it will be cooked. So, serving it cold is the freshest way to enjoy this delicacy. It is normally served with hot butter or a special mustard sauce.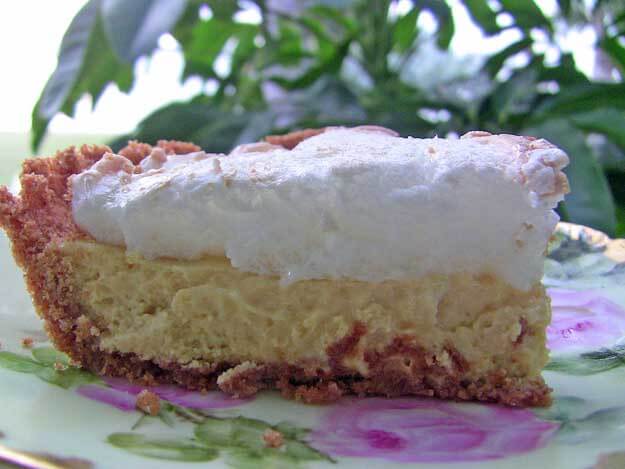 Key Lime Pie is the perfect chaser for a meal of stone crabs
Stone crab is filling, so you may want to keep the menu items light and be sure to include a local key lime pie – an ideal chaser to this rich meal.
When buying stone crab, you might want the seafood market to crack the crab before taking home. If you decide to crack the crab on your own, place the crab claw in the palm of your hand, and use the back of a large spoon to smack each side of the claw and each knuckle, creating a clean crack. Many Floridians use the "Florida Cracker" designed specifically for stone crabs.
If you are interesting in harvesting your own, the Florida Fish & Wildlife Conservation Commission (FWC), the governing regulatory agency, reports that recreational crab fishers are limited to five traps per person, and you are required to have a recreational fishing license. There are specifications for traps and size limits for the claws.
Where can you enjoy these delicacies?
Stone crab is served at many Florida seafood restaurants, especially along the coasts of Florida, from mom and pop eateries to the white tablecloth establishments. But always call ahead to be sure it's on the menu.
Recipe for Stone Crab Mustard Sauce
Enjoy this family recipe from Jay Davis, Authentic Florida's editor:
This stone crab sauce is a mixture of mustard, mayonnaise, Worcester and horseradish. Local premade brands are available in some Florida markets but it is easy to whip up your own batch.
In a bowl mix:
1 tablespoon dry mustard
1 cup mayonnaise
2 teaspoons Worcestershire
1 teaspoon horseradish
Salt to taste and sprinkle with fresh ground parsley
To receive Authentic Florida's free ENEWs, featuring travel and living updates, delivered weekly, sign up on the home page Authentic Florida, voted Blog of the Year and Best Travel Blog at the Orlando Sunshine Awards.   
---