As an Authentic Floridian, most of us are culturally drawn to anything related to citrus – the vibrant orange, yellow and pink colors, the scent of orange blossoms, or even the simplest pleasure of peeling a fresh, juicy Florida orange. Walking through a citrus grove is like taking a stroll into our past. There's nothing quite like the sun-soaked view of a Florida orange grove. It's both familiar and magically intoxicating. You might be surprised that you can find these images featured on vintage Florida citrus labels!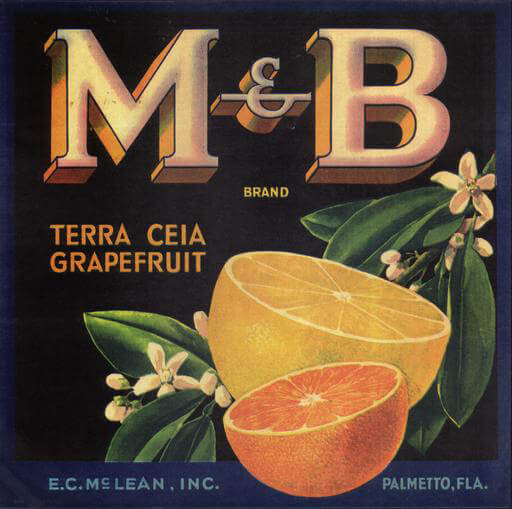 Years ago, wooden crates were the primary method of packaging and shipping citrus, adorned with brightly colored labels. Pasted on these wooden boxes, 10" X 11" labels or 5 ½" X 11" strips were placed on crates to identify the brand. Vintage citrus label art has become a passion, hobby, and even a business for many avid fans.
Brief History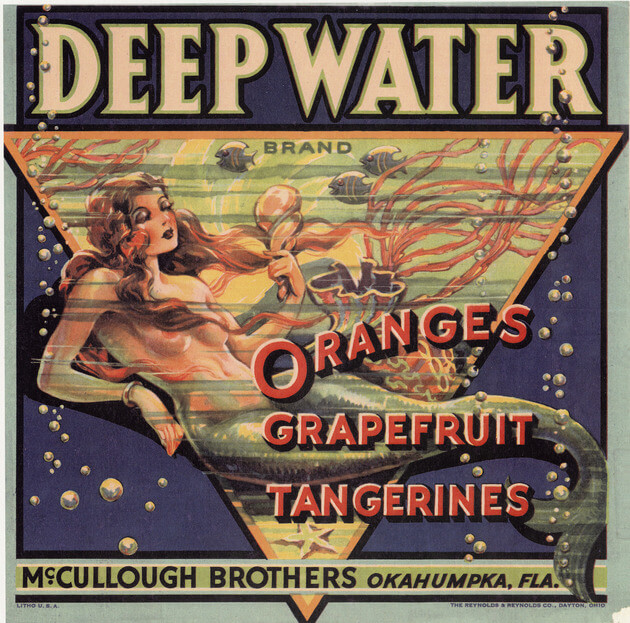 Citrus originally came to Florida courtesy of Spanish explorers. In 1493, Christopher Columbus brought citrus to the New World. But Ponce de Leon sailed with Columbus and is credited as the first European to explore Florida in 1513, bringing with him citrus seeds and planting them near (what has become) the settlement of St. Augustine. Spaniards and native Indians continued to grow and cultivate the fruit, while citrus thrived in Florida's warm climate and sandy soil.
But it took another 300 years before citrus became an industry. By then, newly arriving homesteaders were relocating to the state, planting citrus around the family homestead. Pioneer entrepreneurs began selling the fruit, then bringing it to a common location to be transported by steamships. Steamers collected barrels of fruit at various ports along Florida's coasts and waterways. As the railroad industry became established, it became a means of shipping to emerging new markets throughout North America.
Initially, the fruit was packed in wooden crates branded or stenciled with the shipper's identification. Floridians were then introduced to lithographic printing while observing California competitors using colorful labels. Sellers quickly learned that marketing was the key to successful sales. From 1904 up until World War II, citrus labels were designed to differentiate amongst the competition for a particular grower or shipper. Artists and lithographers collaborated to help buyers remember and identify their brand. The peak years for labels were between 1920-1950 but by WW II, cardboard boxes replaced wood boxes, ending the vintage label era.
Label Art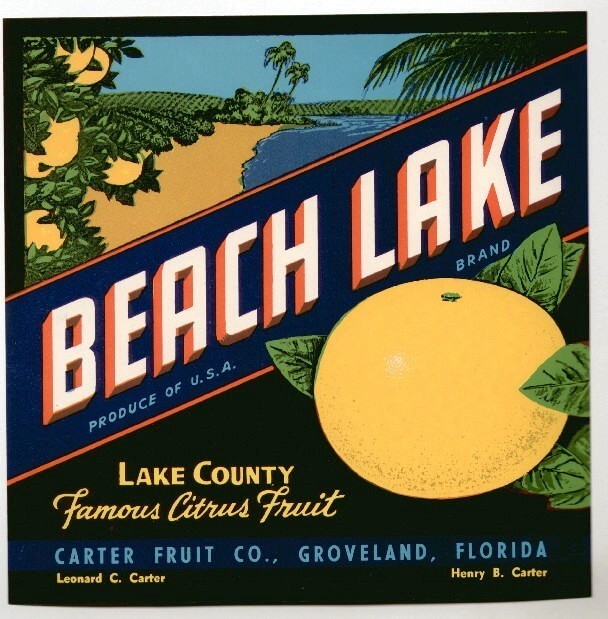 Through label design, artists depicted a wide range of subjects. Beautiful women were popular. Lakeland's Sun Made brand used a smiling blonde woman. The McLeod Fruit Company branded The Belle of Silver River depicting a lady in a bathing suit sitting at the river's edge. Sebring's LADYE brand portrayed a scantily dressed woman reclining by the side of a pond. One grower portrayed his mistress on a label.
The art form furthered the romance of Florida with sunsets, sailboats, and "good, healthy living" themes. Scenic views of Florida with orange groves, orange trees, treasure chests filled with oranges furthered the image of the fruit. The Golden Sunset brand portrayed palm trees and a warm, glowing sunset. Consumers and buyers were getting the message about the good life in Florida, also boosting tourism.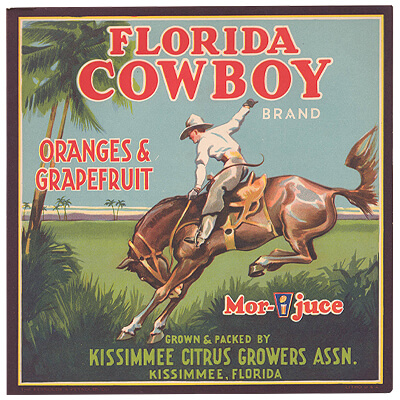 Label Art
Label artists also used Florida flowers. The Gardenia Brand and the Azalea Brand adorned Jacksonville's W.H. Clark Fruit label. The Kissimmee Citrus Grower's Association used the Florida Cowboy brand. Citrus growers and shipper's children, wives, and family members were often used as subjects, personalizing the family brand.
Themes of wildlife were popular with birds, alligators, and even fish. Brooksville's Blue Heron Brand portrayed the majestic Florida bird and Frostproof's Ibis Brand displayed the pink-billed white bird. St. Petersburg's Milne-O'Berry Packing Company developed a label with the classic tarpon called the Silver King Brand.
Indians became popular themes. A Sanford grower used the Seminole brand and a Haines City operator used the Red Skin Brand.
Even growing regions were advertised. Indian River's Harvey's Groves, still in business, depicted a fertile and luscious growing region. The Polk O Dot Brand created a label with a golden-haired child from the Polk County Citrus Exchange.
Labels were not only colorful marketing pieces, but they were utilitarian. All prime fresh and Grade #1 fruit labels had a blue background and all Grade #2 or lesser labels had a red label.
Label Collecting
Citrus label collectors range from the serious to the nostalgic. To begin a collection, one can peruse and shop online or attend antique shows, featuring labels for sale. Citrus label shows are another way to get an overview of the unique art. There is a huge variety of Florida citrus labels, so plenty to discover while having fun with collecting samples. In addition to original labels, there are many prints on the market. While not original, these prints preserve the unique art of the citrus label. Labels range in price anywhere from $5-$10 for basic print reproduction, or even a basic original will command hundreds, or perhaps thousands of dollars for highly valued, rare, one-of-kind, original labels.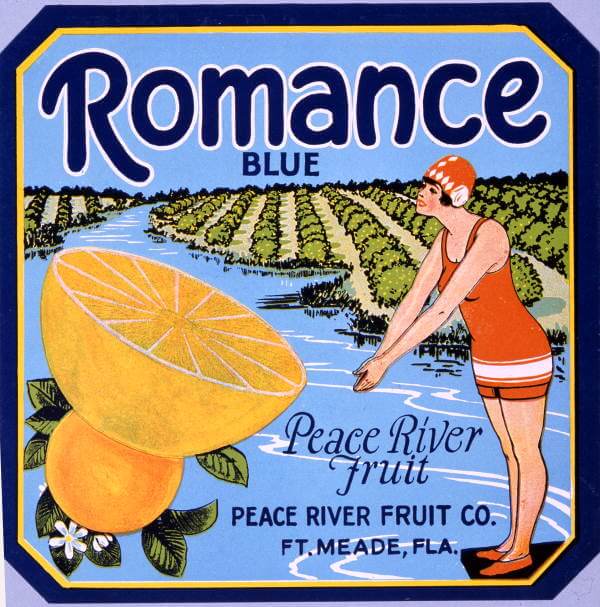 Several colleges have prized collections that can give you an overview of the variety. Florida Southern College has an on-line collection primarily donated by Jim Ellis, a private collector. Jim grew up in a wooden house within an orange grove and spent his career in the industry, along with 25 years in the citrus packinghouse business. In the 1970's he began his collection as colleagues and friends began sharing their newly discovered vintage labels. The University of Florida also boasts a major citrus label collection.
So, what is it about vintage labels that fascinate us? Many believe that the nostalgic art and beauty take us back to a simpler time while capturing a retrospective of Florida's past. A label collection is yet another reminder of our past and present love affair with Florida.
To view an incredible collection of Florida citrus labels, also visit our Pinterest Board. Want to learn even more about collecting Florida's vintage citrus labels? Check it out here!

AuthenticFlorida.com was named Best Travel Blog two-times at the Florida Sunshine Awards.
To receive Authentic Florida's free weekly ENEWs, sign up on our Authentic Florida home page.
To inquire about partnerships/advertising, please contact info@authenticflorida.com 
Proud Member of: 

---
Comments are closed.