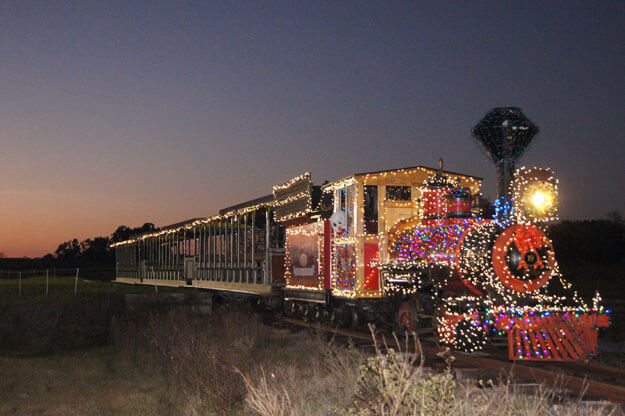 The Christmas Express runs at the Kirby Family Farm
Not far from some of Florida's most prestigious thoroughbred horse farms, northwest of Ocala and southwest of Gainesville, sits the small farming community of Williston. Scenic country roads meander alongside rural pastures and fields. At night, away from city lights, the vast Williston country sky glows with a full display of twinkling lights, at least until a thick December fog rolls in, ushering a quiet and surreal calm. But the stars are not the only twinkling lights you'll see. Kirby Family Farms has a special treat for kids and families this holiday season.
The Kirby Family Farm is owned by Daryl and Tracy Kirby. Their 173-acre property is a working farm producing cotton, peanuts and sorghum (a plant that is often a base for a sweet molasses-like syrup).
But for the holidays, the Kirby family runs the Christmas Express. Visitors can jump aboard a lovingly restored 1880's steam locomotive that tows up to five passenger cars jammed with giddy, happy children.
Yes, it's true; in the middle of a vast Central Florida hayfield sits a real, privately owned railroad. Pulled by the bright red "Old #19" and festooned with lights, the train circles a large cleared field through displays of colorful Christmas lights. It's a life sized version of a holiday Christmas train.
Is it a dream?
It's actually quite real, but in a way it is a dream – one that came true for Daryl Kirby. As a child, Daryl had a troubled home life so he spent time with his grandfather who was a railroad engineer and farmer. As a boy he would trail behind grandpa, learning about trains, railroads, farming and life. As a child, he also dreamed he would someday run his own railroad.
Years later, Daryl Kirby discovered something interesting among overgrown underbrush and vines on property near his home. It was an historic authentic locomotive that was slowly rusting away and destined for salvage. With the help of his family, friends and many volunteers, he refurbished the engine, took on the labor of laying some tracks around his property, and fulfilled his childhood dream.

Tracy Kirby greets visitors to her farm
Building the railroad wasn't easy, but it had become a passion, and ultimately a mission, and through hard work and perseverance, it became a reality. But for Daryl and his wife, a teacher committed to children and learning, just having their own unique, life-sized railroad was not enough. They wanted to share the fun and wonder of it all as a gift for many others, especially children. And what better to do that than to create a non-profit educational center.
Because Daryl Kirby's childlike imagination helped him survive a tumultuous upbringing, and his backyard had been a place of solace, he was inspired to transform his farm into a larger playground with a mission "to grow, develop and inspire children and families with positive experiences."  And that is exactly what the Christmas Express does.
When the whistle blows and the engine starts, visitors will be clickity-clacking into the night through a Florida pasture rimmed with Christmas lights. And it does feel like a dream – a wonderful Christmas dream.

A vintage #19 pulls the Christmas Express
The Christmas Express is the main attraction but there is much more to experience at the farm. In fact it has the feel of a church fair where people know one another, exchange warm greetings and celebrate the season. And since this is a field of dreams, no one gets lost and everyone has fun. As you pass through the front gate, and walk through a cornfield pathway, you'll see the train on a nearby hillside lit with hundreds of tiny holiday lights.
Volunteers collect tickets, offer chili, hot chocolate and fudge. Not far away is a homemade, live nativity scene complete with human actors and animals plus Beau the donkey, Daisy the calf, May, June and Foggy, the sheep. The entire farm becomes a wonderland that is all about Christmas, kids and family. The Kirbys are Christians and they proclaim it proudly.
Kids dressed in pajamas decorate real Florida Christmas trees as generators power the lights. Even Santa shows up. A classic movie plays on a large outdoor screen and you'll more than likely meet Daryl, Tracy and their five kids. Homemade candles are being made, and locals sell gifts of jams, jellies and wooden toys. Even the high school marching band plays on select nights adding to the festivities. And you'll love this – the price is only $10.00, a real holiday bargain.
Word has spread about the Christmas Express and the Kirbys expect crowds of 25,000 over the holiday season, so you may want to book your tickets online now.
Whether or not you make it to this Florida hayfield to experience this fun, authentic experience for yourself, you can be assured that the Kirby Family's Christmas Express is proof that dreams can, indeed, come true.
Note on Williston: While in the area you may want to consider staying awhile. It's a charming small Florida town in a pastoral setting and home to many renowned horse farms, one of which was the birthplace of the 1975 Kentucky Derby winner, Foolish Pleasure. The community is also known for its quaint Central Florida Peanut Festival and as a cave diver's destination for freshwater springs, the Blue Grotto and Devil's Den.
---
Comments are closed.
If You Go
(352)812-7435
Getting there: Williston is at the intersection of U.S. Highways 41 and 27. To get there from Florida's east coast take the Turnpike to I-75 and then exit in Ocala at U.S. 27 North (Exit 354). The Kirby Family Farm is on the south side of town between those highways at 19630 NE 30th Street.