The Islands of Marathon in the Heart of the Florida Keys  
Written by Authentic Florida Guest Blogger and Writer, Laura Albritton
Welcome to Marathon, Photo by Zickie Allgrove 
The middle Florida Keys, tropical isles surrounded by aqua-blue water and bordered to the south by coral reefs, have been attracting explorers since the 1820s. Despite the passage of time, today you can still experience their natural beauty, stunning seas, and rich sense of history. The islands of Marathon, located in the heart of the Keys mid-way between Key Largo and Key West, make for a memorable – and authentic – Florida getaway.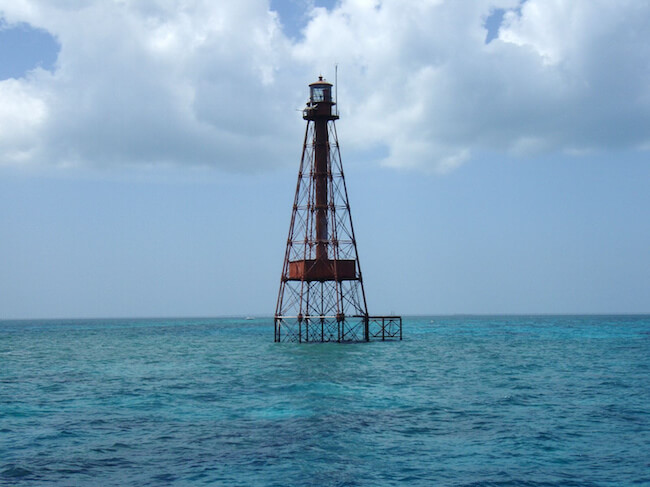 The Sombrero Key Lighthouse, Photo, B. Alter, FKNMS, Courtesy of NOAA Photo Library
Sombrero Key Lighthouse and Reef
One of Marathon's most spectacular sights lies 3.5 nautical miles off Boot Key. Completed in 1858, the Sombrero Key lighthouse was commissioned along with other Keys lighthouses by the U.S. government to help prevent the numerous shipwrecks occurring along the Florida Reef. Today snorkelers can see the still working lighthouse and visit the coral reef with Captain Pip's Charter Boats. (If you come in your own boat, be sure to use a mooring buoy instead of anchoring.) Swim with dozens of tropical fish: sergeant majors, stingrays, snapper, parrot fish, and barracuda, to name just a few. This utterly absorbing experience is a reminder that, to truly appreciate the Florida Keys, you need to leave land behind and see what awaits beneath the waves.
UPDATE: If you've never snorkeled before or you want to brush up on your knowledge of snorkeling, check out this incredible Snorkeling Guide on Jen Reviews:  https://www.jenreviews.com/snorkeling/

Crane Point Museum, Photo by Laura Albritton
Crane Point Museum and Nature Center
Start your Middle Keys adventure on land at the Crane Point Museum and Nature Center. Stroll through tropical hammock, and get a sense of the native plants and flowers that once grew in profusion on these islands. Step inside the Adderley House, the oldest Keys home outside of Key West, built by Bahamian couple George and Olivia Adderley over 100 years ago. Be sure to see the Wild Bird Center, where rescued birds are brought for rehabilitation. The museum itself houses interesting artifacts from shipwrecks and the early pioneers. Visitors can also reserve a spot on a kayak adventure through mangroves and to three nearby islands.

The Marathon Air Museum, photo courtesy, Marathon Air Museum (EAA Chapter)
Marathon Air Museum 
For another glimpse into the past, visit the Marathon Air Museum (EAA Chapter) on the grounds of the Marathon airport. Whether you're an avid aviation buff, or simply curious, this small museum is worth a stop. Local volunteers will share a wealth of knowledge while you tour the hangar with planes and the displays with memorabilia and models, including a model of a craft flown by the Wright brothers. The flight simulator is a particular hit with children. Another bonus? Admission is free.
Stout's Restaurant
Stouts Restaurant, photo, Zickie Allgrove
Next, make a beeline for Stout's Restaurant for some real local flavor. In 1964 Erma and "Pop" Stout opened the doors to their simple restaurant, which soon became popular with residents and tourists alike. Today, new owners carry on the tradition of delicious home cooking, from melt-in-your-mouth biscuits and gravy and pancakes for breakfast to delectable hot, open-faced roast beef sandwiches and meatloaf for lunch. Sides such as fried okra, coleslaw, and ambrosia salad conjure up the tastes of Sunday picnics in the South. Check out their vintage photographs and newspaper clippings about Marathon history.
The Turtle Hospital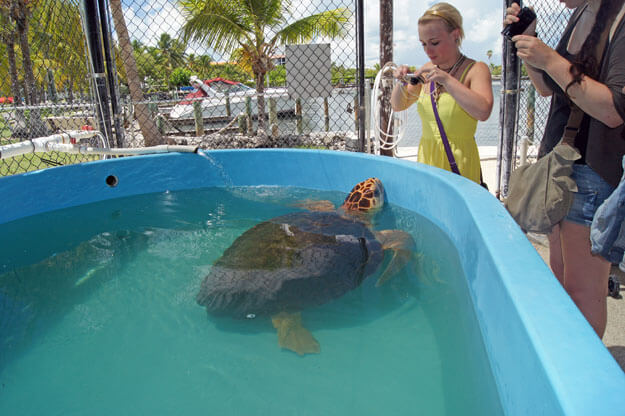 Turtle Hospital, Marathon, Florida Keys
Since the 1980s The Turtle Hospital has been rescuing, rehabilitating, and releasing one of the planet's most graceful sea creatures: the sea turtle. Phone ahead to reserve your spot on the 90-minute tour of their facilities. Not only will you see a range of recovering sea turtles up close, you'll also learn about their anatomy, the technology the hospital uses to perform procedures on ill or injured animals, and why sea turtles matter in the greater environmental picture. Staff and volunteers continue the hospital's work with passion and dedication.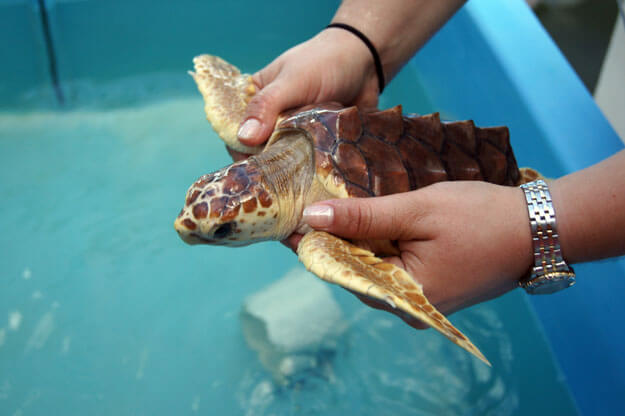 The Dolphin Research Center
Photo by Samantha North, Courtesy of the Dolphin Research Center
The Dolphin Research Center got its start back in the late 1950s, when a fisherman named Milton Santini opened Santini's Porpoise Training School, with his beloved dolphin Mitzi. (Mitzi would go on to star in the 1963 classic film, Flipper.) Since those early days, this iconic Old Florida property has evolved into the modern Dolphin Research Center. Both children and adults can experience their activities, which range from swimming with a dolphin to acting as a trainer for the day. The DRC also supports scientific research on dolphin cognition, behavior, and husbandry and a number of different educational programs. You can easily spend hours here, so it's well worth planning your visit with the help of their extensive website.
Meet a Dolphin, Dolphin Research Center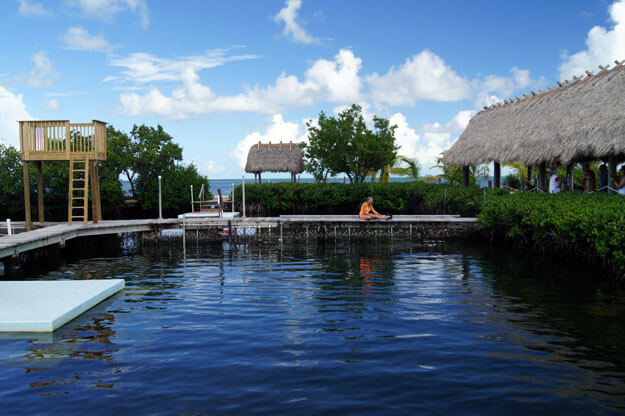 Dolphin Research Center 
 Pigeon Key and the Seven Mile Bridge

Vintage Postcard, Pigeon Key, Old Seven Mile Bridge, Courtesy of the Monroe County Library
Of course, the attractions of Marathon don't end here. Beach lovers will want to plunk down in the sand at Sombrero Beach, while history buffs will want to take the ferry over to Pigeon Key. (Buy tickets at the Visitors' Center on Knight's Key.) Tiny Pigeon Key is home to restored bunkhouses and offices buildings from the construction days of Henry Flagler's Overseas Railroad. Today, you can tour the museum and learn about the creation of this "railroad that went to sea." And of course, here you'll also find one of the best views of the famous Seven Mile Bridge and "Old Seven," the original. The soaring spans of the bridge against the blues of the ocean are an unforgettable sight. It's just one more reason to add the Middle Keys to your Authentic Florida travel list.
The islands of Marathon, located in the heart of the Keys mid-way between Key Largo and Key West, make for a memorable – and authentic – Florida getaway.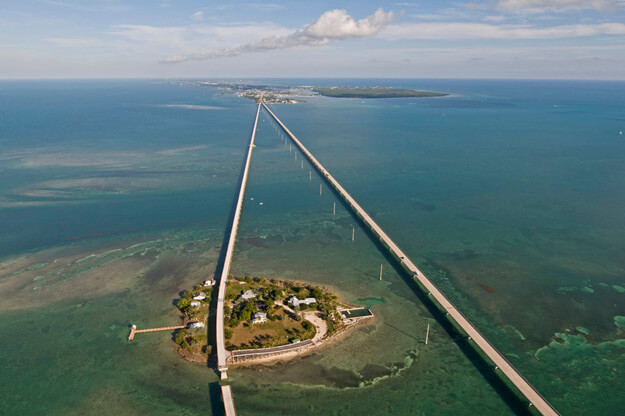 The Seven Mile Bridge with Pigeon Key, Photo Courtesy Florida Keys & Key West
About the Author
Laura Albritton writes for her own island travel blog, Island Runaways. With co-author and historian Jerry Wilkinson, she recently completed a pictorial history entitled Marathon: the Middle Keys, which will be published by Arcadia Publishing in December 2016. 

The New and Old Seven Mile Bridges with Pigeon Key, Photo by Zickie Allgrove
To receive Authentic Florida's free ENEWs, featuring travel and living updates, delivered weekly, sign up on the home page Authentic Florida, voted Blog of the Year and Best Travel Blog at the Orlando Sunshine Awards. 
For more stories on the Florida Keys:
Dry Tortugas: Florida's Authentic Paradise
Authentic Florida Keys Road Trip (Upper Keys)
---
If You Go
For more information: