The Ultimate Authentic Florida Lobster Mac & Cheese 
It's a fact that broiled Florida lobster, with a pat of butter, salt, pepper and lemon is just about as good as it gets. Most folks enjoy lobster in its simplest form savoring its sweet, succulent flavor. However, at Authentic Florida, we love to take things up a notch …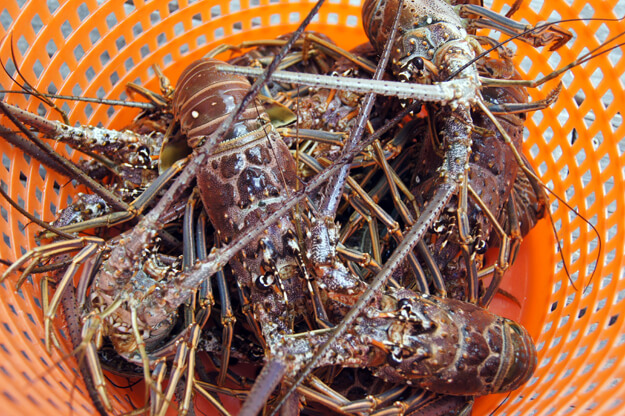 Fresh Florida lobster
A couple years ago, Authentic Florida Founder Robin Draper and her husband Mike went to the Florida Keys and planned a day of diving for lobster. They were fortunate and caught lots of lobster. Robin decided to try this recipe which has become one of our biggest conversation starters. Robin coined it "an upscale meal that is 'down home' and 'comfy'".  Many of our seasoned Authentic Floridians have tried this delicious dish and agree. So, without further delay, we present The Ultimate Authentic Florida Lobster Mac & Cheese.
Ingredients

Florida Mac & Cheese Ingredients
1 & ½ pounds of cooked Florida lobster – cut in big sized chunks. Cook yourself or buy it cooked.

Broiled Florida lobster 
1 pound of elbow macaroni
1 quart of whole milk
1 stick of unsalted butter (6 tablespoons for mixture, 2 for the breadcrumbs)
½ cup of all-purpose flour
8 ounces of extra-sharp Cheddar cheese (2 cups)
12 ounces of Gruyere cheese (4 cups)

Grate the cheese (pic: Gruyere) and Cheddar
1 ½ cups fresh breadcrumbs (5 slices)
1 large tomato (or 2 medium tomatoes)
Salt
Pepper
Nutmeg
Vegetable oil
Directions
Preheat oven to 375 degrees F.

Macaroni drained after boiling
In a large pot, boil water. Add a tablespoon of salt and a tablespoon of oil.  When the water comes to a rolling boil, add the pasta and cook according to directions (or 6-8 minutes). Drain in a colander when done.
Next, at low heat, warm the milk (1 quart) in a medium pan, but don't boil it.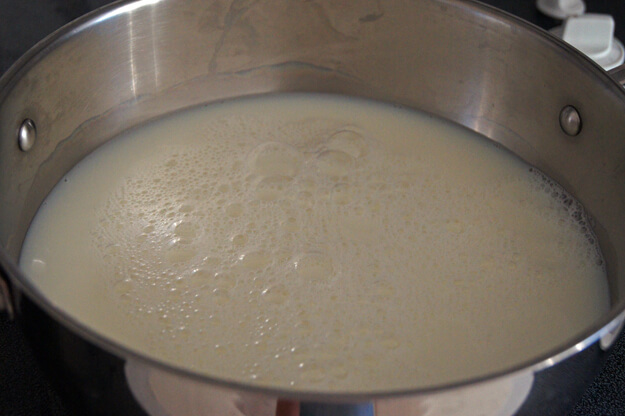 Warm the milk at low heat
In another large pot, melt 6 tablespoons of butter and add the flour. Cook over low heat for 2 minutes, stirring vigorously with a whisk. It will quickly thicken. Still whisking, add milk a cup at a time, allowing the sauce to thicken while you continually stir. You'll know its thick enough when it coats the back of a large spoon. Move the sauce off the heat and add all the cheese – Gruyere, Cheddar, 1 tablespoon of salt, ½ teaspoon of pepper, and ½ teaspoon of nutmeg.

Thickened sauce with added cheese

Cheesy sauce and macaroni stirred in
Place the cooked macaroni and lobster in the cheesy sauce and stir.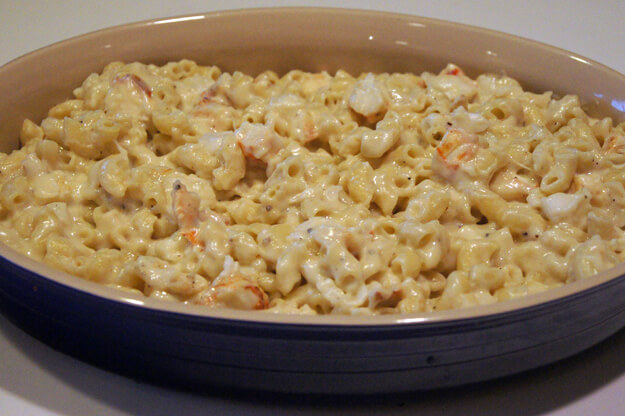 Florida Lobster Mac & Cheese in a casserole dish
Place in a large casserole dish or 6-8 individual gratin dishes.
Breadcrumbs
Take the bread slices and either put in a Cuisinart and pulse to create small breadcrumbs, or cut the small pieces by hand.
Next, in a frying pan, melt 2 tablespoons of butter. Add the breadcrumbs, ½ teaspoon of salt & pepper, and lightly brown the mixture.
Then pour the breadcrumbs over the mac & cheese mixture.
Slice the tomato in 1/4 inch slices. Place the tomatoes on top of the breadcrumb topping. Brush with a little olive oil. Sprinkle with a little salt and pepper.
Bake 30-35 minutes until the sauce is bubbly and topping slightly browned on top.

Florida Lobster Mac & Cheese is ready to eat
Recipe adapted from the Barefoot Contessa Lobster Macaroni & Cheese.
To receive Authentic Florida's free weekly ENEWs, sign up on the Authentic Florida homepage.
AuthenticFlorida.com was voted "Favorite Travel Blog" at the 2018 Florida Sunshine Awards. To inquire about advertising/partnership opportunities, contact melanie@authenticflorida.com 
---
Comments are closed.