July 26th is National Bagelfest Day!
Happy National Bagelfest Day! Did you know bagels were introduced to America by Jewish immigrants? The word is even derived from the Yiddish word "beygl" which means ring! The circle shape also helps with cooking since this increases the bagel's surface area, allows for more crust formation and helps it cook faster. Celebrate today by picking up this delicious snack at any of our favorite places across the state!
Source: bagelbareast.com
Steve Hochman, New York native has owned and operated Bagel Bar East in Miami for over 20 years. He has created a "neighborhood joint that locals love to call home" including delicious deli fare in addition to bagels!
Source: bagelcitysouthbocaraton.com
Bagel City South in Boca Raton has a long family history of serving the best bagels! 142 years ago Moshe Zlotnicov of Kiev, Ukraine created the Zlotnick recipe. Moshe trained his son Abraham and then passed this recipe on to him. Abraham brought the Zlotnick recipe to the United States. Abraham, after training his son Samuel passed the Zlotnick recipe to his son's care. Samuel in turn mentored his son Norman who today, with his wife Lori and their son-in-law Ben, is providing Boca Raton with bagels you can truly savor that no one else can match in taste, texture and appearance!
Source: bagelsrusjax.com
BagelsRUs started in Jacksonville 20 years ago in order to bring a little piece of New York to Jacksonville. They make all of their bagels from scratch by the Kettle Boil and Bake method, and also make their own cream cheese in house!
Source: bagelsnack.com
Thelma and Jon Simes, owners of Bagel Snack in Pompano Beach believe that the customer comes first and deserves the best quality ingredients! They've been in business for more than 25 years serving NY-style deli cuisin and tasty food in a friendly atmosphere!
Source: bagelheads.com
Bagelheads in Pensacola prides themselves on the highest quality ingredients and make all of their bagels in-house from scratch with the best toppings! They even brew their own coffee in house! They also support the local Pensacola community through bagel donations to charitable events, and every day all leftover bagels are donated to local food banks!
Source: bluecollarcafefl.com
Blue Collar Cafe has two Panhandle locations – Fort Walton Beach and Niceville! They're known for their Texas-sized bagels that are made in house in multiple flavors!
Source: facebook.com/brooklynwaterbagelbwb/
Brooklyn Water Bagel has numerous locations throughout Florida, famous for their Brooklynized water used in their bagels and beverages! They make their bagels in-house fresh each day using the old-world artisan recipe and water successfully replicated from the natural composition of the water that flows through the Catskill Mountains in upstate New York into the homes of Brooklyn residents.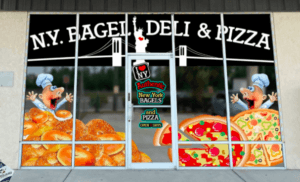 Source: nybageldeli.com
NY Bagel & Deli has three locations in the Orlando area and serve authentic New York-style bagels! Not only do they have over 20 different flavors of bagels, they also serve delicious sweets, breakfast, sandwiches and pizza!
Source: waybeyondbagels.com
Way Beyond Bagels has two locations in Boca Raton and Delray Beach and serves quintessential New York-style eats! They pride themselves on providing customers with fresh ingredients and delicious food! They have dozens of bagel flavors as well as a modern New York-style market
---
Comments are closed.