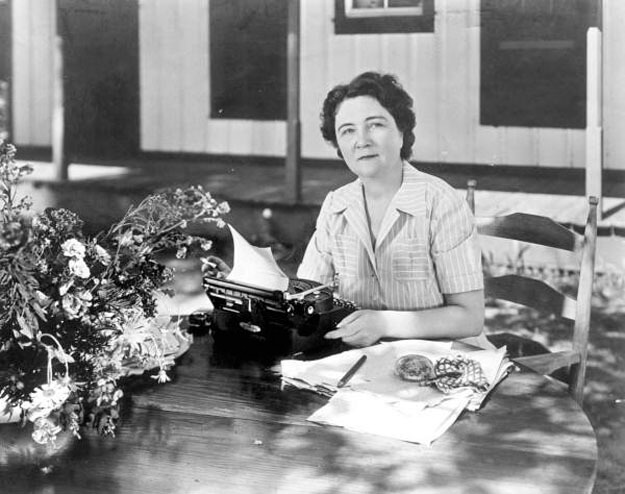 If you want to feel like you've been transported back to the 1930s, all you have to do is visit the tiny community of Cross Creek, Florida, home of Marjorie Kinnan Rawlings Historic Park, a state park devoted entirely to the life, times, and work of Marjorie Kinnan Rawlings. Located southeast of Gainesville on a narrow strip of land separating Orange and Lochloosa Lakes is the town of Cross Creek.
If you're new to Florida, you may not have heard of Marjorie Kinnan Rawlings. However, anyone raised here surely has not only heard of her and may have visited Cross Creek on a field trip growing up. Her novel, The Yearling, has been considered required classroom reading for many, many decades. The Pulitzer-prize winning story is about Jody Baxter. He's a 12-year-old boy growing up in Central Florida during the 19th century, with his pet fawn, Flag. Both experience the trials and tribulations of backwoods living in rural Florida. They are inseparable, and as they grow into adolescence, they face challenging life lessons.
We highly recommend picking the book up at your local library or purchasing it online. It's definitely the type of book you'll want to read more than once.

Pulitzer Prize-winning novel, The Yearling

The endearing tale was also adapted into a 1946 movie starring Gregory Peck as Jody's father, and Jane Wyman as Jody's mother. Considered a classic, the film captures glimpses of "old Florida" also depicting the state's early frontier. Just like reading the book, the Oscar-winning film is a timeless classic you will always treasure.
Visiting Marjorie Kinnan Rawlings Historical State Park (Alachua County)

Marjorie Kinnan Rawlings's homestead
Majorie Kinnan Rawlings's Florida Cracker-style home and farm in Cross Creek is where she lived. It's also where she wrote the Pulitzer Prize-winning novel The Yearling. It is now part of the Florida State Park system and is open to the public. Typical of Florida cracker architecture, the home has a raised floor, high ceilings, and many windows and doors that are ideal for cross ventilation and warm weather living. The well-preserved home is furnished with simple period furniture and reminders of times past, including rattlesnake skins, tacked to the walls.

Entrance, Rawlings's homestead
Rawlings moved to the farm in 1928. She wrote many of her novels here, including Cross Creek, an autobiographical account of her life in the little town. The book chronicles her neighbors, the townspeople, her efforts at farming a citrus grove, and also life in the Florida wilderness. Rawlings often entertained in her home. Famous guests who visited her while passing through Florida included Robert Frost, Margaret Mitchell, Thornton Wilder, N.C. Wyeth and Gregory Peck.
The Homestead

Gate entrance, Rawlings's homestead
When visiting you will enter the homestead through an old wire gate and walk along a sandy pathway through a small orange grove.  If you visit while the citrus is blooming, you'll enjoy the sweet smell of orange, grapefruit, and tangerine blossoms as you walk onto the property. You'll pass by the barn, once a center of activity, where oranges were placed in crates to be later transported by wagon to packinghouses. It was also home to Dora, Rawlings's cow, that was said to create the "richest cream" despite having a temperamental disposition.

Screened-in front porch with sleeping couch
Rawlings's 1940 yellow Oldsmobile is parked next to the home's screened-in front porch that also doubled as a sleeping veranda. On the porch overlooking the yard, a cypress table rests on a Sabal Palm base surrounded by chairs made of deer hides. An old typewriter also sits on top of the table where Rawlings wrote The Yearling. It's easy to imagine the author sitting on the porch crafting her novels and detailing her rural Florida life so vividly shared in her stories.

The table where Rawlings wrote The Yearling

Florida Sabal Palm tree trunk sits at the base of the table
Old weathered pine floors extend throughout the house while her living room provided a space for relaxation with a fireplace, comfy seating, and bookshelves – stocked with her books.

Rawlings's dining room 
However, it was the nearby dining room where she loved to entertain and lavish her guests with sumptuous homemade meals cooked on her woodburning stove. Sample dishes served on her elegant Wedgewood china included Orange Lake Frog Legs, Swamp Cabbage cooked with white Bacon, Grapefruit and Kumquat Salad, Florida Backwoods Biscuits, Beets in Orange Sauce, and also Watermelon Cake. Prompted by friends, Rawlings authored a cookbook in 1942 called Cross Creek Cookery.
Two bedrooms are furnished to illustrate the times. One has a homemade bed – the oldest piece in the house – but the addition of the bathroom is what created the excitement. The new bath enabled Rawlings to move from outdoor to indoor plumbing. She later celebrated with a party, inviting the locals for the bash.

Rawlings's authentic kitchen
Cooking enthusiasts will appreciate Rawlings's kitchen, decorated with yellow gingham curtains overlooking the outside vegetable garden. It includes an authentic stove, icebox, pantry, and also some spice cans.

Tenant house, Rawlings's homestead
Don't miss the Tenant House, living quarters for her laborers. This house provides a further glimpse into Florida's frontier life.

Volunteer-led tours provide insight into Rawlings's life
A Park volunteer guide creates an inviting tour and provides insight into the author's life. The homestead is open daily. Visitors may tour the house with a ranger dressed in period costume. Times are Thursday through Sunday at 10 and 11 am and also on the hour from 1 – 4 pm from October through July.
Nearby is the acclaimed Yearling Restaurant, specializing in Florida Cracker cuisine. It's well worth a stop since it's one of Florida's true originals. They offer gator tail, mullet, catfish, venison, and also cooter (soft-shelled turtle). Don't miss the Sour Orange Pie. The restaurant is open Thursday – Sunday, at noon.

Charming Micanopy, a short ride from Cross Creek
There are plenty of choices for accommodations if you also want to stay over. There's the college town of Gainesville to the north or also the horse country of Ocala to the south. But to soak in some authentic Florida pioneer spirit, consider staying in the nearby community of Micanopy. Once an Indian Trading Post, this tiny, but charming village of historic homes and moss-draped oaks is known as "the town that time forgot" for good reason. Full of archaeological sites and a charming downtown with antique shops and quaint restaurants, it's perfect for exploring then overnighting in one of the bed and breakfast inns.

AuthenticFlorida.com was named Best Travel Blog two-times at the Florida Sunshine Awards.
To receive Authentic Florida's free weekly ENEWs, sign up on our Authentic Florida home page.
To inquire about partnerships/advertising, please contact info@authenticflorida.com 
Proud Member of: 

---