One of the greatest luxuries we have as Floridians is the ability to jump in our cars and visit a part of the state that feels like a world away from our daily lives. In just a few hours, we can travel to the Oldest City (St. Augustine) or the Southernmost Point (Key West) in the USA. We can visit 175 incredibly diverse Florida State Parks or one of the many remaining roadside attractions. With 67 counties and 663 miles of beaches throughout the state all offering unique experiences, there is never an opportunity to be bored in Florida. Read on to check out our favorite things to do in St Petersburg!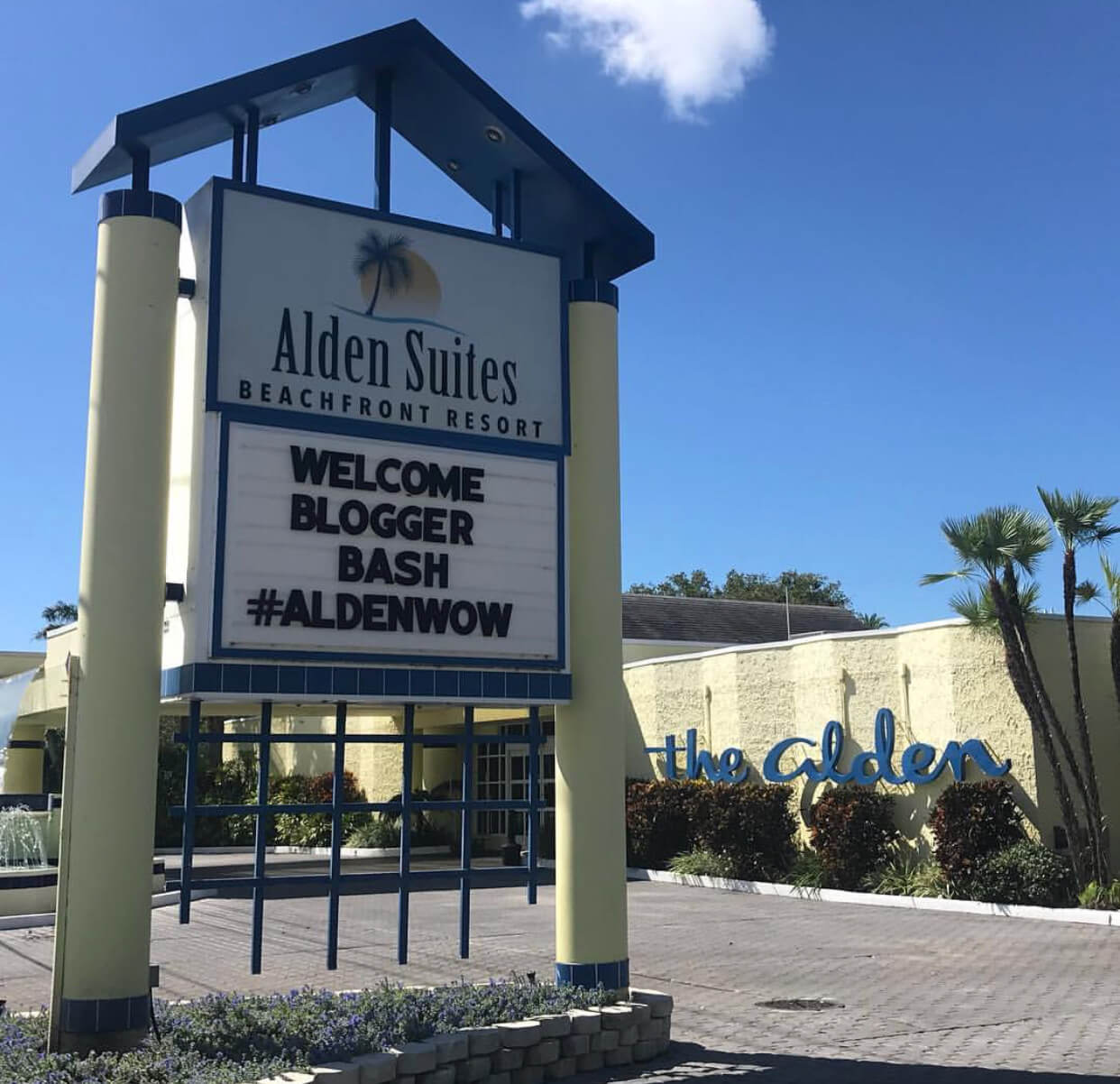 Authentic Florida was recently invited to experience a night at the Alden Suites in St. Pete Beach as part of a bloggers conference. So often I have schedule conflicts, but this time I was available and they were kind enough to extend my invitation to include a guest. I decided to invite my mom and off we went for a mini adventure on the Gulf Coast.
Places to Stay
Over the years, I've done many, many day trips to St. Pete. I have stayed at a couple of different places. The historic Don Cesar is always a favorite and the updated, funky Postcard Inn is on our 2019 bucket list. This was my first time staying at Alden Suites – A Beachfront Resort. Founded in 1955 as the Alden Motel, this family-owned resort has an authentic Florida vibe. Although it's reminiscent of old Florida, the rooms are all updated and very clean. They even have seven newly renovated beach cottages that will transport you to a bygone era. Plus, they have great Florida Resident specials, so make sure you inquire about their offers.
We stayed in an oceanfront suite. I love bodies of water and balconies with stunning views, so I was definitely in my element. Fortunately, the red tide was nowhere to be found, so the coast was clear and the water was very inviting. After a welcome cocktail party, we boarded a boat and headed out on the Gulf of Mexico to enjoy the sunset. As we all know, the west coast of Florida is home to simply spectacular sunsets. Being out on the water made this sunset extra special.
After the boat ride, my mom and I decided to figure out a game plan for the next day. Since we made a lot of pit stops on our way to St. Pete Beach, we decided to call it a night fairly early, so we could hit the ground running with new things to do in St Petersburg!
Things to do in St Petersburg
The next morning we took off with several destinations in mind as well as ample time to see what authentic surprises we may find on our journey.
We drove south of St. Pete Beach through the charming community of Pass-a-Grille Beach and admired the colorful beach bungalows.
We stopped for a quick game of mini golf at Polynesian Putter, home to a vintage Tiki statue, tiger, colorful snake, and tropical hazards. The 18-hole course is located across the street from the gulf and is a great thing to do in St Petersburg!
On our way to Downtown St. Pete, we took a detour and drove down Beach Boulevard in the eclectic, artsy community of Gulfport. If you are in search of Florida kitsch, this town won't disappoint. It's full of casual, fun restaurants, one-of-a-kind shops, and art galleries. Apparently, Gulfport is a lot of fun after dark, so we will definitely be going back (stay tuned!).
St. Petersburg Murals
However, on this particular getaway, we were committed to visiting the downtown St. Pete area and checking out the captivating, urban murals that have made "Sunshine City" an open-air art destination. Currently, over 500 murals of all sizes, shapes, and styles have popped up all around St. Pete.
If you like to take creative selfies, look no further. There are unique wall murals everywhere you look and each one also makes an amazing backdrop for your personal photo collection.
History of the St. Petersburg Murals
According to Visit Florida, the growth of the central business district murals dates back to 2010, when major redevelopment plans for the entire 600 block of Central collapsed. Instead, the block became an artists' colony of sorts, packed with independent galleries, boutiques, and restaurants brought on at deeply discounted rents. Behind the stores, in the alley, the murals started appearing, each one more colorful, clever, and sometimes funnier than the last.
One of my personal favorite murals was discovered at China Finders (2823 Central). Artist Sarah Sheppard combined images of the plates and cups found in their store with Johnny Depp from the 2010 movie "Alice in Wonderland." It's whimsical and truly a work of art!
It was raining on and off the day we were visiting, so we are definitely going to go back and do a walking tour. However, it was really fun just driving around and admiring each mural. Many local artists designed the murals! Each October artists from all over the world take over St. Pete for an annual event called SHINE. This year, 37 artists from around the world (including national and also local muralists) returned for the fourth year to paint a story in colorful, bright colors on barren walls of various exterior buildings throughout the city. This year's installation just happened, so we plan on returning soon to see what new murals are now part of the landscape.
More Things to do in St Petersburg
In our travels, we drove by Sunken Gardens. The Gardens have existed for more than a century, and are one of the oldest roadside tourist attractions in the United States. We weren't dressed for the rain, so we will be returning another time. The Sunken Gardens also have a new flamingo we have to visit!
We also stopped by the St Petersburg Shuffleboard Club. Founded in 1924, the St. Petersburg Shuffleboard Club is the oldest and largest shuffleboard club in the world. They were closed the day we were there, but we heard Friday nights are free and artists and history buffs alike have banded together to revive this nostalgic game. Sounds like fun!
We were hungry, so before we headed home, we stopped for a bite at the Fourth Street Shrimp Store. Established in 1984, it's a funky casual seafood restaurant a few blocks from Sunken Gardens. The food was great and the atmosphere screams Old Florida (and their website is also really fun!).
There are so many things to do in St Petersburg!  This getaway was just a mini-preview. We plan to return soon when we can explore even more sites in this delightful city.
Looking to visit a fun museum in the St. Pete area? Check it out here!

AuthenticFlorida.com was named Best Travel Blog two-times at the Florida Sunshine Awards.
To receive Authentic Florida's free weekly ENEWs, sign up on our Authentic Florida home page.
To inquire about partnerships/advertising, please contact info@authenticflorida.com 
Proud Member of: 

---
Comments are closed.