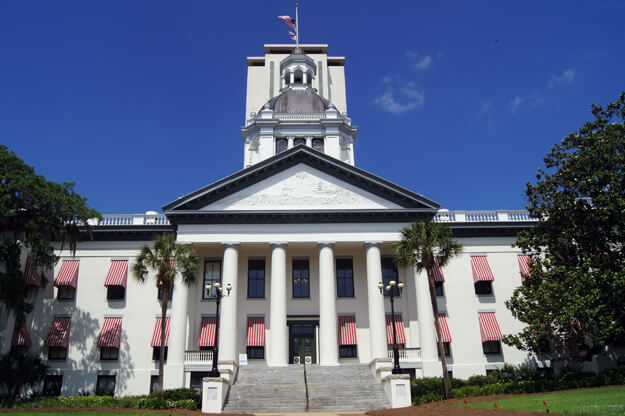 For many, Florida represents a tropical oasis with sandy beaches, swaying palm trees, amusement parks, and golf courses. But Tallahassee, Florida's Capital City provides an experience into "the other" Florida.
Author Gloria Jahoda, who lived in Tallahassee during the 1960s wrote a book entitled The Other Florida. It chronicles her discoveries of the people, history, flora, and fauna of the Florida Panhandle's back roads.

Jungle Cruise, Wakulla Springs State Park
Much has changed in Tallahassee since then. Even today, the area is more than the hub of Florida's state government. Tallahassee is home to moss-covered canopy roads, gently rolling hills, old plantations, floral gardens, deep history, scenic outdoors with springs, sinkholes, rivers and lakes, locally inspired cuisine, and a younger vibe – all with delightful southern charm. Tallahassee is also home to one of the youngest and most educated populations per capita in the state with two major universities, Florida State and Florida A & M.
Tallahassee is a hospitable southern town where you're likely to be addressed with a "Yes Ma'am" or a "No Sir." And chances are that if you ask questions of a local on the street you have invited a conversation reflecting a deep-rooted love of the area.
 
Tallahassee's Historic Capital Building
Call it Tallahassee pride.
Moss draped live oaks, sweet gums, hickory, and pine trees pride. Shrimp and grits pride. Blues music pride. Seminole pride. Outdoor pride. Historic pride. And also local pride.
So, for your next visit, soak in some of the things that make locals love their town. Here are some things to do and see in and around Tallahassee that provide a journey through "the other" Florida.
Maclay Gardens State Park, Tallahassee
New Yorkers Alfred and Louise Maclay purchased the Tallahassee property in 1923 as a Florida winter retreat. Alfred Maclay created floral gardens where the family enjoyed their sanctuary overlooking Lake Hall.
Now a state park, Maclay Gardens is a collection of floral gardens. These include brick walkways, walled gardens, fountains, ponds, pine needle pathways, and peaceful sitting areas. Overhanging shady live oaks, holly, magnolias, dogwood, and palms line a brick trail leading to the Maclay home (open from January through April).
More than 200 floral varieties of native and exotic plants thrive in the Maclay Gardens. Between January and April the property bursts with color from camellias, azaleas, and rhododendrons, and wisteria.
Note: Due to COVID-19, Maclay Gardens State Park has updated policies and procedures. Due to local orders, facial coverings or masks are required inside buildings for staff and visitor safety.Canoe/Kayak launch is available. Restroom availability may be limited. All other park facilities are closed. Visitors are expected to maintain distances of at least six feet apart. 
 
Maclay Gardens is an ideal place for quiet meditation
Maclay Gardens is an ideal place for quiet mediation or a stroll amongst the intimate green spaces. A nearby recreation area on Lake Hall provides opportunities for swimming and a lakeside lunch.
 


Costumed interpreters give insight into living at the Mission San Luis
Note: Due to COVID-19, Mission San Luis is closed until further notice. Add this to your Future Florida bucket list!
Overlooking the capital city, the 63-acre Mission San Luis is both remarkable and memorable. Easily one of Tallahassee's best things to do, this living history museum gives visitors a close-up experience of two cultures coexisting – the Spanish colonialists and Apalachee natives.
Walk into the life and times of these peoples as interpreted by costumed re-enactors while strolling through reconstructed period buildings, exhibits, and demonstrations.
Well before the arrival of the Spanish colonialists, the Apalachee Indians lived in the region, existing as farmers and hunters growing corn, beans, and squash while hunting game and fish. Over time, the Apalachee tribe became increasingly vulnerable to foreign attacks and epidemics requiring a protective alliance with the Spanish.
Mission San Luis Apalachee thatched Council House is 125 feet in diameter
During the mid-1500s and the late 1600s, Florida was home to more than 100 Spanish colonial missions. Invited by the Apalachee tribe, Spanish friars, soldiers, and civilians established the mission that became the western capital of Spanish Florida. The stunning Mission San Luis complex has been recreated to portray the fascinating life when more than 1500 Apalachee Indians and Spanish colonists resided at the mission.
Mission San Luis Franciscan Church
The spacious grounds contain a large open plaza surrounded by a council house, chief's house, a Spanish home, a fort, a Franciscan church, and a complex where both cultures attended mass.
 
The Mission San Luis Council House is five stories high
The Apalachee Council House is the most impressive structure at the mission. The pyramid-shaped thatched building, which served as a community meeting place, is 125 feet in diameter and five stories high with a hearth in the center where ceremonial rituals and dances were performed.
Tallahassee's Mission San Luis is the only historic Florida mission that has been reconstructed and is open to the public.
 
Bradley's County Store is a rare Florida find
Just 12 miles from Tallahassee, take a country drive along a canopy road to discover Bradley's County Store. Since 1927, this family-owned business, on the National Register of Historic Places is a rare Florida find.
Bradley's is a folksy country store where locals stop and sit on the front porch to enjoy a cold beverage while enjoying the famous Bradley smoked sausage sandwich. The homemade sausage is made from Grandma Mary Bradley's recipe, mixed with special seasoning, smoked, and served in a simple bun.
The legendary store is where farmers and senators meet and greet as the smoke rises from "the old smokehouse" behind the store.
Bradley's mills its own cornmeal and grits
And as you prepare to leave, you may even hear the sound of grain being milled in the nearby wooden millhouse reminding you to grab a bag of Bradley's signature grits to take home.
Museum of Florida History Mastodon 
Note: Due to COVID-19, the Museum of Florida History is closed until further notice. Add this to your Future Florida bucket list, or check out their online virtual programming!
To learn about the people of Florida from the earliest native Floridians through the present time, enjoy a walk through the Museum of Florida History.
Exhibits and artifacts of Florida's past begin with the towering ice age prehistoric Mastodon skeleton. It found at the bottom of Wakulla Springs, just 30 miles south of Tallahassee.
An exhibit of native dugout canoes
This visually engaging, interactive museum display features a diorama of a native Indian village including a collection of dugout canoes and ancient tools and artifacts. More layers of history are on display by observing a sample shell Indian mound, known as a midden revealing archeological insight into this past culture.
Visitors learn how Europeans interacted with natives creating cultural dynamics through arts, trade, weapons, and religious exhibits. Discover more chapters of Florida's European history through exhibits of cannons, weapons, ships, uniforms, and a Spanish home. Board a Spanish ship, experience the maritime life while carrying precious cargo including treasures of gold and silver.
Other themes include Florida during the Civil War and World War II. Or experience a real citrus packinghouse while admiring old Florida farm machinery. Walkthrough the earliest Florida tourism campaigns detailing arrivals by steamboat, tin can campers, and a Model T Ford.
But don't miss the complete exhibition of Florida Highwaymen paintings, a collection of black artists who traveled Florida's roads selling their artwork during the mid-twentieth century.
Tallahassee's Segway tours provide an easy, fun way to see the area



Tallahassee Segway Tours provides a guided tour and a simple way to get an overview of the town and its interesting highlights while enjoying the out-of-doors. Glide past historical buildings and monuments, around fountains, through alleyways, past plazas, and parks that offer a special view unavailable by car. Tallahassee's Segway Tours will put you at ease with simple handling instructions while zipping through Florida's Historic Capitol, the current Capital complex, downtown historic district, around the FSU campus, and into the popular Cascades Park.
 
Glide past the Florida State University Westcott Fountain
Take "selfies" along the way and choose from several unique tours, most lasting less than two hours. More highlights include FSU's Westcott Fountain, Gaines Street Corridor, past FSU Doak Campbell Stadium, and through the Railroad Square arts district, Burnett Park, and past Tallahassee's trendy brewpubs.



Wakulla Springs State Park has a swim area and jumping tower
Just 30 minutes south of Tallahassee, visit one of Florida's most prized springs and rivers at the Wakulla Springs State Park.
Millions of gallons of water per day pour out of the Wakulla Spring, home to one of the largest and deepest freshwater springs in the world with an extensive underwater cave system.
While at the park and springs, there are a number of things to do and see. Enjoy the popular beach and swimming hole or even test your bravery by leaping off the wooden tower into the refreshing bubbly spring.
Note: Due to COVID-19, Wakulla Springs State Park has updated policies and procedures. Due to local orders, facial coverings or masks are required inside buildings for staff and visitor safety.Canoe/Kayak launch is available. Restroom availability may be limited. All other park facilities are closed. Visitors are expected to maintain distances of at least six feet apart. 

Wakulla Springs State Park Jungle Cruise
But don't miss the Jungle Cruise, a three-mile loop through the wildlife sanctuary as huge alligators sun on the riverbank, unique birds fly overhead or perch in Cypress trees, as river cooters (turtles) and even manatees swim by.
 
1937 Wakulla Springs Lodge
Walkthrough the 1937 Mediterranean Revival era Wakulla Springs Lodge and look up at the wood beam ceiling painted with Florida wildlife and art. But don't miss "Old Joe," a stuffed 11 ft. alligator that once lived in the park. For dining try the restaurant with an outstanding menu of fresh local seafood including oysters and fish – and the famous navy bean soup.
Paddling the Wakulla River



The Wakulla River provides a scenic tour of Florida's flora and fauna



Wakulla Springs is the origin of the Wakulla River that flows nine miles south joining the St. Marks River, then on to the Gulf of Mexico.
Enjoy a relaxing kayak trip downstream with Tallahassee's Harry Smith Outdoors. Harry will meet you at the bridge just south of the park (CR 365 bridge), transport the kayaks, paddles, and equipment then guide you downstream for a two-hour leisurely paddle. Enjoy the scenic lush green landscape along the slow-moving Wakulla River as you listen to the morning bird calls. Take in the river wildlife including turtles and an occasional alligator lying on submerged logs. Bald Cypress trees border the waterway, paddlers, and boaters cruise by. Watch for Ospreys and Bald Eagles but be on the lookout for manatees as they swim by in stealth mode.
If you have time, head to St Marks National Wildlife Refuge on the Gulf Coast. Enjoy the beauty of the Refuge, a historic lighthouse, and more than 300 different species of birds. Enjoy a trail walk to observe hawks, Swallowtail kites, Bald eagles, owls, and ospreys.
 

Tallahassee's Goodwood Museum & Gardens
The North Florida and Tallahassee region is home to more than 70 antebellum plantations. They also serve as reminders of the state's past.
Tallahassee's Goodwood Museum & Gardens, once an 1838 cotton and corn plantation, is a treasured heirloom providing a glimpse into the privileged life of five families who occupied the restored main home and grounds.
The Goodwood Museum provides a glimpse into the families who lived there
Now a 16-acre landmark surrounded by gardens of live oaks cloaked in Spanish moss and resurrection ferns, its 170-year old main home is furnished with a parlor, dining room, kitchen, bedrooms, and living areas with authentic furniture, porcelain, textiles, and glassware. More than 20 outlying historic buildings complement the property including cottages and a reflecting pond.
Florida history from the early 19th century to the present comes alive through its home tours, charm, and seasonal gardens. The gardens are full of camellias, magnolias, flowering cherries, freesias, azaleas, roses, and lilies.
The Goodwood Museum & Gardens is also a gathering place for community events and weddings with a reconstructed carriage house for receptions.
Note: Due to COVID-19, Goodwood Museum & Gardens is offering tours on a limited basis. Please check their website for times before you head out!
Serving up Southern: KitchenAble Dining & Eating Out in Tallahassee
Jessica Bright McMullen, of KitchenAble
Sometimes eating out can be more than a trip to a restaurant. Meet Jessica Bright McMullen, self-described "food enthusiast, and kitchen enabler."
Jessica runs KitchenAble, a cooking school situated in a stone cottage on Tallahassee's popular Lake Ella. Jessica, a chef, author, and cooking teacher invites the public to her kitchen school for a lesson and a meal. She teaches and entertains through classes, events, and monthly supper clubs. Guests sit around her kitchen and learn how to prepare tantalizing meals.
A gifted entertainer, Jessica creates a meal from appetizers to desserts in front of guests. They sip wine and enjoy her priceless stories while having fun.
Note: Due to COVID-19, Jessica's cooking classes are all virtual! Check them out on her website. 
Jessica teaches a class, with her husband, while serving a complete meal
As the daughter of a farmer, Jessica extols the virtues of cooking with local produce and seafood by "growing your own" or sourcing the best possible ingredients at farmer's markets. She prepares a meal of sautéed greens, roasted fresh vegetables, local shrimp and grits, sausage and apples, plus sweet potato biscuits, and then tops off the meal with a Tallahassee local recipe of Sea Salt Carmel Cake and a Pavlova with kumquat puree. Family and friends help her create this masterpiece of a meal, while guests enjoy every bite.
For dining out in Tallahassee, try the ever-popular Kool Beanz Café, a Tallahassee institution with mouth-watering starters (smoky corn crab cakes), eclectic salads and greens, and tantalizing main courses (lime mojo snapper, green mango salsa, sweet plantains, black bean-coconut sauce).
For casual try Voodoo Dog for the Hari Kari Dog, a bacon-wrapped dog with homemade mac & cheese on top, or Dog Et Al that specializes in making dogs "a work of art."
Craft breweries are making a statement here including Proof, Lake Tribe, and DEEP.

Tallahassee's Bradfordville Blues Club, photo Visit Tallahassee
Florida's only stop on the National Blues Trail is Tallahassee's Bradfordville Blues Club (BBC). This rustic old juke joint on a rural dirt road has hosted performers such as Muddy Waters and Stevie Ray Vaughn.
Portraits of musical legends hang on the wall as guests move to the music and dance to the blues. Weekends also draw foot-stomping crowds to this iconic blues hangout. But outside, enjoy the campfire where musicians break and soul food is served for a one-of-a-kind "Tally" experience.
Where to Stay
Consider Tallahassee's Hotel Duval, located on Monroe Street downtown. This sleek and comfy boutique property is In the process of a facelift. This renovation is to reflect its past while updating for greater comfort. The hotel rooftop lounge also provides one of the best glimpses of the downtown.
Historically, the hotel was the place to be seen and where big political deals were made. It was once home to the legendary Golden Key Lounge. Here, townies secretly drank in the 1950-60s when Leon County was dry. The Golden Key will soon be resurrected with the new renovation.

Discover Tallahassee (Wakulla River)
Discover It
After a visit to Tallahassee you may experience a new perspective of Florida as a place with more history than expected, more natural and cultural diversity than realized, and more to enjoy than you had imagined. So, Tallahassee may be a perfect place to find the "other Florida" with a balance of the tried and true with the hip and new. Enjoy the discovery!

AuthenticFlorida.com was named Best Travel Blog at the 2018 Sunshine Awards. 
To receive Authentic Florida's free weekly ENEWs, sign up on our Authentic Florida home page.
To inquire about partnerships/advertising, please contact melanie@authenticflorida.com 
---
If You Go
For more information: