This is a tale of three small authentic Florida towns, each centered by an old courthouse representing the spirited pioneers who settled the area. These three charming towns offer unique and special discoveries for the "real" Florida traveler – located within an easy drive of one another.
# 1: Dade City, Where the Kumquat Rules (Pasco County)
Welcome to Dade City where Florida southern charm combines hospitality, history and a small fruit – a "golden gem" known as the kumquat. Dade City is located less than an hour northeast of Tampa in eastern Pasco County. It is an unhurried, laid-back Florida southern town. Surrounded by rolling hills, citrus groves, orchards, working ranches and farms, Dade City offers a huge dose of "real Florida" charm.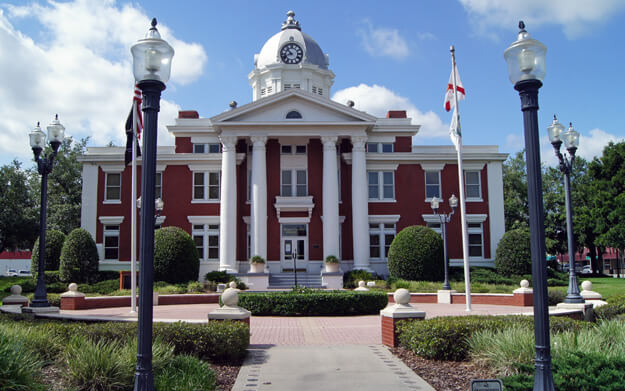 1909 Dade City Old Courthouse
At the centerpiece of Dade City's town square is the 1909 classical revival style red courthouse with large white pillars. Down-home restaurants, antique and quaint specialty shops flank the sides of the square. Across the street from the courthouse, a restaurant window sign posts "fried green tomatoes," while the bakery next door boasts kumquat refrigerator pie.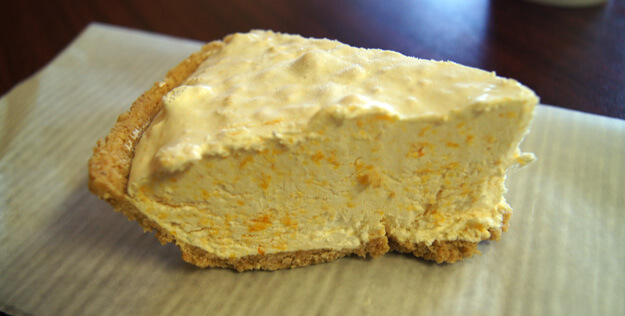 Kumquat refrigerator pie
Kumquat? What exactly is a kumquat? Orange in color, this small bite sized fruit is a member of the citrus family.  The whole fruit, oval or round in shape (depending on the variety) can be eaten – skin and all, providing a flavorful, pungent sweet and sour taste. Kumquat growing season is from November through March and celebrated annually with the town's biggest event, the Dade City Kumquat Festival, held in late January.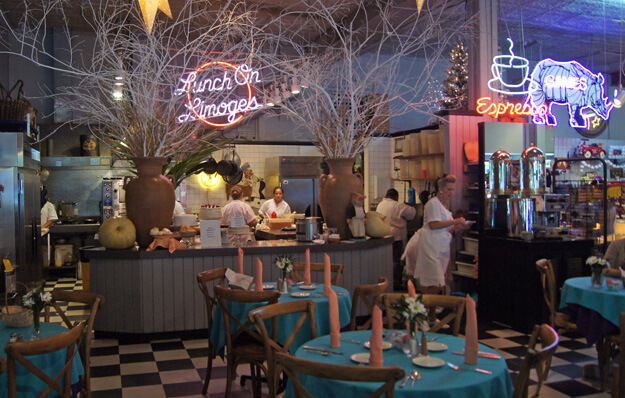 Lunch on Limoges, Dade City
Visitors who begin their authentic Florida day at the Courthouse Square will want to come hungry. If you are looking for a good meal, you are definitely in the right place. There are a number of choices including Lunch on Limoges, a southern restaurant offering chalk-board menu items such as Pecan Chicken, Pecan Grouper, or their signature Chicken Salad and an array of sumptuous, seasonal desserts like kumquat or strawberry cake.
Kafe Kokopelli is another favorite, once a Model T salesroom for the Florida Motor Company adorned with old Florida relics, photos and art. Chef Steven Queen has organized a varied fine dining menu of fresh items including local Florida favorites of fried green tomato napoleon, fried gator, organic salad, catfish sandwich, Cuban sandwich and Grilled Gulf Shrimp.
Another favorite off the square but good for down-home cooking is Steph's Southern Soul Restaurant (14519 5th St.) with a local fresh menu of fried chicken, meatloaf, ribs, greens and fresh fruit desserts.
After satisfying your appetite you may want to check out the local antique shops such as Antiques on the Main Street, specializing in folk art and primitive antique treasures, Ivy Cottage Antiques & Wine Shop and The Dade City Magnolia House, known for gift items and seasonal finds.

1887 Trilby Depot, Pioneer Museum & Village
To complete your visit, head north of Dade City to the Pioneer Museum & Village.  This walking village portrays a complete real-life look at Florida pioneer living. Actual buildings, many saved from demolition, were brought to this site to create a living history exhibit. Visitors can experience the wide range of old Florida life through a 1926 schoolhouse, a 1903 church, an 1860's era farmhouse, a cane syrup mill, a 1910 citrus packing house, a 1920s general store even a 1887 railroad depot complete with a locomotive.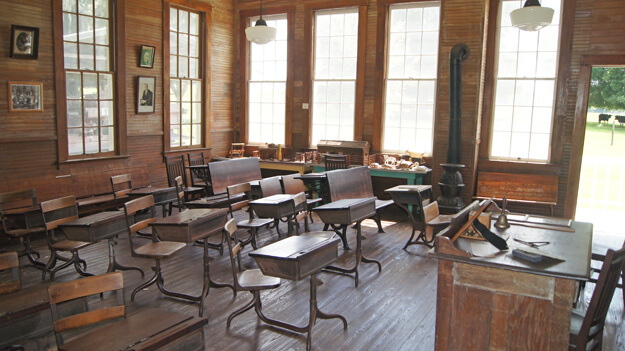 1926 Lacoochee School House, Pioneer Museum & Village
If you need a place to stay, try the Dade City Hampton Inn, convenient to the downtown.
One last tip for those interested in the annual Kumquat Festival – the Kumquat Growers Association features two special days of open houses prior to the huge Saturday extravaganza with grove and packinghouse tours, sample tastings and a chance to personally meet the farmers.
#2: Brooksville, Florida's Green Acres (Hernando County)

Old Florida oaks, Chinsegut Hill
Northwest of Dade City, and 40 miles north of Tampa, sits another quaint Florida town, historic Brooksville. Continuing on the charming trail of lesser-traveled Florida towns, Brooksville's oak canopy roads meander through rolling green hills creating an ideal journey for many outdoor enthusiasts including bicyclists and motorcyclists.
Brooksville is located in Hernando County, an amazingly natural and versatile area with a wide variety of things to do. Visitors can choose from many options, like the kitschy old Florida theme park of Weeki Wachee, to biking its serene trails (including the Withlacoochee State Trail), to playing and fishing in its waterways that also attract spectacular birds and birders.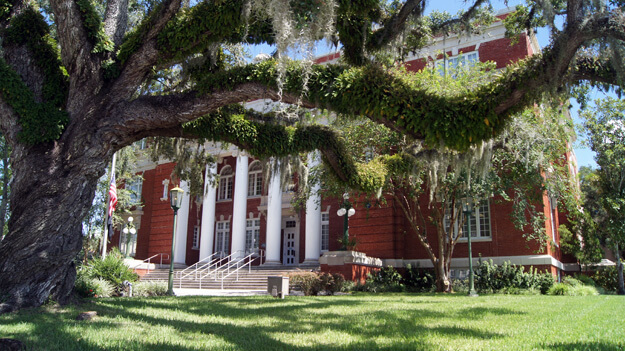 1913 Brooksville Old Courthouse
In the midst of the historic downtown square, you'll find the century-old red brick courthouse. Dating to 1913 and surrounded by moss-laden oak trees, it is near many eateries and shops adjacent to the square.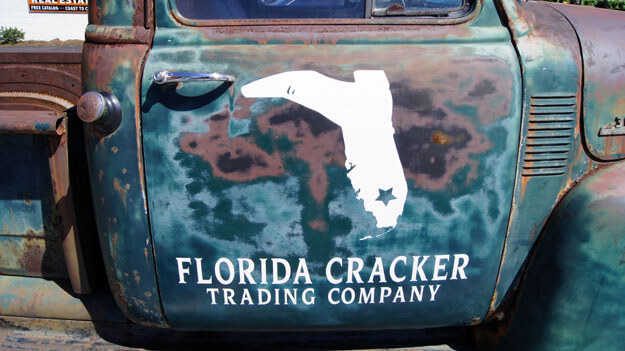 Florida Cracker Kitchen for the classics
For good home-cooking try the Florida Cracker Kitchen, with classics such as Brooksville blueberry pancakes, the Cracker omelet, smoked mullet dip, or the Okeechobee gumbo. Another favorite is the nearby southern style Mallie Kyla's Café (mother to the Florida Cracker Kitchen owner) where locals go to lunch, especially for the homemade cakes and pies.
Hernando County has many other authentic treats. Here's a sampling: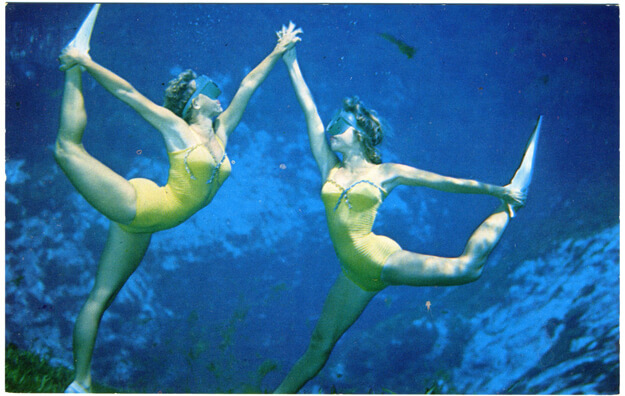 Weeki Wachee Mermaid, photo courtesy John Athanason
Weeki Wachee Springs State Park 
Since 1947, Weeki Wachee Springs State Park has delighted families and kids with the world famous mermaids and underwater shows. The attraction remains one of the best bargains in Florida and the actual Weeki Wachee spring flows into a pristine, meandering river to play on, kayak and enjoy. You can swim in the spring at the attraction, or drive next door to Paddling Adventures with easy access to the river and rent your own kayak. After a day in the park or on the river, travel to BeckyJack's Food Shack for their signature "Crunchy Fish."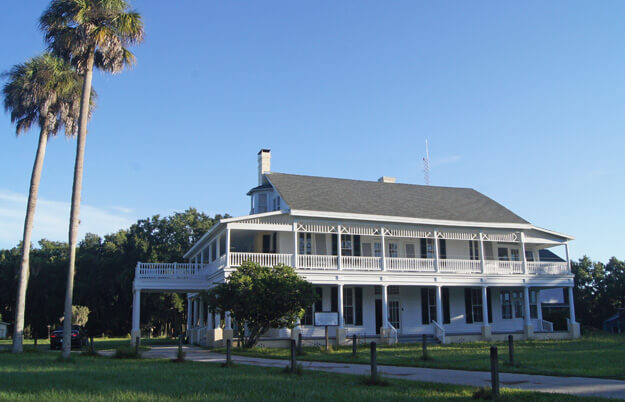 Brooksville's Chinsegut Manor House
Consider a trip six miles north of Brooksville to Chinsegut Hill, a 165-year old Florida plantation. Situated on one of the highest points in Florida, the property consists of a newly renovated manor house (and retreat facility) and older historic buildings. Its deeper history – including fascinating new information – has been recently excavated and documented by archeologists who are shedding light on its past from the earliest native inhabitants to slaves and generations of settlers. This is a special place to observe Florida's past, vistas and nature while enjoying the serenity of the spacious grounds shaded by ancient oak trees.
Not far away, consider a stop at the nearby River Oaks Landing a shop with crafts, antiques and some tasty homemade ice cream.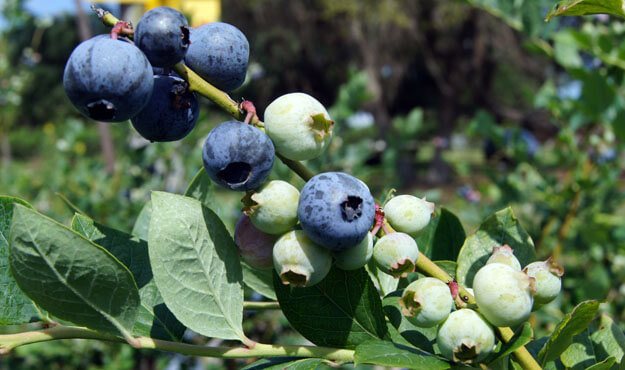 Hernando County is Florida blueberry country
This is blueberry country. So during Florida's blueberry season, enjoy a morning of picking your own berries. Spring is the best time for blueberries, and Hernando County has farms to visit. The Florida Blueberry Growers will direct you to Hernando County U-Pick farms to enjoy the fun. But here you can also pick strawberries, blackberries, sweet corn, muscadine grapes and sunflowers. If you would like to attend the Annual Blueberry Festival, plan your visit for April.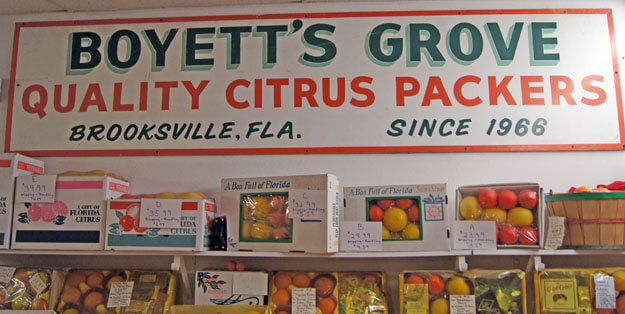 Brooksville's classic old Florida attraction
Long ago Florida was filled with homespun tourist attractions. Many have been replaced by major amusement parks, but two oldies remain in Hernando County.  In addition to Weeki Wachee there is the lesser-known Boyett's Grove on Spring Lake Highway. Long-time home to the Boyett family who have been farming citrus since the 1960's, the attraction is now operated by daughter Kathy and husband Jim Oleson. They have created a classic old Florida destination complete with an old Florida gift and citrus packing shop, kids amusement activities, a real zoo, miniature golf, a museum, an ice cream fountain and art shop – all under one roof.
#3: Get Your Trail On in Inverness (Citrus County)
Another endearing Florida town is located northwest of Brooksville, 75 miles north of Tampa in Citrus County. Add Inverness to your list of enchanting destinations to enjoy on your small town journey.
Originally named by a Scotsman who was reminded of his home in Inverness, Scotland as he eyed the scenic Tsala-Apopka Lakes, this town keeps a watchful eye on its past. To retain its historical legacy, the community has restored the stunning 1912 courthouse, now the Old Courthouse Heritage Museum.

1912 Inverness Old Courthouse Heritage Museum
The museum and the signature old courtroom have been updated to showcase the historical exhibits and is open to the public. The current show (one of several) reveals the latest excavation from the local freshwater Chassahowitzka Springs. Archeologists and scuba divers recovered many artifacts, ranging from ancient wooden paddles to pottery shards, revealing 10,000 years of history and a look at past life around the springs.

Recent artifact excavation from Chassahowitzka Springs
Walking around the historic downtown you will notice restaurants and interesting old world shops, but be sure to take a side track and wander aimlessly admiring the magnificent Victorian mansions and homes.

Inverness McLeod Bistro 
For food, try the McLeod House Bistro where the kitchen turns out some fine dishes. Don't miss the hibiscus salad dressing and the mile-high key lime pie. Also, Stumpknockers off the square is known for its fried catfish and gator nuggets but the authentic Florida décor is the real ticket. For dessert, try the Ice Cream Doctor, an old-fashioned parlor and local favorite.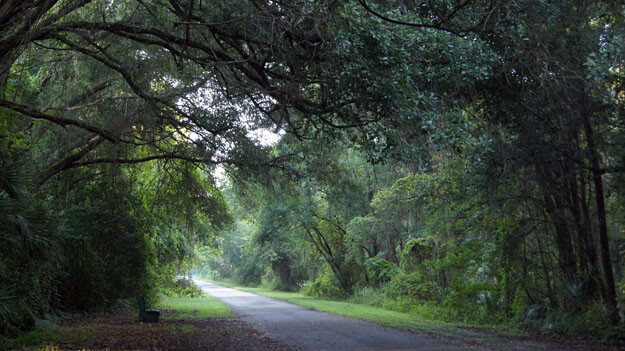 Withlacoochee State Trail 
One of the best reasons to visit Inverness is its easy access to the Withlacoochee State Trail. In 1989, the State purchased the railroad right-of-way from CSX Transportation, converting 46 miles into a continuous paved trail. As part of the Rails to Trails effort, bikers, hikers and equestrian riders can trail from Dade City to Citrus Springs, through three counties – Pasco, Hernando and Citrus gaining easy access via seven major trailheads.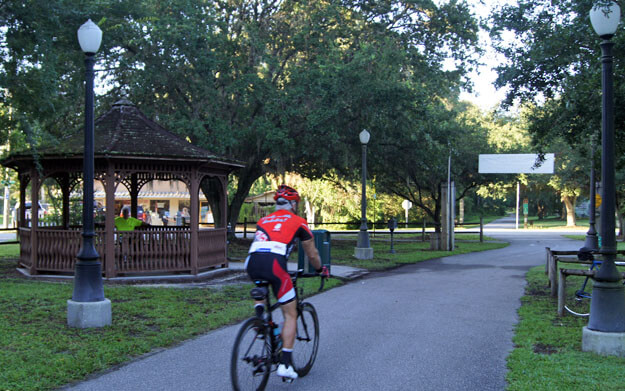 Withlacoochee State Trail is convenient to amenities
The scenic, shaded trail runs through small towns and parks, past ranches and farms, and convenient to restaurants. The trail is mostly shaded and generally flat, and accessible to most beginners. Whistle markers, depots and trestles are reminders of the railroad that once was its foundation. Scenic Florida is present through canopied oaks, cypress swamps and pine trees while the birds form nature's chorus. The Fort Cooper State Park is south of the Inverness trailhead and the site of a field battalion during Florida's 2nd Seminole War.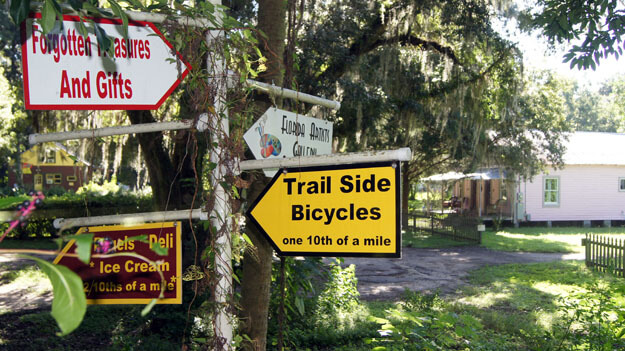 The Withlacoochee Trail runs 46 miles
Inverness bike shops offer rentals via Suncoast Bikes and Inverness Bike & Fitness. While there, consider a special half-day bike ride, starting early at the Inverness Trailhead, riding 6.7 miles south to Floral City and enjoying breakfast at the Shamrock Inn, a regular hangout with biking enthusiasts.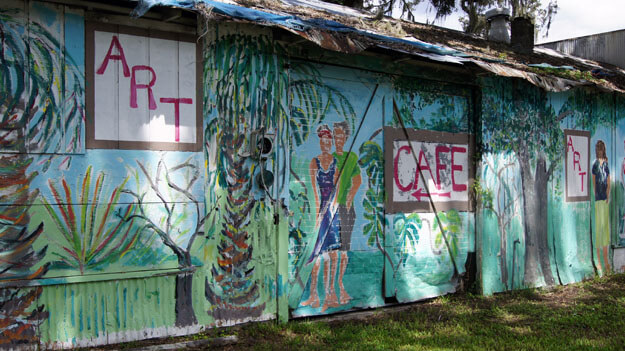 Floral City's colorful murals
Floral City is a charmer, so you might want to walk around – enjoy the colorful murals, the Florida Artists Gallery (and Café), the Floral City Heritage Museum, the Red Brick Place for art and gifts, and Hamptons Edge Bike Shop for cycling needs. But your visit won't be complete without a stop at Ferris Groves for seasonal fresh citrus, juice and in season, red juicy Florida strawberries.

Ferris Groves for seasonal citrus and strawberries
For accommodations, try the Moonrise Resort, Sunshine Lodge, or Affordable Nature Vacation Rentals.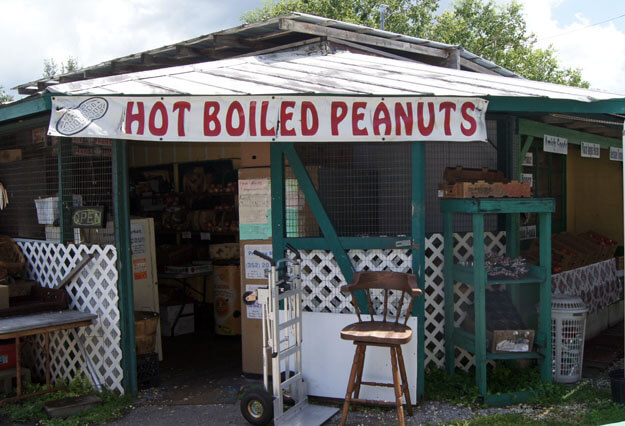 Road less traveled in Floral City
Your journey on roads less traveled will surely delight with glimpses into Florida's past, its beauty and charm. You may even make a habit of traveling the back roads and finding the best of Authentic Florida.
To receive Authentic Florida's free weekly ENEWs, featuring travel and living updates, sign up on the Authentic Florida home page.

Map for three Authentic Florida towns
---
Comments are closed.