One of my most cherished memories as a mother was reading the book "Blueberries for Sal" to my young son. This is an endearing 1948 classic written by Robert McCloskey and still popular today. The charming story takes place in simpler times and is about a mother who takes her child for a day of blueberry picking in the Maine countryside. Meanwhile, on the other side of the hill, a mother bear and her cub are doing the same. I'll leave the rest for you to read.
I yearned for that simple and delightful experience with my child, but thought to myself that I would need to travel to Maine or another blueberry state to do this.
But nowadays, I don't have to leave Florida to enjoy this treat.
Florida is a blueberry state.
Sure, Florida has always been known for fresh, delicious citrus, fat tomatoes and even its juicy red strawberries, but now blueberries are entering the arena. While blueberries have grown wild in Florida for hundreds of years it is only in the last several decades that farmers began commercially cultivating the crop.  And with a growing national consciousness in healthy eating, blueberry production in Florida has climbed significantly.
Florida farmers have found a niche in bringing early season blueberries to market before farmers in Maine, Michigan and Oregon even begin cultivating their crops. It's our fine Florida weather that allows our farmers to cash in on an early spring crop for all who love the fresh, delectable berries.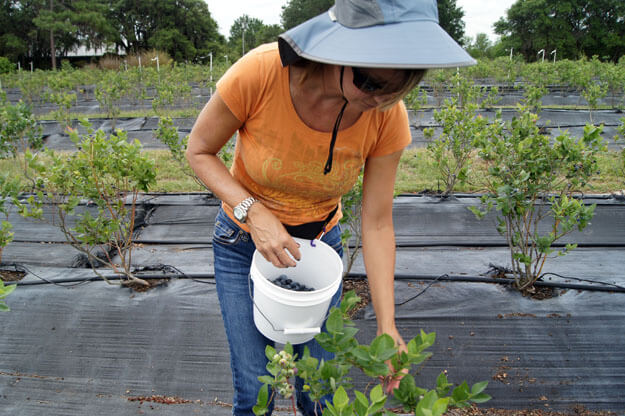 So, now is the perfect time to grab your buckets and pick those precious berries. But don't wait too long, because the season is here and gone in no time. Generally the "picking window" lasts from now through the end of May (depending on where you are).
Berry Delicious
These sweet, small, bite-sized fruits are ideal for enjoying in yogurt, on cereal, in muffins, pancakes, desserts or smoothies. But the petite berries are also perfect for eating as is and make a great light snack. Sometimes they even have a tangy taste, so you can get the sweet and tart flavor, all in one bite.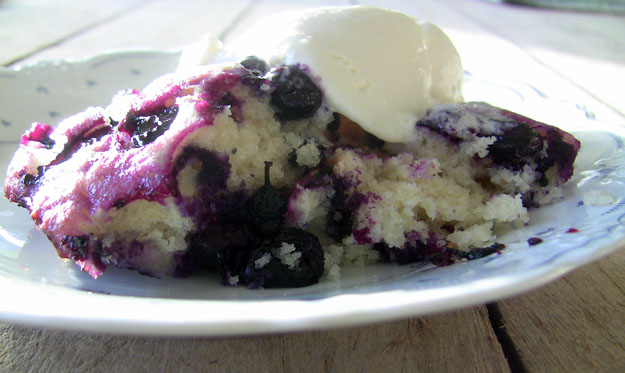 And blueberries are also good for us. Packed with antioxidants and reported to be one of the healthiest foods around, this "superfood" is loaded with special nutrients and amino acids. According to experts, blueberries can enhance memory, reduce cancer risk and improve cardiovascular health.
Florida's New Crop
Consumers are becoming increasingly conscious of the berry craze – both for the fruit's delicious taste and its healthy benefits, and market demand is increasing.  According to the U.S. Blueberry Council, North Americans consumed almost 2 ½ pounds of blueberries per capita in 2011. Central and north Florida farmers have stepped up production to meet the increased market demand. According to Gary England, University of Florida extension agent and fruit crop specialist, within the last 13 years the Florida blueberry industry has expanded from about 1,000 acres to around 5,500 acres farmed today. This year's harvest should be about 25 million pounds of fresh market blueberries valued at $70 million. That's a bunch of berries!
Let's see, they taste good and they're good for you. Do you need any more convincing?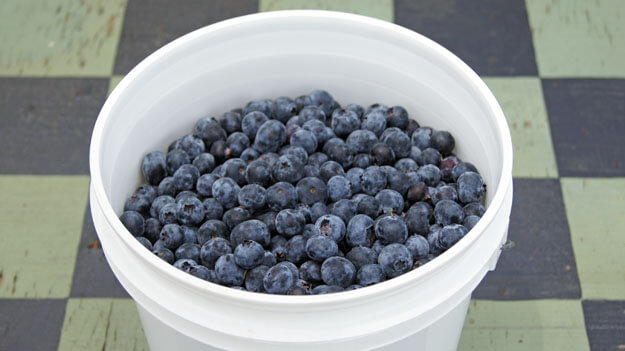 Visiting a Farm & Picking Your Own
To find out where you can pick Florida blueberries, the Florida Blueberry Growers Association lists farms throughout Florida. Or you may wish to go to the Pick Your Own, select your Florida region, your county, and it will list all U-Pick farms in the area.
One thing to remember is to call before you plan your trip, as these are usually small mom-n-pop farms, and generally have specific days and hours they are open. Often, they have "picking" updates with hours on their voice mail.
U-Pick farms usually supply a bucket to make it easier to pick and store. Here are a few more tips to make your experience more fun:
·      Dress comfortably and wear sunscreen
·      Bring a hat
·      Bring a cooler to keep the berries cool after picking
·      Select firm, ripe berries
·      Bring cash
If you are interested in attending one of the statewide festivals, check this listing for places and dates: Florida Blueberry Festival Event
Get out there soon and enjoy a rising star among Florida's famous fresh fruits!
Authentic Florida Blueberry Recipes: Authentic Florida Blueberry & Peach Cobbler; Authentic Florida Blueberry Pudding Cake and Authentic Florida Fruit Crostada
To receive Authentic Florida's free ENEWs, featuring travel and living updates, delivered weekly, sign up on the home page Authentic Florida.
---
Comments are closed.