Looking for things to do for the holidays? Lights sparkle and decorations glimmer at Florida's Ft. Myers Edison & Ford Winter Estates, giving visitors a glimpse of how these historical icons lived in the early 1900's. The 20-acre property is currently decorated with holiday "period" decorations as the lights twinkle after dark.
The memory of Christmases long ago often conjures thoughts of winter wonderlands, snowmen and sleigh rides. At least it is that way for most people who are Florida transplants. For those living in Florida there is another kind of nostalgia at Christmas time. Cooler weather brings us outside. We marvel at small changes that bring winter – a chill in the morning air, lower humidity, pastures have turned amber and the orange citrus trees dots the landscape.
A century ago, without the commercial outlets for holiday decorations, Floridians gathered what they could find to deck the halls. Some of us continue that tradition.

Outdoor tropical plants adorn the Edison Ford Estates
At Christmas we decorate outside with colored lights hung on our evergreen hedges and wrapped around the trunks of palm trees. Inside we sometimes mimic décor of colder climes with garlands and bows and candlelight. For inspiration in creating an authentic Florida holiday home there is a fascinating place to visit in Southwest Florida. Now through December 31, holiday lights and decorations shimmer at the historical Edison & Ford Estates in Fort Myers, Florida.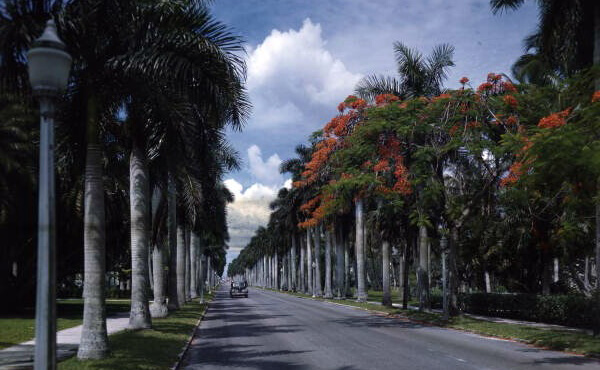 Edison planted Royal Palms on McGregor Blvd. (photo J. Steinmetz, Florida Memory Project)
Even before you arrive to the winter homes of Thomas Edison and Henry Ford, you will be impressed by the beauty of the drive along Fort Myers' McGregor Boulevard, the main road to the historic homes. It is lined with statuesque Royal Palms. Edison brought the trees from Cuba, two thousand of them, creating grand avenues to welcome people to the town that had welcomed him.

Ft. Myers provided a winter retreat for Edison, Ford and many visitors
The Edison and Ford Estates are situated on a spacious piece of property overlooking the Caloosahatchee River. The homes built here once provided a warm winter retreat for mutual friends Edison and Ford. Visitors today can get a glimpse of how these historical icons lived as neighbors even before railroads reached the area.

Evenings were spent outdoors on the verandahs overlooking the Caloosahatchee River
Historic buildings, huge banyan trees, tropical, botanical and research gardens fill the property with fascinating sights to see. Visitors can take guided or self-guided walking tours through the spacious grounds. In addition to being one of the most visited historic homes in America, the property also houses a large museum featuring inventions, photographs and memorabilia portraying the lives of these legendary men and their accomplishments. Also, a botanical laboratory can be visited where Edison experimented with various plants trying to discover an alternative source for rubber.
We've heard their names many times, but here's a refresher on Edison and Ford:

Thomas Edison, John Burroughs and Henry Ford (L-R), Photo, Florida Memory Project
Thomas Edison
Thomas Edison (1847-1931) was a man of many talents. Did you know that he held 1,093 patents (a record set by any inventor)? Most recall that he is credited with inventing the electric light bulb, phonographs, film projectors and motion pictures. But that's just the short list.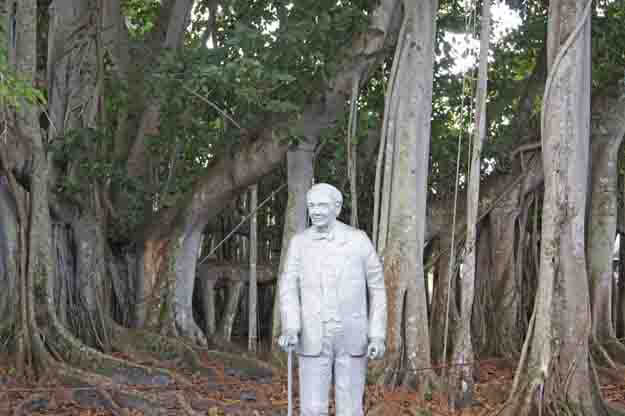 A statue of Thomas Edison among the many banyan trees
Born excessively curious at a very early age, he strived to learn how things worked and most importantly, why they worked. Beginning his career as a telegraph operator, he quickly evolved into a prolific inventor, but he also hedged his smarts as an entrepreneur and wise businessman. Ever heard of General Electric? That was his company, and of course it is still around today. Some believe his crowning achievement is the model he set for modern industrial research, which he derived first-hand from time in laboratories creating and improving many modern day comforts we enjoy today.
Much of his success came from work conducted at a research lab he built in Menlo Park, New Jersey in 1876. Four hundred of his patents were granted in the first six years the lab operated. The news media dubbed him the "Wizard of Menlo Park" and heralded Edison as the greatest American inventor of all time.

The Edisons entertained many guest at the estate
But northern winters were less and less comfortable for Edison and after the death of his first wife in 1885 he traveled to Florida and purchased the property in Fort Myers. It was here that he brought his new wife and built his winter home which was completed in 1887 and called the Seminole Lodge. Thus, Thomas Edison became a Floridian. Each winter, he and his wife, Mina entertained many distinguished guests including Henry Ford, Harvey Firestone and Herbert Hoover. In fact, Edison and Ford camped together in the Florida Everglades spending time bonding while conversing around a campfire. Henry Ford was so taken with his time with Edison that in 1916 he purchased the property next door. The families enjoyed many Florida explorations together and when you visit their homes you get some insight into how their friendship grew as they lived as neighbors.
Henry Ford

Statue of Henry Ford
Henry Ford (1863-1947) is a household name in America and around the world. Ford didn't invent the automobile, or the assembly line for that matter, but he refined them into a product and process that changed life on the planet. And Ford, just like Edison, became a Floridian spending winters on the banks of the Caloosahatchee.

View of the Ford Estate
Your Visit

The Edison's Seminole Lodge connected the main home to the guest house
The Estate features nine historic buildings. The Edison home, called Seminole Lodge (named in honor of the Florida Indian tribe), consists of two buildings separated by a garden walkway. Nearby is Henry & Clara Ford's home called The Mangoes, due to the large number of mango trees on the property. You'll even see some historical Ford automobiles in a nearby building. Other highlights include the private moonlight garden, Edison's office, the caretaker's home, swimming pool, pier, lily pond and fountain, all set among beautiful gardens and tropical Florida foliage.

Henry Ford automobiles are on display 
The Caloosahatchee River provides a scenic backdrop for the estates. Before the railroads and suitable roads were built, it was the primary means of transportation in Southwest Florida. The river also provided welcome breezes and amusement as the families watched boats cruise up and down the waterway.

The Edison Ford Estates swimming pool
An observer may be struck by the contrast between the simplicity of the homes, and the complexity of the inventions and processes derived from this base for experimentation. One may even wonder if the beautiful Florida winter evenings spent sitting on the spacious verandahs, the leisurely picnics on the river or the trips throughout the state inspired the inventions that we appreciate today.
In 1947, the Edison home was deeded to the City of Fort Myers by Mrs. Thomas Edison, while the Ford home was later purchased in 1988.
Enjoy this nostalgic holiday home tour. The Edison and Ford Estates give visitors a glimpse into the lives of these famous icons along with plenty of authentic holiday cheer.
---
Comments are closed.