Unique Places to Stay in Florida
While looking for hotel options throughout Florida, why not select a quirky, out-of-the-box lodging experience. Whether you choose to stay up in a tree or underwater, the opportunities are endless. In fact, some of these properties offer so many amenities, you never have to leave the premises. Read on to check out our favorite unique places to stay in Florida!
Here are just a few of our favorites!
BEYOND THE MAGIC KINGDOM IN CENTRAL FLORIDA
Danville B&B
Why stay in a hotel when you may reserve a room at an Inn with its own airplane hangar, man cave, yurt, treehouse, and classic car hangar. In Orlando North (Seminole County, FL), there's a small, but very unusual property that features all this and more. The rural Danville B&B, a 5-star rated AirBnB, is self-contained in an airplane hangar that looks like a country porch upon arrival, then also magically transforms into a mini-town with the flick of a switch. It features a cozy inn with two guest rooms, an Irish Pub, theater, photo booth, and also a wedding pavilion.
Guests can enjoy a stay in the master suite, with access via a private residential elevator or a dramatic oak staircase. Additional hangars house planes, a man cave, and classic cars. There are also yurt and treehouse accommodations, too. The owner/pilot will fly guests for an aerial view of the area in his private plane and guests can tool around in vintage vehicles from the classic car hangar or roam the property on Segways.
Danville B&B, 232 N. Jungle Road, Geneva, FL 32732. (407) 349-5724. www.danvillebnb.com. PHOTO GALLERY: http://www.danvillebnb.com/wedding-gallery.htm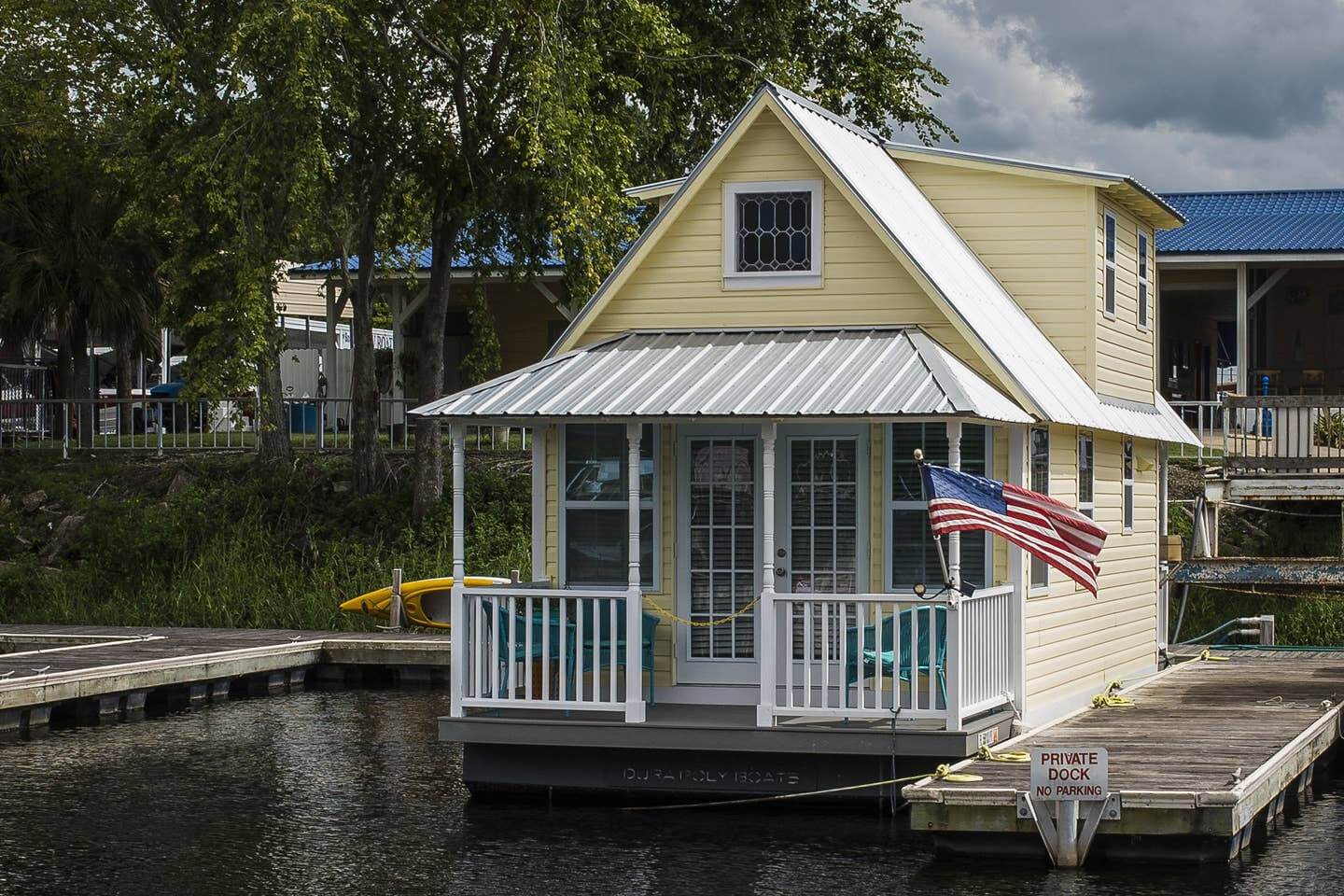 Floating Cottage
Sanford's Floating Cottage is a combination houseboat and tiny cabin. This unique place to stay in Florida is on the St. John's River — just outside of Orlando in Sanford — lulls guests to sleep with the lapping sounds of the calming waters. Amenities include a queen loft bed beneath a cathedral ceiling and also a full-size sofa bed in the first floor entertaining quarters. The kitchen features a gas stove, full-size refrigerator, and also ice dispenser. Recreational amenities include kayaks for exploring the waterfront, and you can walk just a few blocks from the marina to enjoy the galleries, shops, eateries, bars, brewpubs, and also entertainment venues of historic downtown Sanford.
Floating Cottage, St. Johns River, Sanford, http://airbnb.com/rooms/18295922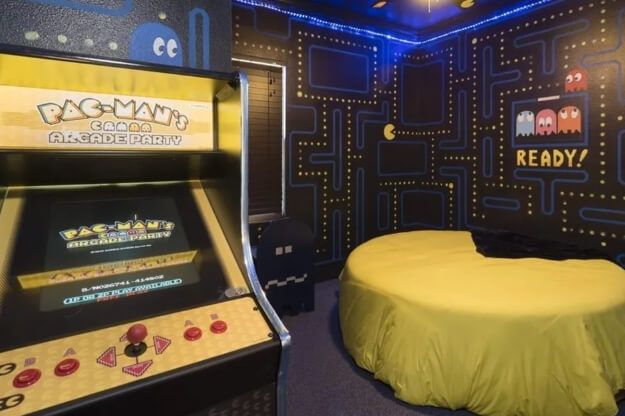 Great Escape Properties
Need accommodations for a larger group? For the ultimate family reunion or getaway with your favorite friends, look no further than these three options created by Florida resident Andrew Greenstein and his wife, Belinda: Great Escape Lakeside, Sweet Escape, or also the Ever After Estate. All three unique properties are located outside Orlando in the lovely city of Clermont in Lake County.
(NOTE: This is not a paid partnership, but to really do these unique properties justice, we are including their promotional videos in this article.)
The Great Escape Lakeside features 13 bedrooms and 11 bathrooms on 10 privately gated lakefront acres! It has an enormous 40,000-gallon pool, lazy river, waterslides, human bowling, human foosball, and also an actual commercial-grade ESCAPE ROOM game. It also has the world's first residential LASER MAZE, an arcade, a movie theater, indoor AND outdoor kitchens, karaoke, an interactive TV Game Show Studio w/ buzzers, casino games, sports courts, fishing, kayaking, canoeing…and more! It's really AMAZING and can comfortably fit up to 45 people. 
This unique place to stay in Florida features the world's only ice cream cone-shaped swimming pool, a Hershey chocolate slide, a "cherry-on-top-hot tub," AND also an entire splash park. The Sweet Escape is a 10 bedroom estate vacation rental home on 5 beautiful, gated acres near Orlando. The Sweet Escape can sleep up to 52 and you will also get the WHOLE PLACE to yourselves! Sweet Escape includes 2 enormous kitchens, 3 living rooms, several porches & decks, indoor AND outdoor poolside movie theaters, a massage room with sauna, and an enormous theme-park like grilling & entertainment area!
Originally built as a retirement home, this enchanted kingdom known as the Ever After Estate is located on 62 acres on its own private island. The 8400 sq ft house includes 8 themed bedrooms and four playrooms. There are lots of games as well as a two-story slide that splashes into a 10,000 galloon pool, a Crazy Golf putt-putt game, an airboat, miniature carousel, zipline, and games. The Ever After Escape was also featured on HGTV.
LIVING LODGE IN THE FLORIDA PANHANDLE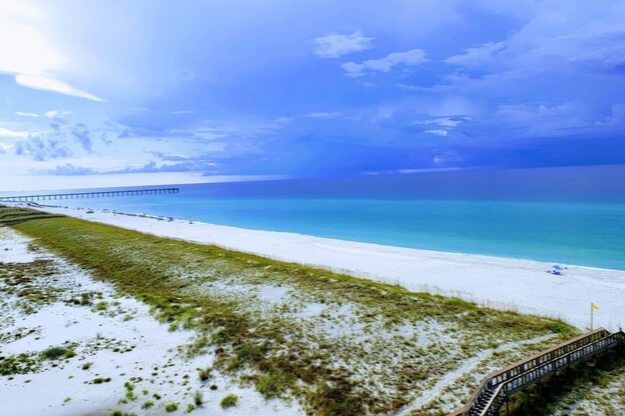 Folks interested in a more earthy and unique place to stay in Florida should choose Navarre Beach/Santa Rosa County. Vacation rentals and affordable hotels are plentiful, but so are some genuinely quirky accommodations that will stick in the memory longer than another four-wall hotel room, no matter how nice the view.
Noted are a few places to stay that provide an altogether different, old-Florida experience … without roughing it …
Tiny House Cabana
Tiny houses in urban areas are a big thing, but how about one that's situated amid a canopy of green and nearby charming Coldwater Creek, with three beaches that offer direct access? The Tiny House Cabana at Coldwater Gardens, which comfortably accommodates two, has a climate-controlled bedroom, full bathroom, and a covered outdoor kitchen and also dining space. Just outside the porch, there's also a fire pit and charcoal grill with chairs and benches.
Lorax Loft
Adventures Unlimited, just six miles from Coldwater Gardens, has an array of secluded cabins, additionally, some that they call "primitive." Others are darn near cushy — like the Lorax Loft, which offers a cozy treehouse stay. Sleep well in a king-size bed; relax in a champagne soaker tub, fire up the fireplace; and also make good use of the equipped mini-kitchen. Lorax Loft is just a quick stroll from Stumpy Alley Beach on Coldwater Creek, as well as the myriad outdoor activities — i.e. ziplining — Adventures Unlimited is famous for.
Katie's Kaboose
Katie's Kaboose, is also a unique place to stay in Florida at Adventures Unlimited, is a renovated train caboose equipped with a full-sized bed and single trundle bed. Relax by the campfire after a day of zip-lining and tubing.
Spaceship House
For a trip out of this world, book the Spaceship House in Navarre Beach. This newly remodeled abode includes rooms inspired by the most popular intergalactic movies: Star Wars, Star Trek, and more. Sci-Fi fans can live out their childhood fantasies or make their kids' wildest dreams come true when vacationing in the Spaceship House that is also conveniently located a short walk to the beach.
Check out more exciting things to do in the Pensacola area here!
AN UNDERWATER LODGING ADVENTURE IN THE KEYS
Jules' Undersea Lodge
Jules' Undersea Lodge
is the only hotel where you must scuba dive to your room. It was originally built as La Chalupa mobile undersea laboratory, the largest and most technically advanced in the world. The Lodge has been 
completely remodeled to provide guests with approximately 600 square feet of luxury living space for up to six people. 
The interior has two living chambers, each 20 feet long and 8 feet in diameter. One chamber is divided into two 8 x 10-foot bedrooms; the other is an 8 X 20-foot common room with dining and entertainment facilities.
Between the two chambers is a 10 X 20-foot "wetroom" entrance area with a moon pool entrance (similar to a small swimming pool), a shower, and bathroom facilities. You also don't have to be a certified diver to stay there. If you are in good health and over the age of 10 you can take their "Discover Scuba" course with their Mission Director/Instructor to get to your room.
This is a scuba divers dream. Unless you suffer from claustrophobia, you won't want to miss this unique adventure!
OVERNIGHT IN AN HISTORIC TREASURE ON FLORIDA'S TREASURE COAST
The Historic Driftwood Resort
The Historic Driftwood Resort — For a true taste of old-Florida beachfront living, replete with a façade made from weathered wood, you can't go wrong with this unique place to stay in Florida, whose origins date back to the early 1900s. The two-story hotel sits right on the Atlantic Ocean on Vero Beach's barrier island and also includes the legendary Waldo's Restaurant. A private boardwalk will also take you to the beach. Here's the history of the owner and the property that earned them their "quirky" designation…
Owner Waldo Sexton built his sprawling Driftwood Inn of cypress logs and pecky-cypress paneling from the swamps around Blue Cypress Lake, some 26 miles away. Lacking architectural plans, the result is a two-story hotel with balconies everywhere surrounded by pole railings with peeled-log supports. Additionally, nothing seems square or level.  Inside, the Inn was filled with quirky objects Waldo found on gathering forays domestically and abroad, including ships' wheels, cannons, old chests, and a menagerie of old bells which guests are invited to ring today.
The Historic Driftwood Resort, 3150 Ocean Dr, Vero Beach, FL 32963, (772) 231-0550
A special thanks to Mary Jane Kolassa for providing some of the lodging information.

AuthenticFlorida.com was named Best Travel Blog at the 2018 Sunshine Awards. 
To receive Authentic Florida's free weekly ENEWs, sign up on our Authentic Florida home page.
To inquire about partnerships/advertising, please contact melanie@authenticflorida.com 
---
Comments are closed.