Are you looking for a fun and unique yoga classes in Florida near you? From adorable animals to yoga with adult beverages look no further than our list of exciting yoga classes throughout the state!
Come fly and earn your wings at CircuSoul in Sarasota! All of their flying classes are beginner-friendly and all levels are welcome! Classes are a unique workout that combines traditional yoga poses, aerobatics, and the fun and flair of the circus. Their aerial yoga classes are also great for students dealing with anxiety and depression. Learn more at circusoul.com. ​
What's more peaceful than a bamboo garden where you can relax in nature during your yoga class? Check out Bamboo Garden Yoga in Delray Beach. They offer multiple yoga classes in the bamboo garden like Yin Yoga, Slow Flow, Vinyasa Yoga, and Candlelight Yoga. More information as well as the class schedule is available at bamboogardenyoga.com.
For those of you who like to partake in enjoying an adult beverage from time to time, this workout is followed by a beer afterward. Every Sunday at 11 am at Twisted Trunk Brewing you can attend a fun all-levels one-hour Vinyasa yoga class. After the class stay and enjoy a pint of handcrafted beer at the brewery! Make sure you bring your own yoga mat and a towel. $18 for the class includes your first beer! Buy your tickets here or learn more about the brewery at twistedtrunkbrewing.com.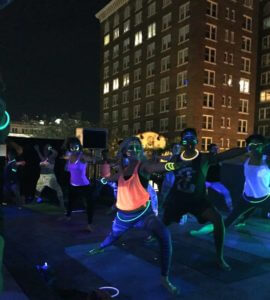 YogaGlow's Glow with Flow has high energy music, UV black lights, glowsticks, laser lights, and glow paint all to create an incredible and fun yoga experience! The class is a Vinyasa Flow with fun twists and turns for all levels of yoga connoisseurs and incorporates all the elements of fire, water, earth, and space and you end in savasana pose gazing up at the stars. Each ticket includes one alcoholic beverage. All you need to bring is a mat, water bottle, and good vibes. Learn more at YogaGlow's Facebook page here or online at pla.yoga!
If you're looking for yoga with the cutest "kids" around, you'll want to visit Grady Goat yoga for a weekend class in Tampa Bay! The proceeds support Project G.O.A.T. (Global Offensive Against Trafficking). Come visit the friendliest baby goats as well as donkeys, cows, and Maya the Farm Pig! No yoga experience is necessary, just "a love of nature, animals, and a desire to leave as happy and stress-free as you've ever been"! The fun one-hour yoga class includes 30 minutes after class for cuddling and photo ops with the baby goats! Learn more and grab tickets at gradygoat.org.
Get moving and workout with some adorable kittens! For the time being due to COVID-19, these classes will be online and filled with kittens! This fun daily yoga class can be done from the comfort of your own home in your PJs! The studio also has fun classes like Easy Flow, Yin Meditation, Yogalates, and All-Level! Learn more and buy your tickets at happinessyogaretreat.com.
Stop by the Museum of Arts and Sciences (MOAS) in Daytona Beach on Wednesday evenings for a fun yoga class in an art gallery! This hour-long class goes through gentle yoga poses, suitable for all levels of expertise! All you need to bring is a yoga mat, towel, and water and museum members get a discount! Space is limited, so visit moas.org for more information or call 386-225-0285 to reserve your spot!
You can't have a list of yoga classes in Florida, and not have a class on the water! For a relaxing and fun yoga class on the water, Salty Budha offers yoga classes on a paddleboard! The class includes an intro to paddleboarding, a short paddle journey, and an hour of guided yoga on the boards. The poses are simple and allow you to float on an anchored paddleboard. There are multiple levels including beginner, advanced, and meditation. Each class finished with a couple of minutes for an expression session and photos! Learn more and buy your tickets at saltybudhaco.com.
Maybe you've heard of goat yoga, but have you ever heard of baby alpaca yoga? Look no further than LunaSea Alpaca Farm in Clermont for morning yoga with these fuzzy friends. Classes begin at 9:30 am and registration beforehand is required since space is limited! Classes are $25 for a one hour class that includes playtime with the babies afterward. Make sure to bring your own mat, closed-toe shoes, and a towel for underneath your mat. Head to the LunaSea Alpaca Farm Facebook page for more information and to reserve your spot!
Start off your day with Zoo Yoga at the Naples Zoo, a class designed for all ages! Relax in nature and see some amazing animals while you're at it! Children are welcome as well but must be accompanied by an adult. All you need to bring is a yoga mat, towel, and water. A portion of the ticket price also benefits the Naples Zoo education and conservation programs. Learn more at napleszoo.org.
Looking for even more authentic and unique yoga classes in Florida? Check out 2019's article of outdoor yoga around the Sunshine State! Be sure to check with each place first since COVID-19 has caused everyone to adjust accordingly.

AuthenticFlorida.com was named Best Travel Blog two-times at the Florida Sunshine Awards.
To receive Authentic Florida's free weekly ENEWs, sign up on our Authentic Florida home page.
To inquire about partnerships/advertising, please contact info@authenticflorida.com 
Proud Member of: 

---
Comments are closed.