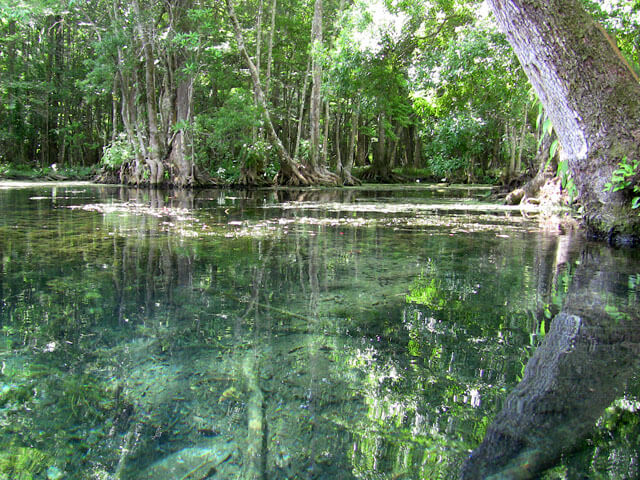 It's not well known, but the Wacissa River is one of Florida's most spectacular. This is one for your Authentic Florida Bucket List.
Southeast of Tallahassee in Jefferson County, lies the town of Wacissa and nearby is one of Florida's wildest and most diverse rivers. Fed by 12 springs, it flows 15 miles south from the county launch point.
As we approached the county park, we spotted kids jumping off a rope swing into river, shrieking with joy, unaware of the beauty around them. I became smitten with the Wacissa River at that moment. Seemed distinctly reminiscent of a Mark Twain tale.
We unloaded our kayaks at the easy launch point and entered a picture perfect Florida river. Crystal clear water. Water hyacinths, lilies and Bald cypress trees dominated the banks. We paddled along marveling at the beauty and the serenity of our experience. How often do the sounds of nature stop you in your tracks? Well, the Wacissa River is one place you will never, ever forget. We spotted a wide array of birds – egrets, herons, ibis, osprey, wood storks, limpkins and anhingas. We heard hoots, shrieks, wild calls – and yep, the Tarzan movie was running through my mind. We heard bird calls we couldn't even identify.
We had some help with this adventure, enlisting "a friend of a friend" who lived nearby to tell us how to navigate the river. Sharing how to locate the nearby spring, he said, "Yeah, about a quarter-mile down the river, there's a spring and swimming hole and you'll know you're there when you see two cypress trees on the left hand side off the river. When you get there, watch out for gators. There was one gator that actually enjoyed sitting on the swimming dock until they removed him." Say what? Two cypress tress as the markers? A swimming hole with gators? It made the adventure that much more fun.
It was almost as if time had never touched the world we entered. While we didn't see any gators, we knew they were near along with otters, water snakes and crayfish.
We headed for Big Blue, the larger spring and popular spot for diving and swimming. We found it according to our friend's direction by meandering down to the turn. Let me tell you, it was an awesome experience gliding a kayak over a spring, glancing down at the effervescent blue water. Nearby was a floating dock and a swing rope for jumping and swimming. It was quiet, not a soul around and we enjoyed the stillness and the beautiful treasure we had discovered.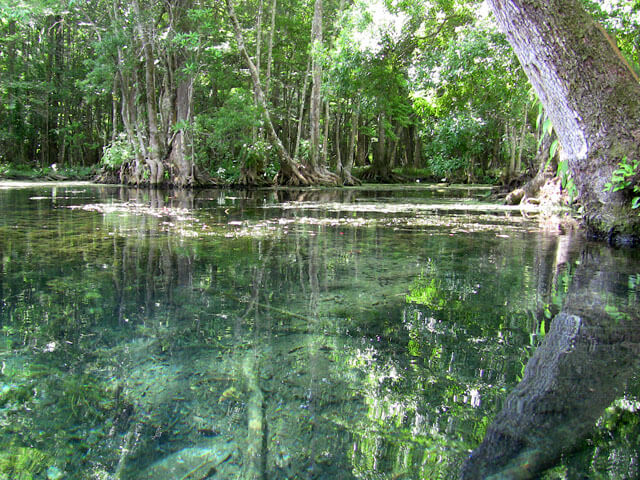 Goose Pasture, a remote campground is also nine miles south of the county launch (approx. four hour kayak ride). The campground is where most boaters conclude their trip. If you are an adventurer, departing from Goose Pasture, you might consider traveling the Slave Canal (once used by Native Americans as a secret passage way, then discovered by white settlers who used slaves to connect the Wacissa and Aucilla Rivers), a tricky waterway which will need careful study for the five mile trip. From there, the Slave Canal joins the Aucilla River. The rivers disappear into an underground channel and surface into the community of Nutall Rise. Sound confusing? I recommend keep it easy with a kayak ride to the campground.
We didn't kayak the whole river, as we wanted to get a sense of this experience to plan a return trip soon. This was an Authentic Florida adventure for sure.
After we loaded the kayaks, 100 yards from the park was a blueberry farm which we could not resist so that we could bring back a bucket for our favorite Authentic Florida dessert – Blueberry Pudding Cake.
We'll be back and soon. But not soon enough for me.
To receive Authentic Florida's free ENEWs, featuring travel and living updates, delivered weekly, sign up on the home page Authentic Florida, voted Blog of the Year and Best Travel Blog at the Orlando Sunshine Awards.  
---