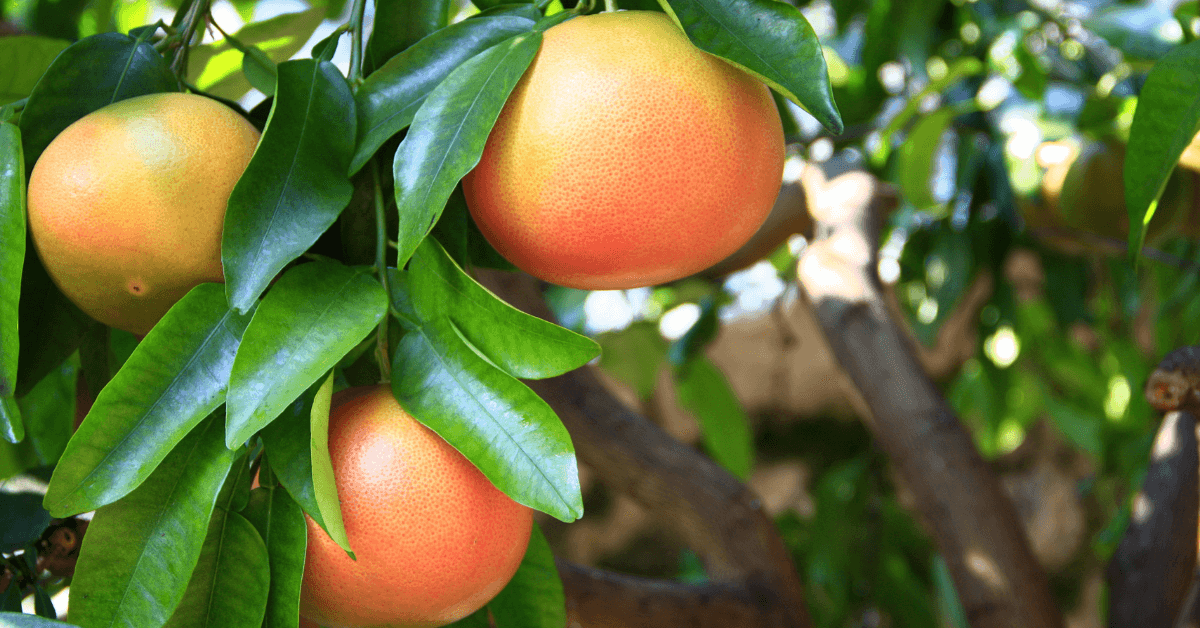 Fresh From the Grove: Where to pick and buy fresh Florida citrus
Find out where to pick fresh Florida citrus or buy direct from the grove. Experience tasting and smelling Florida's most famous icon while selecting your favorite fruit to take home.
Florida's orange is one of the most recognizable symbols of our state. In addition to bright flavorful oranges, Florida has an abundance of ruby red grapefruit, sweet, tangy tangerines, succulent tangelos, lemons, and limes.
As kids growing up in Florida, we remember almost everyone grew citrus in the front or backyards. Traipsing through the neighborhoods, as kids do, we were never without a juicy, healthy snack.
Now is the time to pick your favorite fresh Florida citrus or visit your local grove. Growers report a challenging year, but there's still plenty left to fill your bag and enjoy Florida's iconic fruit. If you want to experience this quintessential authentic Florida activity, we highly recommend visiting a Florida grove store whether you pick your own or not.

The Orange Shop, Citra
Years ago, orange groves and U-pick operations were more abundant. Nowadays, land development, insurance liability, foreign competition, citrus diseases, and other agricultural woes have reduced the number of smaller family-owned businesses. But take heart, your fresh Florida citrus dreams can still come true. We have located a few remaining family operations that offer the U-Pick experience.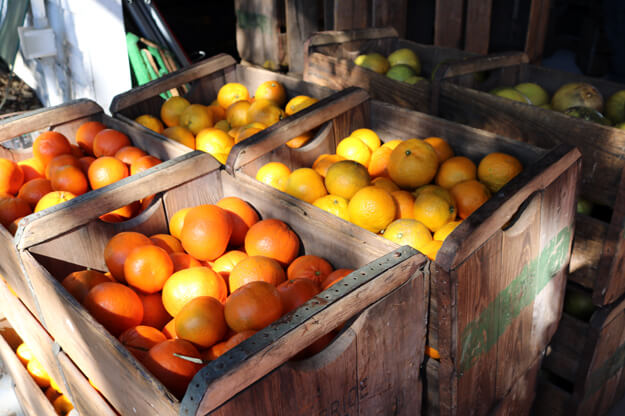 Most U-Pick businesses are mom n' pop outfits. The bonus is that your visit will involve a drive through the countryside, and the air will be fragrant with the scent of orange blossoms. You will feel as if you have been transported to "Florida's past."
Often, the orange grove and property double as home to the owners. You may have to ring a bell or greet the family dog to get anyone's attention. Once the owner greets you, he or she will indicate where to pick, depending on the season and your preferences. Buckets (resembling pickle buckets) will be lined up outside, generally resting on a luggage tote rack, so you can pull it along as you pick.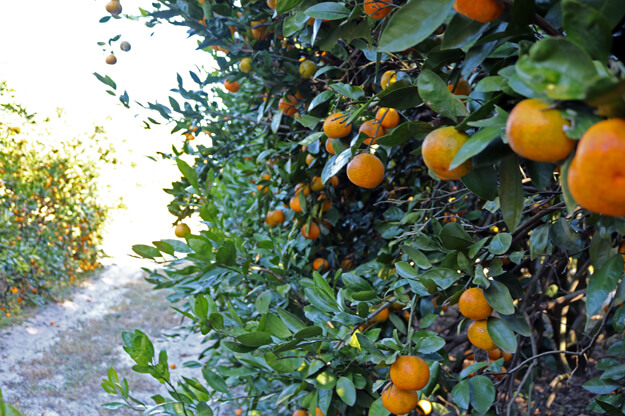 After receiving your instructions, you'll walk up and down tree-lined aisles looking for the best fruit. For the harder-to-reach fruit, a pole with a hook on the end may be provided to make it easier. Just reach and tug. It falls to the ground with a "thump" and you'll be one or two oranges richer.
Depending on the season and the grower's selection, there's plenty to choose from. Usually, from November through April, weather permitting, you'll find a wide variety. During the holiday season, the navel oranges are your best pick. From November through April you can enjoy tangerines, tangelos, and grapefruit. Valencia oranges are plentiful from March through April/May.

Bill Reed of Hilltop Groves picks fresh Florida citrus at his farm
South of Ocala in Weirsdale the 40-acre Hilltop Groves is owned by fourth-generation Floridian Bill Reed. Open daily, Hilltop Groves offers (in season) Navels, Satsuma, Ruby Red, Valencia Oranges, and Tangerines.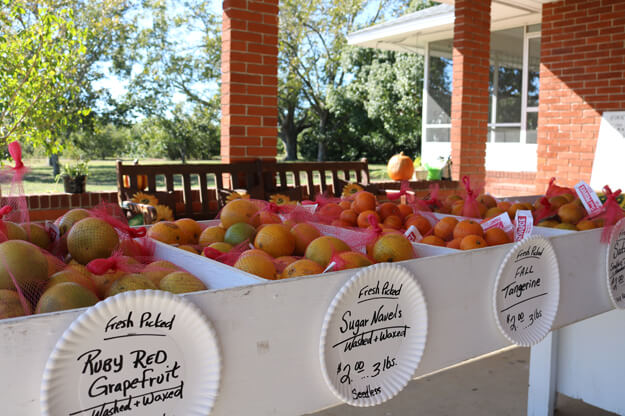 For those who want to u-pick, Bill will give you a bag and direct you to the grove. Fill your bag as you walk down the citrus grove aisles, picking your favorite fruit. Or you can buy direct from Bill Reed's open-air outdoor store. If you ask, Bill may even be willing to show you his old-time citrus packing plant where he cleans and packs the fruit. If he is not there, he leaves instructions with an honor system in place.

Bob Johnson, U-Pick Citrus, Ft. Myers
U-Pick Citrus, Ft. Myers
Owned and operated for over 37 years by Bob and Judy Johnson of Fort Myers, this family-owned U-Pick Citrus farm will delight your authentic funny bone.
Follow the funky road signs and dirt road, and you'll meet Bob Johnson and Little Bob (his dog). You'll soon be standing in a makeshift open-air eclectic garage and fruit stand. Bob has creatively decorated the corrugated building with a menagerie of collected road signs and license plates surrounded by rows of beautiful citrus.
Bob instructs visitors to fill a five-gallon bucket of oranges, charging $14 per bucket. Cash only. Customers can also purchase tangerines, grapefruit, lemons, and limes individually.
Bob and Judy designate one-third of their proceeds to charity and have an honor system if they aren't available. Special added note: No pesticides are used by the Johnsons.
Address: 18971 Misty Morning Lane, Estero (Ft. Myers)
Open: December- until the end of April
Hours: Tuesdays, Thursdays & Saturdays 10:30-3:30 pm
Phone: 239.657.4996 – be sure to call first
Email: u.p.citrus@gmail.com

The showcase of Citrus, Clermont
Located just 15 minutes from Orlando, try the Showcase of Citrus.  Owner John Arnold's family has owned Florida citrus and cattle land since 1961. In 1989, John converted 70 acres of the family's 2,500 acres to U-Pick, with nearly 40 varieties of citrus in addition to other fruit (blackberries, blueberries).
You can pick directly from the citrus grove –  by the pound, 1/4, or 1/2 bushel.
The Showcase of Citrus also has an Old Tyme Country Store for fresh juice, BBQ, vintage sodas, ice cream, and gifts – including an especially good marmalade.
The operation also offers an Eco-tour and Safari shuttling guests through the adjacent ranching operation. From the swamp vehicle, you'll get an up-high overview of the groves, oak and pine scrub habitat, upland palmetto, cattle, and wooded swamps, which serve as the headwaters of the Everglades watershed.
Address: 5010 US Highway 27, Clermont
Open: 7 days a week (when the citrus season is over, other fruit will be available)
Hours: 8:00 am – 7:00 pm
Phone: (352)394-4377
Tips for going to a U-Pick Grove
Consider wearing closed shoes and slacks or jeans. Ants are part of Florida's countryside, so avoid sandals. I recommend wearing sunglasses to protect your eyes from branches and of course, always wear sunscreen.  Have fun, you're in for a "real" Florida treat.
Purchasing Fresh Citrus from the Grove
If you're not interested in the U-Pick experience but want to purchase fresh fruit, consider visiting a retail establishment connected to a Florida grove. Most are family-owned and operated. Below is a list of businesses and growers offering Florida citrus.

Picture courtesy of Albritton Fruit Co., Sarasota
Florida Citrus Groves
(Note: See the above map for a grove and supplier near you)
(954)921-7600
236 North Federal Highway #102, Dania Beach
(941)923-2573
5430 Proctor Road, Sarasota
(800)-544-3366  or (772)-460-0556
2001 N. Kings Hwy., Ft. Pierce
(561)733-5490
10066 Lee Road, Boynton Beach
(352)796-2289
4355 Spring Lake Highway, Brooksville
(see: http://www.authenticflorida.com/articles/where-to-go/a-day-trip-to-florida-s-kitschy-adventure-coast/)
(941)776-2710
12255 U.S. 301, Parrish
(772)581-0999
6325 81st Street, Vero Beach
(321)452-8110
5515 N. Courtenay Parkway, Merritt Island
(863) 439-2284
28421 Hwy 27 Dundee, FL 33838
(386)252-7462
248 So. Beach Street, Daytona Beach
(813)645-3256
1651 Stephens Road, Ruskin
Learn more about Dooley Groves here!
 
Ferris Groves, Floral City 
(352)860-0366
7607 So. Florida Ave., Floral City
(727) 347-4025
1500 Pasadena Ave S, South Pasadena, FL 33707
(800) 990-8884
1650 90th Ave, Vero Beach, FL 32966
(352)588-3801
31107 Blanton Road, Dade City
16661 S.E. Hwy. 42
(352)427-7794
800-749-8219
4135 SE County Rd 760, Arcadia
(863)453-3938
607 E. Circle Street, Avon Park

Mixon Fruit Farm, Citrus Packaging Area
(941)748-5829
2525 27th St. East, Bradenton
(772)464-2100
875 W. Midway Road, Fort Pierce
(954)581-8630
5660 Griffin Rd., Davie

Wall art, Nokomis Groves, Nokomis
(941)488-5274
111 So. Albee Farm Rd., Nokomis

Many citrus groves allow you to select your fruit
(800)672-6439
18545 U.S. Highway 301, Citra
(407) 322-3873
400 Doyle Rd, Osteen, FL 32764
(772)562-6900
3375 66th Ave., Vero Beach
 
Florida orange groves offer citrus tastings, Policicchio Groves
Toll Free 1-800-327-8624; Local 772-562-3356
1481 US1, Vero Beach
Two locations:
Haines City: (863)422-0333
6000 Polk City Road, Haines City
Clermont: (352)242-1511
320 Highway 27 South, Clermont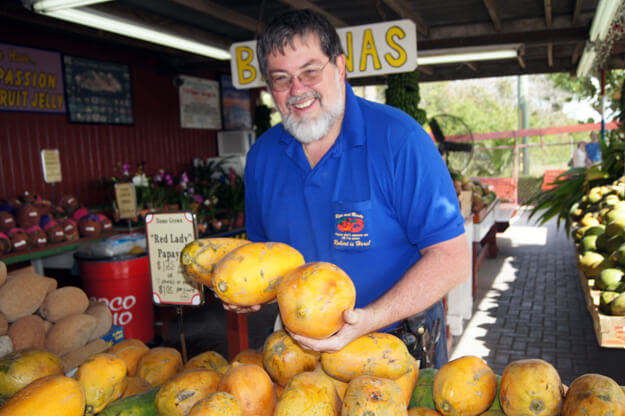 19200 SW 344th Street
(305)246-1592
(see: http://www.authenticflorida.com/articles/where-to-go/exploring-the-extraordinary-florida-everglades/)
Soggy Acres, Winter Park
(407)443-3808
100 Tuskawilla Rd., Winter Park
(soileau.mj@gmail.com, honor system)
7250 Griffin Rd, Davie, FL 33314
(727) 793-0771
3393 SR 580, Safety Harbor, 34695
(239)768-2686
14601 6 Mile Cypress Parkway, Ft. Myers
(407) 885-0272
7210 N Ronald Reagan Blvd, Sanford, FL 32773
Note: This list is not intended to be inclusive of all Florida citrus retail stores. Please email us your favorite citrus outlet to melanie@authenticflorida.com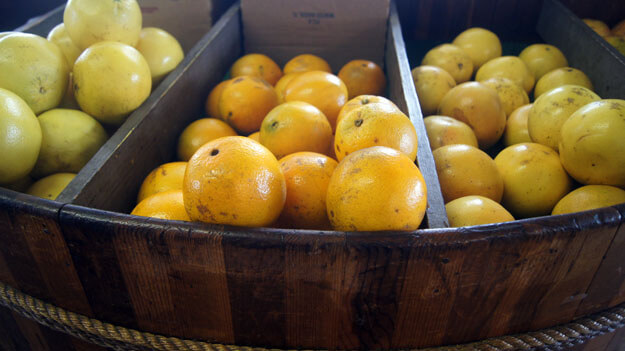 AuthenticFlorida.com was named Best Travel Blog two-times at the Florida Sunshine Awards.
To receive Authentic Florida's free weekly ENEWs, sign up on our Authentic Florida home page.
To inquire about partnerships/advertising, please contact info@authenticflorida.com 
Proud Member of: 

---
6 responses to "Where to Find Fresh Florida Citrus"