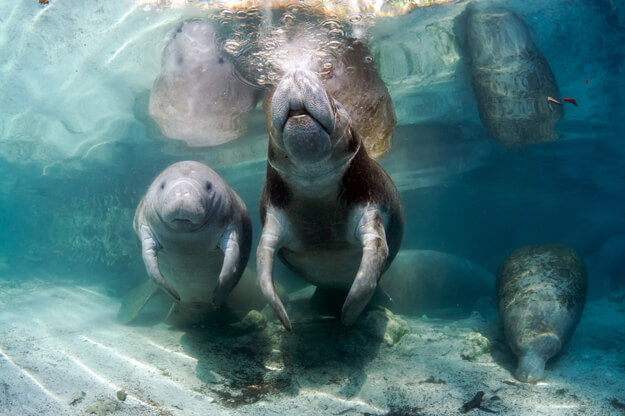 Find out where you can see wild manatees in Florida, one of the most unique things to do by beginning this adventure in Citrus County, known as the Manatee Capital of the World.
Visitors to the Sunshine State may have peered through a glass window or into an enclosed tank to observe Florida's official state marine mammal, the manatee. But did you know that there are places you can see wild manatees in Florida?
Observing manatees is one of many unique things to do in Florida, and is often found at the top of many bucket lists.
So, where can you observe (and even swim near) a manatee?
 
Manatees keeping warm at Three Sisters Springs, photo courtesy, DiscoverCrystalRiverFl.com
On Florida's Gulf Coast, north of Tampa and west of Orlando, is Citrus County. It is the world's largest natural winter refuge for the West Indian Manatee, no wonder it is known as the Manatee Capital of the World. The manatees are attracted to the area because of its abundance of freshwater springs.
Citrus County offers many observation points and is one of the few locations in Florida where you can legally observe manatees from within the water. Local tour guides are specially trained to make the experience safe for both you and the threatened species.
Often called "gentle giants" these slow-moving, 1,000-pound, 10-foot long, grayish-brown creatures are related to the elephant, as evidenced by their thick, leathery wrinkled skin. They congregate near the springs, especially from November through March when the water temperature in the Gulf and bays dips below 68 degrees, requiring them to seek the warmer 72-degree spring water.
According to manatee expert and U.S. Geological Survey research biologist Bob Bonde, "Citrus County draws an average of 1,000 manatees per year, and with a total Florida population just exceeding 6,000, that makes the area a significant draw for winter migrating herds."

Manatee, photo courtesy, DiscoverCrystalRiverFl.com
The privilege of enjoying these wondrous creatures takes a very special effort by local officials to balance and protect the fragile habitat of the manatee, to accommodate the tourism demand, and to provide an educational effort and guidelines for proper behavior around these endangered animals.
 
Passive observation is best with manatees, photo, courtesy DiscoverCrystalRiverFl.com 
Ivan Vicente of U.S. Fish & Wildlife Service, a specialist in manatee behavior shares, "The best way to interact with manatees is through 'passive observation' and that means observing these wild animals from a distance without initiating contact. Manatees are used to humans and are not scared of us, but they are wild animals and are very curious. They should be respected in their habitat."
Local officials have even created a video called Manatee Manners that is recommended before swimming with manatees and is part of the conservation protocol for anyone who enters a manatee habitat.

Seven Sisters Springs,

photo courtesy, Melissa Mederos & Manny Pradas
Springs are Home to the Manatee and More
Citrus County is rich with natural springs, both in quantity and in the amount of freshwater pouring out of them. And this spring water does more than attract manatees. It is the heart of the entire natural ecosystem and the perfect spot to see wild manatees in Florida.
"Everything in nature is connected and this is especially true with springs. They are part of nature's web, often flowing into a river or a waterway providing major ecological value to wildlife of all kinds –manatees, fish, birds, and animals. Even the seagrasses, part of the manatee's diet, are part of the web," reports Chief Scientist Chris Anastasiou of the Southwest Florida Water Management District (SFWMD).

Springs emanate from the aquifer,

Photo courtesy DiscoverCrystalRiverFl.com
So what is a Spring?
To answer that question we first need to understand the aquifer. Essentially, Florida's aquifer is a water storage system. The porous limestone under the surface is much like a giant sponge, storing rainwater that has soaked into the ground. When pressure forces this groundwater up and out through natural openings, it is a spring.
In Citrus County, like much of the north-central part of the state, the aquifer lies close to the surface, thereby creating a wealth of springs.
The major spring systems in Citrus County are Kings Bay, Homosassa, and Chassahowitzka. All are first magnitude spring systems, meaning they average a flow of over 64 million gallons of water per day. These are the places you can admire manatees from land and in the water.

Manatees congregate near springs during the winter,

Photo courtesy DiscoverCrystalRiverFl.com
Observing Manatees
Kings Bay is the largest spring system in Citrus County and is composed of more than 70 individual springs producing a total of 240 million gallons of fresh water a day. It flows westward into the 7-mile long Crystal River, eventually discharging into the Gulf of Mexico.
The mainspring is Kings Spring, also known as the "Key Hole."  It is the largest spring in Kings Bay and is where you'll find the largest aggregation of manatees. It is also one of the few locations where you can swim, snorkel, and drift along with these gentle giants.

Hunter Springs Observation Walkway,

photo courtesy, DiscoverCrystalRiverFl.com
Observation Walkway
If you would rather walk than swim to see manatees, try Hunter Springs. This local city park underwent a facelift with a walkway providing manatee viewing opportunities. There is also expanded parking, a kayak launch, and a beach area.
 
Three Sisters Springs
Tucked away in one of the last undeveloped tracts in Crystal River, is a collection of three springs feeding into Kings Bay. Considered to be one of Florida's most visually stunning springs, its translucent blue hues create an "other-worldly" feel. Shafts of sunlight pierce through the lush overhanging greenery into glittering crystal clear water bubbling up from the sandy bottom as manatees gently glide below the surface. A boardwalk with viewing platforms gives visitors a perfect vantage point. Swimmers can enter the springs, but only if traveling by boat (not from the park) and observe the manatees up close. But when the cold snaps occur manatees take priority over humans and swimmers may not enter the enclosed area.
 
 Homosassa Springs Wildlife State Park "Fishbowl," 

photo courtesy, DiscoverCrystalRiverFl.com
The headspring is located at the Ellie Schiller Homosassa Springs Wildlife State Park. This is an attraction that has drawn tourists since the early 20th century. This spring system pumps 65 million gallons a day from three spring vents into the Homosassa River flowing to Homosassa Bay and the Gulf of Mexico.
 
Manatee at Homosassa Springs Wildlife State Park,

photo courtesy William Garvin
Manatees can be viewed in several ways, the most popular being the Park's "fishbowl" underwater observatory where you can view manatees face-to-face through glass windows. The park also hosts three daily programs where you can learn about the manatee and the center's role as a refuge and rehabilitation center for injured and orphaned manatees. Additionally, a pavilion provides viewing of a protected area called Blue Water, where you can see many wild manatees in Florida.
 
Chassahowitzka River where manatees can be viewed
Chassahowitzka Springs
In southern Citrus County, the five-mile Chassahowitzka (Chass-a-how-itz-ka) River, "Chaz" to locals, is a stunning river fed by several tributaries and springs and is one of the ecologically healthiest in the region. A dozen springs form the first-magnitude system at its headwaters. Manatees are often seen near the Chassahowitzka River boat ramp and feeding along the riverbank. But be sure to paddle to the Seven Sisters Springs or journey up Baird Creek to "Maggie's Crack," another beloved local spring.
Go with a Manatee Tour
The best way to experience a manatee encounter is to go on a tour. These groups will help you experience the gentle giants above or also below the water.
Native Vacations Tours in Homosassa has a theme: "Do Something Real Today". That is exactly what Traci Wood decided to do when she created her company specializing in manatee tours. Wood is a 17-year veteran in the tour business. She originally came to Florida from Michigan to experience these beloved creatures and once she saw a manatee, she was hooked. Wood "found her passion" and now runs her tour company to "live the dream."
Wood provides a range of tours for visitors to enjoy the experience of swimming with manatees. Tours begin with a viewing of the Manatee Manners video to acquaint the guests with the appropriate behavior for swimming around manatees. "We remind people to be careful when entering the water, avoiding splashing or startling the manatees. The rule is to let manatees approach you," shares Wood."
Guests are then driven to the dock to board a boat for a 20-25 minute ride to an area where manatees congregate. "We want this experience to be special for each group, so we have five boats going to different areas." We have tours at 8:00 am, 11:30 am and during the winter we add a 3:00 pm tour. Tours run more than 3 hours at $60 per person and private tours run $85 per person. For more time in the water six-hour, private tours include lunch and are set at $119 per person. And to be sure you are 100% guaranteed, "rain-checks" are provided if a manatee is not spotted.

Local boat tours bring swimmers to the springs to observe manatees
"Some people have trepidation about being around manatees due to their massive size, but once they are on the boat and see them, they quickly change their mind and get in the water," reports Wood.
And during the trip, along with the chance to see wild manatees in Florida, you are likely to see dolphins, bald eagles, otters, and loads of birds, enjoying nature all around. "We love the manatees and we love to share the experience, raise awareness, and help preserve them."
Bird's Underwater is a 25-year locally operated company-owned and by Bill and Diane Oestreich. Located on the Crystal River, they specialize in a wide range of tours. It is also a full-service scuba dive shop, taking passengers and groups out daily. Generally, tours are 6:00 and 11:00 am with the best manatee viewing during the 6:00 am tour. Manatees are likely to be feeding in the early morning.
Private tours usually have six individuals or less and larger tours accommodate up to 11. Tour costs range from $65-90. Birds also provide underwater filming for keepsake memories.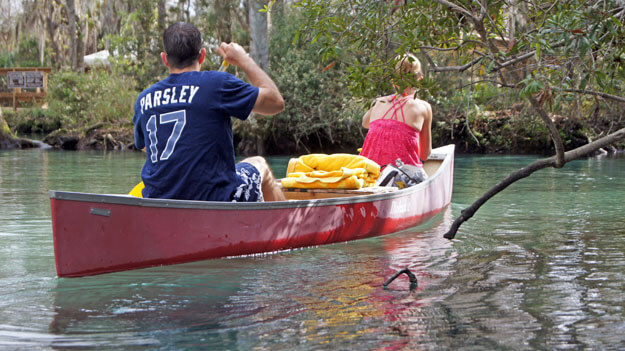 Aardvark Tours, located on the Crystal River is run by biologist Matt Clemons. He specializes in area eco-tours by kayak or paddleboard. Tours range from 2-4 hours, where visitors are likely to see manatees but are able to observe them from above the water rather than being immersed under the water with the manatees. Clemons's philosophy is to be respectful of all wildlife with passive observation, "reducing the impact on all wildlife." Matt knows that manatees are the "stars" when visiting Citrus County, and includes paddling adventures to see manatees but "there is so much more wildlife to see in addition to manatees." Clemons provides customized kayak tours that include trips to the wild Chassahowitzka River where manatees are spotted. Tours range from $50-100 per person.
There are many ways to observe manatees. But there are specific rules to remember:
First, manatees are more likely to be present during cool winter days. They require the 72-degree warmer springs to elevate their body temperature. (Summer warm weather reduces your chance to see a manatee.) Be sure to call ahead to inquire about it is a good time and what the chances are to see wild manatees in Florida.
Ivan Vicente of the FWS recommends the following, "When swimming with manatees, enter the water calmly, glide on the surface and give them appropriate space. Remember they are in their wild habitat; they do not need affection like a pet. We are entering their home and are their guests."
How to Help Our Springs, Home to the Manatee
Without healthy springs, manatees will cease to have a winter home. And keeping springs healthy starts with how we treat our waterways.
And with Florida having the largest collection of springs on earth, with eight billion gallons of water flowing from Florida's springs daily, it is easy to see the significance.
"Many think a spring is where groundwater's journey ends or perhaps where the spring-fed rivers, bays, and estuaries begin. In truth, it is both. Springs are windows into the aquifer. But that water originated in an area called a springshed, where rainwater falling to the ground percolates through the sand and into the limestone where it travels through conduits and reemerges via a spring vent," shares SFWMD's Chris Anastasiou.
When we are in a spring environment, we can avoid disturbing our springs while swimming by carefully entering and exiting the spring, by not standing on vegetation, and by always raising our boat motor around native vegetation such as seagrass, an important component of the manatee diet.
Current challenges facing springs include increased amounts of nutrients such as nitrogen and phosphorus from development, fertilizer, and failing septic tanks; habitat changes through the loss of desirable aquatic plants; a decline in rainfall creating a reduction in spring discharge; and an increase in salinity due to spring flow declines and sea-level rise.
According to the SFWMD, if you live in Florida, there are some helpful ways you can protect the springs:
Always dispose of grass clippings, litter, and also pet waste properly.
Never dump anything around a storm drain
Use lawn fertilizers sparingly
Have your septic tank inspected every 2-3 years
Plant a buffer zone between the lawn and the shoreline.
The whole idea is to ensure that this treasured resource continues to function properly. A healthy spring system reflects a healthy water supply that provides immense ecological value to people and also nature. Springs are essential to the manatee, and protecting springs ensures that we can continue to enjoy these vital natural resources – whether observing, swimming, or to see wild manatees in Florida.
Looking for even more magnificent manatee fun? Check out: Great Places to See Florida Manatees.

AuthenticFlorida.com was named Best Travel Blog two-times at the Florida Sunshine Awards.
To receive Authentic Florida's free weekly ENEWs, sign up on our Authentic Florida home page.
To inquire about partnerships/advertising, please contact info@authenticflorida.com 
Proud Member of: 

---
Comments are closed.
If You Go
For more information on visiting Crystal River (Citrus County) and Manatee Tours:
Please watch before going:
For information on protecting manatees and their habitat:
For more information on protecting Florida springs: