One of our favorite Authentic Florida businesses is Yaupon Brothers American Tea Company. This Florida Favorite started in New Smyrna Beach! They sell delicious tea made from the Yaupon Holly plant. The teas are handmade and packed in their facility in Edgewater Florida. Read on to learn more about the history of Yaupon Brothers, what makes their tea delicious, and the different flavors for sale that deliver right to your door!
History of Yaupon Brothers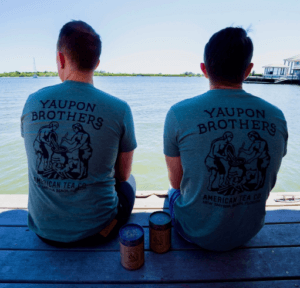 Yaupon Brothers American Tea Company was started in 2015 by two brothers – Byron and Kyle White and their mentor-turned-business-partner Mark Steele. Each of the tea leaves is hand-plucked, dried or roasted, graded and milled, and then hand-packed right in Edgewater! Every single aspect of production is in-house, and they also pride themselves on quality products made with ancient Yaupon Trees.
In Native culture, Yaupon Holly has been an important food, medicine, and also a ceremonial item for thousands of years. The Timucua people of Florida called the Yaupon plant "Cassina" and believed it purified the mind and body of those who drank it. Similarly, it also gave their warriors the strength they needed to hunt and battle.
The Yaupon Brothers wanted to tell the story of Native people in a way that pays respect to them and also gives back. Five percent of their online sales benefit NATIFS (North American Traditional Indigenous Food Systems) and the Indigenous Food Lab. The tea is also distributed through Sweetgrass Trading, owned by the Winnebago Tribe of Nebraska, and through the Indian Community Distributors in the Mvskoke Nation of Oklahoma.
Production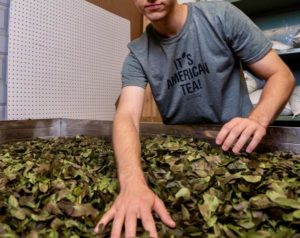 Yaupon Brothers believe in second-chance employment where their harvesters earn a living wage and have the opportunity to work flexible schedules.
They also use an agriculture model that focuses on Yaupon Holly being a native crop. Native crops don't use pesticide, fertilizer, and herbicide. Overall, this means less pollution in the soil and water. This also helps Yaupon Brothers operations to become certified organic.
The Yaupon Holly tree grows in the Southeast United States and is the only naturally caffeinated plant that grows in the US and most of North America. All of the Yaupon Brothers trees are also grown in certified organic "Forest Farms" on the Atlantic coast of Florida.
Taste
Yaupon tea is delicious and good for you! The Yaupon Holly has natural caffeine, antioxidant-rich, and also tannin-free! No tannin means there is no bitter aftertaste and it's impossible to over-steep it!
The Yaupon leaf actually contains 30% less caffeine than coffee! However, it supplements it with theophylline and theobromine, which gives a jitter-free energy boost with no crash! It also has dozens of vitamins, minerals, amino acids, and antioxidants to strengthen the body and calm the mind.
Overall, Yaupon Tea is similar in taste to its cousin Yerba Mate. However, since Yaupon is a local crop, it causes a smaller carbon footprint, less stress on the environment, and jobs and opportunities for American farmers and workers.
Benefits of Yaupon Tea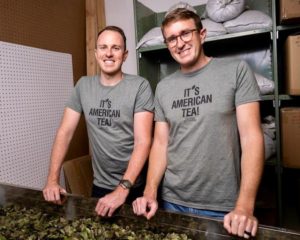 Yaupon contains several antioxidants:
Vitamin A
Vitamin C
Chlorogenic acid
Rutin
Luteolin
Vitamins B1, B5, and B6
It also doesn't include oxalates, which can lead to kidney stones in some people. Studies have also shown Yaupon to have anti-inflammatory qualities that seem to have the capability to reduce cancer cells, especially in the colon.
Yaupon Brothers Products & Shopping
Available flavors also include:
American Green
Fire-Roasted Warrior
Lavender Coconut
Florida Chai
Revive Mint
Summer Breeze
Natural Wellness
Raspberry Rose
Holly Matcha
Embrew Strawberry
You can also shop online for t-shirts, grow your own tea kits, live Yaupon plants, and more! Check it out here!
For those of you who are also sweet tea lovers, click here.

AuthenticFlorida.com was named Best Travel Blog two-times at the Florida Sunshine Awards.
To receive Authentic Florida's free weekly ENEWs, sign up on our Authentic Florida home page.
To inquire about partnerships/advertising, please contact info@authenticflorida.com 
Proud Member of: 

---
Comments are closed.