Summer is the time when the Florida Scalloping Season officially kicks off. A Florida scallop scooper willing to travel will be able to harvest these tasty little morsels from June 16th through September 30th.
Florida scalloping season officially started on June 16th in Dixie County and parts of Taylor County and closes on September 10th. This includes all state waters from the Suwannee River to the Fenholloway River.
Other 2018 Florida scalloping season dates are as follows:
Franklin County through northwestern Taylor County (including Carrabelle, Lanark, and St. Marks): July 1 through Sept. 24. This region includes all state waters from the westernmost point of St. Vincent Island in Franklin County to Rock Island near the mouth of the Fenholloway River in Taylor County.
Levy, Citrus, and Hernando counties (including Cedar Key, Crystal River, and Homosassa): July 1 through Sept. 24. This region includes all state waters south of Alligator Pass Daybeacon #4 near the mouth of the Suwannee River in Levy County to the Hernando – Pasco county line.
Pasco County: A trial 10-day open season will occur July 20-29. This region includes all state waters south of the Hernando – Pasco county line and north of the Anclote Key Lighthouse in northern Pinellas County and includes all waters of the Anclote River.
St. Joseph Bay and Gulf County: Aug. 17 through Sept. 30. This region includes all state waters from the Mexico Beach Canal in Bay County to the westernmost point of St. Vincent Island in Franklin County.
NOTE: These Florida Scalloping season dates are for 2018 only. In late 2018 or early 2019, the FWC will set the 2019 seasons for Gulf and Pasco counties, consider continuing the 2018 season structure for the remaining portions of the open scallop harvest area in 2019, and will work toward creating a more permanent season structure for 2020 and beyond.

Florida Scallop
Our Past Authentic Florida Scalloping Season Adventure
It's early morning as we meet our boat captain at Citrus County's Old Homosassa public dock. With a smile and a hearty "Good Morning," he instructs our group to step carefully onto the boat, helping us on board with our dive gear in tow.
As we leave the dock, it's obvious that we are far from alone. Florida's scallop season is in full swing and boats are launching for the journey to the Gulf of Mexico. There is excitement in the air. We are on our way to one of Florida's most fertile scalloping grounds.
Out on the Gulf, north of Tampa Bay, there are miles and miles of shallow grass flats. This is where we will be diving for live scallops that can fit perfectly into the palm of your hand, are grayish or orange in color, and are one of Florida's tastiest seafood delicacies.
For many, this is an annual tradition for families and friends as they gather for a day of fun on the water.  While we slowly motor along the Homosassa River, we pass homes that are unmistakably "old Florida."  Additionally, we pass Shelly's Fish Market, an old-timey fish shack that sells freshly caught seafood "off the dock." Next to Shelly's is a fleet of weather-beaten fishing vessels. In the distance are rows of stacked stone crab traps. We also pass brightly colored "fish camp" homes with screened porches, painted buoys, and fishnets draped over fences. There is no question that this community is all about being "on" or "in" the water.

Monkey Island at Homosassa, Citrus County
As the homes fade away, the landscape begins to become more natural. After all, this is the Nature Coast. We cruise through a labyrinth of marshes dotted by islands of the state tree, the Sabal Palm. This Florida wilderness is distinctly unique, with its undeveloped wild and scenic ecosystem. Hammock and mangrove islands dot the landscape and we pass a giant osprey nest nestled into a channel marker. The nest is really a work of art particularly when the newborn babies peak out of the sticks, twigs, and branches that form the nest.
Monkey Island
We also spot Monkey Island, a tiny chunk of land sitting in the Homosassa River. Monkeys climb on platforms, swing from ropes, and clamber around the base of a small replica lighthouse. The surrounding water discourages the monkeys from leaving, and a ring of floats and barriers discourages boaters from landing on the island or also approaching the animals. Numerous signs warn that trespassing or feeding the monkeys is illegal and that the island is also under 24-hour video surveillance.
In the 1960s, Monkey Island was just a jumble of rocks in the river that submerged during high tide, a hazard to small boats. Dirt was dredged onto the rocks, and the resulting visible lump was made more picturesque with some plant life, trees, and also a lighthouse.
The monkeys were added later, moved from a nearby wildlife attraction, and have remained a popular draw to the area (which is otherwise focused on manatee tours). They are fed twice daily and also have free run of the island.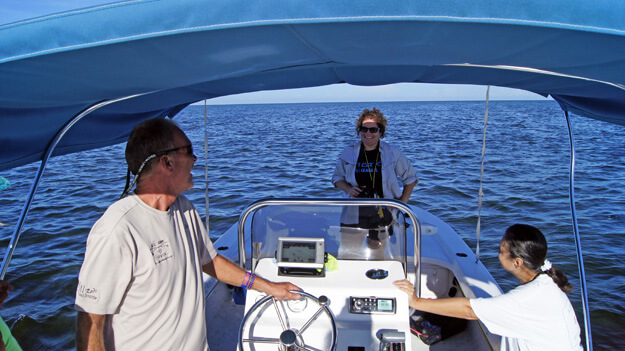 As we continue westward along the river, the driver increases speed and also cranks up the radio. We all grin as we enjoy the music, but it is a dolphin that got our attention. It began following us, jumping in and out of the waves – a Florida experience we never can get enough of.
Snorkelers swim on the surface looking for scallops
Once out on the Gulf of Mexico, it's easy to spot the scalloping grounds.  A slew of boats are anchored, dive flags float nearby while snorkels skim the surface.
The sounds of summer fun are in the air – the experience is much like a saltwater tailgate party.
One thing is certain: Everyone is having a great time! It's also a wonderful family bonding adventure.
Boats gather for a day of scalloping
Who wouldn't be happy out here? The early morning water is picture-perfect, almost glassy, and perfectly calm, without a cloud in the sky and the horizon and sky meet seamlessly.
Scallops hide in or on top of the seagrass
Down below, the crystal clear water provides a perfect view of nature's aquarium, where we watch billowing pastures of manatee grass interspersed with patches and valleys of sandy bottoms. The grass is where the scallops are hiding. Often they sit on top of the grass but are easiest to spot where the sand meets the edge of the grass beds.
As we hang over the side, the captain shuts off the engine and allows the boat to gently drift over the grass beds, as we look for signs of scallops. The depth ranges from four to six feet deep. When enough scallops are spotted in one area, the captain anchors the boat so we can begin our first dive.
Snorkelers gear up for a day of scalloping
We put on our diving gear – masks, snorkel, fins, mesh dive bags, and also gloves. The captain instructs us to use the ladder or jump into the water reminding us to swim on the water's surface, peering below for scallops. Sometimes they are in reach, other times, we dive under to grab them.
It's the neon blue eyes that pop through the scallop opening that catch our eyes. We grab them, placing the delectable mollusks into our scallop bags. The experience is akin to a saltwater Easter egg hunt.
It feels a lot like being at an underwater marine museum. We were fortunate enough to see starfish, coral, seahorses, turtles, fish of all kinds – needlefish, pinfish, sea trout and minnows – and so much more. Seagrass beds are very productive ecosystems that support an abundance of sea life. As if all of this weren't enough, you may even also see an occasional manatee swim by munching on the grasses on their way to a local spring.
One of the reasons this area is so ideal for scalloping is the abundance of freshwater springs flowing into the area. Coastal marshes serve as filters creating a unique ecosystem of sparkling fresh water mixing with the saltwater of the Gulf of Mexico creating fertile seagrasses and prime scalloping grounds.
Two gallons of whole scallops are allowed per person
However, be forewarned – scalloping is addictive! The more you find, the more you want. But, there are limits. Two gallons of whole scallops are allowed per person or one pint of scallop meat per person – it's the law.
Once scallops are cleaned, they are placed on ice
Once scallops are brought to the boat, they are placed on ice and cleaned. An oyster knife also helps pry open the scallop and remove the precious white meat.
Many local restaurants will cook your fresh scallops, but call ahead to check
Back on shore, many local restaurants will cook the scallops (for an extra charge). It's best to call ahead and make sure. Some families also haul grills with them and cook outside their hotel rooms. You don't need many ingredients, just add butter and a little seasoning and you have a scrumptious five-star meal.
If you are looking for delicious, Florida scallop and seafood recipes, also check out this article we wrote about two fabulous Florida cookbooks: http://www.authenticflorida.com/articles/things-to-do/a-tale-of-two-florida-cookbooks/
What to Know If You Go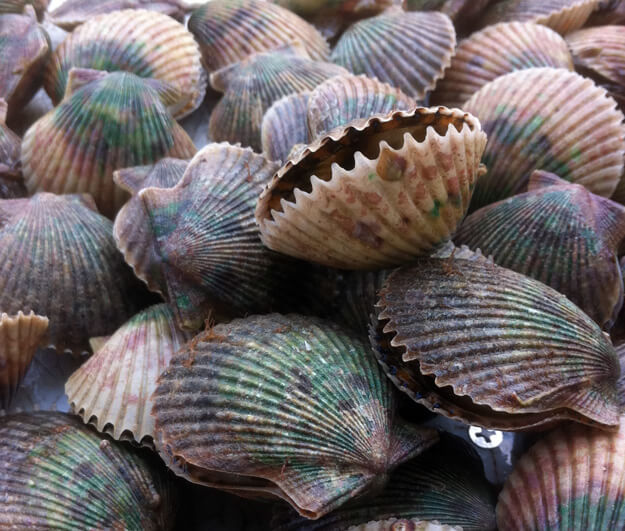 Best Days To Go Scalloping: Weekdays, try to avoid the weekend crowds
Scalloping is legal from the Florida Panhandle Mexico Beach Canal around the Big Bend to down to Pasco County.
It is illegal to possess bay scallops on waters outside open harvest areas or during the closed season.
Legal Gear: Harvest permitted only by hand or by using a landing or dip net
Commercial harvest is also prohibited.
Recreational harvesters need a Florida saltwater fishing license to harvest bay scallops unless they are 1. exempt from needing a license or 2. have a no-cost shoreline fishing license and are wading from shore to collect scallops (i.e. feet do not leave bottom to swim, snorkel, or SCUBA and harvesters do not use a vessel to reach or return from the harvest location).
Consult the Florida Fish & Wildlife Conservation for more information.
Finding a Tour Guide for Florida Scalloping Season:
A complete tour should include snorkeling equipment, ice chests for preserving the catch, and drinks during the trip. Any regular boat tour must also include a fishing license because this is a legal requirement to go scalloping in Florida.
Tours of this sort include Seahorse Water Safaris (seahorsewatersafaris.com), Sunshine River Tours (sunshinerivertours.com), and also Aqua Marine Images (aquamarineimages.com).
Costs:
Generally, a guide will charge $50-$75 per person for a half-day trip
Citrus County Scallop Packages (includes lodging):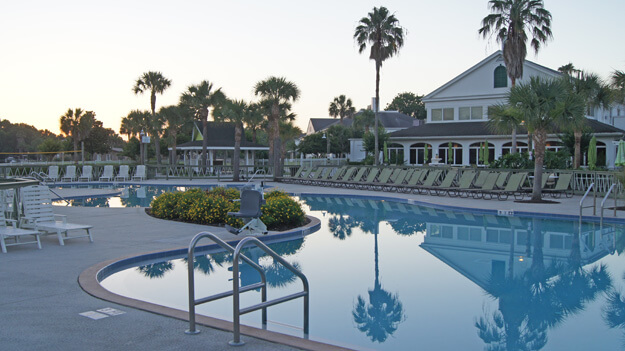 The 50-year old Plantation Resort has been hosting divers and also scallopers for years. Easy access to Crystal River's Kings Bay and springs allows boats to take visitors for tours of all kinds – dive trips, manatee swims, and also scalloping tours. Plantation Scalloping Packages include a two-night stay with breakfast, a guided scalloping trip, 1 dinner where the restaurant, West 82 Grill will cook your scallop catch. If you want a sneak peek, also check out their live river cam: http://www.plantationoncrystalriver.com/rivercam.htm
An alternative to the Plantation in Crystal River's Holiday Inn Express. It's clean and also has weekday scallop rates.
Some Citrus County restaurants that will cook your scallop catch: Charlie's Fish House, Riverside Bar & Grill, Dan's Clam Stand, Peck's Old Port Cove, Oysters of Crystal River.
More Florida scallop destinations:
Steinhatchee, Dixie County
For Dixie County's Steinhatchee area, consider starting at the Sea Hag Marina or also the River Haven Marina. Try Captains Steve Rassel or Randall Hewitt (call Sea Hag Marina) for scalloping. The Sea Hag Marina also has a fleet of 24-foot rental boats for those that want to venture on their own.
Sea Hag Marina, Steinhatchee
St. Joseph Bay, Gulf County (Florida Panhandle) 
On the Florida Panhandle, Gulf County is a go-to place for scalloping. Port St. Joe is the main town and St. Joseph Bay is the scalloping area. What is unique about this area is that if you don't want to bother with a boat, you can also easily access the shallow scalloping areas by wading in. Drive along the coastal Highway 98, look for crowds of people, (which usually means they have found scallops), park your car on the side of the road, and wade in with your buckets! (Make sure you also have your license.) Another place to go is St. Joseph's Peninsula State Park, where there is easy access to the bay.
Gulf County
In Gulf County, if you want to enjoy the adventure on the water, many fishing guides will take you out. Happy Ours Kayaking will do guided scallop trips (via kayak). Sea Horse Water Safaris will rent boats and Daly's Dock & Dive will also rent inflatable boats
Places to Stay and Seafood Restaurants (that will cook your fresh scallops)
Steinhatchee, Dixie County
For authentic Florida lodging, the Sea Hag Marina rents brightly colored "fish camp" cottages directly across the street.
Sea Hag Marina Cottages, Steinhatchee
Steinhatchee restaurants Fiddler's Restaurant and also Roy's will cook your fresh scallops and both specialize in fresh seafood.
Port St. Joe, Gulf County
Recommended places to stay in the main town of Port St. Joe are Port Inn & Cottages, for more moderate pricing, Tiki Palms Inn B & B, or also the upscale Turtle Beach Inn, east of Port St. Joe on Indian Pass. St. Joseph Peninsula State Park has wonderful cabins but requires advance reservations. Additionally, many individual properties are available for rent situated on or near the bay.
St. Joseph Bay, St. Joseph Peninsula State Park
Port St. Joe's Dockside Seafood and Raw Bar and also the Sunset Coastal Grill will cook your fresh-caught scallops. Mexico Beach's Fish House will do the same.
Pasco County
The Florida Fish and Wildlife Conservation Commission's approval of a 10-day trial Florida Scalloping season for state waters off Pasco opens a fresh opportunity for boaters and divers that was traditionally restricted.

Scalloper, courtesy of Visit Pasco
Florida Scalloping season adds yet another attraction to the area's popular fishing draw and pristine beaches also including Anclote Key Preserve State Park off the New Port Richey coastline. Visitors launching from the Port Richey boat ramp will also find expanded offerings along the waterfront including the new Whiskey Joe's Bar & Grill.
Learn even more about Florida Scalloping Season here!

AuthenticFlorida.com was named Best Travel Blog two-times at the Florida Sunshine Awards.
To receive Authentic Florida's free weekly ENEWs, sign up on our Authentic Florida home page.
To inquire about partnerships/advertising, please contact info@authenticflorida.com 
Proud Member of: 

---
If You Go
For more travel information: