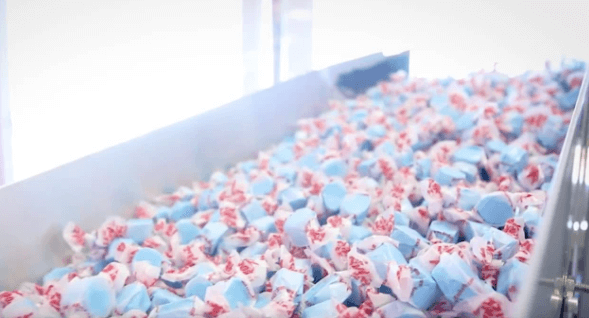 The next time your travels bring you to the Daytona Beach area, make sure you put Zeno's Boardwalk Sweet Shop on your list. It's a great place to pick up delicious treats including the "World's Most Famous Taffy"! If you're not in the Daytona area, you can order their sweets online and have them delivered to the comfort of your own home! Not only are they known for their taffy, but they also have fantastic gummi bears, fudge, caramel corn, brittle, and more!
History
Four generations of Zeno's family has been making world-famous taffy on the Daytona Beach boardwalk since 1948! They were originally known as The Boardwalk Sweet Shop, next door was Zeno's Gift Shop. The two stores eventually merged, and the name became Zeno's Boardwalk Sweet Shop. Their secret is 60+ years of pulling taffy and learning some whipping tricks and techniques to make it so light and smooth that it melts in your mouth. They've even made it to over 100 flavors of taffy in store!
Zeno's Stores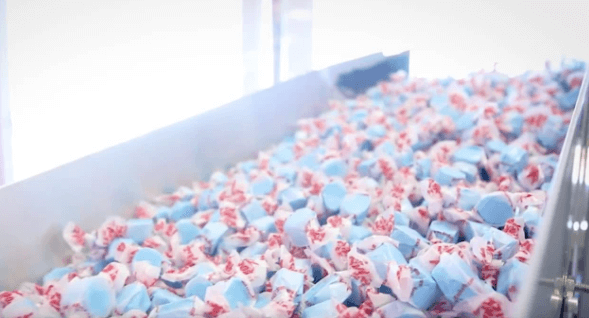 The popular sweet shop has multiple locations including the original boardwalk location. There's a factory in Daytona and stores in Madiera Beach and St. Augustine.
The boardwalk location features an automatic taffy pull in the window for passerby's to see taffy being made! However, this taffy in the window stays on the pull all day and is for display only. (Normally, the taffy only needs to be on the pull for about 15 minutes.)
You can visit Zeno's factory store in Daytona for a self-guided tour throughout the day, or you can schedule a guided tour! Tours are free, but they do offer special tour-only packages that include:
Kids Tour Package ($12)
A kid shirt
1/2 pound classic mix taffy
A kids scoop of ice cream
Adult Tour Package ($20)
Zeno's Keep Calm Chew On Shirt
1 pound classic mix taffy
A slice of fudge (1/2 pound)
World-Famous Saltwater Taffy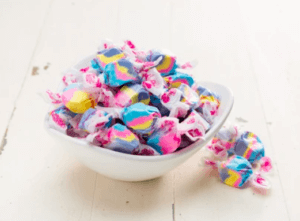 Zeno's World's Most Famous Taffy is a sweet taffy that's light and smooth. Over 100 taffy flavors are made in small batches and triple checked for quality before they go out to the public. Some of the flavors are only seasonal, and some are only made as a single batch and are gone once they sell out! Popular flavors include Vanilla, Cotton Candy, Banana, Fruit Punch, Birthday Cake, and Watermelon!
Make sure to grab a pick your mix or try em all taffy box in order to try as many flavors as possible!
Other Treats
Zeno's have recently made a brand new creation called "Busta Bears"! This is a gummi bear trapped in a soft and fruity chew. Their most popular flavors include sour apple, cherry, orange, pink lemonade, blue raspberry, and fruit punch.
Not only does Zeno's have world-famous taffy, but they are also known far and wide for their fudge! The most popular flavors are Chocolate Peanut Butter, Chocolate, Chocolate Pecan, Turtle Pecan, and Vanilla.
Another Zeno's favorite is gourmet caramel popcorn! Popular flavors include Birthday Blast, Cookie Monster, Peanut Butter Bomb, and Tuxedo T-Shirt Gourmet Caramel Corn!
If you're a fan of brittle, Zeno's makes delicious fresh-made brittle in house! Salty-sweet brittle flavors include Peanut, Coconut, Cashew, and Pecan!
A type of taffy, Seafoam was created from an heirloom recipe at Zeno's. With an initial crunch, Seafoam candy then melts in your mouth for a smooth and caramelized finish similar to Creme Brulee.
Looking to make it a day trip? Check out our favorite things to do in Daytona Beach here!
Note: This information was accurate when it was published, but is subject to change without notice. Please be sure to confirm all details directly with the companies/organizations mentioned before planning your trip.

AuthenticFlorida.com was named Best Travel Blog two-times at the Florida Sunshine Awards.
To receive Authentic Florida's free weekly ENEWs, sign up on our Authentic Florida home page.
To inquire about partnerships/advertising, please contact info@authenticflorida.com 
Proud Member of: 

---
Comments are closed.