If you love Florida history and architecture, make sure you take a tour of Florida Southern College in Lakeland, one of the most beautiful college campuses in the world. The stories and artistry behind America's most celebrated architect Frank Lloyd Wright are not only fascinating but visually in a league of their own!
How fortunate we are that they are part of Central Florida's eclectic landscape. Factoid: The oldest private college in Florida, Florida Southern College was founded in Orlando in 1883 as South Florida Institute.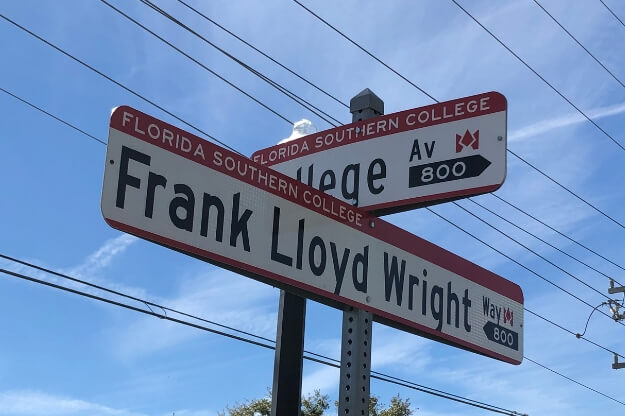 Wright was born June 8, 1867, in Richland Center, Wisconsin, less than 25 miles from the site of his famous home, Taliesin, in Spring Green. Among his many other architectural achievements are the Guggenheim Museum in New York City, the Fallingwater House in Mill Run, Pennsylvania, and the SC Johnson Wax Administration Building in Racine, Wisconsin.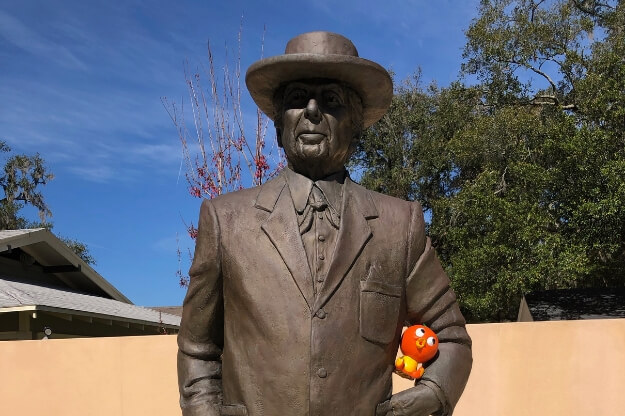 As you may or may not know, Florida Southern College is home to 13 Wright-designed structures, 12 of which were built during the architect's lifetime and under his supervision. The newest addition, the Usonian Faculty House, was designed by Wright in 1939 but wasn't built until 2013.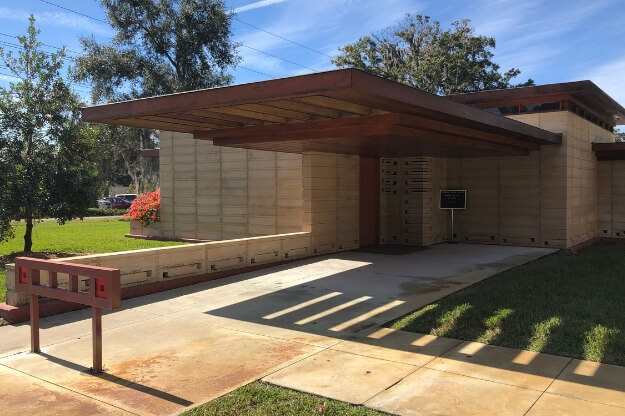 In 2012, the Florida Southern College Historic District was designated a National Historic Landmark by the National Park Service of the U.S. Department of the Interior for being the largest single-site collection of Frank Lloyd Wright architecture in the world.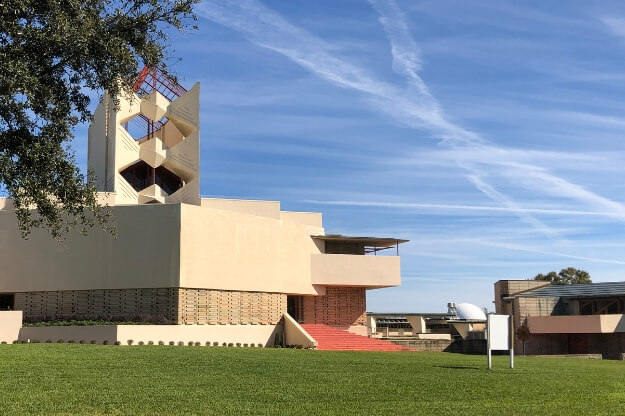 The legendary designer had a 20-year relationship with the College, following his first campus visit in 1936. Developing a "Temple of Education", Wright's distinctively modern vision of "organic architecture" emphasized simplicity and natural beauty and was ahead of its time on many levels.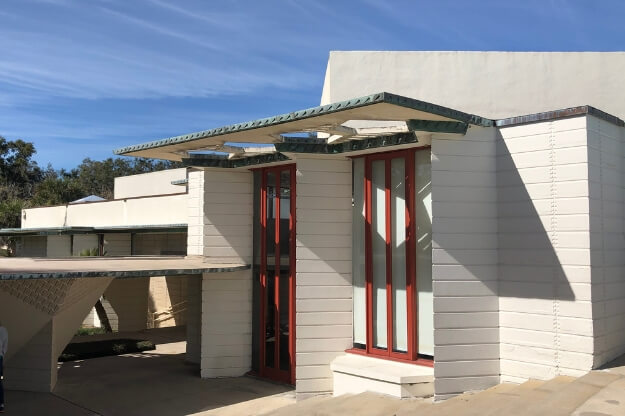 Whether you prefer a self-guided tour or a more in-depth tour by a docent, there's only one mandatory requirement: Be sure to bring your camera!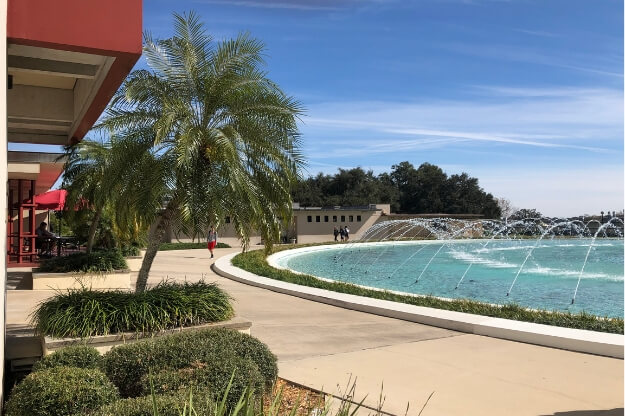 We took the two-hour docent led in-depth tour. It's $45 per person and includes many of the interiors, which are just as stunning as the exteriors. If you prefer a self-guided tour, you may purchase a map for $5, but it will not give you an opportunity to see the interiors.
No matter what your tour preference, you will want to start off your journey at the Sharp Family Tourism and Education Center. The Center will provide you with an overview of Wright's relationship with the College. There's also a great gift shop with lots of interesting books, art, souvenirs, etc..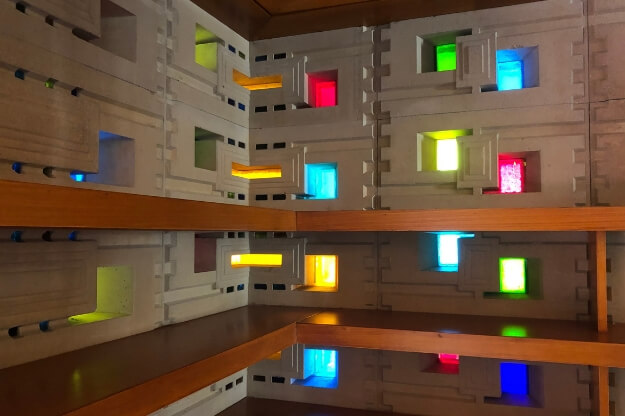 Located next to the Center is the Usonian House. Frank Lloyd Wright designed the Usonian House in 1939 as one of twenty faculty houses. Usonia was a word he used to describe his vision for the United States, including the planning of cities and buildings. USONIA – United States of North America … Usonian refers to the residential portion of his vision.
You will immediately notice that Wright used natural light, low ceilings and minimalistic furnishings.
Some of the places we visited were the Water Dome, the Annie Pfeiffer Chapel, the Danforth Chapel, and the E.T. Roux Library.
We also had the opportunity to visit several classrooms and lecture halls. Classes were in session and we couldn't help but wonder if the students appreciated their unique campus as much as we did.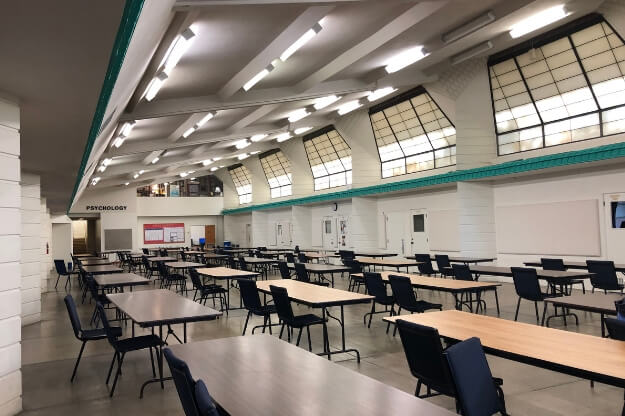 Reservations are strongly recommended for every tour as guests arriving the day of the tour will be accommodated based on tour guide availability. You may make reservations on-line or by calling: 863.680.4597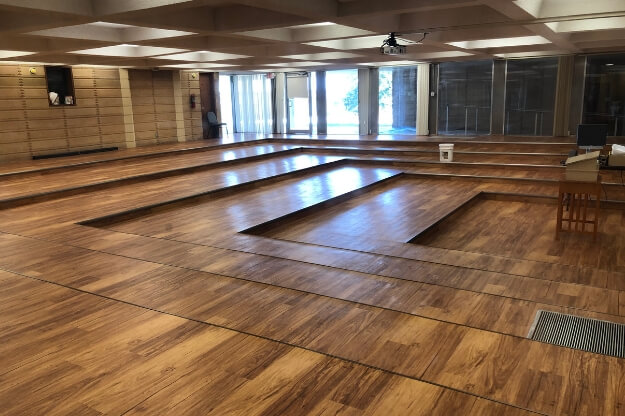 If you visit between November 1 and May 1, there's a Behind-the-Scenes Tour of the "Child of the Sun" campus. This tour takes visitors to spaces not included on any of our other tours, including the interior of the only planetarium designed by Frank Lloyd Wright. The price is $65 per person.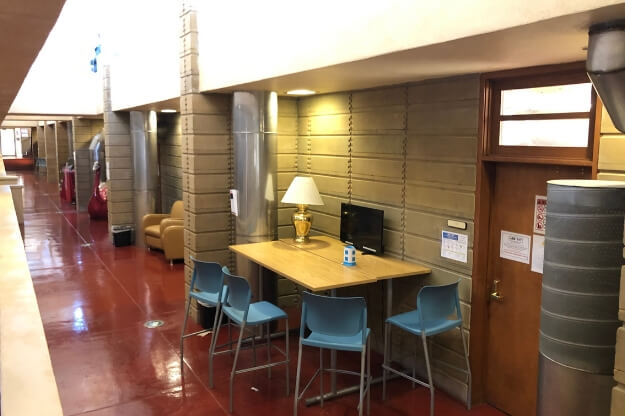 If you're interested in taking a virtual tour, check out: https://www.flsouthern.edu/vtour/tour.html. If you can't make it to the Gift Shop, they have an awesome online gift shop: https://shopfllw.flsouthern.edu/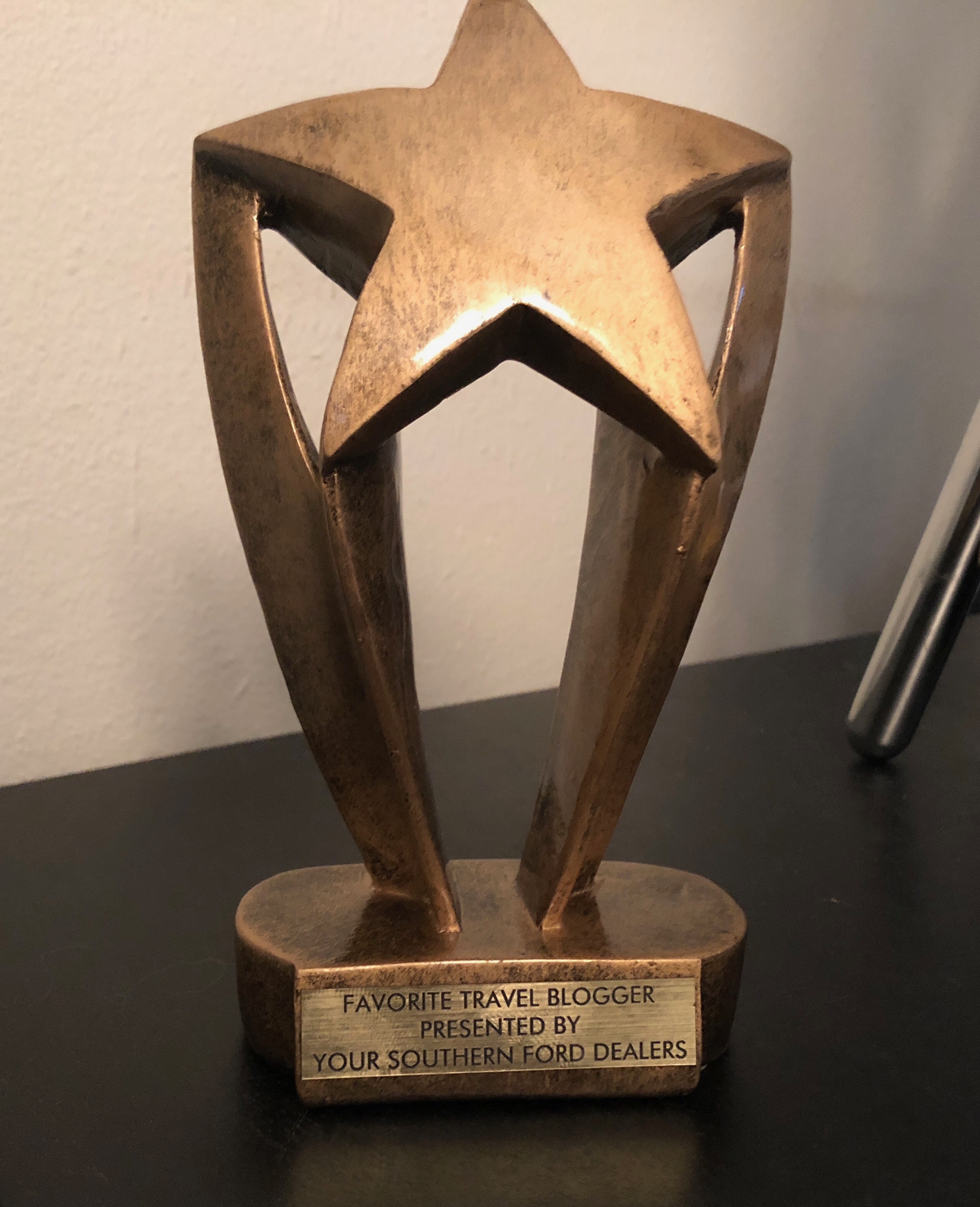 Melanie Lentz-Janney of AuthenticFlorida.com was named Favorite Travel Blogger at the 2018 Florida Sunshine Awards. This is the second time AuthenticFlorida.com has received this award.
To receive Authentic Florida's free weekly ENEWs, sign up on our Authentic Florida home page. To inquire about partnerships/advertising, please contact melanie@authenticflorida.com.
---