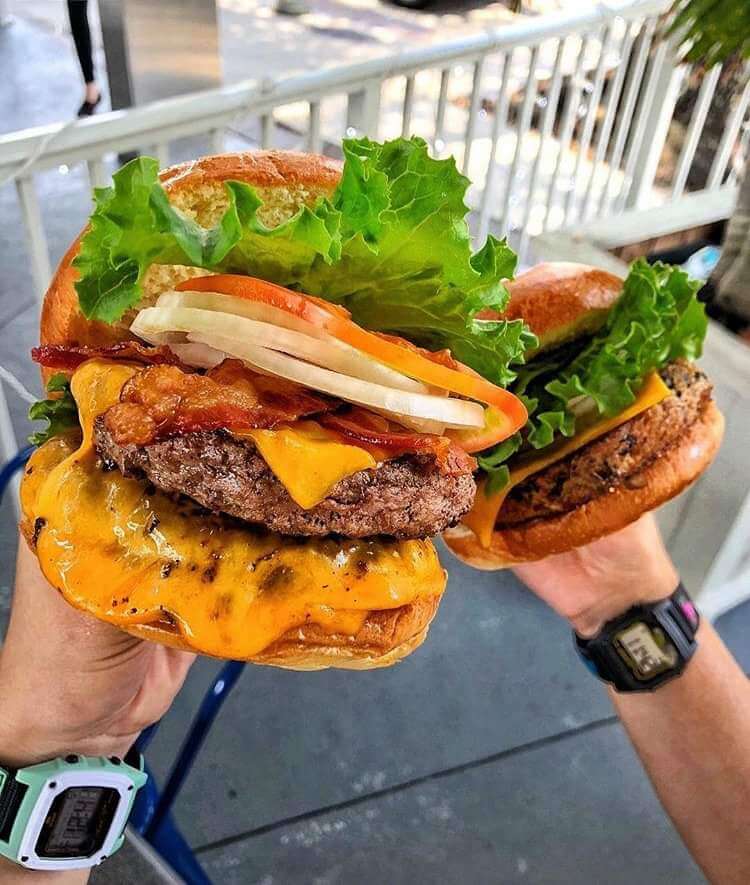 September 18th is National Cheeseburger Day!
Did you know that three different places claim to be the birthplace of the cheeseburger?  California says Lionel Sternberger was working in his father's Pasadena sandwich shop in 1928 when he experimented with dropping a slice of American cheese on a beef patty —and the cheeseburger was born. Kentucky claims a Louisville restaurant called Kaelin's invented the cheeseburger in 1934. Colorado says that the Humpty Dumpty Drive-In in Denver invented the cheeseburger in 1935, and has both a 1944 court order and a trademark to prove it. Either way, we can all agree that the cheeseburger is a delicious food that we can all enjoy (unless you are a Vegan or Vegetarian, of course)! Read on to check out where to get the best burgers in Florida!
Located in High Springs, Bev's Burgers Cafe prides itself on serving the best burgers and barbeque in town! Additionally, if you're looking for traditional Southern home cooking, this is the place to be! They are also known for great service and getting your food quickly! Make sure to also check out their specials; Monday is all you can eat pork for $11.99 and Wednesday is drink night with $1.50 beer, $3.00 wine, and also $1.00 soda and tea!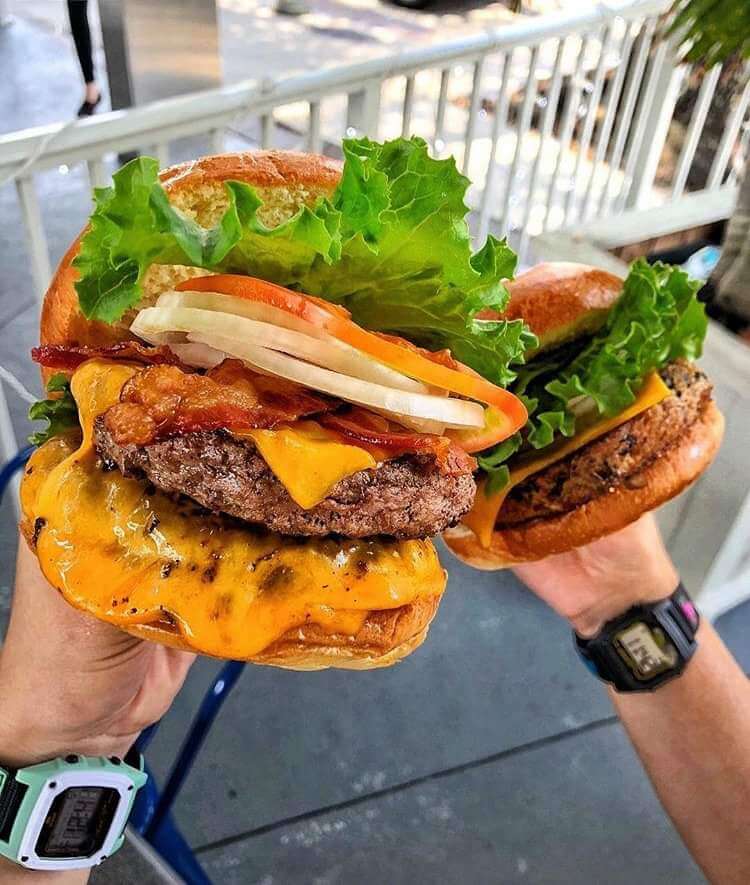 The Burger Place in Melbourne is a classic retro diner serving delicious burgers made from 100% pure ground beef that's never frozen. They also serve homemade buns and homemade fries! Stop by to try out one of the best burgers in Florida!
The Burger Station in Hernando serves fresh and delicious steakburgers and prides itself on having the best milkshakes and soft serve in town! The historic building resembles
a 1930s style gas station. Additionally, their burgers are crafted from the highest quality of meat on the market, which is 100% steak!
Located in Deerfield Beach, Charm City Burger Company may look small, but don't let that fool you! They are 100% chef-driven, and their burgers are made from fine ingredients. They have a wide array of options so there's something for everyone! Their Charm City Burger Blend is made daily in Hallandale Beach! All in all, Charm City Burger Company offers "5-star chef-designed burgers at a quick service price!"
Engine No 9 is located in the Edge District of St. Petersburg is a sports bar with a hockey vibe owned by Jason Esposito. You may not know that Esposito was actually born into hockey royalty! His father Tony Esposito and his uncle Phil Esposito are both in the hockey hall of fame as well as the founders of the Tampa Bay Lightning! They've been serving delicious burgers since 2012 and have also won the best burger from 2013-2019!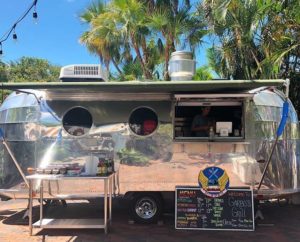 Husband and wife team Eli and Kenna Pancamo make delicious food and burgers at Garbo's Grill in Key West! Their dream was to one day have their own little restaurant and after years of looking their dream finally came true! They found a 6×8 food cart and put the wheels in motion! Make sure to stop by and see them on Caroline St. in Key West! The menu changes every season and every Monday they have a new special of the week!
Looking to make it a day trip? Check out our favorite things to do in Key West!
Located in Fort Lauderdale at the Harbor Shops, Gilbert's 17th Street Grill makes delicious burgers, ribs, and homemade soups and salads. Make sure to check out their daily blackboard specials! These include pan-seared tuna, roast pork on garlic toast, and a grilled portobello mushroom burger! Don't forget Mrs. Gilbert's homemade key lime pie and cheesecake! One of their family members is always working and is happy to help you, "treating your family like family."
Looking to make it a day trip? Check out our favorite things to do in Fort Lauderdale here!
Located in West Palm Beach, Grease Burger Bar not only has award-winning burgers but also over 120 craft beers of Palm Beach. Grease Burger Bar also has salads, chicken sandwiches, wings, and fantastic sides! The restaurant looks similar to buildings of the NYC Meat Packing District a the turn of the century! This is due to their fireplace, oak bar, and steel meat hooks hanging from the ceiling. Check them out in downtown West Palm Beach near the Clematis Street fountain!
Coco Coig and Jorge Sanchez, owners of Le Chick in Miami traveled all around the world for inspiration to create the best burger in the world! They were inspired by Rotisserie Amsterdam, a Dutch restaurant that serves rotisserie chicken as well as burgers. Coig and Sanchez discovered this restaurant in 2015 and fell in love! They particularly liked the style of food as well as the inviting atmosphere. Le Chick's menu, prices, atmosphere, and outdoor seating area all make them a top destination for someone seeking a delicious meal and craft cocktails.
Looking to make it a day trip? Check out our favorite things to do in Miami here!
The Le Tub Saloon in Hollywood, Florida opened on November 2nd, 1959…as a Sunoco gas station! It was eventually closed and bought again in 1974. The owners of LeTub completely renovated the space and turned it into a multilevel outdoor seating saloon! For the last 32 years, it has been home to locals, who either stumbled upon the restaurant while boating or by word of mouth. There were never any signs or advertising! However, in 2006 GQ called the Le Tub Saloon burger the #1 burger in the nation and one of the best burgers in Florida.
As the name suggests, Mac's Drive-Thru in Gainesville is a drive-thru restaurant that has been serving delicious burgers since 1987! Don't let the small building fool you – Mac's serves up homemade burgers, french fries, and also hot sandwiches! There are two drive-thrus as well as a walkup window where you can order your food. Mac's is incredibly popular and usually has long drive-thru lines – so make sure to get there before you're hungry!
Looking to make it a day trip? Check out our favorite things to do in Gainesville
here
!
Located in historic Avondale, Pinegrove Market and Deli has been in Jacksonville for 60 years! This deli and butcher shop has an old-world charm and family atmosphere! Personal attention is given to every order and you're sure to get a delicious meal every time you visit!
Since opening in 1981, The Raintree has been called one of Florida's top restaurant destinations! The menu has many cuisines – Mediterranean, American, and Asian all made from delicious and fine ingredients! The owners, the MacDonald family immigrated to America from England in 1979 on their yacht, the Instholo III. The design of the restaurant is actually a replica of the yacht that took them on their journey! Their burger is one of the best burgers in Florida!
Looking to make it a day trip? Check out our favorite things to do in St. Augustine here!
This Sunshine State favorite T-Ray's Burger Station began as an Exxon gas station in 1972! The owner Big Ray's son, T-Ray's hidden passion was opening his own restaurant! Big Ray eventually let him sell sandwiches out of the gas station. This began a transformation of the Exxon station. Soon T-Ray, friends, and family all worked to turn the station into a restaurant with the slogan "Eat Here and Get Gas!". T-Ray's has been discussed in Southern Living, The Washington Post, USA Today, and even more! Make sure to stop by and try one of the best burgers in Florida!
Looking for a delicious burger at an amazing price? Stop by Thee Burger Spot in Tampa for one of the best burgers in Florida! If you're a burger lover you absolutely have to stop by! They were voted Best Tampa Hamburger Restaurant in 2018! Looking for something other than a burger? They also have delicious sandwiches, sides, and desserts as well!

Located in Pensacola, The Tin Cow has a menu with numerous burgers, milkshakes, craft beer, and more! You have plenty of variety with multiple proteins, cheeses, buns, toppings, sauces, and more for your very own one of a kind DIY burger! Too much pressure? You can also choose one of their Signature burgers with your choice of side. Don't miss out on their signature cocktails and award-winning milkshakes (regular or spiked!).
Looking to make it a day trip? Check out our favorite things to do in Pensacola here!
Last on our list of the best burgers in Florida is Vertigo Burgers and Fries! Vertigo Burgers and Fries in Tallahassee as the name suggests may make you feel "giddy, awe-struck, and weak-kneed!" They pride themselves on being different than your typical burger joint! Their menu has delicious combinations of burgers all made with local and fresh ingredients. Not looking for a burger? They also have chorizo, lamb, turkey, shrimp, and buffalo fried chicken! Vertigo also has vegan and vegetarian options as well.
Looking to make it a day trip? Check out our favorite things to do in Tallahassee here!

AuthenticFlorida.com was named Best Travel Blog at the 2018 Sunshine Awards. 
To receive Authentic Florida's free weekly ENEWs, sign up on our Authentic Florida home page.
To inquire about partnerships/advertising, please contact melanie@authenticflorida.com 
Proud Member of: 

---
Comments are closed.