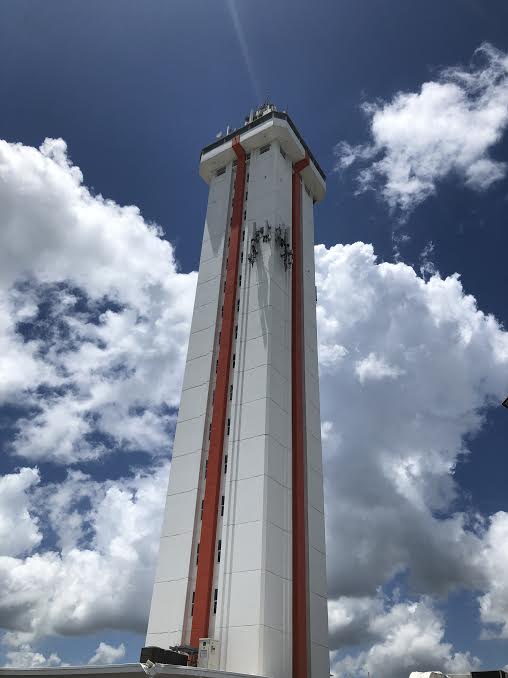 One of our favorite places to go in Florida is one of the state's first attractions – the Citrus Tower in Clermont! The Citrus Tower is an incredible monument and tribute to Central Florida's citrus industry and groves! Recently we were lucky enough to visit the amazing Citrus Tower and were able to learn about Florida's history, enjoy a citrus drink, and see some amazing views of Central Florida!
History
The Citrus Tower in Clermont was first built in 1956 on one of the highest hills in Florida's ridge section. Originally, the tower was going to be 75 feet high, but after it was built, the Citrus Tower had a height of 226 feet (22 stories!). The tip of the highest antenna is 500 feet above sea level!
Citrus Tower Lobby
When you first enter the Citrus Tower, you'll see a coffee shop called Citrus Coffee Co. with an incredibly friendly barista. They have a variety of delicious citrus-themed drinks, coffee, and tea!
While enjoying our delicious drinks from Citrus Coffee Co. located on the ground level of the Citrus Tower, we were able to watch a short film about the history of the Citrus Tower construction! Additionally, there are multiple comfortable lounging areas in the lobby of the tower for relaxing before you head up the tower!
When you make your way to the elevator, you'll be greeted by a hand-painted elevator mural featuring oranges, of course! From there, you'll take your elevator ride up 22 stories to the observation deck!
Citrus Tower – Observation Deck
The glass-enclosed observation deck also allows visitors to enjoy amazing sights and a panoramic view of Central Florida! You can also see the rolling hills of Florida's ridge section and hundreds of spring-fed lakes! The observation deck includes signs of what sights are nearby and also the distance they are from the tower! You can stay and observe the sights in the tower for as long as you'd like!
Citrus Tower – Ticket Information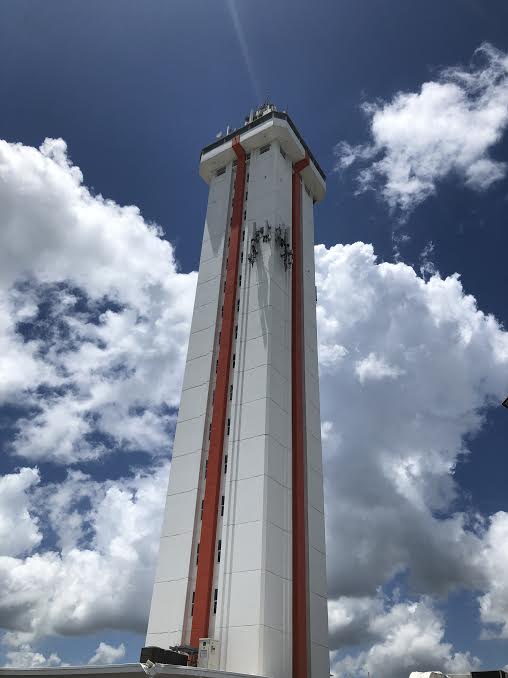 Tickets to the top of the Citrus Tower are priced as follows:
Adults: $10.00
Children: $6.00
Senior, AAA, First Responder, Nurse, Military: $9.00
Live too far away and don't think you can make it to see the Citrus Tower in person? You can also check out their live feed, Live From the Top to see the incredible 226-feet view!
Other Interesting Articles from Authentic Florida:

AuthenticFlorida.com was named Best Travel Blog two-times at the Florida Sunshine Awards.
To receive Authentic Florida's free weekly ENEWs, sign up on our Authentic Florida home page.
To inquire about partnerships/advertising, please contact info@authenticflorida.com 
Proud Member of: 

---
Comments are closed.