Enjoy Fresh Outdoor Fun with These 12 Ocala Adventures
Situated north of Orlando, Ocala is the epicenter of Florida's equestrian industry, but also a prime destination for fresh outdoor adventure and fun for those seeking a respite from the ordinary – like paddling down a scenic river, dipping into a crystal clear spring or traipsing through a pine forest.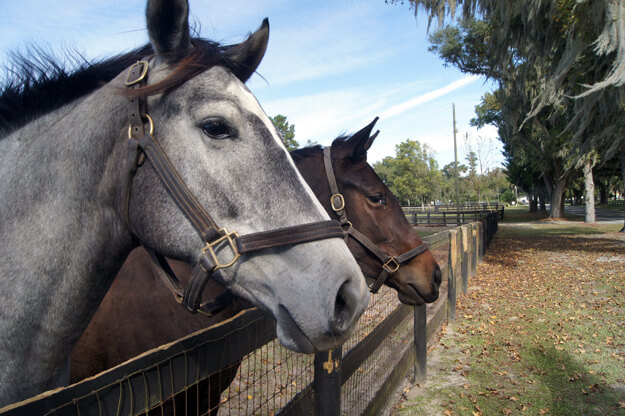 Ocala is the epicenter of the Florida horse industry
Located in Marion County, Ocala is home to more than 70,000 acres of horse farms set amidst sprawling oak trees and rolling green pastureland. But is also a prime eco-friendly destination with a cornucopia of choices awaiting the outdoorsy traveler.
To find some of the best places in the state to experience real, natural Florida kick off your journey by visiting a famous old roadside attraction, now a state park.

Silver Springs State Park glass bottom boats
Silver Springs, Florida's first tourist attraction began drawing visitors from up north in the 1870's with its bubbly artesian springs that feed into the Silver River. Moss-covered oaks and cypress trees frame aquamarine springs in this beautiful "old Florida" setting that became the filming location for Hollywood productions including Tarzan, Creature of the Black Lagoon and the TV series Sea Hunt.
A trip to this park would not be complete without a cruise aboard an old-timey glass bottom boat, allowing passengers to peer into the marine world down under while gliding over the freshwater springs as boat captains tout the park's colorful history.

Ocala's scenic Silver River
The cruise is a perennial favorite but to really absorb the outdoor beauty of the park and its surroundings, consider an easy kayak paddle ride on the Silver River. Go on your own, or better yet, join a guided tour.
Silver Springs Kayaking offers two trips: a roundtrip "Springs Tour" – an easy two-mile paddle ride along the Fort King Paddle Trail, or a one-way carefree downstream five-mile paddle extending deeper into the park where you'll see and experience more wildlife and tranquility.
The short two-hour journey travels around Ross Allen Island (named after a herpetologist who held reptile demonstrations at the tourist attraction) and along the Fort King Paddle Trail, once only accessible to a former jungle cruise but now open to kayakers. Paddle over the main Silver Spring and past the old abandoned attraction that includes a Florida Cracker village complete with cabins, a church and a replica Fort King. Take in the vista with overhanging trees, turtles sunning on logs and birds perched in trees along the riverbank.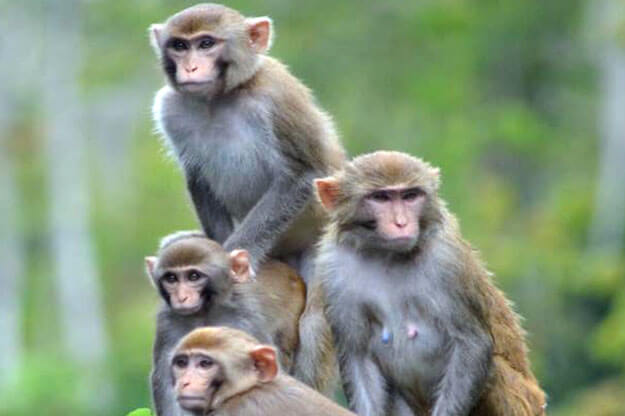 Non-native monkeys along the Silver River, photo, Silver River Kayaking
The second option is the "Welcome to the Jungle Cruise" adventure, a leisurely 4.5-hour one-way paddle ride (returned by shuttle) providing a slow gentle ride where the river will do all the work while paddlers venture deeper into the lush 5,000-acre state park. More wildlife appears – including the star attraction – rhesus monkeys. A band of these non-native monkeys perch in trees along the river watching paddlers go by. So how did they get there? In 1938, a tour boat operator named Colonel Tooey, reportedly introduced the monkeys to add to the "jungle tourist experience" by placing them on an island. To his surprise the monkeys were adept swimmers, crossing the river into the woods, where they thrived, now estimated to number around 200.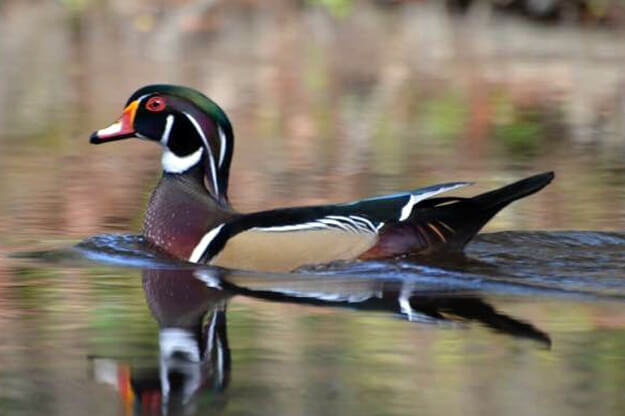 Wood Duck, photo, Silver River Kayaking 
But you also will enjoy plenty of native wildlife along the way including otters, alligators, and a plethora of birds – Green Herons, Kingfishers, Pileated Woodpeckers, Limpkins, ducks, Night Herons, Anhingas and Cormorants. Wildflowers hug the riverbank with cypress trees as towering oaks frame the waterway.
If you don't get enough on the Silver River, you may want to try another paddling opportunity. It's called the Juniper Springs Run and is considered one of the top adventures in Florida. Located in the Ocala National Forest, this waterway is fed by the collective Juniper Springs. Start this rigorous seven-mile one-way epic journey at the Juniper Springs Recreational Area, and savor the semi-tropical landscape of a shallow, sandy waterway winding through lush hammock forests. Kayak under fallen trees, past swaths of bright wildflowers and wildlife to a wayside park, where you will be shuttled back to your vehicle.
Cooling down is easy here as there are four major springs within the Ocala National Forest. The Juniper, Alexander, Silver Glen and Salt Springs are collectively known as the "jewels of the Ocala National Forest" and offer refreshing 72-degree water for swimmers during the summer heat. For another bubbling beauty try Rainbow Springs State Park, located southwest of Ocala near Dunnellon. This is the headspring of the Rainbow River, one of the most beautiful and beloved waterways in the state. This river has enjoyed a reputation as a scenic and popular playground since opening in the 1930's as a family-owned attraction and later becoming part of the Florida State Park System. At the main park spring swimmers can enjoy a large roped off area with a dock and stairs for ease of entry to the spring.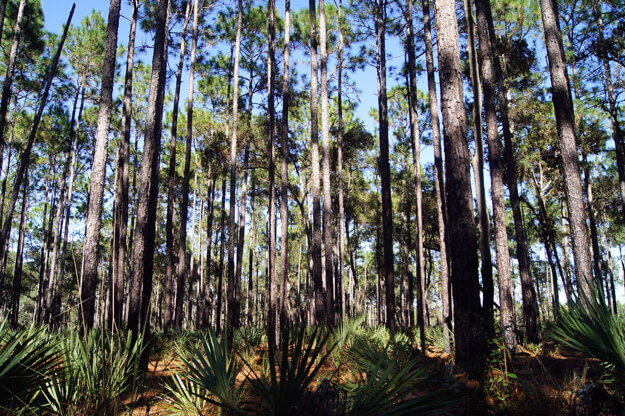 The Ocala National Forest is known as "The Big Scrub"
An essential "must do" while in the area is to enjoy a hike in the Ocala National Forest, the second largest in the U.S. Known as the "the big scrub" by virtue of its dense Florida scrub vegetation, particularly the sand pine scrub, the Forest is considered one of the most endangered ecosystems in Florida and home to a wide variety of plants and animals including the Florida black bear.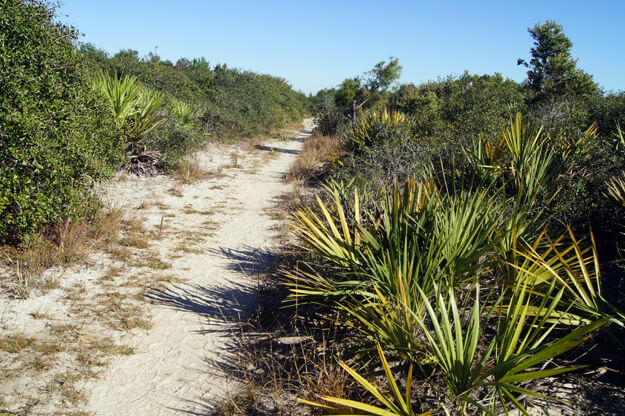 The Yearling Trail begins with a sandy pine scrub path 
In the midst of thousands of acres of scrub in the Ocala National Forest is the Yearling Trail, a special area that provided inspiration for Marjorie Kinnan Rawling's 1938 novel, The Yearling.  She based her Pulitzer prize-winning story on a real life Florida family who homesteaded in this scrub. In the 1870s, Reuben and Sara Jane Long established a home in a shady, high spot surrounded by Florida pine scrub named Pat's Island. The Longs carved out a pioneer existence living on small crops, cattle, hogs, fishing and even moonshine. Hikers can visit historical remnants of the Long family's home to better understand their existence, the natural beauty and the challenges they faced.
The Yearling Trail begins with a well-worn sandy pine scrub path leading through various ecosystems of scrub, pines and hardwoods. There are two recommended trails – a short three-mile loop or a six-mile trek.
Time for a break from nature but still want to be outside? How about an experience that has become increasingly rare in the state?
The Florida orange is one of the most recognizable symbols of the Sunshine state. Years ago, Florida citrus groves and U-pick operations were common, dotting the rural landscape throughout the state. But nowadays, citrus disease, weather, water and economic woes have reduced the number of smaller family-owned businesses. But take heart, your citrus picking dreams can still come true. So, during citrus season grab your bucket and visit the 40-acre Hilltop Groves south of Ocala in Weirsdale. Owned by fourth-generation Floridian Bill Reed, the grove is open daily offering Navels, Satsuma, Ruby Red, Valencia Oranges and Tangerines.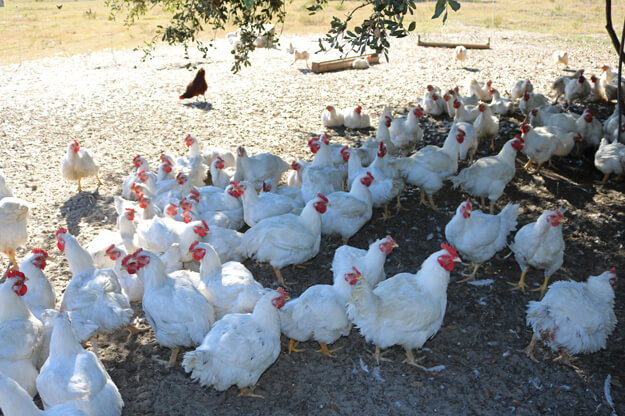 The Florida Fresh Meat Company has developed a network of sustainable farms
Not far away is the Florida Fresh Meat Company where you can actually purchase locally sustainable grass fed and finished, chemical free Angus beef, plus pasture raised pork, lamb, goat and chicken.
Florida is home to one million head of beef cattle, but it may be surprising to know that once cattle are six to eight months old or weaned from the mother cow, they are shipped out of state for fattening and slaughter only to be returned to Florida, packaged for the grocery market.

Jan Costa, owner of Florida Fresh Meat Company
But Jan Costa, who originally began his business to serve the kosher industry, has developed a network of local ranches and farms that incorporate sustainable practices for healthy and tasty meat products. Costa researched local farmer's markets, tested consumer taste and fine-tuned his knowledge to build his business that now supplies USDA inspected meat to butcher shops, retail stores and upscale restaurants. The headquarters is located in Summerfield where he sells his meat or can ship directly to your home.

No adventure to Ocala is complete without experiencing horse country
No Ocala adventure is complete until you experience horse country. More than 700 horse farms dot the Marion County landscape ranging from a small two-acre farm to the largest spread of 4,500 acres.
To get a glimpse or even go "inside the gates" of Ocala's horse industry, try these four tips: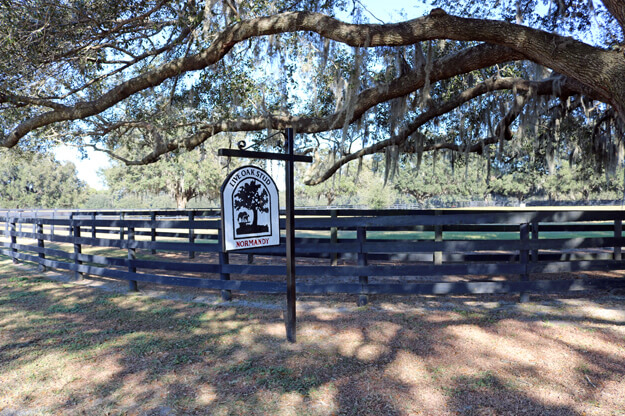 Take a drive through Ocala's backroads to experience the prestigious horse farms
Consider a backroad drive through prestigious farms among the rolling hills of Marion County past pastures speckled with horses. Take Country Road 326 (look for Bridlewood Farm) or County Road 225A, known as Millionaire's Row (look for Robert's Quarter Horse Farm).

Ocala Farm Tours takes visitors behind the gates of prestigious horse farms
For a behind-the-gates tour of several Ocala horse farms, take a tour with industry expert Karen Grimes of Ocala Farm Tours. She personally transports passengers in her van to various farms to learn about the multi-faceted industry of thoroughbred farms, stud farms and training facilities.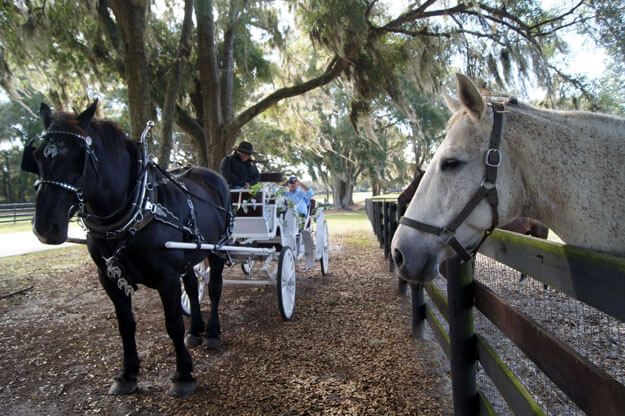 Horse Country Carriage Company takes visitors through the countryside
For a completely different experience, go with the Horse Country Carriage Company. Ride through the countryside in a beautiful carriage while enjoying the clip clop of horse's hooves along canopied roads. The personable guide will regale you with history, equestrian facts and take you near the fence lines to pat and admire the elegant horses.

Get on horse with BG Trail Rides 
And finally if you are ready to actually get on a horse, you're in the right place. Inside the Florida Horse Park, BG Trail Rides will help you saddle up and enjoy the neighboring Florida Greenway that provides scenic riding trails through hammocks and oak forests.
There's plenty of adventure in Ocala, and it's all about outdoor fun, anytime of year.
Places to stay near the Ocala National Forest:
Holiday Inn Express, Silver Springs
BG Sun Plaza, Silver Springs
To receive Authentic Florida's free ENEWs, featuring travel and living updates, delivered weekly, sign up on the home page Authentic Florida, voted Blog of the Year and Best Travel Blog at the Orlando Sunshine Awards.
---
If You Go
For more information: