Get a Taste of Authentic Florida's Smoked Fish Dip Recipe
Florida's smoked fish dip is typically made from amberjack, mahi-mahi, cobia, Spanish mackerel, kingfish (and more) but for the quintessential taste of "old Florida" smoked mullet dip is the favorite.
Written by Robin Draper, reprinted courtesy, Visit Sarasota

Ted Peter's Famous Smoked Fish, St. Petersburg
Smoked fish dip is a tasty prelude to a local seafood dinner made from the freshest catch, and traditionally accompanied with the essential – saltine crackers.

Florida Fisherman
Florida fish such as mullet, amberjack, mahi-mahi, cobia, Spanish mackerel and kingfish are smoked and combined with other ingredients to produce fish dip in a variety of flavors. Oil-based fish make the best candidates for smoking because they remain moist through the 6-8 hour smoking process. Once smoked, the final product can be served as an entree or used to make dip.

Walt's Fish Market & Restaurant serves fresh fish dip, Sarasota
Most seafood establishments and markets efficiently use every part of the whole fish. The fish filets are used primarily for the dinner entrée, the fish skeleton for tasty stock for seafood stews and chowders, and the unused smaller pieces of fish not used as fillets – are often smoked to make dip.
Fish dips vary. No matter what fish dip you enjoy, the recipe will likely include some combination of the following ingredients: smoked fish, mayonnaise, scallions, celery, peppers, dill pickles lemon juice, and sometimes cream cheese or sour cream, relish or capers, and seasonings.

Smoked mullet and dip is an "old Florida" favorite
Ode to a Florida Classic: Smoked Mullet Dip
If there is a classic Florida fish dip, it is undoubtedly smoked mullet. Best purchased in the fall, just before the offshore spawning migration, when the meat is the fattest, it's the time of year when roadside signs boasting "smoked mullet" pop up along rural roadways. Fishermen sell smoked mullet, the essential ingredient for the dip, directly from the smokers as wisps of deliciously pungent smoke draw people who line up for this "old Florida" favorite.

Roadside signs pop up along Florida roadways when the mullet run 
What is mullet? If you spend time in or on local waters then you're likely to have spotted fish jumping. Chances are that it is mullet. No one really knows why they jump -maybe they are trying to escape a predator, or perhaps clean their gills. Whatever the reason, they are great leapers. Mullet are often seen swimming in schools, are herbivores, and are commonly found up and down Florida's coastlines and waterways.

Schools of mullet 
The fish has a white flesh, rich and nutty with high oil content. Mullet is caught by net, and while some see it only as "bait fish" and others consider it a "trash fish" it is very popular with locals and local chefs are catching on, some heralding its attributes through new creative recipes.

Smoked mullet is a traditional favorite among many Floridians
Always a favorite with native Floridians, mullet can be cooked a variety of ways – smoked, fried, pan-fried, baked or broiled. Mullet dip recipes are passed through the generations and are treasured secrets. But one thing is for sure, most die-hard locals agree on one thing, "it must be cooked fresh," and never frozen.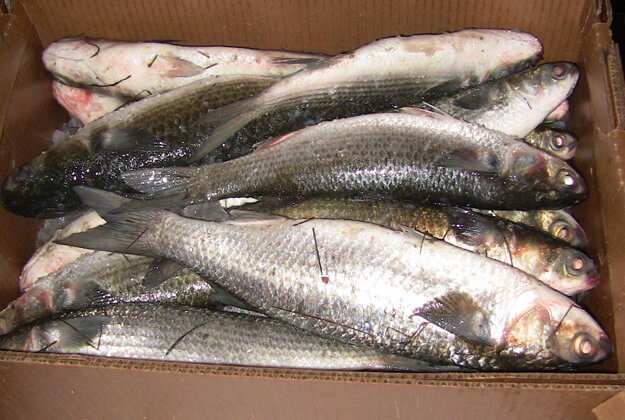 Mullet
There are several different species of mullet. Silver mullet and black mullet are most common in Southwest Florida, with the black favored for eating.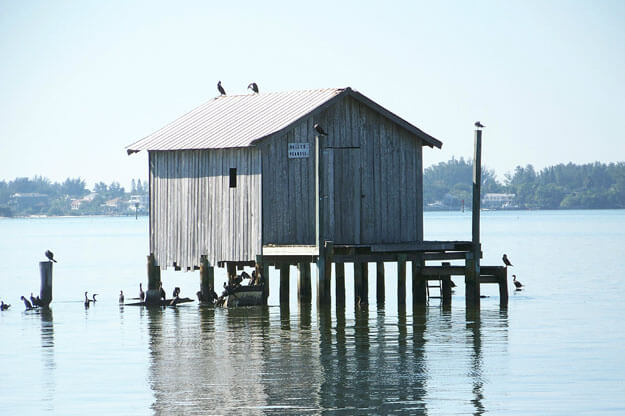 Cortez Village has played a large part in growing the market for bottarga, or mullet roe
In Japan, and other international markets, mullet is prized for its roe, known as "bottarga" and prepared as a salt-cured, sun-dried delicacy. This has become a growing industry segment in Florida, especially in the fishing village of Cortez, on the north edge of Sarasota Bay, because it commands a hefty price in overseas markets.

Smoked Mullet
Mullet dip is served as a (free) starter to any meal or with a cocktail at Sarasota's Walt's Fish Market and Restaurant and is available in the market to take home. Walt's smokes its fish on the premise and has been making its dip for four generations keeping the family recipe a secret all that time. Brett Wallin owner of Walt's smokes his fish right behind the store using oak and citrus wood smoking mullet, Spanish marckerel, kingfish and mahi-mahi at a low temperature for 6-8 hours. For the dip Wallin shares this advice: "When making mullet dip, my advice is to keep your ingredients simple, there's no need to complicate it."

Old Fish House Marina Restaurant, Matlacha, Pine Island
Florida's Mecca for Smoked Fish
And one final note, If you are touring around Florida's Gulf Coast, a landmark restaurant and probably the most famous of all smoked fish houses, Ted Peters Famous Smoked Fish, is located in St. Petersburg. Ted Peters smokes the fish on the premise and has been serving smoked fish since the 1940's. It's worth the drive to enjoy a cold frosty beer with your choice of mullet, mahi-mahi, or mackerel, and be sure to add a side of German potato salad.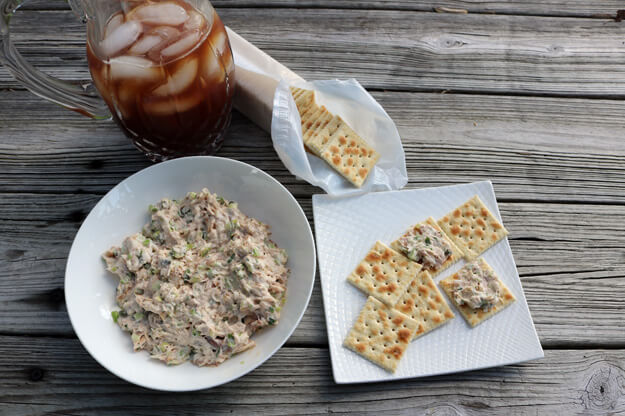 Recipe for Smoked Mullet Dip (may substitute other smoked fish)
Recipe Courtesy, Cousin Caroline Chambliss 
Ingredients
I pound smoked mullet (either smoke or purchase at a seafood market, call ahead first, not every market has smoked mullet)
1/2 cup mayonnaise
4 scallions finely chopped, cut off the green end, use the white, root end.
1 medium stalk of celery, diced finely
1 Tablespoon capers
1 Tablespoon lemon juice
¼ cup roughly chopped Italian parsley
¼ teaspoon Old Bay seasoning (optional, to taste)
I package of Saltine Crackers
Carefully de-bone the mullet and toss the skeleton or bones, (or use for soup base). Pull off the mullet meat in small pieces, shredding the mullet.
Place the mullet meat a medium sized bowl, add all ingredients—scallions, celery, capers, lemon juice, parsley and Old Bay seasoning. Add the mayonnaise last to determine the right consistency. Let stand for two hours at a minimum before serving.
The mullet should be brined and smoked with seasoning, but if the dip needs more flavor add:
¼ teaspoon salt
¼ teaspoon pepper
To receive Authentic Florida's free ENEWs, featuring travel and living updates, delivered weekly, sign up on the home page Authentic Florida, voted Blog of the Year and Best Travel Blog at the Orlando Sunshine Awards.  
---
Comments are closed.