The mayor of the small town of Mayo, Florida which has fewer than 1,500 residents announced on Saturday that the city was switching its name to "Miracle Whip."
The name change started as a secret, tongue-in-cheek marketing proposal for the Kraft/Heinz-owned mayonnaise, Miracle Whip. The team from Miracle Whip wanted to capture the shock of residents when they heard that the name of their beloved town was being changed to a corporate brand name. The team from Miracle Whip spent a few days filming the hilarious efforts to get residents to remove mayonnaise from their homes.
The town's elected officials planned on letting their residents in on the joke after a few days, but first, they had to switch out street signs and the name on the infamous water tower.
The town of Mayo will be getting up to $25,000 for the temporary name change. The money will be used for "city beautification measures."
"We aren't going to be boring Mayo anymore. We are going to be Miracle Whip!" Mayor Ann Murphy said. "I definitely think this will put us on the map."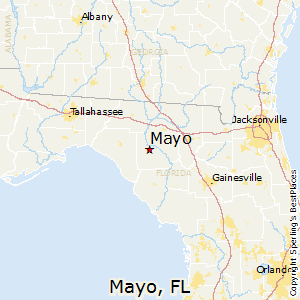 What to do in Mayo/Miracle Whip
Mayo, Florida is located halfway between Tallahassee and Gainesville, at the intersection of US-27 and SR-51 about 2 miles south of the Suwannee River.
Mayo is in Lafayette County, Florida's second-least populous county. It got its original name from a Confederate colonel, James Mayo, but is known best for being the hometown of Kerwin Bell, a former University of Florida quarterback (1984-1987), and affectionally known as the "Throwin' Mayoan".
Some say Mayo should become Miracle Whip permanently. They wouldn't be the first town to do this. In 1950, Hot Springs, New Mexico, renamed itself Truth or Consequences. This was in order to get the game show broadcast from the town. Granville, North Dakota, temporarily became McGillicuddy City. This was in the 1990s after the distributor of the mint Schnapps paid the town $100,000. However, the most successful name change was probably when North Tarrytown, New York switched to Sleepy Hollow. This was in the mid-1990s to honor its roots as the setting for Washington Irving's story, "The Legend of Sleepy Hollow.
Where To Eat:
Check out Trip Advisor to see where to eat in Mayo/Miracle Whip, Florida: https://www.tripadvisor.com/Restaurants-g34428-Mayo_Florida.html
Where To Stay: 
If you travel to Mayo/Miracle Whip, Florida and are looking for an authentic place to stay, check out Cindy's Motel & RV Park. They have been in business for more than 50 years. Cindy's is a 9-room motel (which also includes 14 spaces for RV's). It is an ideal place to enjoy nature under beautiful live oaks. Conveniently located right off of Highway 27, Cindy's is a "cozy, quaint, quiet and clean" motel for all your lodging needs.

AuthenticFlorida.com was named Best Travel Blog two-times at the Florida Sunshine Awards.
To receive Authentic Florida's free weekly ENEWs, sign up on our Authentic Florida home page.
To inquire about partnerships/advertising, please contact info@authenticflorida.com 
Proud Member of: 

---
Comments are closed.