Happy Native American Day!
Did you know that Native American Day is a holiday taking place on the fourth Friday of September? Established to honor and recognize Native Americans as the very first people of our nation, this holiday celebrates their heritage and importance to our past, present, and future! Florida is full of rich history from the Native American tribes who called Florida home. Read on to see where you can learn more about the history of these tribes and check out where to find our favorite Native American museums in Florida!
Please note, due to COVID-19, Ah-Tah-Thi-Ki Museum is closed to the public until further notice. However, you can still virtually visit online! Add this to your Future Florida Adventures!
In the Seminole language, Ah-Tah-Thi-Ki means a place to learn, a place to remember. The Ah-Tah-Thi-Ki Museum in Clewiston invites you to come to the Big Cypress Seminole Indian Reservation and learn about Florida's exciting living history and culture! Their mission is to celebrate, preserve, and interpret Seminole culture and history.
This museum is located within the Everglades at the Big Cypress Seminole Indian Reservation. Ah-Tah-Thi-Ki contains over 180,000 unique artifacts and archival items. Visit and learn more about Seminole people! Not only can you learn about their historical ties to the state, but you can also see how they've made the Big Cypress area their homes.
Check out their 360-degree virtual tour of the museum here!
Located in Crystal River, the Crystal River Archaeological State Park is a National Historic Landmark! This park is 61 acres and contains burial mounds, temple/platform mounds, a plaza area, and a substantial midden.
This location was one of the longest-occupied sites in the history of Florida. For 1,600 years the Crystal River Archaeological State Park was a ceremonial center for the Native Americans who lived there. Others also traveled from long distances to bury their own dead and conduct trade with the people of the area. More than likely, over 7,000 Native Americans may have visited every year!
Not only is the park an archaeological site, but it also is located near a coastal marsh. There are salt and freshwater fish, as well as a variety of bird species that a bird-watcher will love!
Looking to make it a day trip? Check out our favorite things to do in Crystal River here!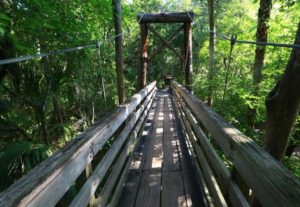 Located near downtown Tampa, Hillsborough River State Park is a stark difference from the city life that is so close by. The park has seven miles of nature trails as well as water to cool off in.
While there used to be cannon and guns at the park, they are now silent except for the few reenactments at Fort Foster. You can see the reconstructed fort as part of the Hillsborough River State Park.
In addition to learning more about history, you can also kayak or canoe across the rapids, which are class II river rapids! Don't miss out on the seven miles of nature trails or the ADA accessible swimming pool!
The Indian Temple Mound Museum has been open since 1972 and is located in historic downtown Fort Walton Beach.
This Native American Museum in Florida has 12,000 years' worth of Native American interpretive exhibits! Not only do they have over 1,000 artifacts of bone, clay, and shell, there is also an extensive prehistoric ceramic collection. It's one of the finest in the Southeastern United States! Some of the exhibits also include artifacts from pirates, settlers, and European explorers!
Containing six of seven earthen temple mounds, Lake Jackson Mounds Archaeological State Park in Tallahassee has two trails to see in the area! These trails give you a chance to hike while learning more about the history of the area! You can even pass part of Florida's Territorial Period and early statehood!
One of the trails is a nature trail that is located in a sandhill community with many native trees and plants. You can also take a guided tour upon request! If you like wildlife or bird watching, this is the park for you!
Looking to make it a day trip? Check out our favorite things to do in Tallahassee here!
Note: Due to COVID-19, Miccosukee Indian Village is temporarily closed due to the COVID-19 pandemic, but the Gift Shop will remain open on Fridays, Saturdays, and Sundays from 9 AM-5 PM. Add this to your Future Florida Adventures!
Opened in 1983, the Miccosukee Indian Village lets you take a look into the tribe's way of life of the past. You can see what their culture was like through historical documents, archival photographs, and original artifacts!
There is a mix of both permanent and rotating exhibits teaching you about the tribe adapting to the Everglades as well as the history and contemporary teachings of Native Americans, First Nations, and Aborigines.
Make sure not to miss the Miccosukee Indian Village's alligator show! Don't expect them to wrestle the gators – they love them and hope you'll learn about them during a demonstration! A brave demonstrator will explain historical traditions and rituals that have been handed down by years and years of the Miccosukee people.
Looking to make it a day trip? Check out our favorite things to do in Miami here!
---
Comments are closed.