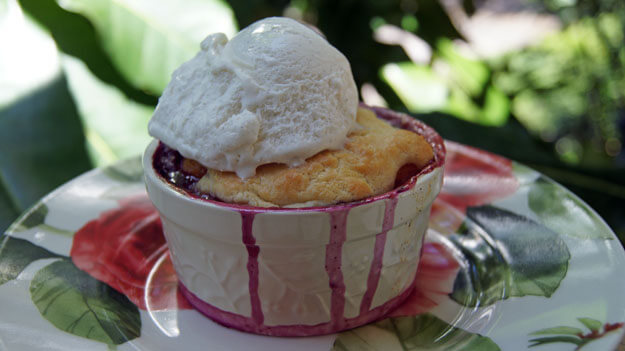 When Florida blueberries are in season, the peaches are usually ripe and ready to be picked in the Sunshine State, too. The season is short, so be sure to get to the farmer's market, local u-pick farm, or your favorite grocery store as soon as you can. If you love peach cobbler and are a blueberry fan, don't let this recipe slip by. It's truly one of our favorite recipes since it uses both blueberries and peaches … and did we mention the warm cobbler – just like grandma would have made.
Oh, and don't forget the ice cream!
We recommend doubling this recipe. You'll love having leftovers.
Serves 4
Preheat oven to 350 degrees.
Will need 4 ramekins, (8-ounce) or more if you double the recipe
Ingredients
Fruit Mixture
3-4 medium Florida peaches, peeled and cut into sections
1 cup of Florida blueberries
¼ cup of sugar
½ teaspoon ground cinnamon
2 teaspoons of cornstarch
Cobbler Mixture (Wet and Dry Ingredients)
Wet Ingredients
1 egg
2 tablespoons melted, cooled butter
¼ cup heavy cream
Dry Ingredients
½ cup flour, plus 2 tablespoons
1 teaspoon of baking powder
Pinch of salt
1 tablespoon of sugar
1 tablespoon butter to brush over the topping
Vanilla Ice Cream (optional)
Directions
Fruit Mixture
In a large bowl, mix peaches and blueberries.  Separately, mix the sugar, cinnamon, and cornstarch. Combine the two. Set aside.
Wet Ingredients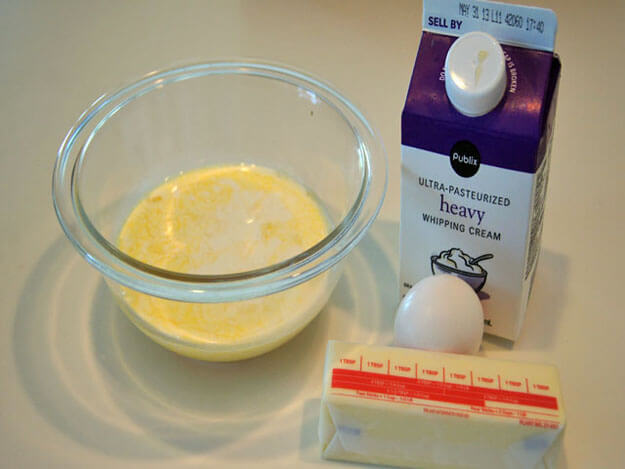 In a small bowl, mix the egg, cooled butter, and heavy cream. Whisk with a fork. Set aside.
Dry Ingredients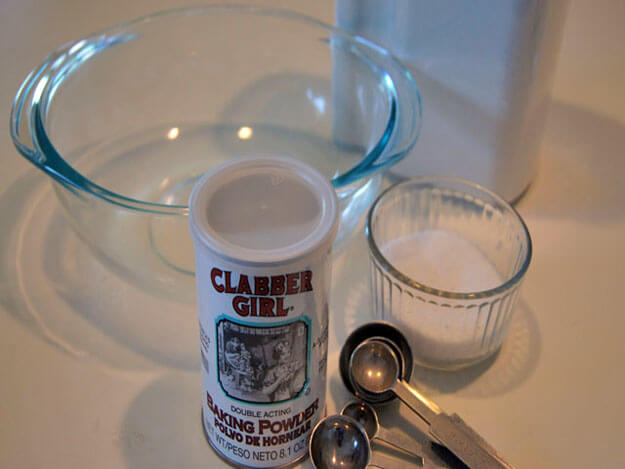 In a medium-sized bowl, sift flour, baking powder, salt, and sugar.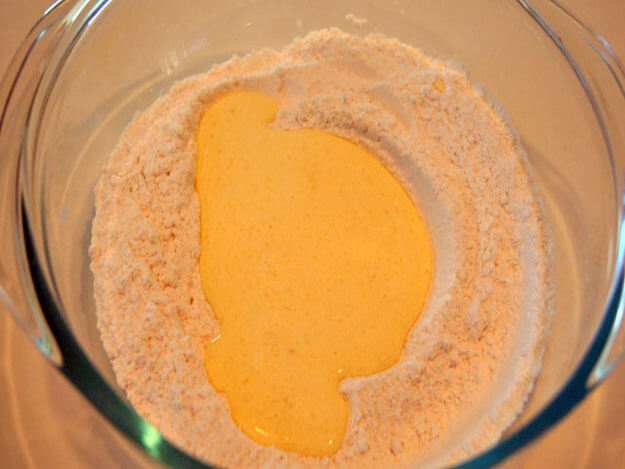 Make a well (small indentation) in the middle of the dry ingredients and pour in the wet ingredients. Slowly draw the dry ingredients into the wet ingredients, combining just until mixed.
Preparation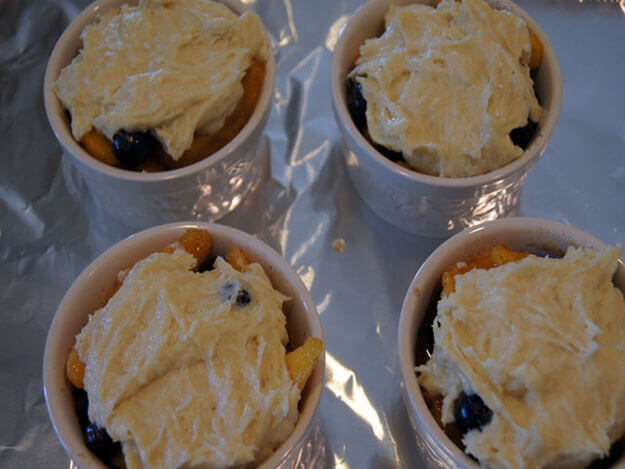 Place the ramekins on a sheet pan. Pour in the fruit, dividing the mixture evenly.
Spoon the dough over the top (it will be sticky) of the fruit. It may not spread to the edges of the ramekin completely, but be sure the dough is distributed over the fruit. (I leave the edges a little exposed.)
Lightly brush the dough with butter.
Bake at 350 degrees until the juices bubble up and the crust is golden brown, approximately 20-25 minutes. (Check at 15 minutes)
Serve hot. Add ice cream!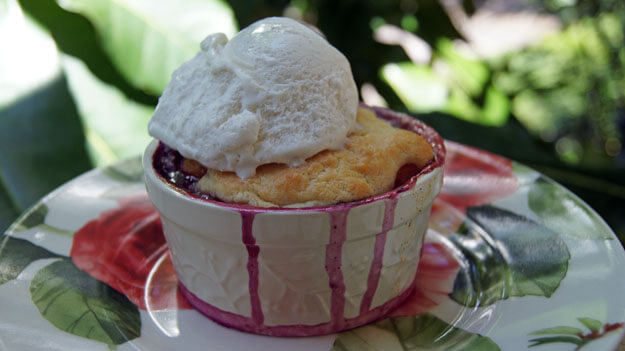 Adapted from Martha Stewart's Peach and Blueberry Cobbler
Want to learn even more about Florida Peaches? Check out: Peachy Keen! Florida Peaches are Back and Sweeter Than Ever

AuthenticFlorida.com was named Best Travel Blog two-times at the Florida Sunshine Awards.
To receive Authentic Florida's free weekly ENEWs, sign up on our Authentic Florida home page.
To inquire about partnerships/advertising, please contact info@authenticflorida.com 
Proud Member of: 

---
Comments are closed.