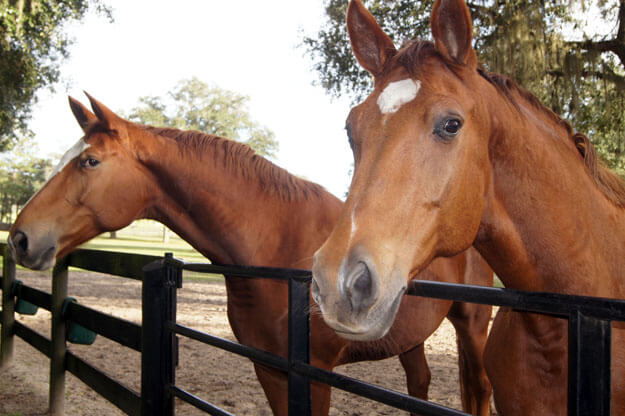 Did you know that 30% of all farms in Florida are horse farms? Florida is also home to the Horse Capital of the World … Take a bow, Ocala! More than 700 horse farms dot the Marion County landscape ranging from a small two-acre farm to the largest spread of 4,500 acres. Some say it's the nutrient-rich Florida limestone soil that creates healthier grass for stronger horses while others believe its Ocala's equestrian history and close-knit tradition that has created a legacy of winners. 
Ocala is the perfect place to celebrate "I Love Horses" Day, but there are plenty of other places across the state if Ocala is too far from home right now!
Check out Authentic Florida's list of the top places to "horse around" in Florida! Due to COVID-19 restrictions, please make sure you check their website and call ahead before heading out on an adventure. It's also a great time to add any of these adventures to your future Florida bucket list. 
Panhandle
Source: brokeatoe.com
Broke-A-Toe Cape San Blas Horseback Riding on the Beach is a relaxing, safe way to enjoy the coast and families have rated it the #1 thing to do on TripAdvisor! They offer multiple types of rides including one-hour, sunrise, sunset, 1.5 hour, and private rides. Broke-A-Toe gets high marks for having horses that are gentle, confident and consistent in their job.
Source: therockinmranch.com
Are you looking for a family-friendly fun way to explore the sandy white beaches of Cape San Blas, Florida? Come and enjoy the breathtaking beauty of Florida's Forgotten Coast at Rockin M Ranch. They specialize in horseback riding on the beach and beginner-friendly lessons. All rides are guided with professional, friendly guides. The ride is a walk on horseback by the water and on the beach the whole time.
Source: twobitstable.com
Two-Bit Stable offers a relaxing ride next to the waves of the Gulf. It's just another way to experience the laid back atmosphere of this stunning area. Riding experience is not an issue as all of their horses, aka "Beach Bums", are professionally trained and love their jobs. The horses love interacting with their riders. Their unique personalities combined with the breathtaking setting makes for a perfect outing!
North Florida
Source: ameliaislandhorsebackriding.com
When you make a reservation with Amelia Island Horseback Riding, you'll meet the owner at Peters Point Beach Front Park on South Fletcher Avenue, near the Ritz-Carlton Hotel on Amelia Island. The owner will customize a ride to your interests, including trotting and cantering for those with extensive riding experience.  They offer many daytime rides as well as sunrise and sunset rides!
Source: kellyranchinc.net
Family-owned Kelly Seahorse Ranch is on the beach and a place where you will ride the private beach-access trail to the beautiful, remote beaches of the park. The ranch is within the scenic Amelia Island State Park; a two-hundred-acre preserve where you can witness dolphins, shorebirds and other island wildlife.  One-hour guided beach rides leave at 10am, 12pm, 2pm, and 4pm  (tide and weather permitting). So saddle up and take a ride on one of their gentle, well-trained horses, and enjoy the beautiful beaches of southern Amelia Island!
North Central Florida
Mill Creek Retirement Home for Horses
In Alachua, Florida (near Gainesville), you can visit Mill Creek Farm and 140 retired horses with an admission cost of only two carrots! The retirement home for horses is home to "retirees" who can enjoy their lives in spacious, tree-lined pastures and roam freely with other horses.  They provide lifetime care to elderly horses seized by law enforcement agencies, rescued by the SPCA or other humane societies, as well as horses retired from government service such as police patrol or state and federal parks.  While Mill Creek Farm is generally open from 11am-3pm on Saturdays, they have temporarily closed due to COVID-19. We hope to celebrate "I Love Horses" Day with them soon when they can be safely open to the public again!
The Canyons Zip Line and Adventure Park
This is not your typical horseback tour!  There are elevation changes of 100′ or more that you won't find anywhere else in Florida. This experience offers amazing views of both the Big Cliff Canyon and the Sky High Canyon.  The ride takes you down into the canyon and alongside our lakes, scenic vistas, through the woods and beside the enormous cliff walls. These incredible views are unparalleled and only at The Canyons Zip Line and Adventure Park!
Central West Florida
Source: cponies.com
Horseback riding on the beach is like a Florida-style trail ride – but better! Ride rescued Drum and Gypsy Vanner horses, and even enjoy an exhilarating swim with these majestic beauties. C Ponies offers a variety of rides at different locations throughout the Tampa area ranging from ocean and trail rides to sunset and beach excursions. You can even have a "bucket list" experience that involves riding the horse straight out into the Gulf on a sandbar nearly a mile! 90% of the horses are purchased from terrible environments, and it is their journey to try to save as many of these horses as possible.
Source: beachhorses.com
Another spot specializing in immersing in the water with your horse, Beachhorses.com has trademarked the term horse surfing to describe what they do, which includes riding horses while they swim off the beach in the gentle Gulf waters and, for the most adventurous, swimming behind it holding its tail or standing up on the horse in the water.   All in all, they have multiple rides ranging from chill to thrill!
Central Florida
Source: cabayoga.org
At CabaYoga in Sanford, you can reconnect with your wild spirit through the symbiotic bareback practice of horse yoga, inspired by the ancient traditions of Ashtanga Yoga and the effortless therapeutic energy exchange between horse and human. You can book private equine yoga, private ashtanga yoga, or socially distanced yoga outdoors with the company of horses! The herd includes Jeffery, Izzy, and Bling!
You can also stay at Dark Horse Farm in a private cottage through Airbnb! Your room is in a house on a horse farm, with views of pastures and woods. Watch the horses graze, or visit them in the barn. They are all friendly and love attention. They love carrots! You can book the room here!
Source: freedomride.com
Freedom Ride is dedicated to enriching the lives and experiences of children and adults with disabilities in the Central Florida area through therapeutic horseback riding and related activities. They offer therapeutic horseback riding, equine-assisted learning, and an equine-assisted therapy program for US Veterans! If you want to volunteer with Freedom Ride, you can assist with cleaning stalls, grooming the horses, helping students in their lessons, fundraisers, and special events. No horse experience is required, but all volunteers should be comfortable working with and around horses!
Looking to make it a day trip? Check out our favorite things to do in Kissimmee!
South Florida
Source: aaadventuretrails.com
There's nothing quite like the outdoors. With your boots tied tight and a trusty horse beneath you, come and journey through the forgotten wilderness of South Florida. And that's just what you're going to do here at A&A. A&A offers enjoyable, fun guided horseback tours for all abilities. They have multiple rides including half-hour, one-hour, two-hour, three-hour, and full day as well as group adventures and special occasion rides! So, saddle up and find your cowboy hat!
Source: jdstatepark.com
Jonathan Dickinson State Park offers a variety of Equestrian Activities that are fun for young and young at heart alike.  These activities are only offered seasonally each year from Thanksgiving through Easter, weather permitting. You can enjoy a one hour guided horseback rides for beginner and advanced riders on protected parklands with views of cypress heads and pine Flatwoods. You may even catch a glimpse of wildlife like white-tailed deer, bald eagles, osprey, or alligators! Another option is a horse-drawn tram tour that you can take as a group or family through the park! The tram guides will entertain you with tales of the history of the area while showing and describing the native plant and animal life.
Source: beachtoursonhorseback.com
If you are stressed or feeling overwhelmed by your career, you need a relaxing getaway. Tours on Horseback will let you experience a different point of view of the world—from the saddle of an equine friend. Book a different kind of vacation where you and your loved ones can relax while saddled up for one of our horseback tours.  You can ride through the beach on South Hutchinson Island or the trails of St. Lucie County Preserve on a one-hour, two-hour, half-day, or full-day rides.

AuthenticFlorida.com two-time winner for Best Travel Blog at the Florida Sunshine Awards. 
To receive Authentic Florida's free weekly ENEWs, sign up on our Authentic Florida home page.
To inquire about partnerships/advertising, please contact info@authenticflorida.com
Proud Member of: 

        
---
Comments are closed.