For an Authentic Florida weekend retreat that combines relaxation, adventure and fun try North Orlando's Seminole County with a scenic small town, a natural oasis, and exciting outdoor adventures. 
Sanford, a New Old Town



Historic downtown Sanford
Base your stay in Sanford, a charming walkable community. It has re-imagined itself by embracing its historic past while attracting freshly inspired locally owned businesses and restaurants that make this getaway memorable.
 
Clyde Line Pier, Sanford, courtesy, Florida Memory Project
The town of Sanford sits on the southern shore of Lake Monroe, once a thriving steamboat port on the St. Johns River and a distribution point for Central Florida commerce including cattle, citrus, turpentine, lumber, seafood, and agriculture (known as the "celery capital of the world"). During Florida's Seminole Wars of the 1830s, the area was home to a U.S. Army post named Fort Mellon.
Wind Down, Chill Out



Sanford's Higgins House Bed & Breakfast Inn
Begin your weekend retreat at a quaint Bed & Breakfast Inn, one that will change the way you envision a getaway weekend. The 1891 Victorian Higgins House in Sanford is situated off the bucolic Centennial Square and surrounded by historic churches and old homes. This impeccably kept inn is also within walking distance of historic downtown Sanford.
 
Gourmet breakfast at the Higgins House
Innkeepers Patty and Mike Ribera will make your visit extra special with a stay in beautifully appointed rooms matched with their warm hospitality and Patty's signature gourmet breakfast. The Riberas provide plenty of insider tips for your Sanford visit but you may just want to sit on the old-fashioned porch and sip a cocktail and let this serene and quiet neighborhood remind you of days long ago.
 
Sanford Jeanine Taylor Folk Art Gallery
Designated on the National Register of Historic Places, The Higgins House is ideally located blocks away from the pedestrian-friendly downtown with refurbished 19th-century buildings and eclectic shops, art galleries (check out the Jeanine Taylor Folk Art), craft breweries (Wop's Hops Brewing, Sanford Brewing Company) and locally-owned restaurants including the ever-popular Hollerbach's Willow Street Café known for authentic German food and music. For lunch, try the Colonial Room for a southern classic home-style lunch, or Moon's Subs for the best burgers in town.
 
Mattie's Delectable Desserts
For a sweet treat try a key lime cupcake or a slice of butter pecan cake at Mattie's Delectable Desserts. At sunset, stroll or even bike Sanford's waterfront and marina along the Riverwalk that rims the shore of Lake Monroe. Later stop in at The Alley for local blues & jazz or try Little Fish Huge Pond for a younger vibe.

The Alley for local blues and jazz
And if you get the munchies, Fuel, next to the Alley, offers down-home tasty barbecue (try the smoked mac n' cheese and homemade cornbread). And before leaving Sanford, load up your cooler at the Sanford Avenue Real Deal Seafood. This is the place for locally caught seafood including blue crab and local fish. Add some veggies from Bags Produce, the outdoor stand specializing in fresh market greens and boiled peanuts.

Take home fresh seafood from Real Deal Seafood
Outdoor Fantastic: Springs, River Kayaking & Airboats
After a little relaxation, you may want to take it up a notch and try some outdoor adventure. Seminole County has plenty of options to choose from but no trip to the area is complete without a visit to the Wekiwa Springs State Park for a dip in the refreshing bubbly springs or an adventurous paddle ride down on the scenic Wekiva River.
Wekiwa Springs State Park is a delightful respite with an authentic "Old Florida" feel. The area was once inhabited by indigenous Timucuans and Native American Creeks who hunted and fished the region naming it Wekiwa for "spring of water." The 72-degree freshwater springs discharge 45 million gallons of crystal clear water daily, attracting visitors to relax and enjoy the sparkling bubbly spring that forms the headwaters of the Wekiva River.
Wekiva River Paddle Journey
A popular trek is a paddle ride on the Wekiva River. It is a designated wild and scenic waterway that connects to the St. Johns River. Many trip options are available to intrepid paddlers through the park's outfitter, Nature's Adventures. Kayaks, canoes, and paddleboards are available for rental. The most popular journey is a simple 2-hour roundtrip journey to Wekiva Island, a local "watering hole" bar and restaurant.
Those who start during the early morning are more likely to avoid the crowds. They'll capture the best gifts of the river – wildlife sightings. Canopied towering oaks, sweet gums, sabal palms, resurrection ferns, and water hyacinths line the shallow river as swallowtail butterflies flit about. An array of birds will greet most paddlers including Swallow-tailed kites flying above, and herons and egrets wading on the shoreline. You are also likely to see otters, turtles, and alligators, all creatures that inhabit the Wekiva Basin ecosystem.
Those wishing for a more spectacular and adventurous day, they should consider a downriver journey outside the Wekiwa Springs State Park. Local outfitters at Kings Landing will equip you for a leisurely 8 ½ mile journey down Rock Springs Run that eventually meets the Wekiva River. This four-hour downstream ride to Wekiva Island will provide quiet serenity under blue skies with smaller crowds. There is significantly more wildlife including bald eagles, ospreys, limpkins, woodpeckers, wood storks, and of course resident alligators sunning on the banks.  There may even be an occasional manatee swimming in stealth mode to the springs. And to reward you for your hard work, the outfitter provides a shuttle bus returning paddlers to Kings Landing.
And More at Wekiwa Springs State Park

Wekiwa Springs State Park pine Flatwoods offer plenty of space for landlubbers
For landlubbers, there's also plenty of things to do in Seminole County. Try Wekiwa Springs State Park – whether hiking, horseback riding, or biking through the pine Flatwoods, sandhill and scrub areas, amongst seasonal wildflowers with unique plant and animals. Be on the lookout for Florida black bears, white-tailed deer, Sherman, and also fox squirrels (black face and white ears).
No matter what you do in or around the Wekiwa Springs State Park, you'll experience a perfect oasis steeped in the simplicity of real Florida.
Take an Airboat Ride and Spot a Gator 

Black Hammock Fish Camp Airboat Ride 
And for those who like to whip it up and go for the thrill ride, head to Oviedo's Black Hammock Fish Camp. This "real Florida" attraction is situated on Lake Jesup. They offer airboat rides through Central Florida marshlands to spot Florida wildlife! It also includes the largest lake population of alligators in North America.

Florida Gator
Board an airboat and hold on tight! The boat captain will take you on an adventure tour in search of gators and birds. Explore hidden areas inaccessible by vehicle. Get a peek behind the reeds and explore hard to reach spots where gators are also likely to nest. Sail past Bird Island considered the largest nesting spot for birds on the Lake. Passengers are likely to spot bald eagles and huge colonies of Florida birds.
 
Checking for gators in hidden areas on Lake Jesup
Back at the fish camp after the ride, those who wish to see, touch, and experience Florida's true native can also hold a baby alligator.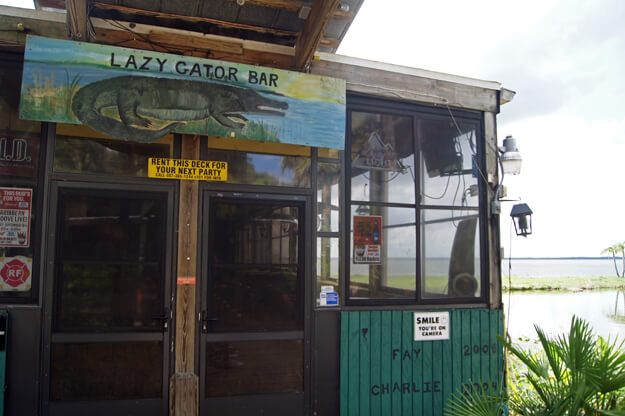 After your trip, also try the Camp's Black Hammock restaurant. Try the signature gator tacos or sip on a cold one at the Lazy Gator Bar overlooking the lake.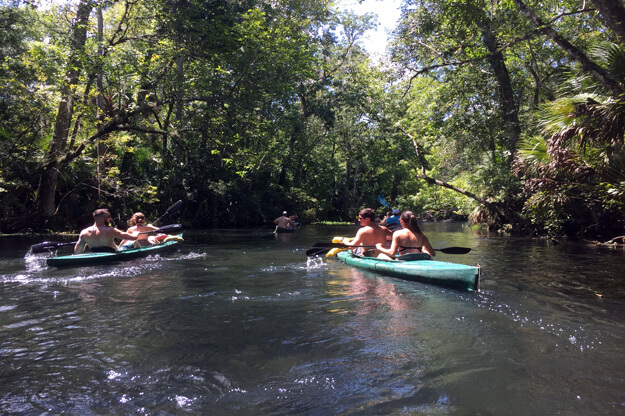 Time to Let Go
Whether seeking relaxation or adventure, after this trip you'll agree that Seminole County has much to offer. And whatever you choose will surely be fun.

AuthenticFlorida.com was named Best Travel Blog two-times at the Florida Sunshine Awards.
To receive Authentic Florida's free weekly ENEWs, sign up on our Authentic Florida home page.
To inquire about partnerships/advertising, please contact info@authenticflorida.com 
Proud Member of: 

---