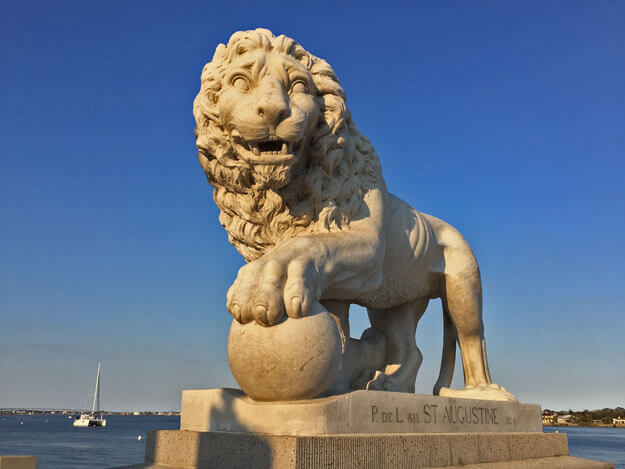 Whether you are planning a romantic getaway or a seaside vacation, there are plenty of things to do and see in the charming old town of St. Augustine located between Daytona Beach and Jacksonville on Florida's northeast coast. Claiming title to the "oldest U.S. city", St. Augustine wears its 455-year-old title well – drawing most travelers because of its rich and layered history.

First Mission Church of Nombre de Dios, Fountain of Youth
Once there, you quickly become aware that most folks who live and work in St. Augustine take immense pride in their knowledge of the city's past, reciting facts behind the six historical occupations, from the 1565 First Spanish Period to the 1861 Confederate Period. If you don't know your St. Augustine history before you visit, you'll certainly know it before you leave.

St. Augustine is America's oldest city 
St. Augustine's rich history is well chronicled by the landmarks that bear witness to the various occupations. The assortment of historical attractions such as the fortress-like Castillo de San Marcos and the fabled Fountain of Youth brings history to life, shedding light on its captivating and colorful past.
No one is sure whether Ponce de Leon really landed precisely at St. Augustine, but it's safe to say that he was pretty darn close. His 1513 voyage is the only "documented" voyage by which the first European landed on what would become the United States. He named the area "La Florida", and also planted the Spanish flag to stake the claim for Spain.

The Timucuans used canoes for transportation 
But even before the Spanish arrived, native people called the Timucua lived throughout the area, building their capital in what would later be named St. Augustine. Overall, using the intricate network of waterways and marshes for transportation they hunted, fished, and gathered shellfish, oysters, and clams for food. As the original inhabitants, they left their archeological footprints throughout the region, by all means, a beginning to the town's multi-cultural past.

The First Colony 

St. Augustine's Fountain of Youth Archeological Park
Especially consider beginning your adventure at the Fountain of Youth. While the name refers to a place of legend, the park itself yields a glimpse into authentic St. Augustine. Not far from Old Town, The Fountain of Youth Archaeological Park is tucked away in a quiet neighborhood. With a shady "old Florida" arched entrance, this 15-acre waterfront property may be the original location where Ponce de Leon landed in 1513 and eventually became the site of St. Augustine's first settlement. In 1565, Pedro Menendez de Aviles was charged with creating the first Spanish settlement in Florida. Archeologists are currently excavating the property to discover even more about this first colony. The property includes the original "spring" or mythical "fountain of youth", and also a mix of reconstructed settings that bring St. Augustine's history to life.

Fountain of Youth costumed re-enactors
A Franciscan friar priest, Timucuan interpreters, and weapons demonstrators – all costumed re-enactors – share stories and tales of the period. Be sure to walk through the Timucua family compound that was once part of the Tumucuan's capital of Seloy. Adjacent to that setting, you'll enter a thatched Mission called Nombre de Dios, complete with a rustic altar, choir loft, and cypress beams. Then, take the waterfront path by the boathouse, which houses the chalupa, or utility boat. Continue to the weapons area where visitors can witness the cannon firing, and see the coastal sentry tower designed for impeding enemy threats and attacks. As Florida's oldest attraction it is without a doubt an ideal beginning to your visit.

U.S. oldest wooden schoolhouse

Take a walk down St. George Street through St. Augustine's Old Town where you will find the oldest wooden schoolhouse dating to the 1700s. Nearby, the Colonial Quarter, recently revitalized, adds even more living history to 16th, 17th, and 18th-century life. You'll see blacksmith and leatherwork shops, and a soldier's home while listening to period-dressed guides who provide insight into daily living. Nearby restaurants and cafes add old-time flavor and a chance to sit and relax amidst the engaging history. The Oldest House is another historic landmark, dated around the 1700s and located south of King Street near the Marina area.

Castillo de San Marcos overlooks Matanzas Bay
Note: Due to COVID-19, Castillo de San Marcos is open Wed-Sun, 9 a.m.-5 p.m. A maximum capacity of 100 visitors in the historic fort at any time will be in effect. Face masks are required for fort entry. Formal programs and historic weapons remain suspended. 
No trip to St. Augustine is complete without a visit to the Castillo de San Marcos. It won't take you long to understand why the Spanish built this immense fortress on Matanzas Bay, with a commanding view of the harbor.
During his 15th century voyages, Christopher Columbus discovered and collected vast treasures of silver, gold, gems, dyes, sugar, and tobacco from the Caribbean, Mexico, Central, and South America making Spain the dominant nation in the world. But it was Ponce de Leon who ultimately discovered the best route to get the precious cargo home – through the Gulf Stream and past the shores of La Florida. This made St. Augustine an important northern outpost for Spain's expanding empire.

Castillo de San Marcos took 20 years to build
To protect Spain's colonial trade and commerce, the Castillo de San Marcos was constructed. Overall, it took 20 years to build and was completed in 1695. It is considered the most well-preserved and oldest masonry fort from the Spanish colonial period anywhere in the United States. Its notable heritage and the panoramic view of the Matanzas River, the city of St. Augustine, and the Bridge of Lions make it very popular.

Massive coquina walls surround the Castillo de San Marcos
The fort is made of a porous limestone rock called coquina, created from thousands of years of shells and sand compressing into geological sediment. It was the only type of rock available and proved to be an excellent building material. Brought from a nearby quarry, coquina provided the building blocks for creating the defensive structures, homes, and buildings during the period. The massive coquina walls of the fort actually absorbed enemy cannonballs rather than allowing them to destroy the fort.
The fort is also has a star shape with a hollow square within four diamond-shaped bastions. The configuration allowed for numerous firing positions for cannons while minimizing the possibility of a direct hit by enemy fire. Entry to the fort is across a moat, another defense feature, and when you cross it to tour the fort you get the feeling that you are walking into history.
Adventuring in St. Augustine
If you are ready to adventure beyond the historic sites, there is plenty to do. In particular, consider a local eco-tour, or a beach trip to Anastasia State Park, perhaps with a stop at the St. Augustine Lighthouse.

Matanzas Bay Eco-Tour
Note: Due to COVID-19, St. Augustine Eco Tours is currently offering regular shared programs with limited numbers in addition to private versions of their most popular excursions.
Owner and expert naturalist Zach McKenna and his staff offer a very personable inland waterway eco-tour via boat or kayak. We chose the kayak trip and met Zach at the conveniently located St. Augustine Marina, where we then embarked on a two-hour trip up Matanzas Bay. We paddled under the majestic Bridge of Lions, past the historic Spanish Fort, and also along the Fountain of Youth waterfront.

Paddle under the famous Bridge of Lions, St. Augustine
While kayaking, Zach provided an in-depth narrative about the area's historical geography, coastal habitats, estuaries, and wildlife. We saw and photographed wading birds in the salt marshes while dolphins quietly swam by. Zach is also one of the most knowledgeable Florida naturalists around and it's no wonder that Florida biologists have tapped him for research projects including a dolphin population study.

Anastasia State Park
Note: Due to COVID-19, Anastasia State Park is open. Due to local orders, facial coverings or masks are required inside buildings for staff and visitor safety. Restroom availability may be limited. Visitors are expected to maintain distances of at least 6 feet apart.
After visiting St. Augustine's attractions, you may be ready for a walk on the beach, and the Anastasia State Park has one of the best. Also known as south beach to the locals, the miles of gorgeous, wide-open beaches are accessed by long, wooden walkways across towering sand dunes. It's a perfect and picturesque place to take in a view of the vast blue Atlantic while you breathe in the fresh salt air.
There is a tidal salt marsh, called Salt Run, and an upland hammock to observe coastal birds and wildlife. Camping and windsurfing are also popular here too.
Additionally, near the park entrance, there is the Old Spanish coquina quarry site. Here, rock was mined to create the Castillo de San Marcos and other buildings.

140-year-old St. Augustine Lighthouse
Note: Due to COVID-19, The St. Augustine Lighthouse asks that you wash hands, stay six-feet back, and wear masks. 
There is overall something about lighthouses that delights us with their towering shapes, their history, and the unique stories of dedicated light keepers trudging up steep, winding steps to keep the light burning to protect and warn ships. And particularly the St. Augustine Lighthouse with its huge lens atop a tower of spiraling black and white stripes enhances our continuing love affair with these maritime treasures.

Enjoy the vistas of the area from the St. Augustine Lighthouse
When the first Spanish settlers arrived in St. Augustine, a wooden sentry watchtower was built on the Matanzas Inlet to serve as a lookout for hostile ships. This lookout became the first tower on U.S. soil to aid navigators, which also became a predecessor for lighthouses we know today. Centuries later, during the 1700s a new coquina tower was built at the same location, later becoming the first official St. Augustine Lighthouse. But after more than a century of service, it collapsed into the sea. Construction began on a new tower in 1871, which is the current St. Augustine lighthouse still standing after 140 years.
Overall, a journey up the St. Augustine Lighthouse is well worth the 219 steps that take you to the top of the tower 165 feet high. Without a doubt, the payoff is the surrounding vista and ocean view of the Atlantic. By all means, it's hard to fathom a lighthouse keeper carrying heavy buckets of kerosene up hundreds of steps to keep the light burning each day.

Built in 1888, now the St. Augustine's Flagler College
Note: Due to COVID-19, The Legacy Tour at Flagler College is canceled through at least May 2021. 
Built by oil magnate and railroad baron Henry Flagler firstly as the Hotel Ponce de Leon, it now houses Flagler College. Formerly developed as a high-end luxury hotel, it was designed to attract well-heeled tourists to St. Augustine when it opened in 1888. Listed on the National Register of Historic Places it remains without a doubt one of the most impressive buildings in the city.

Flagler College Rotunda
The student-led "legacy" tour is one of the best in St. Augustine. The tour contains Flagler history while being led through the Courtyard, gardens, gilded domed Rotunda, and the "Hogwarts-style" dining room with Tiffany windows.
Your Visit

St. Augustine pirate ship 
St. Augustine's cultural and historical tourism dominates the local economy and yet its endearing quality is also its commitment to preservation. Small businesses thrive, Starbucks is well hidden and cell phone service is erratic due to the absence of nearby towers.
And I do wonder if coquina walls could talk how many more stories could be told about this fascinating place?
Eating Out

Saltwater Cowboys
There are plenty of good restaurants in St. Augustine where seafood is a specialty. By all means, check out these restaurants recommended by locals:
Saltwater Cowboys (delicious, the atmosphere is also one of the best in Florida)
Osteen's (a local favorite)
Barnacle Bills (a local favorite)
Places to Stay
St. Francis Inn (very popular)
Bayfront Marin House (romantic, local recommendation)
Jay Bird's Inn (reasonable, spacious, clean, affordable, a drive to downtown)
For a St. Augustine classic Minorcan Chowder, the favorite dish, also try these recommendations from locals:

AuthenticFlorida.com was named Best Travel Blog two-times at the Florida Sunshine Awards.
To receive Authentic Florida's free weekly ENEWs, sign up on our Authentic Florida home page.
To inquire about partnerships/advertising, please contact info@authenticflorida.com 
Proud Member of: 

---
2 responses to "Step Back in Time in Charming St. Augustine"