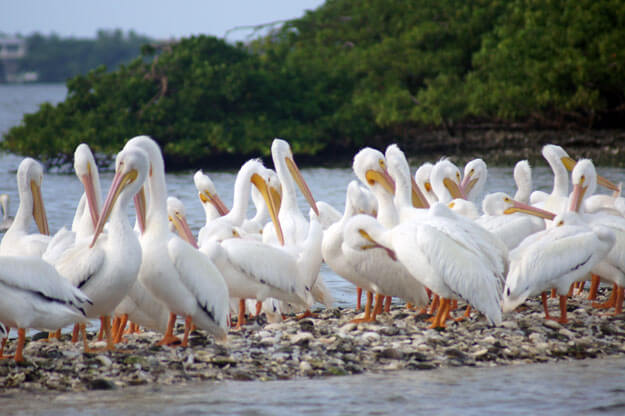 Welcome Back to Florida, White Pelicans
Picture this. Exquisite large birds glide gracefully along the shoreline just inches above the water. If you weren't looking through binoculars, you'd think you were watching a flock of swans. However,  these beautiful birds are white pelicans.
Distinctive with snowy white feathers and pink-tangerine-colored bills, they are often seen flying and swimming in groups. Shy in nature, they avoid open water and prefer isolated areas, congregating close together while remaining less social than their cousin, the brown pelican.

Florida's white pelicans 
There are plenty of things to love about Florida, but when the white pelicans arrive, they are thought by many to be one of the most spectacular sights to behold. Much like spotting other Florida wildlife (such as dolphins or manatees), they often elicit similar shrieks of delight.
White pelicans arrive in the fall and stay until late spring. So, now is a good time to start spotting them.

Brown pelicans are more common in Florida
The brown pelican often spotted on boat docks, concrete pilings, and nesting on mangrove islands serves as one of the state's most iconic images … right up there with sunshine, beaches, and also palm trees. Brown pelicans float near fish cleaning tables and waddle along piers and docks. They are also known for their acrobatic plunges, more like a "dive-bomb" headfirst into the water, filling their spacious bills with a fresh catch.
On the other hand, white pelicans usually find safer, less traveled environments, such as estuaries, lakes, mangrove islands — often within geographically protected areas.
If you are able to get close enough to white pelicans, you'll also notice their unique food collection techniques. Working as a team, they collectively herd their prey, fluffing their wings to assemble and also gather the fish.

White pelicans collectively herd their prey
One of the largest birds in all of North America, they possess an impressive nine-foot wingspan. In flight, their black wing tips are revealed (folded under while they are swimming) as they fly gracefully in formation.
While these snowbirds are seen throughout the state, there are many known (and lesser-known) places where you are likely to find white pelicans.  Since they frequent less traveled places, you may want to go with a local eco-tour operator, as they often know exactly where to find them.

White pelicans are shyer in nature than the brown pelican
Last year, Authentic Florida readers shared the locations they have spotted these elusive white creatures. Depending on where you are in the state, here are some recommended places for viewing: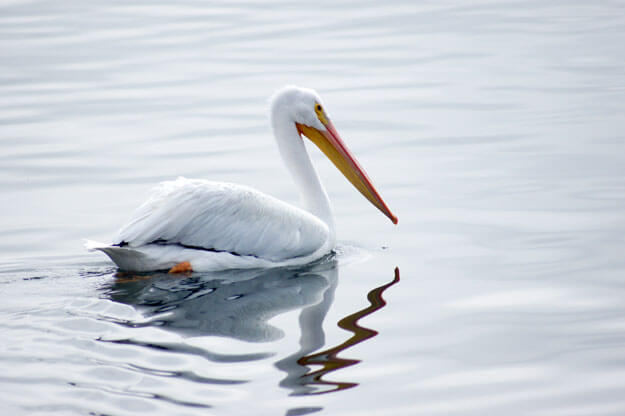 North Florida Locations
Tallahassee – Lake Talquin State Park
Wakulla – St. Mark's National Wildlife Refuge
Apalachicola region – West pass between St. Vincent Island and Little St. George Island
Lake City – Alligator Lake
Fernandina Beach Harbor 
Little Talbot Island State Park
Jacksonville – Mayport Village
St. Augustine – Matanzas & Tolomato Rivers
Central Florida Locations

 
White Pelicans are often seen in and around protected waterways and various lakes throughout Central Florida.
Keaton Beach (south of Perry, on the Big Bend)
Gainesville area – Newnans Lake, Lake Wauburg
Cedar Key's Barrier Islands
Ocala – Tuscawilla Park
The Villages (retention ponds), Umatilla
Brockville – Mountain Lake
Homosassa Springs, Crystal River & Ozello – Homosassa Springs State Wildlife Park
New Smyrna Beach – Turnbull Bay (near U.S. 1 Bridges)
Oak Hill – Goodrich Seafood Restaurant, Mosquito Lagoon
Orlando – Lake Fairview, Loch Haven, downtown (Ivanhoe Village)
Eustis – Lake Eustis
Apopka – Lake Apopka
Ft. Pierce – Ft. Pierce Inlet
Titusville – Merritt Island National Wildlife Refuge (Start at the Visitor's Center)
Melbourne – Viera Wetlands
Vero Beach, Sebastian – Pelican Island National Wildlife Refuge
Tampa – Hillsborough River State Park
Zephyrhills – Zephyrhills Park
Pinellas County – Fort De Soto Park, Boca Ciega Bay, Suncoast Seabird Sanctuary, St. Petersburg Pier
Lakeland – Circle B Bar Reserve, Lake Morton, Lake Mirror, and Lake Hollingsworth
Winter Haven – Lake Howard
Kenansville – Lake Marian
Bartow – Mary Holland Park
Lake Wales – Lake Kissimmee State Park

White pelicans, Cortez Village, Star Fish Company Restaurant
South Florida Locations

 
Along the coastal areas, (but not open water), you're likely to find white pelicans within lagoons, harbors or protected areas where they usually take refuge from crowds.
Bradenton – Cortez Village (off the Star Fish Company or Cortez Kitchen), Robinson Preserve, Anna Maria Island (bayside)
Sarasota– Myakka River State Park, the Celery Fields, Nathan Benderson Park, Sarasota Bay, Jim Neville Marine Preserve
Placida, Gasparilla Island (Boca Grande) – Charlotte Harbor Aquatic Preserve/Gasparilla Sound/White Pelican Island (see below)
Punta Gorda – Alligator Creek Preserve
Pine Island – Matlacha, Bokeelia (Pine Island Sound)
Sanibel Island – J.N. Ding Darling National Wildlife Refuge
North Captiva Island
Cayo Costa State Park
Marco Island, Cape Romano
Naples – Naples Pier
Everglades City – 10,000 Islands, Chokoloskee
Everglades National Park -Flamingo Outpost
Islamorada, Florida Keys – Robbie's Marina
Cudjoe Key, Florida Keys – Blimp Road
Key West – Sandbar between Balast Key and Boca Grande

White Pelican Island, Gasparilla Sound
White Pelican Island (Gasparilla Sound)
On Florida's west coast, near Placida, White Pelican Island is known to have the largest population of white pelicans in the southeastern United States. Located within the Gasparilla Sound, as part of the Charlotte Harbor Aquatic Preserve (stretching from Sanibel Island to Englewood along Florida's southwest coast), this "liquid park" serves as a protected environment for sea life, fish nurseries, and also bird rookeries.
The best (and only) viewing of white pelicans at White Pelican Island is by boat. One of the local outfitters, Boca Boats also provides cruises that include a view of the island. If you do not want to go by boat, don't fret! Often times you can still find white pelicans by heading to the fishing pier at Boca Grande Causeway. Just before the toll bridge you can pull off and park and walk out on the fishing pier to view the white pelicans swimming nearby.

View from Placida with pelicans off in the distance
Close by is a charming little fishing village of Placida and a dock for viewing the pelicans. You might want to watch them from Placida's Fishery Restaurant while also enjoying some fresh Florida seafood.
Wherever you are – this is the time of year when you can start to see white pelicans. They are only here thru the Spring, so be sure to plan an outing in the near future. And when you do, whether it is your first encounter or one of many, you are guaranteed to be just a little awestruck by these magnificent winged creatures.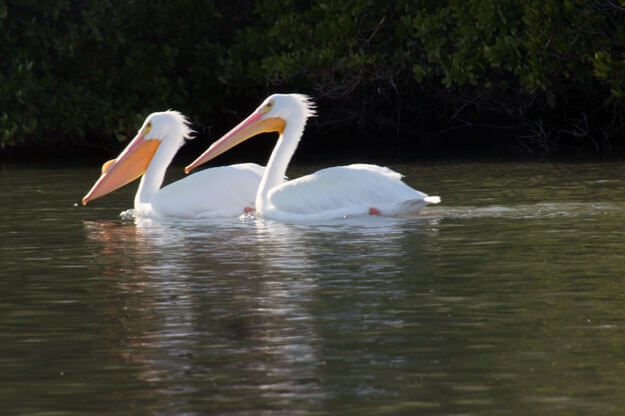 Yep, just one more reason to love authentic Florida.

AuthenticFlorida.com was named Best Travel Blog two-times at the Florida Sunshine Awards.
To receive Authentic Florida's free weekly ENEWs, sign up on our Authentic Florida home page.
To inquire about partnerships/advertising, please contact info@authenticflorida.com 
Proud Member of: 

---
One response to "The Ultimate Snowbirds: White Pelicans Return to Florida"