September 19th is International Talk Like a Pirate Day!
Ahoy! Did you know that this holiday was created by John Baur and Mark Summers in 1995? They have since earned the nicknames "Ol' Chumbucket" and "Cap'n Slappy". They thought up the holiday while playing racquetball on June 6, 1995. However, since this was the anniversary of the invasion of Normandy, the date was changed out of respect. Florida is full of rich pirate history and fun pirate tours for the whole family!
Check out our list of the best pirate tours in Florida! Savvy?
It has always been the Camarda Family's lifelong dream to create a family fun experience for you to remember! They have already brought the tour to New Jersey, and when the Camarda family came to Marco Island, they knew they had to bring the experience to the Gulf of Mexico!
The Black Pearl Pirate Ship is 60 feet long with a 20-foot beam, which offers plenty of room to enjoy your pirate experience or relax on their sunset cruise. A full-service bar is also available for entertainment-filled sunset cruises. One of the best parts of the ship is the impressive 12 water cannons to fend off the unfriendly pirates!
Black Pearl Pirate Tours offers two journeys – the Interactive Pirate Ship Cruise and the Marco Island Sunset Cruise!
On the Interactive Pirate Ship Cruise Climb, you and your family will journey on the Black Pearl for a pirate adventure! Watch your children transform into little pirates as they get tattoos and pirate's attire. Tickets are $25 for guests over the age of 3 and $10 for children under the age of 2.
On the Marco Island Sunset Cruise, you can sit back and relax to enjoy a Marco Island sunset. Tickets are $22 for guests over the age of 3 and $10 for children under the age of 2.
Looking to create a great weekend getaway to Paradise Coast? Check out our article here.
Established in 2011, Bluefoot Pirate Adventures is South Florida's top-rated boating attraction! The entire crew of pirates will bring you a swashbuckling good time! The Bluefoot sails daily on a pirate treasure hunt in the Fort Lauderdale Intercoastal Waterway. You'll experience action, adventure, and even a little bit of magic! Make sure to check the website as sail times vary day to day and reservations are recommended! Bring the whole family since all ages are welcome!
If you arrive 30 minutes before sailing time, you can deck out your little ones in pirate tattoos before you hit the water! If you have a pirate costume at home make sure to dress up!
Tickets are $28 for guests over the age of 2 and $12.50 for children 2 and under. If you sail Tuesday – Thursday, they offer buy one get one 50% off! Book online Friday – Monday and save $3 per person!
Looking to make it a day trip? Check out our favorite things to do in Fort Lauderdale here!
Embark on a pirate adventure aboard the Buccaneer Pirate Cruise! This popular Florida pirate tour is on the HarborWalk Village in Destin. You'll get to hunt the Emerald Coast for hidden pirate treasure with adventure, excitement, and fun for young and young at heart! The captain and crew will entertain your whole family with private themed activities, witty banter, singing, dancing, and family fun! Make sure to participate in the pirate training, sword fighting, water gun battles, treasure hunt, and authentic cannon fire! They operate by the slogan "Unlock the Treasure of Your Heart and Let Your Dreams Come True," and make sure every mate aboard follows the desires of their hearts and never stop believing in their dreams.
The Buccaneer Pirate Cruise offers two different journeys – the Buccaneer Pirate Cruise and the Fireworks Cruise (Thursday Nights from Memorial Day to Labor Day)!
The Buccaneer Pirate Cruise is $36 for adults, $32 for seniors, and $22 for children. The Fireworks Cruise is $20 for adults, $10 for children, and $1 for children 0-3 years old.
Located in Clearwater Beach, Captain Memo's is a family-friendly pirate-themed day cruise! Their boat has had the very same dock in Clearwater Beach Marina for over 40 years! They've created pirate fun for children as well as many adults over the years. They pride themselves on being the only remaining attraction in Clearwater that caters to both children and adults as well!
The two-hour cruise departs multiple times daily, depending on the season. Prices are $37 for adults, $35 for adults 65+, $31 for children ages 13-17, $30 for children ages 3-12, and $11 for children ages 2 and under. If you opt for a champagne cruise, adult ticket prices change to $40 per person.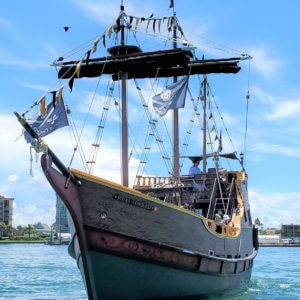 Ready yer sea legs and leave the landlubbers behind! This 2 level, 46-foot ship, the Royal Conquest Pirate Ship at John's Pass for a pirate adventure! This tour in Madeira Beach sails across beautiful waters for a family-friendly pirate cruise for all ages (salty dogs, cabin kids, and lil swabies!)  The crew will lead everyone in pirate fun that anyone will enjoy.
The 1.5-hour cruise departs daily from St. John's Pass at 2:30 pm, 5:00 pm, and 7:00 pm. Prices are $39 for adults 21+, $33 for adults 65+, $29 for children ages 3-20, and $10 for children under the age of 2.
Built in 2005, Salty Sam's ship is 65' long, 25' wide, and weighs 79 tons! This boat can hold up to 100 hearty pirates! During this 90 minute cruise, you can explore the upper and lower decks as well as the pirate pub that has snacks and souvenirs available for purchase!
Salty Sam's offers two cruises – All-Ages Pirate Adventures and an Adults-Only Cruise.
The All-Ages Pirate adventure is an interactive comedy adventure full of pirate fun! This includes treasure chests, face painting, pirate games, dancing, cannons, limbo, and more! Prices are $30 for adults 14+, $25 for children ages 2-13, and children under the age of one are free! Special packages include $35 for the Little Buccaneer Kid's Souvenir Package (includes child boarding pass, pirate bandana, eye patch, and sword), and $40 for the Captain Kid Kid's Souvenir Package (includes child boarding pass, water pistol, eye patch, pirate hat, pirate hook, and pirate booty bag with coins).
The Adults-Only Cruise is for adults 21 and up! This trip goes through Matanzas Pass to the Gulf of Mexico! Beware – this cruise is "ARRRRRR-rated"! Board the Pieces of Eight pirate ship at Salty Sam's Marina for a 90-minute pirate show. Prices are $25 for adults!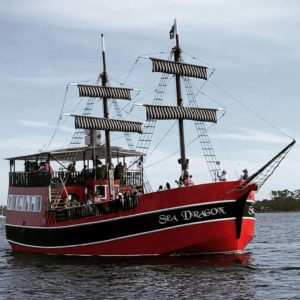 Last on our list of the best pirate tours in Florida is Sea Dragon Pirate Cruise in Panama City! This is an exciting 2-hour cruise that includes dolphin sightings, music, and pirate activities! You can also purchase cold beer, soda, snacks, t-shirts, and souvenirs on board. Seadragon Pirate Cruise is located on Grand Lagoon in the Lighthouse Marina next to the Grand Marlin Restaurant!
Prices for day tickets are $27 for adults 15+, $23 for adults 60+, $19 for kids ages 3-14, $13 for toddlers ages 1-2, and children under the age of 1 are free! For a sunset cruise, tickets are $29 for adults 15+, $25 for adults 60+, $21 for kids ages 3-14, $15 for toddlers age 1-2, and children under the age of 1 are free!
As always, if you venture out, please practice social distancing and follow the CDC Guidelines. Also, it's a good idea to check with each of these companies and find out how they are dealing with COVID-19.

AuthenticFlorida.com was named Best Travel Blog two-times at the Florida Sunshine Awards. 
To receive Authentic Florida's free weekly ENEWs, sign up on our Authentic Florida home page.
To inquire about partnerships/advertising, please contact melanie@authenticflorida.com 
Proud Member of: 

---
Comments are closed.