There are few topics in Florida that create as much controversy as the art of making Key Lime Pie. We are very opinionated about how the official state pie is made. There are countless recipes and family favorites that pass through generations. Whether you are a Florida cracker, resident, frequent visitor or just passing through, you're bound to have an opinion regarding the Florida state pie.
While we may not be traveling as far during these unprecedented times, we believe this is the perfect time to go on a road trip close to home! What better road trip than to go on a hunt for the best key lime pie across the state? As always, make sure to wear your mask, social distance, and be safe!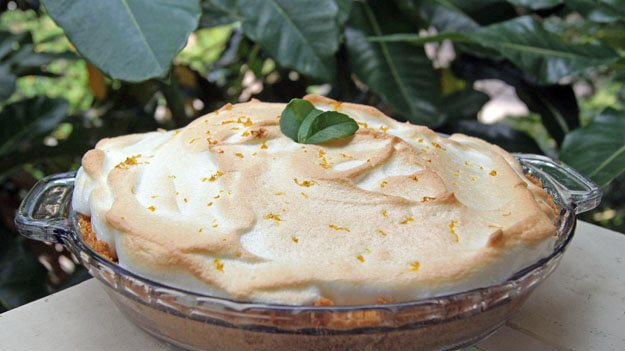 What You Need to Know About Key Lime Pies
Basically, there are three parts to a key lime pie. The crust, the pie filling, and the topping. Here are the battleground issues: Graham cracker or pastry crust? Homemade or store-bought? Key limes, bottled juice, or regular limes? Whipped cream or meringue topping? Homemade or canned whipped cream? Cooked or uncooked? And the controversy goes on. Feuds have begun, alliances have dissolved, and friendships have ended over this simple pie. It's a battle of personal preference, family tradition, taste, and appearance, and no matter what your recipe, it's important to know where you stand on the issue.
Key lime pie is the family favorite at our house. Always has been. We especially love it because it complements seafood and many of Florida's lighter dishes. Whenever we make a key lime pie, we have to make two as it's consumed breakfast, lunch, and dinner.
We also make it a point to sample key lime pies in every restaurant we visit. We are self-proclaimed semi-professional key lime pie tasters.

Castaway Waterfront Restaurant Key Lime Pie, Marathon Key
So … we took a trip to the Florida Keys, the birthplace of the signature dish, and decided to do a sample tasting of key lime pies. From Mile Marker 112, the measured distance on the north end of the Florida Keys to the southernmost point of Mile Marker 0 in Key West. We tasted plenty and since this was "work" related research, Weight Watcher points need not apply.
It's such a hard job, but someone had to do it.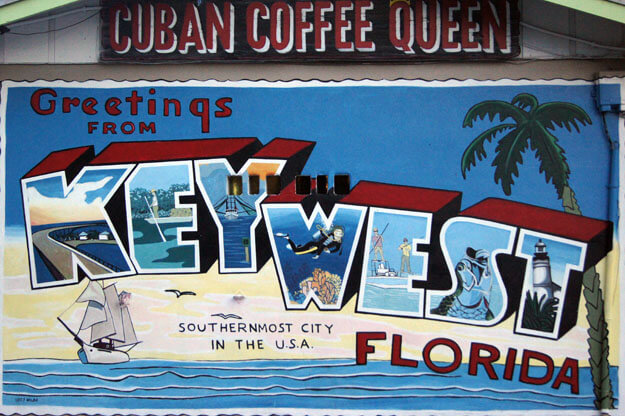 We tasted a wide variety beginning in Key Largo and ending in Key West. We were curious about how the Florida Key natives, or Conchs, like their pies. The first thing we learned was that Conchs assert that "real" key limes are a specific species of fruit – specifically Citrus aurantiifolia, that grow in the Florida Keys although they are found all over the Western Hemisphere. The fruit is yellow, the size of a golf ball, and certainly not green (unless they haven't ripened). We also learned that Conchs let key limes fall off their trees when ripened, as opposed to picking – indicating they are ripe and ready to use.

Key lime tree
Most Florida Keys key lime trees grow in family compounds and back yards. In fact, in 1935 a hurricane wiped out the last Florida key lime commercial crop, so if you don't have a tree, you'll have to beg, borrow or be nice to your neighbor. Key limes are very tart – much more so than regular limes. That's why people love them. Through the years, key lime pie has become one of America's favorite desserts. The pie is a simple recipe composed of simple ingredients, but traditions and fiercely held opinions of the many nuances of making it continue to create a clash over what constitutes the perfect pie.

Florida Key limes
There is plenty of debate about who invented the pie and exactly when. But back in the early 19th century, the lack of refrigeration meant that people used canned, sweetened condensed milk. Most everyone had chickens, thus eggs, are an important pie ingredient. Add to that the lime juice, which contained citric acid, and the combination caused a thickening reaction. Thus, to this day, some choose to eat their pies without baking (using pasteurized eggs).

Key lime pie ingredients
Key lime pie filling usually consists of three basic ingredients – egg yolks, sweetened condensed milk, and key lime juice. But the range of choices as to how many eggs, how much sweetened condensed milk, and whether you use fresh, real key limes versus bottled juice varies and likely to be discussed and debated until the end of time. If you don't have a key lime tree, you may find it difficult to locate a source and usually, the ones you can find are from commercial groves in Mexico, unless in season in your area (of Florida). Of course, Conchs will argue they are inferior if not from the Florida Keys.

The Florida Keys
The pie topping also creates an all-out war among connoisseurs regarding the best way to complete the pie. It's an age-old controversy: whipped cream or meringue topping? If you choose whipped cream, some will send out the cow rustlers for you – especially if you use anything but fresh homemade whipped cream. If you do use it — how much will do? Should you cover the outer edge with a border, or cover the full pie?
As for our preference? We're Team Meringue, preferring to use the unused egg whites from the pie ingredients. Many, however, will insist that meringue is not the real deal. We choose to disagree but honor those who protest.
We have come to the conclusion there are three types of key lime pies:
Key Lime Pie Classic: Little effort
These are ones consisting of a store-bought graham cracker crust, usually, a filling that is heavier and denser than most pies – as a result of more condensed milk and less lime juice, making it sweeter and less tart. The key lime juice generally comes from a bottle (make sure it is key lime juice and not Persian lime juice or a blend. Also, check the date.) Whipped cream may come from a can.
Key Lime Pie Classic: Going the Mile Marker
Usually, this one uses all fresh ingredients – fresh limes, fresh eggs, fresh cream or meringue, freshly made crust. It's generally very light tasting, almost fluffy in appearance. The tartness of the key lime comes through unmistakably.

Cafe Sole Key Lime Pie, Key West
Key Lime Pie Variations
We've seen it all … Frozen. Dipped in chocolate. We have tasted vegan key lime pies using sour cream, vegan cream cheese, and additions such as mango, peanut butter, Nutella, avocados, and ice cream. Some crusts are made of all kinds of nuts, oreo cookies, cheerios, ginger snaps, pretzels, and animal crackers. We have seen elaborate toppings using fruit – blueberries, strawberries, raspberries, and everything in between. We've seen sauces made of honey, caramel, blueberry, fudge, or just cream Anglaise sauce. Whatever your fancy, you can usually do it with key lime pie.
Sampling Key Lime Pies Through the Florida Keys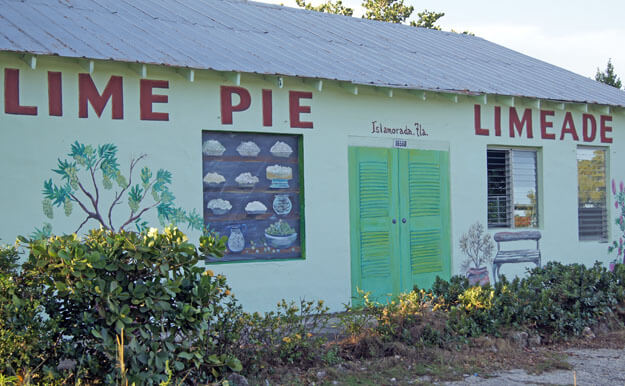 Based on our tastings, here are our findings as we searched for the best key lime pie in the Florida Keys:
Mrs. Macs Kitchen, MM 99.4

Mrs. Macs Kitchen, Key Largo
Key Largo's Mrs. Macs Kitchen is our first stop when we reach the Keys. You'll love the vibe of tourists and locals, surrounded by the down-home décor of license plates hanging on the walls along with historical mementos and pictures. Mrs. Macs, which boasts "world-famous key lime pie" has a secret recipe. Everything is homemade – graham cracker crust and a good balance of tart and sweet filling, except the whipped cream.
The Green Turtle Inn, MM 81.2

Green Turtle Key Lime Pie, Islamorada
The Green Turtle, a long time Islamorada landmark, is a restaurant where turtle soup and steaks were legendary before the endangered species was banned from commercial fishing. Still a well-known island hangout, the Green Turtle has a key lime pie that we consider a "chef's special" on the fancier side. The macadamia nut crust is covered with a denser style filling topped with coconut whipped cream, berry syrup, and sprinkled with fruit.
Lazy Days Restaurant, MM 79.9

Lazy Days Restaurant Key Lime Pie, Islamorada,

(courtesy Lazy Days)
Considered one of the best restaurants in the Keys, Lazy Days is known especially for fresh fish. This Islamorada oceanfront restaurant specializes in cooking your "catch of the day" if you have been out fishing or diving for lobster. The key lime pies are all made on the property, serving a huge slice with graham cracker crust topped with creamy, sweet, filling, and medium tartness. It makes an ideal dessert after fresh seafood.
Mangrove Mamas, MM 20

Mangrove Mamma's Key Lime Pie, Sugarloaf Key
Another favorite, Mangrove Mama's on Sugarloaf Key serves quite a tasty pie. The crust is homemade. (The chef uses vanilla and cinnamon in the crust.) The pie filling is creamy, thick, sweet, and medium tart. The chef told me he also uses honey and vanilla in the pie filling. The whipped cream is not homemade.
Blue Heaven, Key West
 
Blue Heaven's Key Lime Pie, Key West 

(photo, Aphelix Langston)
Found in Key West's Bahamian Village, Blue Heaven was recommended to us more than any single eatery, especially for the key lime pie. It's 100% homemade with a graham cracker crust, the filling is light and piled high with fresh meringue, not an easy topping to find in Key West where it seems most pies have whipped cream.
Kermit's Key Lime Pie Shop, Key West

Kermit's Key Lime Pie Shop, Key West 

(courtesy, Kermit's)
Kermit's Key Lime Pie Shop, owned by Kermit Carpenter, is a Key West institution. He is known to stand outside his brightly painted yellow and green store (which has key lime products such as pies, jellies, salsas, and soaps) throwing pies at people for fun. His pies are light, fluffy, and creamy. The recipe is heavy on the egg yolks, which makes it very light. He tries to source fresh key limes from throughout the state and while the crust is not homemade, the whipped cream is. He also features key lime pie on a stick dipped in chocolate.
(NOTE: There are two Kermit locations in Key West: the "Original" is in Old Town at the corner of Greene & Elizabeth and the other is on Duval Street near Mallory Square at the corner of Front & Duval … BONUS: there is Kermit's Production Facility and Showroom in DeLand, Florida in West Volusia County – 30 minutes northeast of Orlando).
Hog Fish Grill, Stock Island

Hogfish Bar & Grill Key Lime Pie, Stock Island
The Hogfish Bar & Grill is a funky tiki-hut restaurant found just north of Key West on Stock Island. Situated near the boat docks, they have very fresh fish and outdoor dining. They get their pies from the Key West Key Lime Pie Company. The pie is huge and the filling stands several inches tall. It has a homemade crust with a good balance of sweet and tart … loaded with whipped cream on top.
So after this exhaustive trip (ha, ha), we have some recommendations for you for making your own best key lime pie.
Your Key Lime Pie: Tips

Use fresh ingredients for the best pies
We suppose we don't need to say this but we will just say it: Fresh is better. For ingredients, use key limes if you can get them, otherwise use fresh limes, but many use bottled juice, or in a pinch, a combination of key limes and limes. If you like your pie tart, fresh is the way to go.
Also, homemade is better – especially the crust. But if you don't have time, don't fret, it's the filling that really makes the difference.
One tip we learned on our sampling tour, by increasing the egg yolks or juice, makes the pie lighter. But, it is all about personal preference.
Use the zest from the limes (before juicing)– it will make the pie tarter.
A hand press works best (we use a lemon press) for squeezing the limes.
Use a glass pan, not aluminum. Key limes react to aluminum.
So what's the best key lime pie we have ever tasted? We humbly tell you that it is the one the original creator of AuthenticFlorida.com, Robin Draper, makes. She has perfected it and it's simply delicious. It's homemade, light, and very tart. What's the secret? Try it and you'll find out! Here's the link: https://www.authenticflorida.com/articles/what-to-eat/authentic-florida-s-key-lime-pie/
We would love to hear how you make your key lime pie. How about sharing your recipe? If you have a good one, we may make it and feature it on our website or our Authentic Florida Facebook page. Post it in the comments below or email it to us: melanie@authenticflorida.com …
We'd also love to know where is your favorite place to get key lime pie, especially if we didn't cover that establishment in this article.
Interested in more Authentic Florida "Travel Through the Keys" stories? Enjoy these:

AuthenticFlorida.com was named Best Travel Blog at the 2018 Sunshine Awards. 
To receive Authentic Florida's free weekly ENEWs, sign up on our Authentic Florida home page.
To inquire about partnerships/advertising, please contact melanie@authenticflorida.com 
---
Comments are closed.