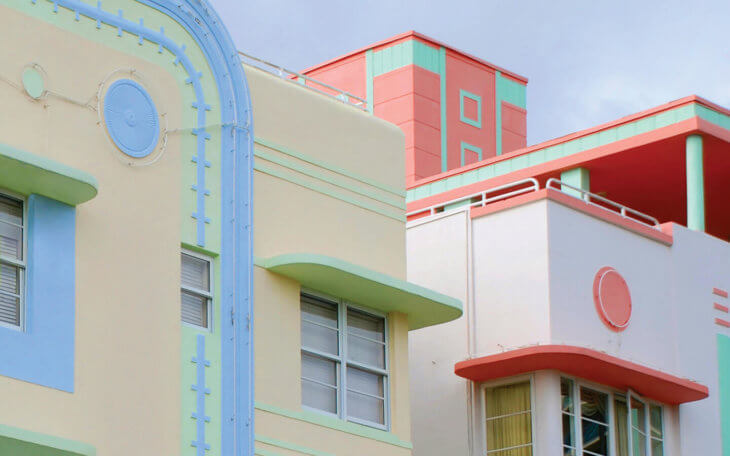 Written by Authentic Florida guest blogger, Laura Albritton, author of Miami for Families. Laura and her husband Zickie have a new travel blog, Island Runaways.
Charming, intriguing South Beach lies off the coast of mainland Miami, in the southernmost section of Miami Beach. Miami Beach's man-made and barrier islands were originally developed by dreamers and schemers like Carl Fisher and John Collins. Their long wooden bridge first connected the islands to the Miami mainland in 1914. Today, in addition to the famous shoreline, you'll find 30 blocks of restored Art Deco buildings in gorgeous pastel colors, shaded by palm trees and caressed by warm sea breezes. Would you like to go on a tour of a place I've come to love?
Miami's South Beach Art Deco district
If you only have one day to visit, I'd start with breakfast at the 11th Street Diner, two blocks west of the ocean. Please note, due to COVID-19, masks must be worn whenever you are not seated at 11th Street Diner. This adorable silver dining car dates from 1948 and features bright red booths and a lunch counter. Locals and travelers alike come here for its cozy atmosphere along with the kitchen's tasty pancakes, eggs, and bacon.

South Beach 11th Street Diner [photo, Zickie Allgrove]
From the diner, it's an easy amble over to the Art Deco Welcome Center on Ocean Drive, where you can buy tickets for their walking tour. Please note: due to COVID-19 masks must be worn at all times and social distancing must be maintained at the Art Deco Welcome Center and on all tours. Every day at 10:30 a.m. an architect or historian from the Miami Design Preservation League leads visitors on a 2-hour stroll to entertain and educate them about the tropical version of Art Deco architecture that developed on Miami Beach from the 1920s into the 1940s. Having both the exterior and interior design of buildings explained gives visitors a deeper appreciation of this unique architectural style.

Miami's South Beach Ocean Drive [photo, Zickie Allgrove]
Even if you can't make the tour, the Welcome Center is worth taking the time to browse. Here they stock cute retro souvenirs, local maps, and a range of interesting books such as Saving South Beach, which chronicles the battle to save these historic structures from demolition.

A walk to the beach, Miami's South Beach [photo, Zickie Allgrove]
No visit to South Beach would be complete without savoring the beauty of the white sand beach itself, which fronts the Atlantic Ocean. Even the lifeguard stations adhere to an Art Deco aesthetic, each one a little gem of color and ingenuity.  Go for a swim, or wear "your trousers rolled" to paraphrase T.S. Eliot, and simply wade up to your ankles. The view from shore remains one of my favorite vistas in Miami, not to mention in all the Sunshine State.
After the walking tour, your feet may be ready for a rest. Fortunately, in South Beach, there's a shuttle bus, the "SoBe Local," which makes a loop in two directions. Amble over to Washington Avenue to one of the bus stops. At 25 cents a ride, the shuttle is definitely a terrific Miami bargain. By simply taking the bus for 15 to 20 minutes, you will also absorb a helpful overview of South Beach's geography.
 
South Beach Jewish Museum of Florida [photo, Zickie Allgrove]
If you're not yet ready for lunch, I would hop off the shuttle at Second or Third Street and Washington Avenue, at the Jewish Museum of Florida. Please note, due to COVID-19, the Jewish Museum of Florida is closed until further notice. Add this to your Future Florida bucket list! This valuable institution is housed in not just one, but two former Jewish synagogues. Like many of the surrounding structures, both buildings date from the Art Deco era and are ornamented with beautiful details, such as stylized acanthus leaves and lovely stained glass windows. From the beginning, Miami Beach's identity and culture were shaped by its vibrant Jewish community, as you'll discover on a docent-led tour. The museum also mounts traveling exhibitions on topics such as the Cuban Jews of south Florida and the famous portrait photographer Arnold Newman. There is always something new to see!

South Beach Lincoln Road [photo, Zickie Allgrove]
From the museum in the SoFi (South of Fifth Street) district, you can walk, bike, take the bus, or catch a taxi up to one of South Beach's main thoroughfares, Lincoln Road. Although South Beach has been most closely linked with Art Deco, this pedestrian mall with its sidewalk cafes, boutiques, and restaurants embody the later style of MiMo or "Miami Modern" architecture. The most famous MiMo maestro, Morris Lapidus, designed Lincoln Road in the 1950s. Its walkways, fountains, and garden areas continue to attract visitors from around the world.
You can find everything from Italian to French to German cuisine for lunch, but if you're in the mood for something like an avocado and cheddar sandwich or roast pork tacos, stop by the Café at Books & Books. Its light, Florida cuisine seems to suit the climate and attitude of South Beach perfectly. Its location on Lincoln Road gives you a prime seat onto fantastic people watching. The best part? After your meal, you're steps away from an outpost of Miami's beloved bookstore, Books & Books. My family always leaves this well-curated shop with a novel, a travel guide, or a children's story.

Miami's South Beach [photo, Zickie Allgrove]
With so many activities, how you spend the rest of the afternoon should depend on your own interests and personality. Do love water sports and active vacations? Then why not kayak on the Intracoastal waterway? On Purdy Avenue, single and double kayaks can be rented at South Beach Kayak. Please note, due to COVID-19 maks must be worn while renting your gear at South Beach Kayak. Not far from your departure point are small islands to explore. This includes Monument Island with an obelisk dedicated to one of Miami Beach's earliest visionaries, Carl Fisher.
If a sea paddle doesn't appeal, you might also prefer more museum-hopping. Not far from the eastern side of Lincoln Road is the Bass Museum of Art, housed in a gorgeous coral rock Art Deco building. Please note, due to COVID-19, masks must be worn at all times at the Bass Museum of Art. Cutting-edge contemporary work and a permanent collection that includes Renaissance pieces make for a rewarding experience.

South Beach Clay Hotel, Española Way [photo, Zickie Allgrove]
If, however, the idea of just relaxing and absorbing the sights and sounds of historic South Beach seems like the right choice for you, take a walk from Lincoln Road to charming Española Way, just north of 14th Street. These two quaint blocks of Spanish-style architecture date from the 1920s and 1930s and ooze the historic atmosphere. Restaurants, cafes, and also small boutiques line each side of the street. Notorious gangster Al Capone reputedly gambled at the old Clay Hotel. Cuban bandleader and eventual TV star Desi Arnaz turned American dancers onto the rumba craze here in the 1930s.

Chocolate crepe, A la Folie Cafe [photo, Zickie Allgrove]
One of my favorite things to do on Española Way is taking a seat at the shabby-chic café A la Folie (1516 Española Way). Here you can order an espresso, café au lait, or also a glass of wine and feel like a real local. If you have room after lunch, I'd recommend their tasty French crepes. How about one with sliced banana and Nutella? Talk about a sweet end to an enjoyable South Beach afternoon!

South Beach has a small cosmopolitan vibe
While it's true that South Beach has become famous for its glitzy nightclub scene and celebrity sightings, Miami residents like myself know that there's far more to this southernmost section of the Miami Beach islands. It's like a small, cosmopolitan town, with interesting culture, good food, and oh yes, spectacular tropical scenery. I hope you get to visit this walkable, history-filled neighborhood, too, and also discover a slice of authentic Florida for yourself.
Looking for other South Florida adventures? Check out:

AuthenticFlorida.com was named Best Travel Blog two-times at the Florida Sunshine Awards.
To receive Authentic Florida's free weekly ENEWs, sign up on our Authentic Florida home page.
To inquire about partnerships/advertising, please contact info@authenticflorida.com 
Proud Member of: 

---
Comments are closed.