An animated Pterodactyl, a growling Brontosaurus, talking Parrots, squawking Macaws, white Cockatiels, cowboys and stagecoaches, a wildlife park of zebras, emus, lemurs, pigs, horses, goats, a camel, an alligator, larger than life pirates, a makeshift mine for panning precious gold, delicious homemade ice cream sundaes or old fashioned sodas and root beer floats, kitschy Florida gifts, vintage arcades – all of this alongside fresh oranges, and under one roof. This is Boyett's Citrus Attraction, a real, "old Florida" roadside amusement and citrus shop.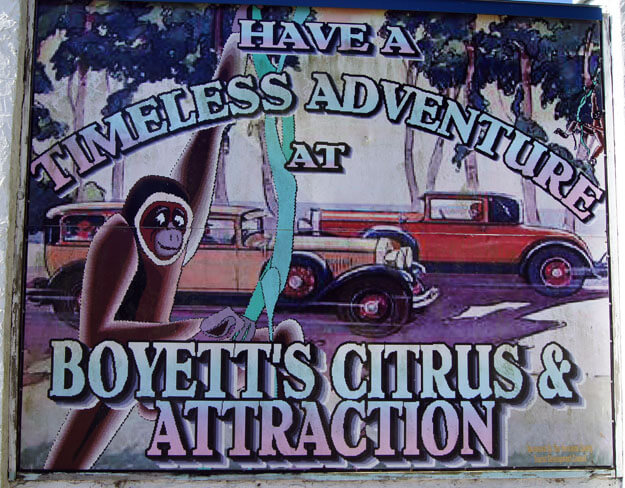 Hernando County's Boyett Citrus Attraction 
Boyett's Citrus Attraction is perched on a hill surrounded by scenic pastureland and orange groves. Since 1966, Boyett's has been a popular tourist stop in Hernando County, about 50 miles northeast of Tampa, on Spring Lake Highway south of State Road 50 that runs between Brooksville and Interstate 75.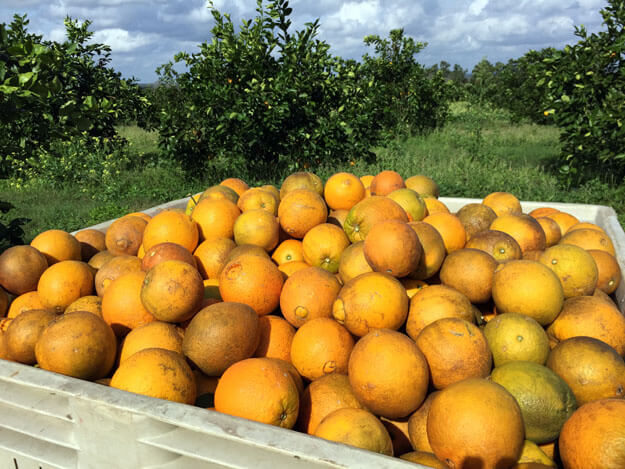 Boyett's Citrus Grove, [photo courtesy Diane Bedard]
Daughter Kathy Oleson, who manages the family business, reflects, "Back in the 1960's, our family home was next door, with an adjacent open-air pole barn to sell our oranges, tangerines, tangelos and grapefruit. As a young girl, I enjoyed helping tourists who stopped to buy fruit. They were headed north and eager to take Florida citrus home. I would always ask each visitor: When do you want to eat the fruit? On your way home? In a week? Two weeks? And based on their answer, I would select the very best fruit and pack a nice box for each family to carry home. Yep, that's how I know my fruit and that's how our grove started its gift packing business."

Daughter Kathy Oleson runs Boyett's Citrus Attraction
The Boyett Grove has 30 acres of citrus trees and the family picks, washes, waxes, packs and ships their fruit nationwide. Or you can drive over and select your own from the fruit bins at the grove stand.
"When you grow up eating citrus you know what's good," says Oleson. "Our grove has always been about quality and when you buy our fruit, we make sure you get the best – here or shipped."

Boyett's Pirate Gallery
Nowadays, Boyett's Grove is much more than a citrus grove, fruit stand or gift packing business – its 5,000 square feet of fruit along with "homespun, old Florida" fun and entertainment.

Boyett's delivers "Old Florida" fun and entertainment [photo, Diane Bedard]
So how did Boyett's go from grove stand to funky attraction? Since citrus was primarily a "winter" industry, ripening October through May, the Oleson family decided they needed something else that would attract families during the remainder of the year, especially summertime. They also needed to create other sources of income to offset damaging frosts that could affect their livelihood. Boyett's Citrus Attraction became their answer.

The miniature golf is highlighted with creative set designs 
The attraction is the brainchild of Kathy, a former teacher, and Jim, her husband who had previously served as a merchant marine. They dedicated their combined energies to creating a unique business – reminiscent of days past. "When I was a child my parents would take us to old attractions like Silver Springs and Sunken Gardens – we've combined those memories with ideas that I continue to dream up. My husband Jim helps me makes those dreams a reality."

Dinosaur Cave
To understand Kathy's passion just think back to the late 1950's, 1960's and early 1970's when Florida was filled with thriving small, roadside tourist attractions. They are much harder to find today with the proliferation of large theme parks.

Boyett's historical memorabilia
But no one would ever mistake Boyett's for a corporate amusement park. As you walk through the front door you are greeted with an array of kitschy Florida souvenirs, and then you are immediately met with a set of choices.

Boyett's wildlife park [photo, Diane Bedard]
You may have stopped in just to buy citrus, but the options available will make your head spin. Will you head to the zoo to feed the animals? Enjoy a freshly dipped ice cream cone in the parlor? Walk fearlessly into the dinosaur cave? Hang out with the birds in the aviary? Be dazzled by family art in the gallery? Get a glimpse of an old-timey (still used) citrus packing area? Try your hand at miniature golf complete with creative set designs, player pianos and wild-west costumed characters? Meet the pirates? Look at fish in the aquarium? Pan for gold? Buy local jams, jellies or honey?

Boyett's ice cream parlor serves homemade sundaes
Seriously? Yes, it's all right here.
Boyett's is eclectic without being bizarre, charming without being ridiculous, home grown for sure. It's the summation of Kathy's childhood memories, and you get to participate. It may seem you have entered the backstage of a theatre or gone back into a 1960's time warp. Members of the Boyett family are creators, artists (their son James Oleson is renowned), builders and set designers.

Boyett's is an old-timey Florida attraction, [photo, Diane Bedard]
And they must get very little sleep, because there is a project always in progress. When one area is complete, another begins.
But running an attraction and being a farmer at the same time is not for the faint of heart. Kathy Oleson takes a minute out of her frenetic pace to recount challenges of being a grower especially with frosts that have affected her farm and the industry. "There have been a number of devastating cold winters that have affected our grove, but we keep going. When it comes to avoiding crop freezes, my daddy always claims you can argue endlessly about where to plant. Is it about the elevation? Or is it about the area?" There is an endless debate. But she says with a smile, "Daddy always says, it really just depends on how the wind is blowing."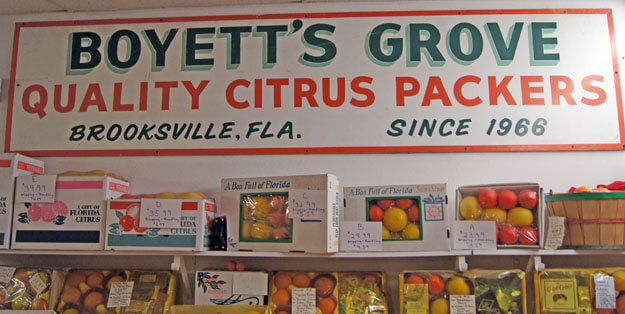 Boyett's Grove ships citrus
And frosts aren't the only issue affecting the citrus industry. When asked about the future of the business, Kathy Oleson shares, "Citrus greening is a problem, no doubt, and a lot of Florida fruit has it – it's just a matter of percentages. We do our best to choose the prize fruit. The future of the industry is about selection and choosing the best fruit. And we do that very well."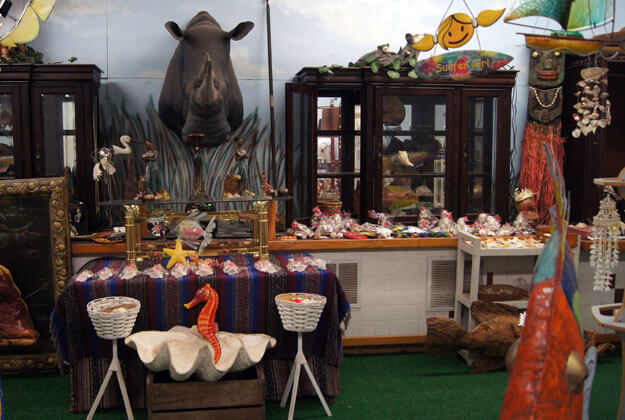 Boyett's gift shop [photo, Diane Bedard]
On your way out, through the gift shop of course, you may want to pick up some things to take home. And if you are looking for Florida memorabilia, trinkets, shell mobiles, tropical kitsch, t-shirts, rhinoceros heads (not real, of course), you are in the right place. And where else would you find orange blossom perfume, Dad's red cream soda, ginger beer and Florida tangerine, orange and elderberry jam?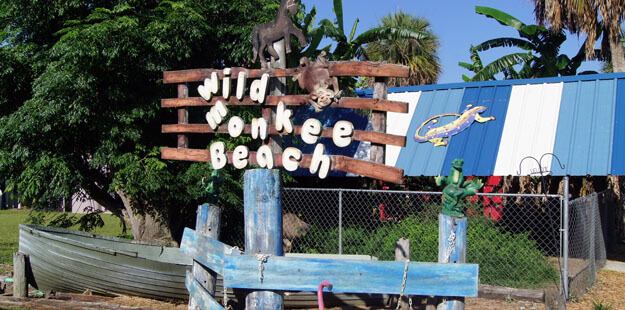 Visitors can feed the animals at the Wildlife Park
Boyett's convincingly combines a time-honored trip to the grovestand with a snippet of Florida's roadside attraction past. One thing is for sure, after a visit you will have a tale to tell about an authentic, modern day Florida roadside attraction.
To receive Authentic Florida's free ENEWs, featuring travel and living updates, delivered weekly, sign up on the home page: Authentic Florida.
---
If You Go
For more about Hernando County go to: